It's kind of funny because the two times I went out with two different French friends for Mexican food this week, they practically wiped the table clean. Both said after eating, "Daveed…j'ai encore faim." ("I'm still hungry.")
The first time was at Cactus, where my friend (who I am pretty sure has .5% body fat) wolfed down his burrito and the aforementioned declaration of hunger, proceeded to order three additional tacos and eat them in rapid procession, then eat dessert as well – plus a handful of chocolates he had stashed in his pocket.
And the other night, when I was at the tiny counter at El Nopal by myself, eating a burrito which I kept spooning an overload of hot sauce on after long day spent tasting chocolates and pastries (hey, someone has to do it…), another voice in Paris replied to my excited tweets via Twitter, "…amazingly each (burrito) I taste in Paris gets better and better."
The Mexican food in Paris is no longer seen – as a French friend once pointed out to me, touching his stomach and feigning being fed to an uncomfortable bursting point – "way too much." Although I'm afraid to say it, because it might get taken away from me…it's becoming normal.
These tacos and guacamole and chips were from lunch last week at Itacate. Like El Nopal, the food seems to be toned down in terms of spiciness for local tastes (and it was fun to sit alone at the counter and watch people in the neighborhood poke their heads in and ask "What is this cactus taste like?" (sic) and so forth, with some deciding not to stay, perhaps to hit a place with more familiar fare. But there were plenty of others coming by, enough to keep the tiny kitchen humming, and grabbing a few tacos to enjoy while perched on the edge of the Canal Saint Martin to enjoy a springtime dinner en plein air.
True, there's a little bit of an educational curve that I guess needs to happen. At least according to Boca Mexa.
Certain foods are acceptable to eat with your hands – the end of a baguette, asparagus, a croissant, and macarons. Other foods are interdit to touch – hamburgers, (knife and fork only, please), chicken legs, bananas and raspberries, butter, and apparently, bagels. (Yes, I saw someone eating one with a knife and fork.) So Boca Mexa has devised some posters and flyers with bilingual instructions on how to attack a taco.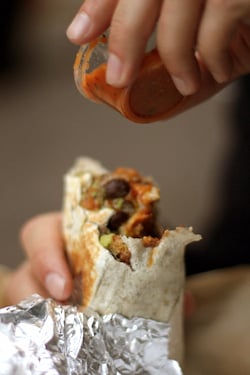 I'm pretty good at it now, although I used to have some accidents back in California. Because Mexican food is a precious commodity in Paris, I eat leaning over a plate so as not to let a single grain of rice or chunk of guacamole hit the table, or my lap. (Although I don't like to eat off either, I'd probably make an exception nowadays.)
The fellow making the food at Boca Mexa took it upon himself to explain to me what composed a burrito, and how a taco was made. Even though I wanted to go behind the counter and make one for myself, I let him explain it to me because I like the way Mexican ingredients sometimes get translated into French. And because sometimes they don't quite translate, I find it amusing to hear the explanations and discussions that ensue.
The two keys to ordering Mexican food in Paris are these: Tell them you want it authentique. I found if I say I want it piquante, or épicé (spicy, or spicy), they still tone it down to keep things benign. Telling them you want it "authentic" means you want it the way they make it at home, either in Paris – or better yet, back home in Mexico. And always, always, always request the hottest of the hot sauces available. Hold your ground and don't let them talk you into anything less. And get extra chiles wherever possible too, right from the start. If they try to give you a few dinky slices of them, start crying until they give you more. Desperate times call for desperate measures and although crying hasn't worked for me at my bank or city hall, I do have better luck in restaurants and chocolate shops.
With the strong showing of Candelaria and Rice and Beans, and Chipotle now in Paris, Parisians are going have to get up to speed on how to eat Mexican food. If anyone needs a lesson, I'm happy to oblige. And surprised at their capacity, I'm going to ask my French friends to teach me how to eat more Mexican food than I currently do. Although I've been getting pretty good practice at that this week on my own.


For addresses, see Mexican Restaurants in Paris.