Coconut Chocolate Macaroon Recipe
Many people tell me this is one of their favorite recipes from my cookbook, Ready For Dessert. In addition to these fantastic Coconut-Dipped Chocolate Macaroons in it, you'll find the much-loved recipe for Fresh Ginger Cake, which makes a fantastic dessert served with sliced, juicy peaches or flavorful strawberries and raspberries in the summer, or tangy lemon cream in the winter, as well as my other most frequently requested recipes.
I'm often asked about the different between Parisian macarons and American-style macaroons, like these. Both are egg white-based, however the European version (which was invented in Italy) uses almonds whereas the American ones use coconut. There's some dispute about how the American ones came to be made of coconut; one theory is that European immigrants who came to the United States couldn't get almonds, or they were too expensive, so they used coconut.
Another theory is that European companies wanted to ship their macarons over longer distances, so swapped out coconut for the spoilage-prone nuts. Others credit Franklin Baker, an American flour miller, who found the then-exotic shredded coconut more interesting (and less-expensive) to use than nuts. Either way, I like all kinds of macaroons…or macarons.
The French do make coconut cookies, which are called Congolais or Rochers à la noix de coco, usually shortened to Rochers coco, or coconut "rocks." I've not seen them dipped in chocolate in any French bakery – but why not?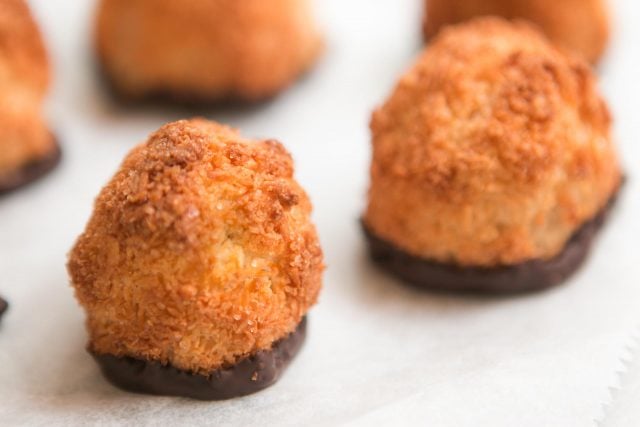 I've tweaked this recipe over the years and tested them with flour alternatives, which I've noted in the headnote in the recipe, and they come out great. You can even skip swiping the bottoms in bittersweet chocolate if you wish. No matter how you make them, I hope they become one of your favorite cookies, too.

| | |
| --- | --- |
| Coconut and Chocolate Macaroons | Print Recipe |
From Ready for Dessert (Ten Speed) I invariably make these cookies when I have extra egg whites on hand. The dough freezes beautifully if I don't plan to make the macaroons right away. These coconut macaroons can be made without the flour by substituting 2 1/2 tablespoons of cornstarch or potato starch for the flour. Readers have told me the recipe works well with 1/4 cup matzoh meal substituted in place of the flour.
2 1/2
cups (200g)
unsweetened shredded coconut
(see note)
1/2
teaspoon
vanilla extract or vanilla bean paste
2
ounces (55g)
bittersweet or semisweet chocolate,
chopped
1. In a large skillet or wide saucepan, mix together the egg whites, sugar, salt, and honey.
2. Over low heat on the stovetop, stir the egg whites and sugar together until the mixture is tepid, but not warm or hot. You don't want to cook them; just warmed slightly so they are looser.
3. Add the coconut, flour, and vanilla. Continue to stir the mixture over medium heat for a few minutes until it thickens to a cohesive mass. (It'll be like very thick oatmeal and the bottom will very slightly start to scorch.) Remove from heat. Transfer to a bowl to cool to room temperature.
4. When ready to bake, line a baking sheet with parchment paper or silicone baking mat and preheat the oven to 350º F (180ºC).
5. Form the dough into 1 1/2-inch (4cm) rounds in your hands, squeezing the dough to coax them into rough rounds (remember, the French call them "rocks," so they can be a uneven - for smoother rounds, dampen your hands), then place them evenly spaced on the baking sheet. Bake the macaroons until deep golden brown, about 18 to 20 minutes. Cool completely.
6. To dip the macaroons in chocolate, melt the chocolate in a clean, dry bowl set over a pan of simmering water (or in a microwave.) Line a baking sheet with plastic wrap or parchment paper. Dip the bottoms of each cookie in the chocolate and set the cookies on the baking sheet. Refrigerate 5-10 minutes, until the chocolate is set.
Notes: Unsweetened shredded coconut is available in most natural food shops or you can purchase it online. Flaked coconut is larger and I haven't tried these macaroons with the flakes but if that's all you have, I would pulse the flakes in a food processor a few times until they're finely shredded.
Storage: The baked macaroons will keep for up to three or four days if stored in an airtight container. If dipped in chocolate, store the cookies in a cool place. The dough can be refrigerated for up to one week or frozen for at least two months.