When I was in Sicily, either it slipped my mind, or my mind is slipping, because for one evening, I was supposed to be responsible for making something for dessert. I was offered a number of beautiful things to cook or bake with, and my mind kept wandering back to the heavenly ricotta cheese that we'd seen being made earlier that day.
Since we brought home a few big strainers of the just-set ricotta, I couldn't resist putting one to use in ice cream. I blended up the cheese with some milk, a few spoonfuls of local honey, and made a luxurious pine nut brittle to crumble into the ice cream, called a croccante. I figured, "Heck, we're in Sicily. I'm dumping a whole bunch of pine nuts into ice cream. Whee! Here I go…!", assuming they were not so expensive there.
My gracious hostess didn't say anything, but I didn't realize until later that I used what was probably the equivalent of the monthly mortgage on the house to mix into my single batch of ice cream. Fortunately everyone ate every last spoonful of ice cream, so they didn't go to waste. (Whew!) But when I got home, I decided when I shared to recipe, to take an easier…and less-costly…route.
Sicilian gelato is traditionally made with milk and no eggs, but I decided to go with cream when I got home because the ice cream would become very hard to scoop otherwise. (After the recipe, I give guidelines to make the version I made without eggs, although I recommend using half-and-half or cream for a better texture.) Gelaterias get around that problem by storing their ice cream in freezers that aren't as cold as home freezers, so the ice cream is scoopable.
Wanting to stay as true to the roots of this ice cream, I went with pistachios, which are very Sicilian. Although when I went to G. Detou, they had beautiful shelled pistachios, but ones from Iran. (Where I'd love my next trip to be to.) So I used those. I also started in on the stash of glazed citron that I stocked up on this winter when I was lucky enough to get my hands on some cédrats, in Paris.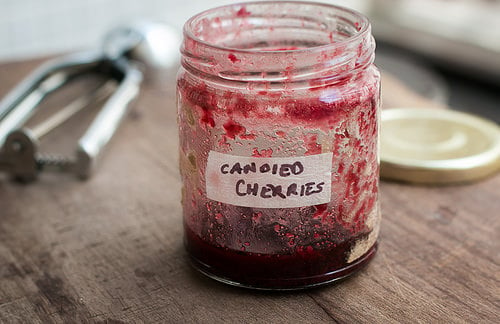 I thought it'd be nice to top the ice cream with some candied cherries. But when I went into my jar of candied cherries, which I finally found it in the back of my refrigerator, due to an overload of Manhattans, I found out that I was down to my last few – and rather punky – cherries.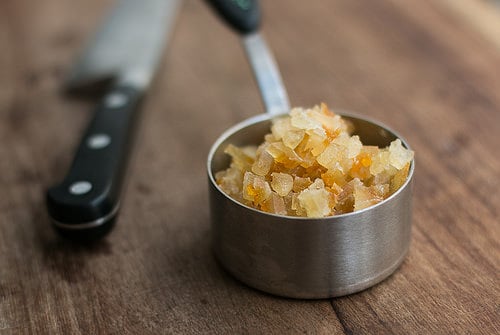 So I bought a jar of preserved sour cherries, drained the syrup into a pan, added some sugar (about 1 part sugar to 2 parts liquid), and cooked it until the bubbles were thick. If you want a treat, Amarena cherries are delicious. Although if you drink Manhattans, you might want to keep extra on hand, because once the jar is open, they're hard to resist!
Standard supermarket ricotta cheese can be grainier than fresh ricotta. It probably helps if you have one of those vito-turbo-blenders that everyone is always raving about (except me, because I don't have one). Still, it benefits from a good whizzing up in a blender, which helps smooth things out.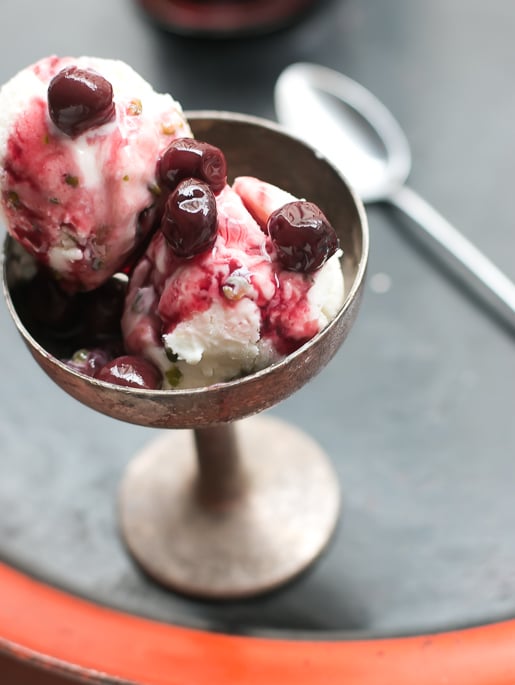 Ricotta Ice Cream with Candied Fruit and Pistachios
You don't need to use pistachios and other nuts can be swapped out, including lightly toasted chopped almonds or hazelnuts. Some chopped chocolate can be mixed in to the just-churned ice cream as well, and some might like to add a few drops of orange flower water or a splash of orange liqueur to the base, prior to churning. Or you can leave it as is; it's great served with
cherry compote
or fresh berries. I'd mentioned that originally I'd made a pine nut brittle for the ice cream, but since the price of pine nuts is very high right now, I thought I'd offer an alternative. If you want to make the brittle and use that, instead of the pistachios, caramelize 1/2 cup (100g) of sugar, and mix in an equal amount of lightly toasted pine nuts.
(Avoid Chinese pine nuts)
. Stir them together, then spread the mixture on a lightly oiled baking sheet or marble counter. When cool, break the brittle into little pieces with a chef's knife or food processor and fold into just-churned ice cream along with the candied fruit.
For the custard
1

cup

(250ml)

, half-and-half or heavy cream

1/2

cup (100g)

sugar

pinch

of salt

5

large egg yolks

1/4

cup (80g)

honey

2

cups (500ml)

whole-milk ricotta cheese

optional: 1-2

teaspoon

grappa or

, kirsch

1

teaspoon

freshly squeezed lemon juice
For mixing in
1/4

cup (40g)

finely diced candied lemon

,

orange, or citron

1/4

cup (40g)

coarsely chopped shelled pistachios

,

(untoasted, or very lightly toasted)
Warm the half-and-half or cream with the sugar and salt in a small saucepan.

In a medium bowl, whisk together the egg yolks.

Make an ice bath by nesting a metal or glass bowl in a larger bowl that's partially filled with ice and some water. Set a mesh strainer over the top.

When the half-and-half mixture is very warm, gradually add it to the yolks, stirring constantly with a whisk as you pour (to avoid scrambling the eggs). Scrape the mixture back into the saucepan and cook over medium heat, stirring constantly with a heatproof spatula, just until the custard thickens and coats the spatula. (Do not boil.)

Immediately strain the custard into the bowl in the ice bath and stir until cool.

Pour the custard into a blender and add the honey, ricotta, and grappa or kirsch (if using). Puree in the blender until the mixture is very smooth, about 30 seconds. Pour the mixture into a container, cover, and chill thoroughly.

Add the lemon juice, then churn the ice cream in your ice cream maker according to the manufacturer's instructions. When done, stir in the candied citrus and nuts, and transfer to a container. Cover, and store in the freezer until ready to serve.
Notes
No-egg version: Blend 2 cups (500ml) ricotta with 1 cup (250ml) whole milk (or you can use half-and-half or heavy cream, for a creamier texture) with 1/2 cup (100g) sugar, 1/4 cup (80 honey) and 1 teaspoon of grappa of kirsch. Chill thoroughly, then add 1 teaspoon fresh lemon juice, and freeze in your ice cream maker, according to the manufacturer's instructions. Fold in 1/4 cup/40g (each) candied fruit and pistachios when removing the churned from the machine.
Note that this version will become quite firm after spending some time in the freezer. If you make it in advance, plan on removing it from the freezer at least 10 minutes before serving it.
Related Posts
How to make ice cream without a machine
Tips for making homemade ice cream softer
The easiest chocolate ice cream ever
Homemade ricotta cheese (Simply Recipes)