I finally got to Corsica. I'd heard so much about it. But somehow, I'd never made it there. Corsica is a large island off the Mediterranean coast of France, which has had a rather back-and-forth relationship with France. But the short story is that it was back under French rule in 1796, where it's firmly (although to some, precariously) remained.
Its most famous resident was – and still is – Napoléon Bonaparte. And the airport in Ajaccio, where we flew into from Paris is named after him. since he was born there.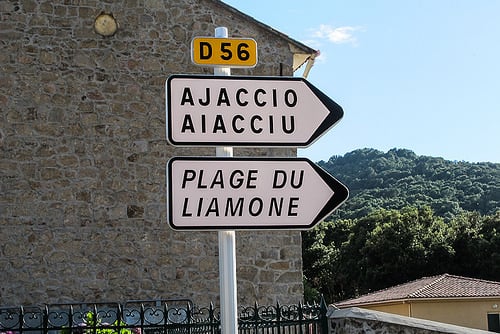 Our friend who we were rendez-vous-ing with was arriving in the early evening, so we had some time to stroll around the city. We started at the excellent Musée Fesch, named for the uncle of Napoléon, who was a collector of Italian art. The current exhibition featured classic paintings, paired with recent work by Andres Serrano, an artist most famous for submerging a crucifix in pipi.
The photograph of that was the only work in the museum that was protected by Plexiglas and there was an interesting few paragraphs that accompanied it, offering a little explanation, ending with "typical American culture….politically correct."
When I arrived in France, my second French teacher asked me, "Why are Americans so politically correct?" It's been over a decade and I'm still not sure I have an answer. (Or, being from San Francisco, know why that is even a question.) But a reader noted that there was an attack on the photo in France as well. So even if it's not typique, I guess I should be glad to know we share the title, at times, for being PC. Or whatever you want to call it when it comes to religious icons. However perhaps in this case, it's best to leave the "P" out of it.
In addition to the photograph, I'd heard mixed reports of the food in Corsica. Walking around town, we bypassed all the places with square plates and food served on slate, which were most of them. Until we finally found a place where groups of locals were dining. On round plates.
The menu of fried zucchini blossoms and Italian-accented fare appealed, made with the local brocciu, a Corsican cheese that's similar to ricotta, sounded promising. But what they did to those delicate zucchini blossoms (below, left), heavy on the batter, rendered the flowers inconsequential.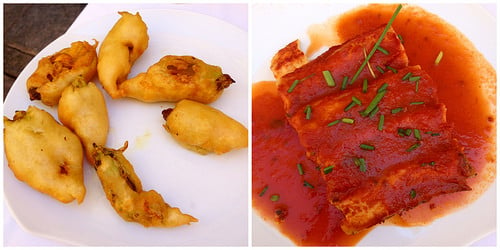 The cannolini rolled up with brocciu cheese (above, right), came smothered in thin tomato sauce, topped with carefully chopped chives. Another customer who was dining next to us, and had just (somehow) polished off a slice, said to us on his way out, "Bon appétit! – but I don't have to worry about that, because you're eating that delicious tart." We left three-quarters of it, but finished off our carafe of Corsican white wine, bien sûr.
In spite of the less-than-spectacular dining options we stumbled upon, Corsica does have spectacular products. Namely cheese…
Charcuterie…
Canistrelli cookies, made with fire-roasted chestnut flour…
And chestnut honey…
Since we were staying in our friend's lovely home, in a modest village in the mountains, we asked where we could find locally grown vegetables and fruits. He laughed heartily, and said, "Mais non, Daveed,, this isn't the Luberon!"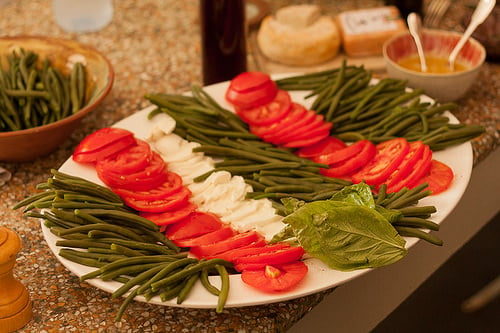 Although we cooked up some very good meals with our hosts, we stuffed ourselves with the goat and sheeps' milk cheeses, and the incredible charcuterie, and washed it all down with local (yay!) viognier and merlot wines.
For those who are surprised, and/or upset, to hear that people in the south of France put ice in their rosé, you might want to scroll past this quickly. Not only do they put a few cubes in rosé and white wine, but also red as well. And not just ice. They put sparkling water into their wine, which is a habit I adapted since it was efficace (efficient) – I mean, you got to drink you water with your wine. Who says the French aren't efficient?
Because Corsica is an island, it's surrounded by beaches. (Duh.)
And what beaches! We stayed there every day, enjoying every minute, until the sun went down.
Our favorite was in Sagone, which was a winding road drive, down the mountain from we were staying. I had asked about visiting other parts of the island since friends had given me a few places I might like to go while in Corsica. But since distances are far – due to those pesky winding roads (which made me a little queasy) – and places get jam-packed in the summer months, due to the southern migration of French (and other) tourists, we stuck with our lovely little beach, which was reliably an excellent place to while away the afternoons. (And who wants to spend their vacation trapped in a rental car, with an uneasy tummy, when you could be sitting on the beach?)
Fortunately there was a restaurant nestled right up against the sands, so we didn't have to drive anywhere to have lunch. Or even get dressed. So we became good customers, eating there four times during the week, each time having the same thing.
Another guest, from another European country, saw the salade Niçoise that they were serving, with a heap of white rice, some somewhat artistically presented tomatoes, a generous helping of canned corn, and asked me, "Ees ziss the 60s?" (Note that isn't a square plate, though. The corners are mercifully rounded. Perhaps they knew we were coming and rounded them down, so we'd eat there?)
While I assured him it wasn't the 60's, or even the 80's, I did advise him to stick with the same thing we ate daily: les moules-frites. Simmered in cream and shallots, and served with the crispest French fries I've had in ages, it was great diving into a big, steaming bowl of mussels, scarfing down fries as if you weren't wearing a skimpy euro bathing suit (most of the other men nearby, large and small, didn't seem to care either), and washing it down with rosé with ice, diluted with sparkling water. (For efficiency, of course.) If you've ever come to Paris and wondered where all the ice cubes are, they're here, in Corsica.
Fortunately we were also near a pretty good glacier, Pierre Geronimi, whose caramel ice cream was one of the best I've had. Other flavors we tried were yuzu, rum-raisin, chocolate, café, stracciatella, and beet-passion fruit, which wasn't as popular as the other flavors…for some reason.
Another thing not entirely popular in Corsica is, um, France, and there are signs and graffiti around the island, expressing the need (or desire) for independence. I get it. I value "alone time" as well.
I wasn't sure why they wanted to leave France, but a local told me not to bring it up unless I wanted an earful. So I assume it's because the Corsicans didn't want to share their cheeses or charcuterie. And I can't say I blame them.
In addition to making one's stomach do some roly-poly things, a few other things to know about driving in the Corsican mountains: One is that the roads wind sharply and people like to drive in the middle of the road, especially around the sharp – and blind – corners. Our friends who live there told me there are terrible accidents. I guess that's why they feel the need to have all the help they can get along the roads.
Another is that if you have any propensity for getting car-sick (gulp…), reserve the front seat of the car for your entire week.
FYI: If you come across a couple of neighbors having a mid-route tête-a-tête in Corsica, you can wait anywhere from 30 seconds, to 10 minutes, for them to finish. And unlike Paris, you never, ever honk if someone is holding you up by blocking the road. Just sit there and wait.
And do watch out for free-ranging cows and calves that roam the streets. Our hosts kept reminding us to secure the gate when we entered and exited, because the cows and calves nudge it open, and free-range around their house.
(The veal in Corsica is famous, although one night I was – somehow – put in charge of making osso bucco, which I'd never done. I figured, like any cut of meat like that, a long-braise with aromatics would render the muscular meat tender. But after five-and-a-half hours, checking it every 4 minutes to see if it was tenderizing, it was still nearly impossible to hack through with a steak knife. But I did appreciate that the animals were allowed to roam and graze freely.)
The last few days, Romain assured me that I had a belle tête; a roundabout way of saying that I looked happy, which meant our week in Corsica was a success. It was nice to participate in the great summer escape from Paris share some time in a countryside, and hit a marvelous beach every day. But since my maillot de bain (swimsuit, although when it's thong-like, it's le string – and I'm not ready to go there…although some of the dudes on the beach had no problem going there…) was getting a little tight from a steady diet of cheese, meat, chestnut cookies, and les frites, it was time to pack up the Speedos and head home.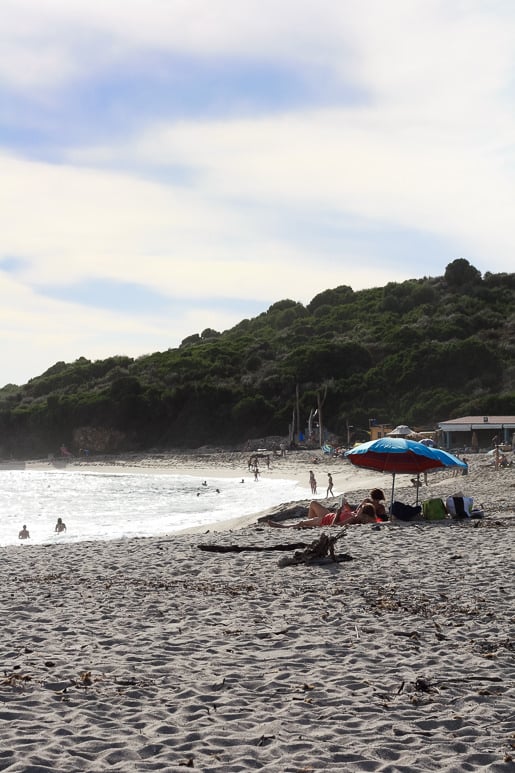 So now I'm back, nose to the grindstone. I brought back a hefty wedge of Coriscan cheese, which is perfuming everything else in my refrigerator, some lonzo (charcuterie), along with a pot of that rich, dark chestnut honey. If only I had brought back some of that stone-ground chestnut flour, I'd be rolling in clover. Or rolling Canistrelli cookies.