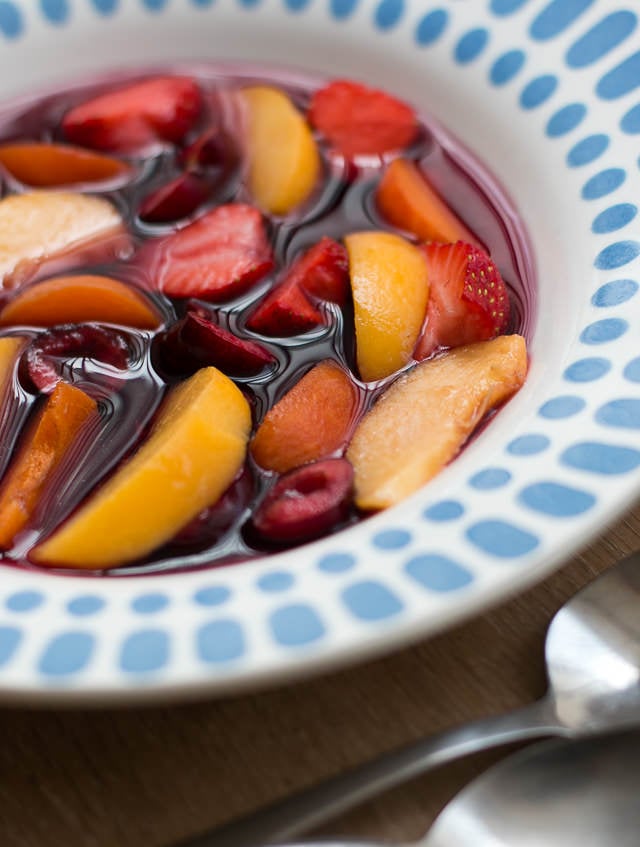 France is the land of wine but it's not necessarily something of adulation. I was told the average price spent on a bottle of wine in France is €3,20, which means a lot of people are spending less than that. To many, it's just a drink and not something that's considered a special-occasion beverage. And while people scoff at things like boxed wine, or wine in bulk, locals who live near wineries in the countryside of France often buy their wine that way because it's more écolo (ecological)…and cheaper.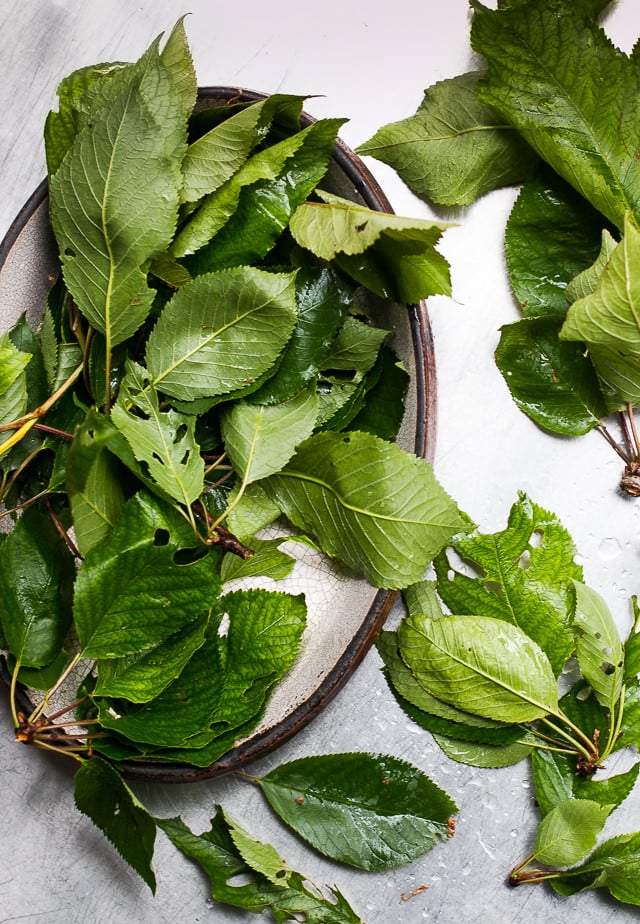 The French are a thrifty lot, and don't like to throw things away. And neither do I. I wanted to have a sidewalk sale to get rid of a few odds and ends and was told it was interdit (forbidden). So I assume that, like me, everyone's apartments are stuffed with things they can't, or won't, get rid of. I save old cutting boards, linen kitchen towels, slightly battered (but beautiful and well-used) kitchen knives, vintage gratin dishes, and wine bottles and carafes to bottle up and serve various homemade libations, such as this Cherry Leaf Wine.
When I was at my friend's house outside of Paris recently, because I'm also thrifty (radin), I stripped branches of bay leaves off their trees, picked as much sage and rosemary as I could before they got suspicious that I was starting my own herb business (although not on the sidewalk…), and grabbed a bagful of cherry leaves from their trees that were ripe with fresh cherries.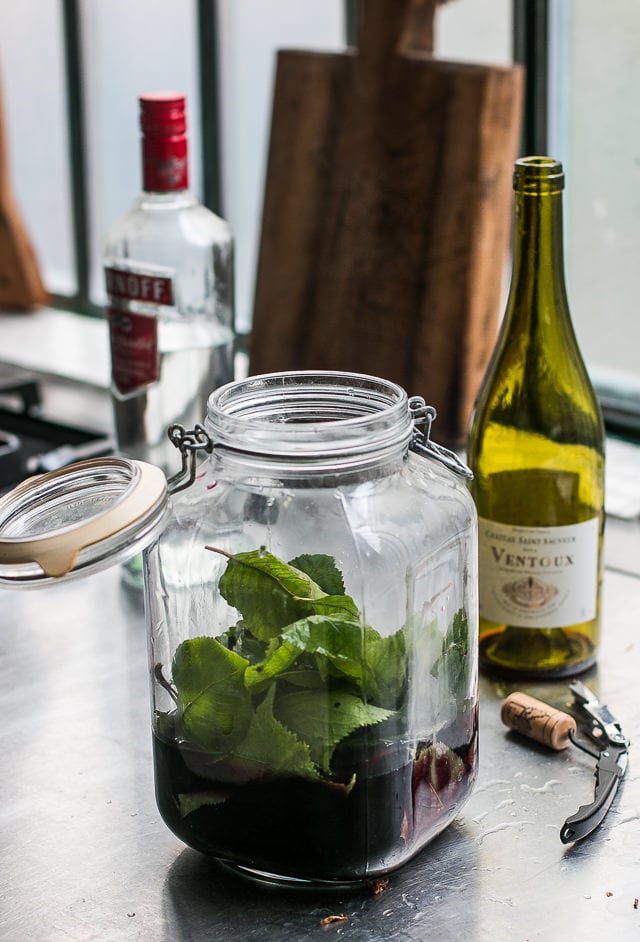 Once home, I jarred them up with some of that cheap red wine. I'll confess that the wine I used cost even less than €3,20 – I think it clocked in at €2,90, and it worked just fine, along with a good pour of vodka, some sugar, and a few black peppercorns, for adding a bit of a spicy note.
I've taken some flak for putting ice in wine, which they routinely do in hot climates like Provence and Corsica, places where wine isn't always considered an upscale drink. And it's simply too hot to drink anything, wine included, unless it's very chilled. A lovely young Frenchwoman came to one of my events in Paris and said, "Of course we put ice in wine in the south. You must in the summer. It's called a plouf" – presumably because it makes a little splash (plouf) when you drop it in the glass. In Corsica, even the red wine that was poured around our dining table was watered down with sparkling water and a few ice cubes ploufing around in the glasses. And if you want to argue with Corsicans, be my guest.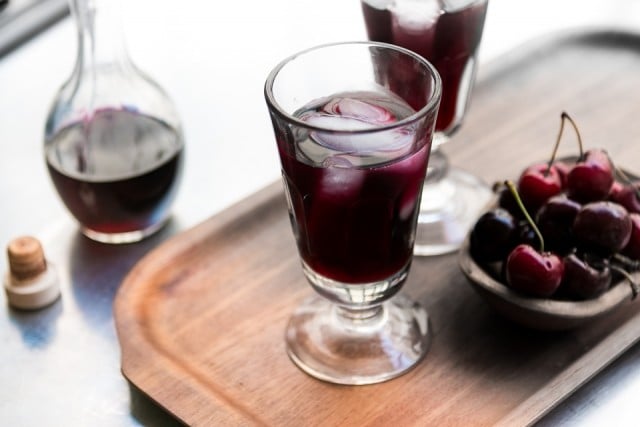 If you have access to a cherry tree, and you're un peu radin (cheap), like I am, you can easily make a batch of vin de cerise. There's no law (as long as you're not selling on the sidewalk, at least) that says you can't flavor it with a few cracked apricot or cherry kernels, a couple of cracked allspice berries, star anise, some lemon peel, or just make it as suggested with the peppercorns.
The time to make this is when, or after, the cherries on the tree have ripened. You'll need to make sure the tree hasn't been sprayed with anything, and unlike recipes that say, "Use a wine that you'd like to drink," for this, use a cheap red wine. A Frenchman said to me once, "Use the worst wine you can find" when we were making apéritif wines in his kitchen. And there's no shame in that. So feel free to walk out of the wine store, jug (or box) in hand, and make a batch of this apéritif maison (homemade wine). It's deeply satisfying to sip something you've made yourself, although beware that because it's fortified, it packs quite a punch.
You can turn this into a delicious summer fruit soup by adding sliced peaches, nectarines, plums, apricots, pitted cherries and berries to the wine. For best flavor, let them sit in the wine an hour or so in the refrigerator and serve the fruit and wine very well-chilled, in icy cold bowls as well. You could also plunk, or plouf, a few ice cubes in the soup to make it extra chilly.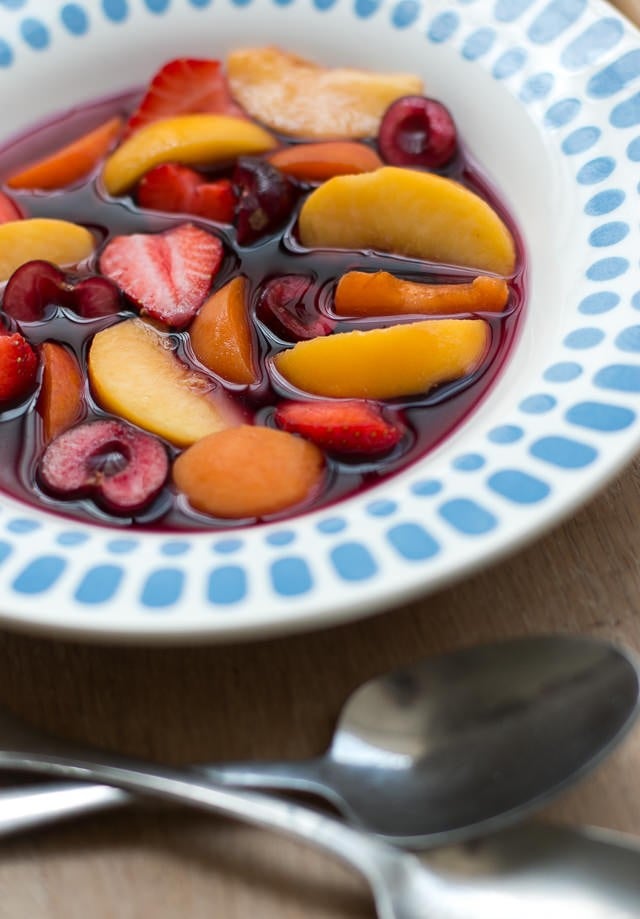 Cherry Leaf Wine
Mine tasted good after a week of marinating. But you might want to taste yours a few days before and see if it's to your liking. It may also take a little longer to get the flavors into the wine, depending on the whims on nature. Use a fruity, inexpensive red wine. The kind that comes in the jug or box is fine. Pinot noir or merlot are two varieties that lend themselves to this apéritif wine, if you're shopping my variety (cépage). One could omit the peppercorns and add other flavorings, such as a cinnamon stick, allspice berries, a few cracked cherry kernels, star anise, a vanilla bean, and/or a few wide strips of lemon or orange zest. Note that this wine is quite strong so serve it with plenty of ice to dilute it. Update: A number of people in the comments asked me about using other leaves for this apéritif wine. I've used
peach leaves
but not any others. If you have questions or concerns about leaves that you have, I recommend checking with your local cooperative extension (or nursery) to determine if they're suitable to use.
50-60

cherry leaves

,

unsprayed

1

quart (1L)

fruity red wine

1/2

cup (125ml)

vodka

1/2

cup (100g)

sugar

12

whole black peppercorns
Rinse the leaves and pat them dry. Put them in a large jar that has a lid.

Pour in the red wine and vodka. Add the sugar and peppercorns, cover, and shake well to dissolve the sugar. Let stand one week, shaking the jar a few times once per day. The leaves will wilt into the wine after a day or so, so not to worry if they aren't all marinating in the wine at first.

When ready, strain the liquid into a bottle using a funnel and a mesh strainer (or cheesecloth). Discard the leaves. Chill the cherry leaf wine until ready to drink.
Notes
Serving: Serve the wine in glasses with plenty of ice. Storage: The wine can be kept in the refrigerator for at least a year.