Spring Picnic at Versailles
I decided to play hookey last week, which coincided with an invitation to the Jardin de la Reine at Versailles for a spring picnic. The weather has been on-and-off in Paris, as it usually is, and no matter what the skies were planning on doing, I figured it'd be nice to escape the city for a few hours. And who could pass up a picnic in the gardens of Versailles? Not me. Fortunately we woke up to a glorious day in Paris, and because no one wants to be cooped up indoors when there's sun, and wine, out there, I left early so I could walk around and get a much-needed dose of Vitamin D.
On a side note, many years ago when I went to pastry school outside of Paris, we were staying in a rather grim little city with no decent places to eat to speak of. To make it worse, we were housed in a zone industrielle, the part of the city far from the town center that was small factories and office building, that become completely deserted at night. There was one chain restaurant within walking distance, a glowing blue-lit palace next to the highway exit that led into the office park, and that was it. We were all pretty tired after classes all day and had nowhere to go but that chain restaurant, which we quickly tired of.
(The televisions in the hotel only got three channels – this was before WiFi, and one was a soft-core rose tv channel, as they say in France, and there were only so many times we could watch a story about a young couple that comes home and finds the babysitter, who had arrived with a low-cut blouse and schoolmarm glasses, asleep on the couch with her glasses fallen off, and her blouse partially unbuttoned, revealing a lacy camisole. I won't mention what happens next, but "rose" tv always cuts away to the next scene, before anything good happens, and resumes after all the action took place. So not only were we hungry, we were also a very frustrated lot.)
Finally, some new students showed up who had a car (!) and we were so excited when they offered to take us to a nearby city, which happened to be Versailles, for dinner. We ended up eating in a Chinese restaurant because we were all students, on student budgets – and we were eating French pastries all day, and craving something completely the opposite. It wasn't very good, but I always associate Versailles now with blasé (although entirely appreciated) Chinese food.
Not sure why I had to tell that story, perhaps because it's been sitting on my mind for the past eighteen years. And rose tv seems to have disappeared from late-night French television, but rosé is more popular than ever and we kicked off the picnic with glasses of Perrier-Jouet 2006 Champagne. Because for most of us, we had work waiting for us back at home, we took it easy on the wine drinking. But it was hard to resist an icy cold glass of bubbly on such a magnificent day, wandering around the gardens of Versailles, served with such panache.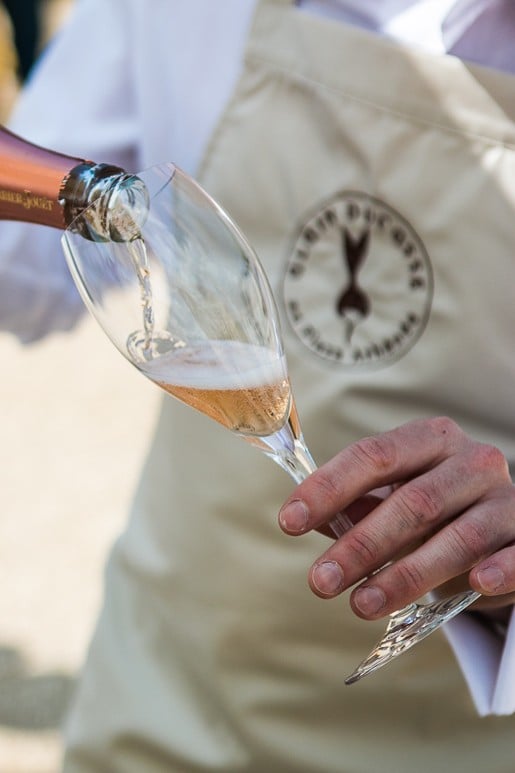 Glasses in hand, head gardener of the Jardin de la Reine at Versailles, Alain Baraton welcomed us to the neatly manicured gardens – or potagers, as you would call vegetable gardens in French, while the team from the Alain Ducasse restaurant at the Plaza-Athenée hotel (who'd organized the picnic) were making lunch for us in the kitchen. The restaurant has been a bit controversial since they don't focus on meat – rather, it's about grains, sustainable fish and seafood, as well as carefully sourced fruits and vegetables. But it was nice that there's an effort being made to move people away from meat-based meals and to focus on other things, which have traditionally gotten short-shrift in Parisian cuisine. And I'm always up for all three, as long as there isn't squid or octopus in there.
Because spring was just emerging in the Île-de-France, the region where Paris and Versailles are located, there weren't a lot of vegetables in the garden at the moment, but I thought I'd make up for it with a few extra pictures of the servers. Je vous en prie. (You're welcome.)
By the time we got to the table, there were some lovely grainy crackers waiting for us to nibble on. (They're similar to Endurance Crackers and Chia Crispbread, if you want to give them a try, like I do.) I ate both of mine pretty quickly, and looked around and saw a few empty seats with plates in front of them, and considered eating those, too.
We had French radishes from the garden, with bits of nuts and seaweed scattered around them, to nibble on while we finished our apéritifs.
Most of us had to get back to work that afternoon, so we didn't drink too much…but they made it hard to resist!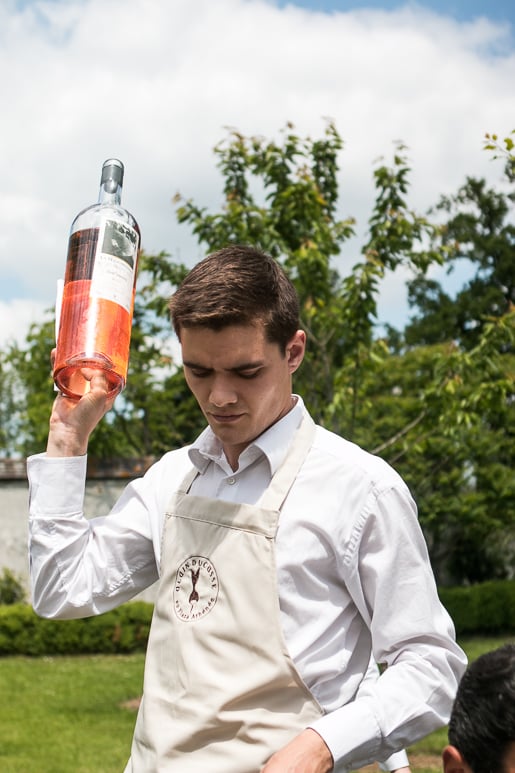 Then we dove into the picnic baskets they'd assembled for us. When I put a snapshot on Instagram, a few inquired if I was going to swipe the red and white towel they'd used to line the baskets with. To be honest, I wanted to swipe everything. But like a good guest, I only brought home what I could carry, that is, in my stomach. Although later I did notice a few guests took theirs home. I didn't ask if that was an option. Should I have?
We started with line-caught mackerel with green lentils in a gelée that looked like caviar and surprisingly, tasted just as good. Then it was on to a whipped puree of chickpeas (top, right), made with pois chiches from the Hautes-Alps, which was excellent, on top of with pagre mariné, or marinated fish. Alongside were crisps with raw mulet and bottarga (salted, cured fish roe).
I passed on the squid and octopus that was in the basket, although I did joke with a co-diner who works with the Alain Ducasse team, if they are intentionally always try to serve me squid or octopus? (which has become a running joke between us), but loved the chunks of lobster from Cotentin, the northern Atlantic coast of France, with new crop Noirmoutier potatoes stuffed with shredded lobster meat. The potatoes are grown on the Île-de-Noirmoutier, an island a hop, skip, and a jump from the mainland, which are only available between mid-April until the end of July and they're said to have a faint salty flavor from being grown near salt marshes. They're very good. But most potatoes from France are, so it's hard to tell.
Next up was one of the best things I've had all year: a lovely mélange of vegetables that were cultivated from the garden of Versailles – carrots, broccoli, chive flowers, tiny turnips, fava beans, and slices of raw fish. I really liked the way each one was perfectly cooked, not over-presented, but grouped naturally and not seasoned much, save for just the right amount of salt to let the flavors of the vegetables come through.
It's easy to forget how truly good vegetables taste when you don't get to eat really fresh vegetables, those picked right from the ground. And I see why the king and queen of France wanted to live out here. (Too bad they had to go back to the city to get their comeuppance.)
The entire picnic basket was a joy to eat, especially surrounded by the gardens, a few friends – old and new, and French waiters hovering around with bottles of wine. The concept of focusing on really great vegetables is something that's not quite well-represented in Paris, except at restaurants with higher price-points. And I thought how nice it'd be to do something like these baskets and make them available in a more communal restaurant situation, perhaps a big hall with picnic-style tables and you could go to the counter and pick from a variety of paniers (baskets) then take them back to the table and sit outside (and in my perfect world, the outside dining area would have a no-smoking section), and enjoy them.
France has such beautiful foods, and I mentioned to my co-diner who works with Chef Ducasse about taking this concept closer to more people (like, near my apartment…) on a larger scale. She nodded in a manner that suggested that it was something they were exploring, so hopefully it'll become a reality in the future. Fortunately I did bring home a box of those potatoes, in lieu of swiping the kitchen towel, and am planning on steaming them up for dinner this week, serving them with a bowl of aïoli made from tender, spring garlic, and yes – a few glasses of rosé, to continue celebrating spring in proper style.