Ballymaloe Irish Brown Bread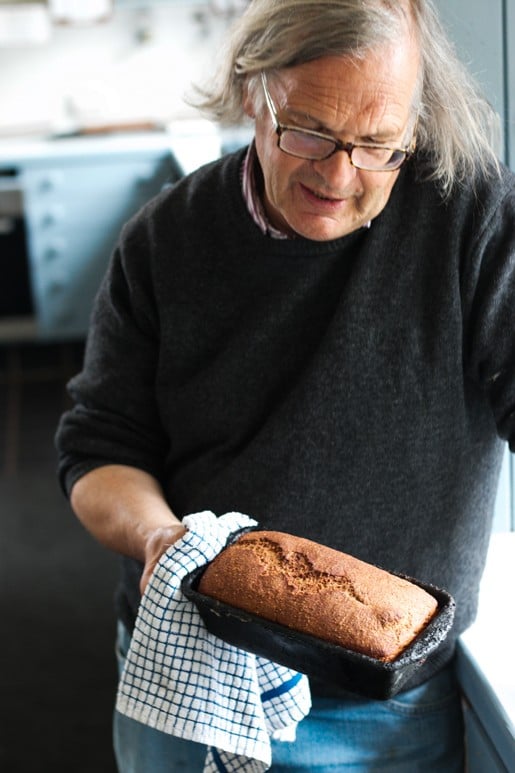 One of the high points of going to Ireland is the Irish breakfast. In France, breakfast is usually some toast and coffee, and I'm fine with that – although a few hours later, I usually have a plain yogurt with some dark honey or a bowl of fresh fruit, to tide me over until lunch. The Irish breakfast, on the other hand, is a major repast with several kinds of sausages, bacon, eggs, and a few other goodies to make sure there is no empty room on your plate when they bring it out.
I'm a big bread eater, and never shy away from a bread plate no matter where I am, and have never had such good soda breads as I've had in Ireland. I learned much of it is because the wheat is milled in such as way that it remains very coarse, giving the breads their special hardy texture and flavor. Bread made with coarse-milled flour actually crunches when you bite into it. I love it!
At Ballymaloe House, to accompany the Irish breakfast, they serve soda bread, Irish scones (similar to what we call "biscuits" in the states), and brown yeast bread, to eat alongside. They leave the loaves on cutting boards so you can help yourself. (I am always tempted to help myself to a whole loaf, and bring it back to my room to finish it off.) When I was there for the Literary Festival, Tim Allen, the son of Myrtle Allen, who started growing vegetables at Ballymaloe in 1947, and decided to open a restaurant, hotel, and eventually a cooking school adjacent to the gardens, kindly offered to take me in their cooking school kitchen to show me how it's made.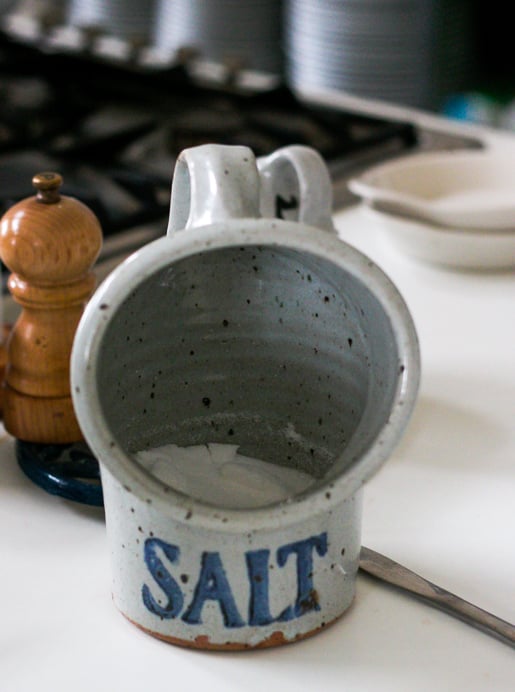 Tim told me that this bread was invented because they wanted to come up with a simple loaf of bread that anybody could make, one that was simple to put together, as well as being wholesome and nutritious. They believe that everyone should know how to make a basic loaf of bread. After decades of testing and baking, they settled on this one, which requires just a few minutes of mixing, no kneading (well before no-kneading became popular), and there's no need one- to two-hour waits for the bread to rise either. Best of all, it tastes great. Unlike other whole wheat breads that tend to have soft, unimpressive crusts, this one gets an extra-crisp exterior from a special technique he showed me when the loaf was nearly finished baking.
After I got home, I set about testing it because I wanted to see if the bread would taste the same in my kitchen, with ingredients that I could find close to me. Ballymaloe kindly packed me up some of the flour that they use, so I had that, and I headed to my local natural food store to get regular whole wheat flour (T150, in France) to do a side-by-side comparison, which I'll get to in a minute.
Regarding the yeast to use, we had a chat about the differences between fresh yeast and active dry yeast, and they prefer to use fresh yeast. Tim also told me (and I'm not sure if you want, or should, try this at home), that they took non-stick loaf pans, smear oil on them, and burn the heck out of them in the oven.
"That's how you make non-stick bakeware," he told me. I didn't have a few years to get my pan seasoned the same way, but after a few trial and errors (I figured you didn't want to wait that long either), I had good results using non-stick spray in a non-stick pan lined with parchment paper on the bottom.
Which brings me to an important point: I tested the recipe a number of times and if you want to use other ingredients, or alter the technique, the results may not be exactly the same. I used the exact same ingredients as theirs, as well as locally available flour, but my pans and oven were different and had slightly varying results. The only difference as you'll see later is that my loaves were a bit lighter in color and using standard whole-wheat flour produced a nice loaf, although different from one using Irish flour.
Since very few ingredients are in this bread, if you can find it, use coarse, stone-ground whole wheat bread flour. It gives the bread its particularly unique flavor and texture. The brand they use at Ballymaloe is Kells Wholemeal Flour made with local Irish (and Canadian) wheat. I visited their website and saw a lovely selection of whole-wheat (or wholemeal, as they call them) flours, but wanted to pinpoint which one. So I wrote to them and a few hours later, Robert Mosse, a member of the family who owns the mill, wrote back to me with some answers.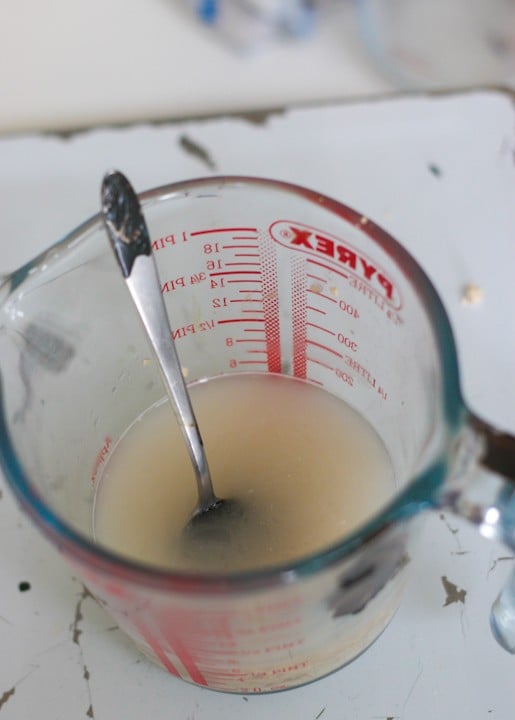 Robert told me that they mill the flour so it has a coarse texture. Other countries, including France, mill flour finely because that's what people prefer to making their styles of bread. At Kells (as well as with other Irish brands), the flour is meant to be used in soda breads, which are popular in Ireland, so it's less powdery, more granular when you run your fingers through it. Also because the flour is stoneground, Robert told me, it gets a slightly roasted flavor from being heated up a bit during the milling process, which gives it that "unique flavor." He also added, proudly – "And of course it's local Irish wheat!"
However the good news is that they told me they are going to begin carrying it in 1,5kg bags under the name of their home-baking company, The Little Mill, which will be available next month in Ireland. The Ballymaloe flour is Bakers Wholemeal, which doesn't help much unless you live in Ireland and want to buy it in 25# sacks, but The Little Mill is now selling it in smaller bags, in the U.S.
If you live in the United States, coarse whole-wheat "Irish-style" flour is available from King Arthur Flour. When I tested the recipe with the French whole-wheat flour versus the Irish coarsely ground flour, there was no comparison: The Irish flour took the bread to a whole other level and the crumb was just like the loaves at Ballymaloe. The bread made with standard whole-wheat flour was just fine, but certainly not as good as the other one. The dough with the regular flour was a little bit sticky and stretchy, the one made with Irish flour was shaggy and coarse. You can see the texture here.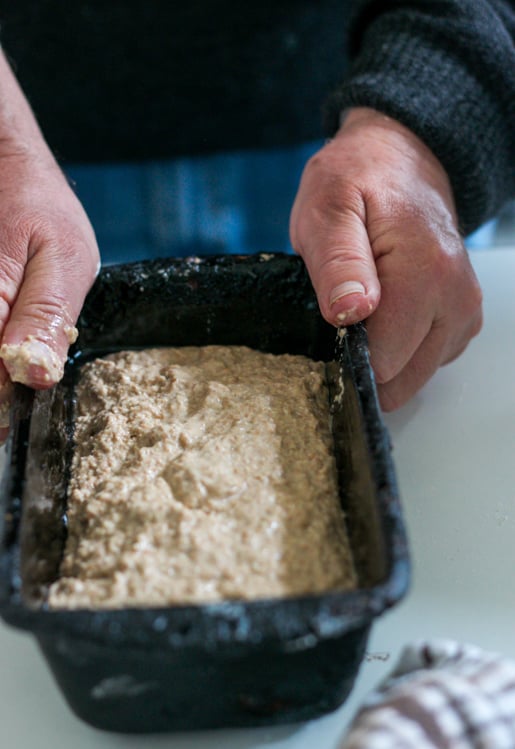 All that said, the spirit of this loaf is that it's something that anyone can make at home, so don't fret. Authenticity is a noble cause, but we shouldn't be beholden to it. Even though I had the same ingredients, my loaves came out different because of various other factors – my oven, loaf pan material, etc. Most recipes and foods have been adapted for the various countries and kitchens they're prepared in, and you should feel free to do the same with this one. Speaking of baking in various countries, when I was testing this recipe, I got a lovely note for a cook in Ohio who'd been making it in her restaurant kitchen for eighteen years, and I've summed up her notes and findings at the end of this post.
This brown yeasted bread could not be simpler to make. You proof the yeast in warm water with the molasses, mix it a few moments later with the dry ingredients, let it sit for about ten minutes, then scrape it into a pan. Once it has risen to the top of the pan (just like above), pop it in the oven and let it bake until almost done, then tip it out onto the rack of the oven and let it finish baking. That gives the bread it's distinctive crisp, thick crust. In the restaurant kitchen at Ballymaloe House, the chef arrives at 6am to get the bread started, and pulls the loaves out by the time the first guests arrive in the dining room for breakfast around 8am. So you can start a loaf in the afternoon and have it for dinner. And if you want to get up at 6am, you could have it fresh for breakfast, too.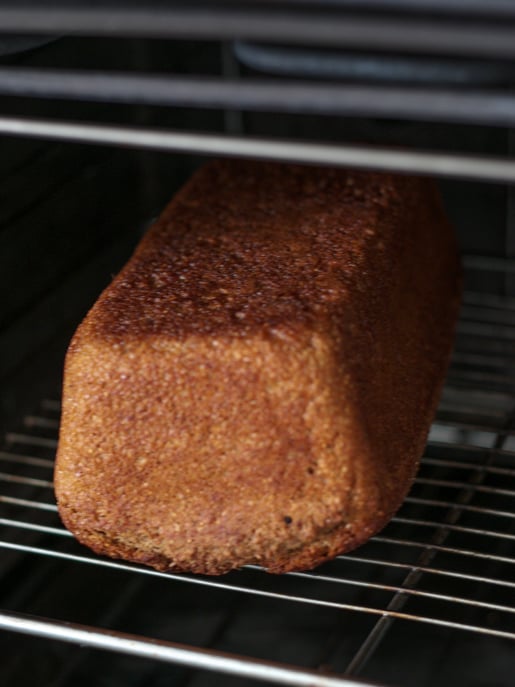 Over in the restaurant kitchen, they showed me the pans they use, which Tim said are (or were, before they got so heavily seasoned) nonstick loaf pans that they oiled then "baked the heck out of." They've been using the same pans for years – obviously.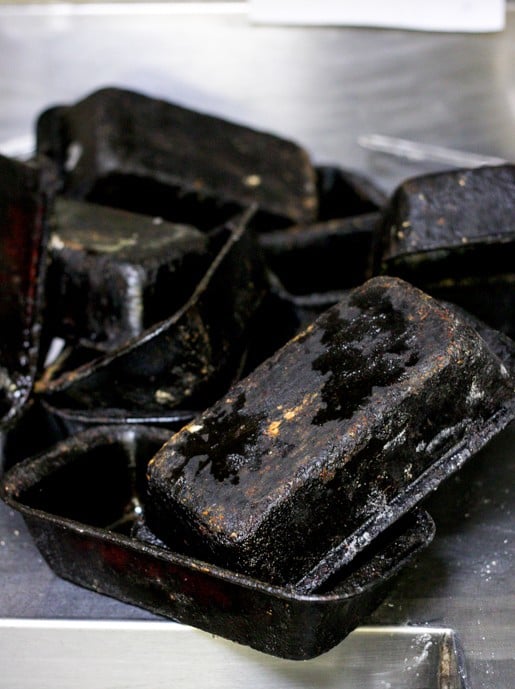 I loved the way mine came out, almost exactly like their loaves. Because ovens/pans are different, mine was a bit lighter on the outside, but inside, the rugged taste of the whole-wheat flour came shining through, and it was hard to wait long enough to let the loaf cool before lopping off a few slices.
So give this simple bread a try. For breakfast, it's great fresh, or toasted with a swipe of salted butter and either some honey or jam. It's easy enough to make and requires almost no effort – just about five minutes of active work. And you too can have fresh bread on the table whenever you want, no matter where you are.
| | |
| --- | --- |
| Ballymaloe Brown Bread | Print Recipe |
You can get Irish-style flour from the mill in Ireland (linked in the post) or from King Arthur Flour. Should you live elsewhere, check out my tips for finding foods online where you are. If you don't want to mail away for it, you might try replacing up to 4 tablespoons of the whole-wheat flour with wheat germ and see if you like the results. Otherwise, try to get good quality whole-wheat flour, preferably stone-ground. If you wish to use all whole-wheat flour, you can omit the white flour and use whole-wheat flour in its place. Tim told me they found they prefer it with just a little bit of white flour in the loaf. Because I wanted to replicate the bread at home just the way they do it there, I measured the ingredients by weight and used fresh yeast, which is sold in some grocery stores and often at natural foods markets. Molasses is widely available in the U.S., although they use treacle at Ballymaloe which is almost the same thing. (In France, it's called Mélasse.) I didn't try it with active dry yeast because I was so satisfied with the results using the fresh yeast but according to the Ballymaloe original recipe," Dried yeast may be used instead of baker's (fresh) yeast. Follow the same method but use only half the weight given for fresh yeast. Allow longer to rise. Fast active dry yeast may also be used, follow the instructions on the packet." There are some additional notes from another baker at the end of this recipe.
400
grams (3 1/2 cups)
whole-wheat flour,
preferably stoneground
50
grams (1/2 cup)
white flour,
all-purpose or bread flour
150ml (5oz),
plus 275ml (10oz)
tepid water
- 425ml
1
tablespoon
dark molasses
or 1 teaspoon treacle
30
grams (1 ounce)
fresh yeast
(see headnote and note after the recipe, for instructions using active dry or instant yeast - I use 2 1/2 teaspoons active dry yeast when not using fresh yeast)
1. Mix the flours with the salt in a medium bowl.
2. Pour 150ml of water into a small bowl and stir in the molasses, then crumble in the fresh yeast, stirring a couple of times. Let stand until it starts to foam on top, about 10 minutes.
3. Pour the yeast mixture and the remaining 275ml water into the flour and stir until a batter is formed, which will have the consistency of oatmeal. (If using standard whole-wheat flour, the dough will be sticky, and rather wet.) Let stand 10 minutes.
4. Spray a nonstick 9-inch (23cm) loaf pan with nonstick spray and cut a piece of parchment or wax paper to line the bottom of the pan. Scrape the dough into the prepared pan, smooth the top with a spatula or if it's sticky, dampen your hand and use that then drape a kitchen towel over the top (so it's not pressing down on the dough, but just lightly over the top) and let rise in a warm place until the dough reaches the top of the pan, about 20 minutes – although it can vary so just keep an eye on it.
5. Before the dough has almost reached the top of the pan, preheat the oven to 450ºF (230ºC). When the dough has reached the top of the pan, bake the bread for 20 minutes. After 20 minutes, decrease the heat to 400ºF (200ºC). Run a knife around the outside of the bread to release it from the pan, tip the loaf out of the pan, remove the parchment paper, and place the loaf upside down directly on the baking rack and let bake another 15 minutes, or until done. The bread is ready when you tap the bottom and it sounds hollow. If using an instant-read thermometer, the temperature should read 190ºF (88ºC). Let the bread cool on a wire rack before slicing.
The bread is best eaten fresh, smeared with lots of good butter, or toasted for breakfast, with jam and butter. It's also nice for open-faced sandwiches, and would be a fine accompaniment to a cheese board, too.
Storage: The bread will keep for 3 or 4 days; I wrap it in a linen kitchen towel. You can freeze the bread for up to two months. Leftovers? Make Brown Bread Ice Cream!
Notes: Although I haven't done it, if you want to make the dough ahead and put it in the pan, up through the point where you put it in the pan in step 4, you could likely refrigerate it, then take it out later and let it come to room temperature and rise, before baking it. Here are some notes from Mary Jo McMillin of Mary Jo's Kitchen, who published her version of the recipe in her book, Mary Jo's Cuisine, which she shared in our discussions: Mary Jo recommends King Arthur Whole Wheat flour, made from hard winter wheat – also available on Amazon. (On the King Arthur website, it doesn't specify if it's winter wheat or not. But they have great customer service if you want to call them.) For an Irish flour, she recommends Odlums, which she buys from an Irish shop near where she lives. When using regular whole-wheat flour, she adds an additional 4 to 6 fluid ounces more water, if necessary; noting the dough should have the consistency of muffin batter. (I didn't find that the case, but if the dough is very stiff, you can add more water.) She concurs that it's essential to use a nonstick loaf pan and while she oils hers, she also says you can use butter or shortening. (With a little disclaimer that she's not a fan of shortening.) Like they do at Ballymaloe, she sometimes sprinkles the top of the loaf with toasted sesame seeds before the final rise in the loaf pan, and subsequent baking, which you can do as well.