Midleton Farmers' Market, Ireland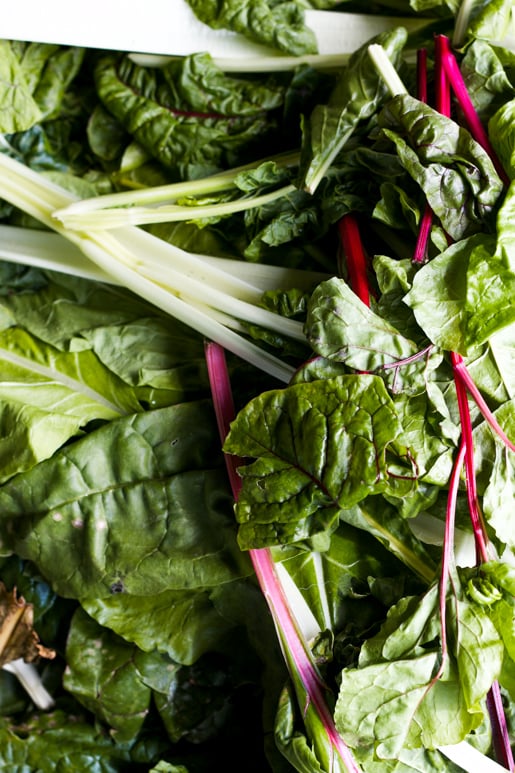 How excited was I to get an invitation to be a speaker at the Kerrygold Ballymaloe Litfest festival at the Ballymaloe Cookery School? It popped into my mailbox a few months ago and although I had been to Ballymaloe a few years back, I remembered the exceptional food of Cork, Ireland, and the lovely people – which meant there was no way in heck I was going to refuse.
Yesterday, which was the first full day of the event, I took 350+ pictures; as I said to someone here, "You can't take a bad picture in Cork." The intense green fields and trees, the low-lying landscape, and the pristine fruits, vegetables, herbs, and meats, remind me in many ways of Northern California, with a chill passing through the air every once in a while alternating with moments of sunlight and brightness before the sun retreats again.
But it's mainly the food that I come back for – fresh goat cheeses, a strong commitment to sustainable meats and fish, liberal use of fresh vegetables, and a pride of ingredients that shines through every plate of every meal that's set down before us.
Even breakfast at Ballymaloe House, their restaurant, is made with free-range eggs laid by chickens just around the corner, bacon from rare-breed pigs that tastes better than anything you can imagine, and sausage that you don't feel guilty biting in to, because you know that everything in there isn't a mysterious blend of dubious meat scraps from who-knows-where. But skillfully blended and seasoned, making it the perfect accompaniment, and a hearty start to the day, along with the eggs and freshly baked whole grain bread that I've become addicted to.
While every moment of the weekend is jam-packed with talks, tastings, and socializing with old friends and new, Friday night we'd decided to get up early and hit the nearby farmers' market in Midleton on Saturday morning, which I've visited once before. With a jam-packed schedule, we didn't have much time to spare before the festivities started and we figured arriving at 8am would give us enough time to get a good look at everything.
However our plans were thwarted when we were told that the market doesn't really get going until 10am, presumably because people are having a "good time" the night before, and that it wasn't really worth getting there until that time. After a lively night last evening, which combined Irish whiskey and an uncountable amount of wine, it was easy to see why waking up early isn't exactly a priority around here.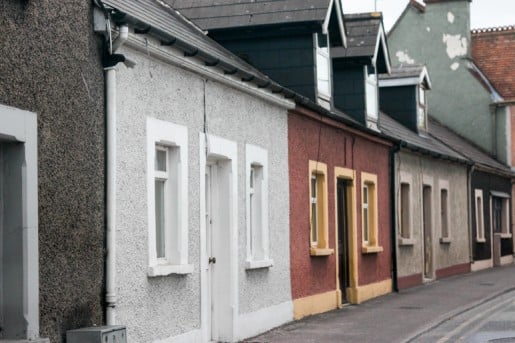 Being a trooper, however, I was up at 5:45am on Saturday morning, rarin' and ready to go. And so were the bakers at Ballymaloe House, who arrived a little bit later than that to get moving on the morning breads.
I plodded downstairs to the kitchen, through the empty guesthouse and dining room, as quietly as possible, to make my way into the kitchen where Chef Anne Healey and her cheerful staff (even at that crazy-early hour) were preparing breakfast for not-too-soon to arrive guests. Most people don't tumble downstairs until 8am or so. But being Ireland, 9am is more like it.
Anne had already made the dough/batter for brown bread, whose recipe I'll share in the next few weeks after I tool around with it in my own kitchen, and was pulling craggy rounds of soda bread (above) out of the oven. I've had a lot of soda bread in my life, but there's something about the ones that come out of the Ballymaloe ovens that taste extra-special. Equally special are the staff and everyone could not be nicer in their kitchens. Most cooks are slightly grumpy, especially at 6:30am (or maybe it's just me?), but all were chipper and cheerful while they went on their way slicing streaky bacon and cooking up sausages in preparation for the breakfast service.
My very first morning, Anne Mack, the famously forthright waitress in the dining room (or, to put it another way, if I was in a rumble, I would definitely want her on my side), refused to let me get out of my seat until I had tried every single bread they'd made. And while the breads are spectacular, the house made jams are the stuff dreams are made of, as is the cookery school butter, as it's called, which is made in such small quantities (the milk comes from one Jersey cow), that they only dole it out for certain meals. I've had lot of butter in my life, but would say it's the best butter I've ever had. Even the picture that I took with my smartphone at the crack of dawn gives a reasonable glimpse of the dramatic color that it has. Now that's butter!
I'll share more later, when I sort through what is certain to be 500+ photos when the event is over, but Rebecca of Dirty Girl Kitchen and I decided to make a last-minute run to the Midleton Farmers' market with the help of a local, who drove us over there for a quick look-see.
The market was conceived by Darina Allen, who runs the Ballymaloe Cookery School, who believed that every town in Ireland should have a farmers' market where people could shop and buy their food from neighboring farmers. I'd met her a few years back and she'd told me that she was inspired to start the school and cooking programs after going to an Italian cooking demonstration in Italy, where they were talking about the wonderful ingredients they had – and she thought to herself, "We have the same ingredients in Ireland. Only better!"
A good argument in her favor, showing the excellent quality of foodstuffs available in Ireland, is the Midletown Farmers' Market, a true market with actual producers, fishermen, bakers, and cheese makers, with everything from local breads and vegetables just yanked from the garden, to craft beers, meats and smoked fish that Rebecca and I were so happy to check out.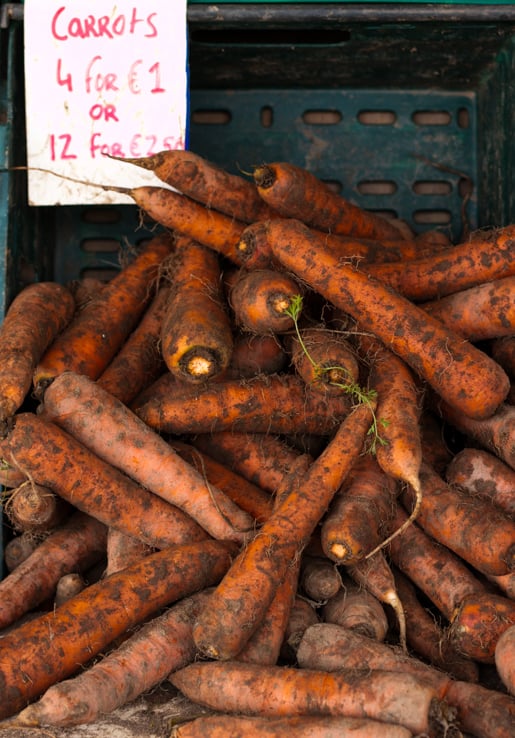 Jane Murphy makes Ardsallagh goat cheeses, some of which are sold in their soft, fresh state, covered with honey-mustard, herbs, or red pepper flakes. We talked for a minute or so, and when I told her that I lived in France, she told me she works with cheese producers across Europe and is saddened by how many want to heat up the milk to temperatures that are too high. When I learned how she used goat milk to cure some of her family's skin ailments, I understood why she was so passionate about preserving the special qualities of the goat milk, which could be killed if heated too high.
I wasn't really planning to bring cheese back la France, but when she gave me a taste of the slightly dried smoked goat cheese that came in little orange-rinded rounds, I decided to risk bringing one back home, in spite of being concerned that the smokey aroma might raise some issues at the airport.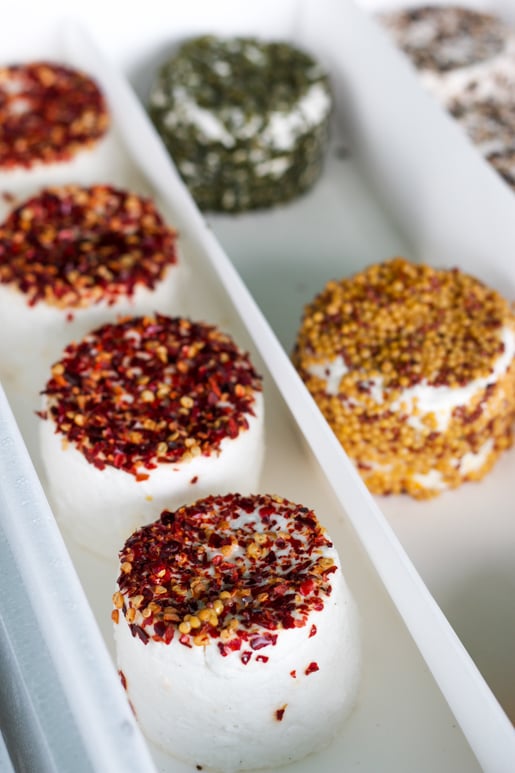 But she told not to worry; at the local airport, they were well-familiar with their cheese.
Rebecca was recovering from a scratchy throat from being around a few smokers last night (being from Paris, I'm used to it), so she sipped a healthy carrot and ginger juice, with a bunch of greens added to it, while I was jealous of the people sipping just-made coffee and espresso from the stand which had the longest line at the market, which I had to pass on.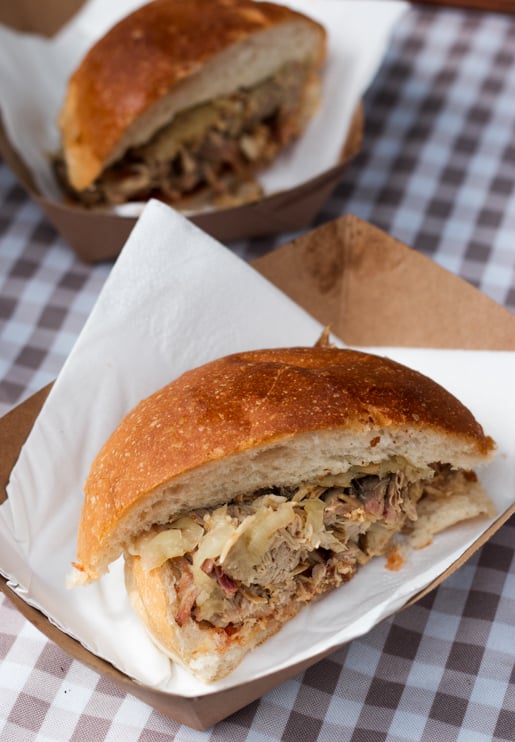 To make up for it, since it was before lunch and no line had formed, we had a pulled pork sandwich made from rare-breed pigs raised at Woodside Farm, with Ballymaloe relish, that made me forget the coffee. (Well, at least temporarily.) They also sold rashers of the famed Irish streaky bacon, and while I wanted to bring home the bacon – so to speak – I wasn't sure if customs would feel the same way that I do.
Frank Hederman was there with his famous smoked salmon, and other smoked and preserved fish. It's true Irish salmon, which is farmed sustainably in waters they say are "wild and untamed," and practice "organic husbandry." So it's not the ubiquitous smoked salmon that you see from massive salmon farms, whose color gives you pause, but raised in the rugged waters of Ireland.
So of course, I wanted to bring some of that home too, but was concerned about fish in my suitcase. So sadly had to leave it behind. I'm not complaining, though, because that extra room in my luggage didn't go to waste: I filled some of it with local Irish pottery.
We continued to stroll around, coffee-less, admiring the beautiful breads, such as the seaweed boules from Arbutus bakery. And the first local strawberries…
Smoked garlic.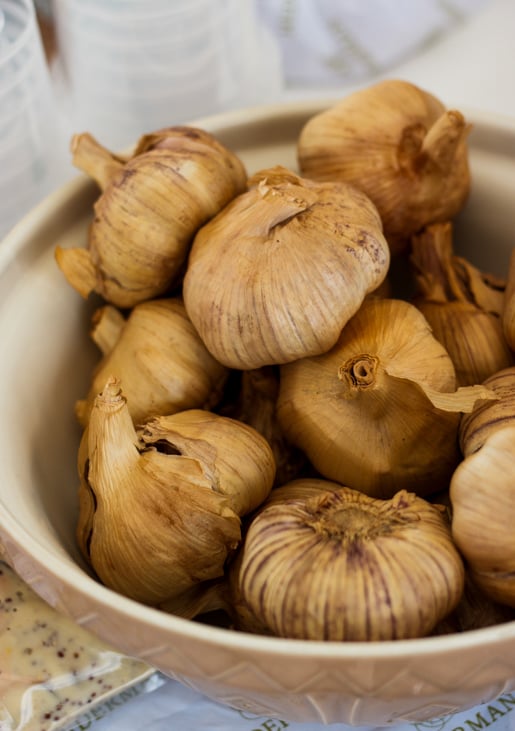 And Lobsters from a gent named Michael, who was happy to heft one for the adorable Rebecca. But when I (the not-so-adorable one) asked Michael if I could get a picture of the lobster, too he said it would cost me €20. I said that I usually charge €25 to take a picture of someone's lobster, but I'd give him a €5 discount, and we'd call it even.
He agreed and said he was even include hefting it out from under the seaweed and laying it on top. One stubborn Irishman had certainly met his match! (All these years living in France taught me something…)
Alas, we had to race back to Ballymaloe to the Litfest, on this very ugly road…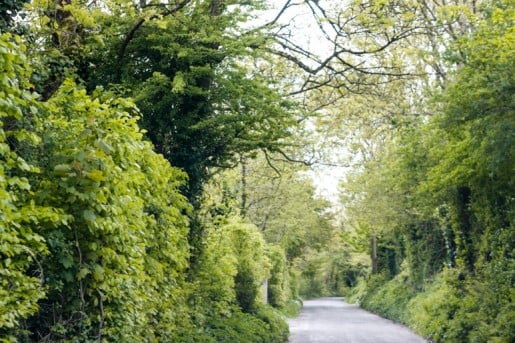 …where I was excited to eat the foods of Sarat Packer and Itamar Srulovich of Honey & Co. in London. I'd met them in the kitchen earlier that morning which they were doing their prep, and I knew I couldn't miss this opportunity to eat their food at a lunch they were preparing for some festival participants.
I'd been in London last year on book tour and only had 22.75 hours in the city (as much as I like my publisher, they don't foot the bill for me to go around eating, which is understandable considering how much I seem to be capable of ), so I sadly missed an opportunity to eat there. Plus if I ate everywhere that people told me that I should eat, or that I wanted to eat at, I'd be eating 8-12 meals a day, and a year would have to have 497 days, to get all them in. And I'd need to travel with a well-built personal trainer, and we'd have to share the same room to keep the budget in line. (Hmm, come to think of it..)
Fortunately, I had time to squeeze in a lunch of their food, which was worth rushing back for and certainly fell into the "healthy" category. (Drats, no private trainer for me that day. Or night.) I had to leave in the middle of the meal to go do a talk for 30 minutes…then head back later to hopefully finish. So in true Middle Eastern style, I didn't wait for others at my table to dig it. I just started grabbing plates and loading up mine, while everybody else at the table was still working on pre-meal niceties and smalltalk. Both of which I think may be overrated, especially when seated around such lovely food as this.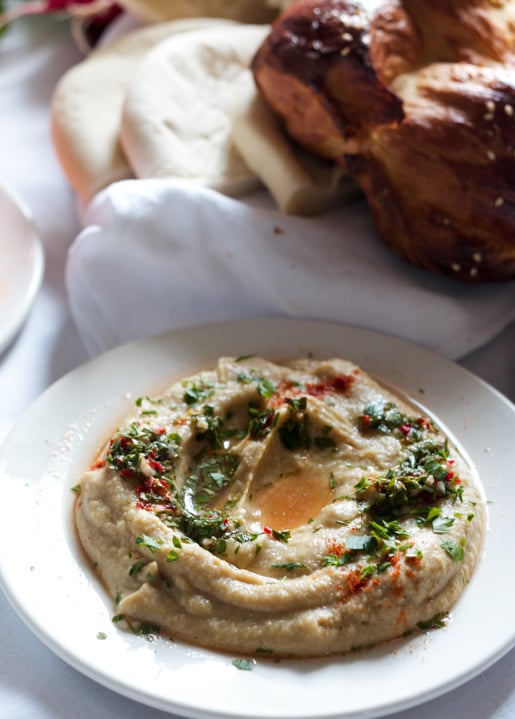 I dug into the generous selection of meze like a wild man, in spite of the lack of coffee, which included labneh, Moroccan spiced carrots, eggplant puree, grain salad with a lively scattering of pomegranate seeds, and homemade egg bread and pita. Soon after everyone else started, a plate of extra-crunchy falafel with tahini sauce came by, which I grabbed out of someone's hand who was still on the small talk part of the meal, so I was sure to get one before I had to dash away.
By the time I spoke to a very nice group of folks in a separate area, answering questions about everything ranging from why tablespoons and teaspoons rock, to questions about French cuisine, then came back to my place at the table, the chefs were kind enough to plate up some of their meltingly soft lamb shoulder on grilled pita with yogurt sauce for me, and pour a much-needed glass of wine to go along with it. Dessert was kataifi, a sweet honey-soaked nest of shredded filo dough, topped with whipped fresh cheese. It was worth running back for, although I was now focusing on that much-needed cup of coffee, to get me through the rest of the first day of the food festival.