Liddabit Sweets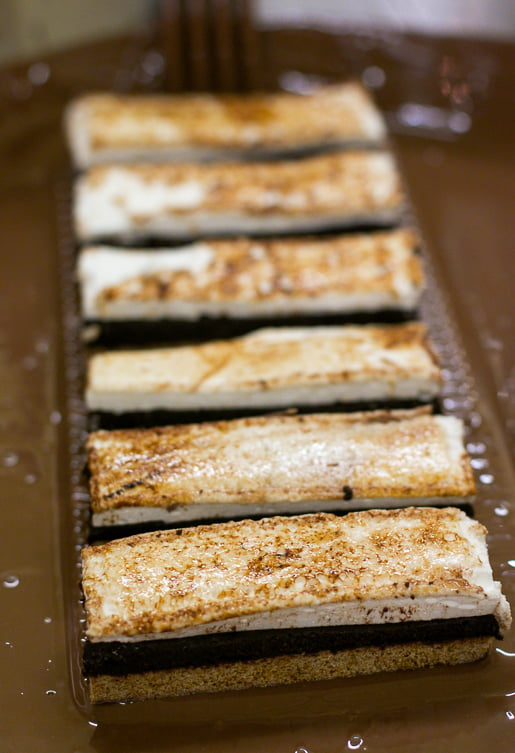 I was trying to explain to my French other-half what an incubator was. In America, we don't use the term just for babies, but we use it to describe groups that exist in places like San Francisco, where new ideas are born from creative minds which are often the result of thinking "outside the box." There are the tech giants, like Apple, Facebook, and Google, that started that way, but it also extends to the food community and you can now find thriving businesses producing everything from bean-to-bar chocolates to organic tofu noodles, and reviving heirloom breeds of tomatoes and long-lost strains of wheat, milling them into loaves of exceptional breads and other treats.
One of my unrealized dreams, that I've been incubating – and perhaps I was ahead of my time (or I've missed the boat…), has been to open up an ice cream shop. But even before I got the silly notion of my own ice cream shop into my head (overworked friends who have bakeries always warned me not to get into the business – sometimes offering to unload theirs on me…for free!), I wanted to have a store specializing in homemade candies.
Sure, making candy isn't anything new; in the relatively small town I grew up in, we had a candy shop in the center where you could watch the candy makers working through the white-paned windows inside the store, which separated the customers from the workers, who were pouring sugar syrups and dipping chocolates in the back. It had opened in 1931 and lasted until 1997. Some of the candies and chocolates were stacked up nicely on shelves, and others were lined up on tables around the store. My grandmother was never without at least one box of their buttercrunch in her house. Proof that the apple doesn't fall far from the tree.
It's true that just about everybody loves candy. Sometimes it's the commercial stuff – personal favorites include Almond Joy bars, York Peppermint Patties, and Planter's Peanut Blocks. And some of the store-bought bars are best left on the shelf, or traded away after Halloween.
Brooklyn has become a well-established culinary incubator. There are now cheese-ripening caves (which I tried to visit but didn't succeed – my heartfelt pleading letter didn't do the trick), sausage and charcuterie makers, distillers, craft beer brewers, and now, confectioners. Liddabit Sweets started selling their homemade candy at the Brooklyn flea market – c'est très américaine – then as they grew, they opened a kiosk in the bustling Chelsea Market in Manhattan.
But now they've got a full-on production facility and shop as part of the food hall at Industry City, a large repurposed import and export factory that is filling up with small businesses devoted to food. It was exciting for me to stop in and see the development. And if you go, definitely stop into the charcuterie Ends Meat, too. Those guys are great. They were just opening and I got a look in as they were preparing meat for curing and suspect a lot of great things are going to be coming out of their kitchen.
I like Brooklyn because even though parts of it have become quite expensive, it's more than just hip Williamsburg and DUMBO; most of the borough retains the same scrappiness that I remember from San Francisco and Berkeley back in the 80's and 90's, when California cuisine and the food "revolution" started America on a culinary path of returning back to cooking eating closer to the earth and being more concerned about how we fed ourselves. In some ways, this was an idea inspired by Europe, where most of our ancestors came from, some of mine having landed from foreign shores, into Brooklyn. And now, much of the farm-to-table philosophy is circling back to Europe, notably in Paris, with "Brooklyn-style" restaurants popping up everywhere with lots of brick and exposed light bulbs, and food focusing on well-sourced ingredients with a lighter, more upbeat style of service.
(Curiously, a new food store opened up in Paris, Maison Plisson, which Le Figaro reported the owner modeled on the success of Dean & Deluca and Whole Foods, which she notably remembered for the quality of ingredients and the service. Which is interesting because Dean & Deluca opened with the premise that they were modeled after a marketplace like those in Europe. Hmm…)
I met Liz Gutman, one of the happy founders of Liddabit Sweets when I was at the opening party at the new Valrhona Brooklyn pastry school. I had just popped a chocolate into my craw and got tapped on the shoulder. With a mouthful of chocolate (and creamy nougat), she had to wait for me to finishing chewing, then swallowing, then getting my wits back, before we I could answer. But once my mouth was once again available, we were soon chatting away like long-lost cohorts.
Of course, as the conversation wound down as I am not longer the late-night person that I used to be (the only thing that kept me going was a lavish display of complimentary chocolates, downed with a few flutes of Champagne), I invited myself to their production kitchen because I love seeing how things are made, especially candy.
When I got there a week later, Jen King, Liz's partner at Liddabit Sweets, was busy dipping S'mores bars in chocolate, made with a chocolate ganache that was slightly smoky, thanks to an infusion of black tea, resting on a rectangle of homemade graham crackers and bruléed marshmallows, ready to be dunked.
Another woman in the kitchen was dipping rounds of Triple C's, a seasonal candy enveloping coconut, soft caramel and butter cookies into shiny disks. We laughed when I looked around and noted that I was the only fellow in the kitchen. I'd had a discussion with someone recently about the role of women in the food industry, including in professional kitchens. Because I've always worked either for women, or with women, we all worked as equals. In fact, the only time we weren't was when I walked into work one day and was surrounded by my all-women co-workers, who ordered the tall man on our team (me) to stop putting cake pans on the top shelves, miffed because no one else couldn't reach them. Fair enough, ladies. Er, women.
Good things should be within reach of all, although making candy is a lot of work. As Liddabit Sweet points out, homemade candies and chocolates aren't made by robots so will look different – and cost more – that what comes off a factory production line. They try to source things as locally as possible, do what they can by hand, and take pride in their products. Everyone here was working well together, laughing and joking around, while they took on the serious work of making candy.
That said, there's one machine that most candy shops I've visited found essential and that's the caramel wrapping machine. It's one task that is extremely time-consuming, so Liz and Jen invested in a machine that is their pièce de resistance, which Liz proudly showed off to me.
Another machine they use often is a mixer with a heating element beneath the mixing bowl. It's a beautiful, well-used machine, and the secret for making certain types of caramels and candies. For those interested, they published the The Liddabit Sweets Candy Cookbook with their favorite candy recipes, including the S'mores Bars, nougat, and the tasty Beer-Pretzel caramels. As part of the agreement in our Mutual Admiration Society, I was happy to get an autographed copy for my cookbook collection, and I left them a signed copy of mine.
If you want to visit, the shop is open to all and they even offer classes in candy making and visits to their workshop, to experience all the behind-the-scenes dipping and dunking that you want to indulge in. You don't need to harass the owners of the shop, until they let you in, like I did. You'll see treats like crisp honeycomb candy, dipped in bittersweet chocolate…
Snacker bars with caramel, chocolate nougat, and roasted peanuts…
S'mores bars…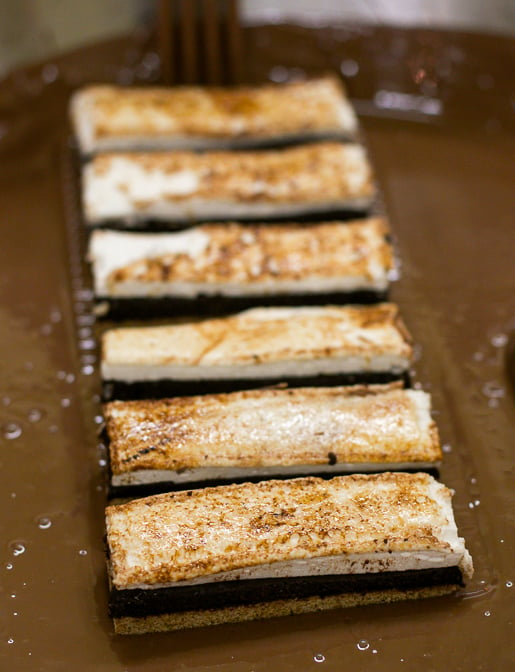 And Caramel-Chocolate cookies with a generous blob of caramel puddled in the center. I'll take a dozen. Make that a baker's dozen.
After we adjourned our first-ever meeting of the Mutual Admiration Society (even though I was the one who was more in awe), we took pictures of us all together, which somehow ended up on their camera phones, but not on mine. But they did pack up a few treats for me to take home with me. The S'mores bar lasted all of about 17 minutes after I got home, in spite of its formidable size. I figured I would just lop off a slice of it, like a loaf of bread, and eat a little of it every day for the next few days. Who was I kidding?
But somehow, the beer and pretzel caramels made it back to Paris with me. Which was great because I love surprising French friends with unconventional treats from the U.S., and passed them out after a dinner of caramel ribs, garlic slaw, and upside down cake. My friends loved them as much as I did, widening the global membership of the Mutual Admiration Society.
Liddabit Sweets
220 36th Street
Brooklyn
Tel: (718) 788-4000
[UPDATE: Liddabit Sweets has closed their Brooklyn retail location. Their treats are available at their online shop and at shops listed here.]
Just an extra shout-out to the terrific Liddabit Sweets Candy Cookbook. (Also available on their website.) I'm always on the lookout for good books on making candy, and from messages I get from readers, so are others out there. And this one certainly fits the bill. There are all sorts of treats/sweets that are perfectly do-able in any home kitchen. An added bonus is the enjoyable, humorous voices of the two authors and owners, Liz Gutman and Jen King, that are reassuring and talk you right through each and every recipe. Recipes for most of the candies in this post are featured, as well as others, like fruit jells, pistachio nougat, pralines, lollypops, and dinner mints. The book is a lot of fun, just like Liz and Jen – highly recommended!