Broccolini, Blue Cheese and Bacon Frittata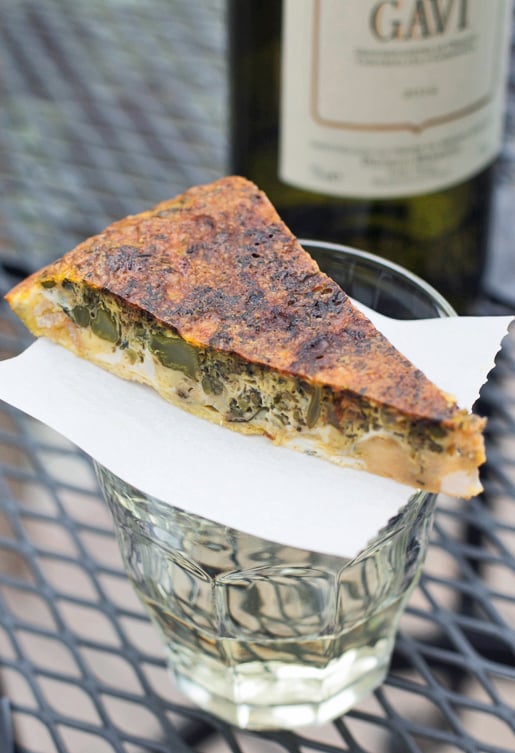 People see the outdoor markets in Paris and think that everyone does their shopping there. But if you work a 9-to-5 jobs, or whatever hours normal people work (ie: not me), it's hard to take a few hours off to go leisurely pick out your fruits and vegetables – not including the time waiting in line behind madame, selecting the two figs she is buying as if they were royal bijoux, trying to muster a chuckle at the same joke you've heard a gazillion times, when you ask to buy "Five lemons," and they respond – "5 kilos, monsieur?" – which was mildly amusing – perhaps once, but I'm pretty sure no one buys 11 pounds of lemons at the market. And catching up and chatting with my favorite vendors, as I like I do. Especially the sausage dude. #schwing
In spite of the time it takes to do your shopping, going to the outdoor market in Paris is something that's very pleasurable for me. I take a good stroll around first, looking at everything before I make my decision. But I do have certain stallholders that I favor for certain things (including sausages), and I often tell visitors: Shop at the same vendors and places over and over again, because once they recognize you, you'll be treated better. Ditto for going to restaurants and cafés.
One thing isn't well-represented in Parisian markets are leafy cooking greens. Spinach and giant leaves of Swiss chard tend to be the predominate choices. When I was recently in the states, even in nondescript supermarkets, I saw bunches of kale, mustard, turnip and beet greens, collards, chard, and spinach piled up high in the produce department.
And in Brooklyn, due to the large Italian-American population, there's broccolini, too, a broccoli hybrid with less bulky stems, and lots more texture and flavor. I love it and even the dumpiest pizza joint in Brooklyn would often have a pizza with wilted broccolini on it. It was tempting to order, instead of my usual pepperoni slice. But I managed to find ways to get broccolini into my diet without sacrificing a single wedge of pie with those crisp disks of spicy sausage baked on top.
Frittata is one of my favorite fall-back dishes. As long as you have bits and pieces of things in your refrigerator, and a carton of eggs, you can make a frittata. I had extra broccolini lurking in the produce drawer, a few chunks of blue cheese, and some of bacon which were the makings of this one. The hardest part of making a frittata is working up the nerve the flip it out onto a plate or flat pan lid, like I did, and turning it back over to finish it off. (If using a cast iron skillet, you can run the partially cooked frittata under the broiler, to firm up the top, and skip the flip.)
Speaking of differences between Europe and the states, you want to cook the broccolini to what one might call "European style." Meaning that you really cook it until it's soft and tender, for a frittata. Americans tend to cook vegetables to the point where they retain their crunch, whereas in places like Italy and France, vegetables often get cooked until they're very soft. My friend Judy in Tuscany explains in her cooking classes that Italians cook vegetables twice; once to cook them, and the second to flavor them. For a frittata, you want the vegetables to be about the same texture as the cooked eggs.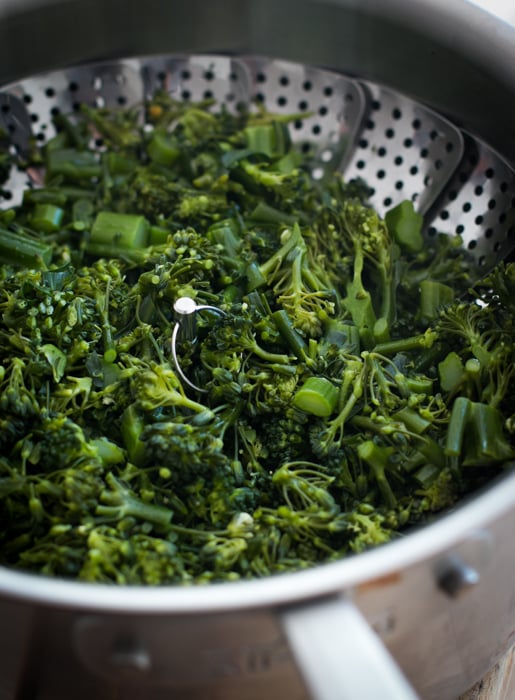 You can use this recipe as more of a guideline if you want to swap out other ingredients, but the basic technique is the same: Cook your ingredients, pour in some beaten eggs, then cook until the bottom is set. Once it's three-quarters of the way there, flip it over to cook the other side.
If you have a cast-iron skillet, instead of flipping the frittata, as mentioned, you can run it under the broiler to cook it. Once everything is chopped, the whole process should take more than ten to fifteen minutes, meaning you'll have dinner on the table in no time. Or if you've got friends coming for drinks, you can clean out the refrigerator, and serve a frittata forth, like I did – and no one will be the wiser that it was put together with leftovers. (Well, until they read about it on your blog!)
Broccolini, Bacon and Blue Cheese Frittata
Feel free to replace ingredients in the recipe, swapping out some cooked spinach or kale for the broccolini. Since broccolini may not be easy to find, you can use regular broccoli, cauliflower, or another lovely green, such as kale, dandelions, arugula or mustard greens. Broccolini goes by the name of tenderstem broccoli in the UK, I'm told. Broccoli raab is a close relative and could be used, as could rapini. (Check the links after the recipe if you want to learn more about them.) If you're fortunate to live near a good farmers' market, snoop around as you might be fortunate to find some green vegetables that lend themselves to being made into a frittata; the people who work the stands are usually very knowledgable about what they grow and how to prepare them. Generally, about 1 1/2 to 2 cups of cooked ingredients works for this size frittata. You can add pitted olives, sauteed mushrooms, or another herb, such as dill, oregano, marjoram, or basil. Vegetarians can skip the bacon, or for others, cooked and crumbled/sliced sausage can be used in its place. I didn't add garlic, but a few chopped cloves added to the broccolini added while it's cooking is an option, if you wish. Want to go with seafood? Cooked shrimp or smoked salmon would be nice, and feta could stand in for the blue cheese. Whew! I think I covered everything… Frittata is perfect picnic food because it's just as good served cold or room temperature as it is warm. In Spain, they serve tortillas, as these are called (with potatoes) along with glasses of wine or sherry in tapas bars, as it makes a nice appetizer. I served these in wedges during meal-time, but sliced into bite-sized squares and toothpicks, they make great cocktail party fare.
3

strips (100g)

bacon

,

preferably thick-cut, diced

8

scallions

,

trimmed and sliced, or 1/2 red onion, peeled and diced

1/2 to 3/4

pound (225-340g)

broccolini

,

diced, or broccoli or cauliflower

1/2

teaspoon

minced fresh thyme

salt and freshly ground black pepper

olive oil

7 to 8

large eggs

3/4 to 1

cup (100-130g)

crumbled blue cheese
Steam the diced broccolini in a steamer basket in a covered pot over barely boiling water, until tender all the way through, 8 to 10 minutes. Remove from heat and set aside.

Put the bacon cubes in a 9- or 10-inch (23-25cm) nonstick or well-seasoned cast iron skillet. Heat the bacon over medium heat, stirring occasionally, until the bacon is crisp. Set the bacon pieces of a paper towel and drain and pour most of the bacon fat from the pan, leaving about 1 tablespoon behind.

Add the scallions (or onions) to the pan and cook for a few minutes, until softened. Add the steamed broccolini and thyme. Season very lightly with salt and pepper (other ingredients are salty, so go easy on the salt). Add a tablespoon or two of olive oil, cover, reduce the heat to low, and cook– stirring occasionally – until the broccolini is very soft, about 10 to 12 minutes.

Mix the eggs in a small bowl, seasoned with a little salt and pepper.

Remove the lid from the pan with the broccolini in it and stir in the bacon. Use a spatula or spoon to make sure the ingredients are in a relatively even layer then strew the crumbled cheese over the top. Pour the eggs over the ingredients, then use a utensil to encourage the eggs to get in and around all the ingredients in the pan.

Let the frittata cook over medium heat, undisturbed, until the bottom is browned and set. You can use a spatula to lift it up once the bottom is set to check on its progress. (Make sure it's not burning!) It will take about 7 minutes, but might take a more or less.

Run a spatula around the edge of the frittata to loosen it from the pan and slide it onto a dinner plate or overturned flat pan lid, so the cooked side is on the bottom. Overturn the skillet over the frittata and quickly flip the frittata back in the pan, so the cooked side is now on top. Cook the frittata another minute or two, until the bottom is cooked. (If using a cast iron skillet, instead of flipping the frittata, you can run it under the broiler a minute or two to cook the top.)

Slide the frittata onto a serving plate and serve warm or at room temperature.
Related Links and Recipes
Broccolini vs Broccoli raab vs Rapini (Good Stuff NW)
Broccoli Raab, Rapini, Broccolini: What's the Difference? (The Savory)
Alice Waters' Long-Cooked Broccoli (Serious Eats)
Go soft on broccoli and cauliflower (Russ Parsons/LA Times)