Grilled Deviled Chicken
Being stateside in preparation for les vacances (vacation), I thought I'd corral Elizabeth Karmel, who I'd had dinner with last spring when we did a special cooking event together, into grilling dinner for me. I know, it was a little forward, but Elizabeth was the chef/consultation to Hill Country Barbecue in Manhattan, which has the distinct honor of pleasing even true, hard-core bbq aficianados. She's also written a couple of books on grilling, something I thought I knew a little about, but found out there was more to know during a warm summer evening in New York.
Perhaps because I'm from California, my idea of grilling is to marinate something, then slapping it on the grill, turning it once, until it's done on both sides. When she asked what I wanted to make with her, she sent me the French Chicken recipe from her book Taming the Flame, which she said she based on Julia Child's Poulet grillé au diable, the diable (devil) referring to a hint of spice, and a lot of lively French Dijon mustard in the sauce.
In addition to this recipe, the book is a very comprehensive guide to grilling and barbecuing, full of information, techniques and best of all, a collection of terrific recipes that will have you looking at your grill in a whole new way. Not only is Elizabeth one of the "most important" bbq'ers in America, she was also a French major in college.
(Another French connection: Some say that the word "barbecue" comes from the French barbe à queue, or "whiskers to tail," which refers to whole animal cooking, although others say that's folk etymology.)
Unlike my usual "slap it on the grill" technique, this deviled chicken is cooked over indirect heat, basted frequently with the thick, flavorful sauce, then topped with chapelure (breadcrumbs). When Elizabeth first shared the recipe with me, I suggested that is would be better is marinaded overnight in the sauce. She replied, "Oh, that's not necessary. The sauce is so flavorful that you don't need to." And she was right.
Elizabeth, who hails from North Carolina, kept telling me about "indirect heat," and I didn't get what she was talking about because I was used to going for the char, and speed, whereas some grilling techniques involve low-and-slow cooking, at a more relaxed pace than this Yankee is used to.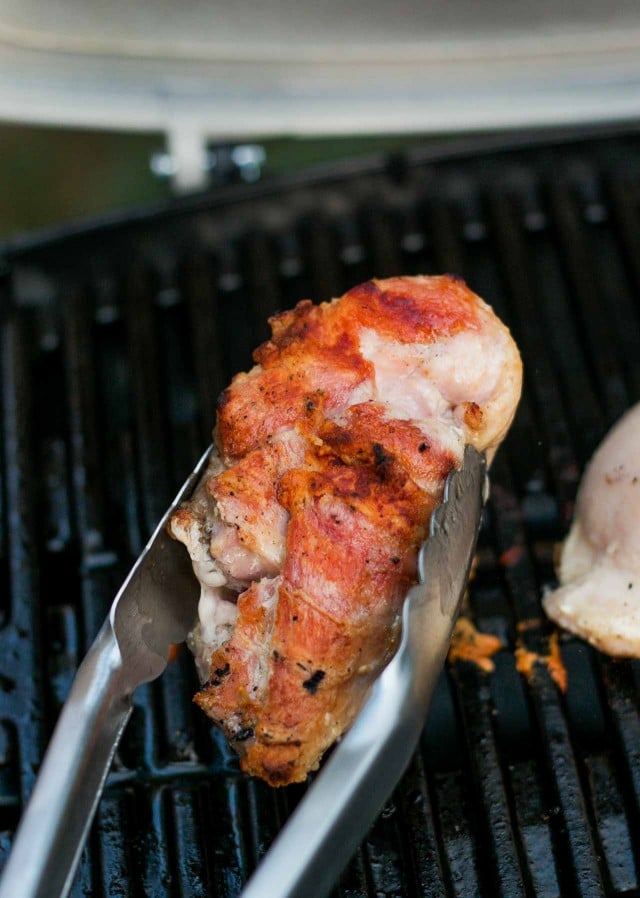 I'd met Elizabeth years ago at a culinary conference and she gave me a silicone basting and grilling brush that she had developed. Being someone who is wary of gimmicks and gadgets, I put it away in a drawer and didn't pick it up until years later, when I was tired of picking out errant bristles from brushing the tops of pie dough with egg wash, which if I didn't find and remove, would prompt guests to suggest that I wear a hair net next time that I cooked for them.
Add to that, all my brushes smelled vaguely (or strongly) of garlic since even though I'd label them "PASTRY ONLY" in dark, block letters, some people (who shall remain nameless…) would ignore that. Another plus is that silicone brushes can go right in the dishwasher, which would take care of most of those offending odors. Although it's always better to keep ones reserved for pastry, and suggest that if anyone used them for anything else, punishment would be swift and merciless.
During a group dinner we both attended in New York last spring, stumbling over my words, I confessed that I was skeptical about silicone brushes, but hers had won me over. It was something I was waiting years to get off my chest, and she laughed, waving my silly objections (and apologies) away, and we had a grand time that evening.
So I felt a-ok asking her to give me a grilling lesson because I never want to pass an opportunity to learn something from an expert. And a bonus I discovered: She is one of the few people I've cooked with who's just as persnickety about cross-contamination as I am.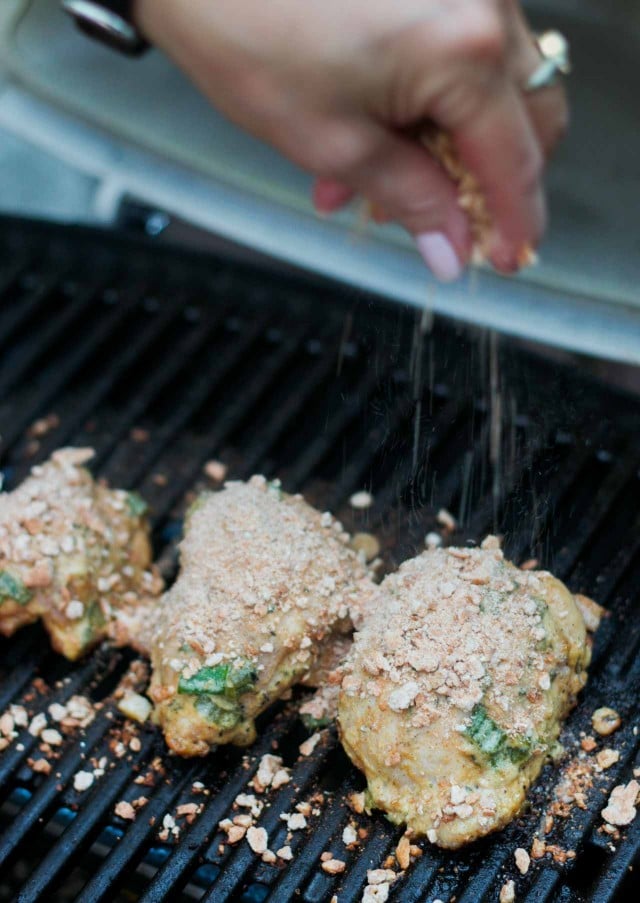 For the Poulet grillé à la diable, her original recipe called for two whole chickens. As someone who lives in France, but writes for Americans (and others), I always have to remember that French portions are different than American ones. While a French person might be content with a chicken leg or a wing for dinner, in the U.S., most recipe writers figure ½-chicken per person is the right portion for a recipe.
Since they're easily available, and tasty, I decided it'd be nice with chicken thighs, which might cook more evenly – and yup, speedier – on the grill. After I plied Elizabeth with a gin & tonic – the first of several, she got to work firing up the grill and laying the thighs not over the highest heat part of the grill, or the flame, but down the center, where that elusive indirect heat is.
We used a Weber Q grill, which is small enough for a New York apartment balcony, and it was a convenient gas model, which could be fired up in a New York minute. (Elizabeth says that she's done side-by-side taste tests with people, and almost everyone couldn't tell the difference between food cooked over a gas versus a charcoal grill.) If you have a charcoal grill, move the hot stuff off to the side and find a place over indirect heat to make these thighs.
Elizabeth showed me that slowing down the cooking, and basting with the mustardy sauce was the way to get it well-seasoned without the usual blitz-charring that I do. Being a renegade, I had suggested grilling some broccoli raab or broccolini to go alongside because I try to eat as many stewing greens as possible when I'm in the states (after tasting this, Romain is beside himself because we don't get this kind of broccoli raab, or broccolini, in Paris), which was something she had never done – proving that even the experts are open to learning something.
I was predisposed to precooking it a bit, but we tried it throwing it on the grill, raw, tossed in some olive oil with some salt and pepper first – and it was pretty chewy. Elizabeth liked it, but I'm not a fan of toothy greens so the next time I made it, I steamed the greens for a few minutes first, then tossed them with a small amount of olive oil and chopped garlic, and grilled it until it was slightly charred, which made an excellent accompaniment.
All in all, the meal with a big success. We had a grand time cooking together, I got a little lesson in grilling from an expert, and afterward, we sat down a nice dinner, toasting ourselves over a Franco-American alliance of cooking technique, and flavors.

| | |
| --- | --- |
| Grilled Deviled Chicken | Print Recipe |
Adapted from Taming the Flame by Elizabeth Karmel As mentioned, per person portion sizes can vary. I found one chicken thigh sufficient per person, served as part of a meal with other things on the plate, such as vegetables or potatoes. We used a compact grill, but if your grill is larger, or you want to serve more people, feel free to double the recipe. If you want to make it without the wine or vermouth, use a mix of lemon juice and water. Elizabeth noted that this works fine with boneless, skinless chicken breasts, but to be aware that they will cook faster than thighs. You can also use it with a whole chicken. If so, you'll want to butterfly the chicken, removing the backbone, cracking the breastbone, then opening the chicken up (like a book) so it lies flat. Tuck the wing tips under the wings, so they don't burn. She advises grilling the chicken skin side up for 20 minutes, turn the chicken, and spread some of the sauce on the chicken. Grill for 10 more minutes, then turn the chicken over so it is breast side up again, and grill for 5 more minutes, basting with more sauce. Sprinkle the chicken with the crumbs and grill it for another 10 to 15 minutes, basting carefully with additional sauce, until done.
1
tablespoon
white wine or vermouth
2 1/2
tablespoons
Dijon mustard
1 1/2
tablespoons
melted butter,
salted or unsalted
2
tablespoons
olive oil
plus additional for coating the chicken
1/2
teaspoon
dried thyme
or 1 teaspoon fresh thyme, minced
Very generous
pinch
cayenne,
red pepper powder, or paprika (sweet or smoked)
2
small scallions,
chopped
8
bone-in, skinless chicken thighs
(about 2 pounds, 1kg)
1/4
cup (20g)
toasted breadcrumbs
panko, or cracker crumbs
Salt and freshly ground black pepper
1. Heat the grill to about 375ºF (190ºC), if your grill has a thermometer. If not, get it moderately hot, but remember that this cooks best over medium, indirect heat.
2. In a small bowl, whisk the white wine and mustard together. Slowly drizzle the butter and olive oil into the mustard mixture, whisking constantly. Add the thyme, cayenne and scallions. Set aside.
3. Toss the chicken thighs in a bowl with a good drizzle of olive oil and salt and pepper.
4. Without unrolling or flattening the thighs, set them on a grill, bone side down over indirect heat, not over a direct flame. Lower the cover of the grill and let cook, checking frequently, until the tops of the thighs go from being raw to changing color with the exterior looking cooked. The inside will still be undercooked, and they will have shrunk by about one-third. They should take about 15 minutes to reach this point. The bottom may be nice and crispy. If they get too dark, slip a sheet of aluminum foil under them.
5. Start basting the chicken frequently with the sauce, closing the cover, then lifting it a few minutes later to baste them again. Continue cooking, and basting a bit, until the thighs are cooked through, which will be between 15 and 20 more minutes depending on the temperature of the grill.
6. About ten minutes before the thighs are finished, sprinkle the tops with breadcrumbs and keep basting; avoid disturbing the crumb crust and dribble the sauce over the crumbs, rather than brushing. The thighs are done when you poke a paring knife into one and the chicken is cooked close to the bone or an instant-read thermometer inserted into the thickest part registers at least 165ºF/75ºC. Remove from the grill and serve.
Do-Ahead: Like most grilled food, this is best served hot off the grill. You can make the sauce the same day you plan to grill the chicken.