Grilled Vegetables with Za'atar Vinaigrette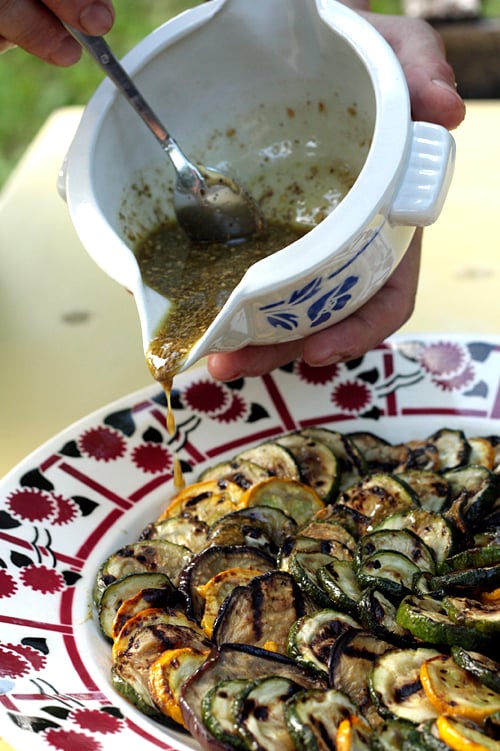 There's a big difference between lucky and fortunate. Luck is a winning lottery ticket blowing in your window. Fortunate means that you've taken the initiative and done something. And because of it, there was a positive outcome. So I would probably say that I was lucky because my mother was a good cook but it's debatable whether I am lucky, or fortunate, because my partner is a good cook as well.
Before dinner a few weeks ago, I'd grilled off some vegetable beforehand and left them in a plat à four (baking dish) on the counter, ready for dinner. Right before we were to eat, I asked him to make a dressing for them, and went about the rest of my business, finishing up the prep for the rest of dinner before realizing what he'd done.
When I stirred up the dressing to pour over the vegetables, it looked different than usual to me. From the looks of things in the dressing dish, he'd made a vinaigrette, not using the traditional dollop of Dijon mustard, but with my homemade yellow mustard mixed into it. He'd also raided my jar of za'atar, and added some of that as well. I was somewhat surprised, and a little furious, because it wasn't at all the direction that I had intended for my grilled vegetable to go in.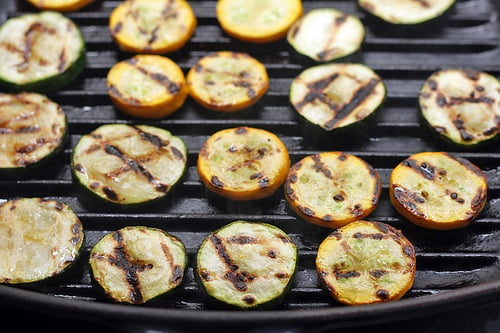 But I guess I should consider myself fortunate that my Frenchman is an adventurous eater (and intuitive cook), because I took one bite, and was amazed at how delicious they were dressed with that Middle Eastern-inspired sauce. I'd fallen in love with za'atar ever since my trips to Israel and Lebanon and have a small stockpile of various kinds and blends in my pantry. (I got my favorite from a za'atar producer I visited in Lebanon.)
Another thing that's debatable is whether I am out of my mind. Because we were invited to a friend's house for dinner, who lives outside of Paris, and because of that, they're fortunate to have a grill. I'd bought these lovely little vegetables to recreate the salad. I can never resist smaller versions of favorite vegetable when I see them and these eggplants and zucchini were no exception. Plus smaller versions of these vegetables (which are actually fruits) usually means they have less of a tendency to be bitter and are more flavorful.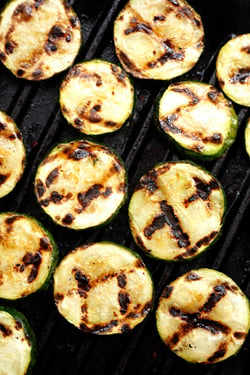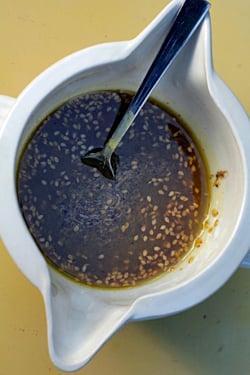 I had planned to grill them off in my Paris kitchen, using my grill pan. But when I cut them into rounds and started grilling them off, I realized that it was going to take a bit more time than I anticipated to cook each coin-sized round, turning them the obligatory one-quarter turn, then flipping each one over, and doing the same to the other side. Because – unfortunately – I get a little obsessive-compulsive about those things, and I'm not lucky enough to be one of those people who can just throw a bunch of things on the grill and let them do whatever nature intended.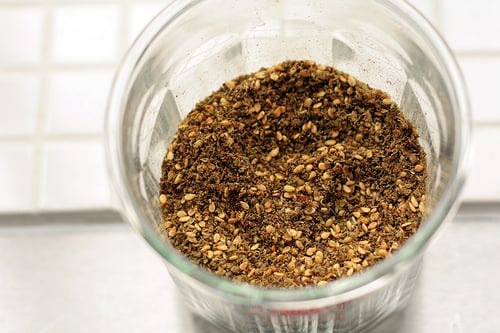 It also didn't occur to me that I could grill these off on their grill (duh), which I now realize was silly and showed a serious lack of foresight on my part. Although the grill was put to good use for the main dish of the night.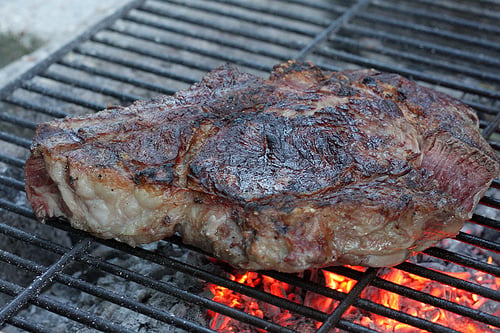 When I first made this, I had more mature vegetables and the larger slices were grilled in my pan pretty quickly. So feel free to use large or small vegetables, depending on your level of patience, and your level of obsessive compulsiveness. Since my level is fairly high, I promise to let the subject go in a second, but for those who want to use smaller vegetables, you can slice them lengthwise to make the grilling go faster.
And to cover yet one last base, you could grill off other vegetables, such as fennel, asparagus, peppers, carrots, or even winter squash, as long as you slice them thin so they can cook all the way through and get a nice little char when grilled. No grill pan or grill? Oven-roast them.
And finally (whew), everything was served. The steak and the grilled vegetables with za'atar vinaigrette were enjoyed by all. I was able to relax – courtesy of a few glasses of Burgundy, and felt fortunate to be able to eat so well. And luckily for me, I have a new dressing in my arsenal.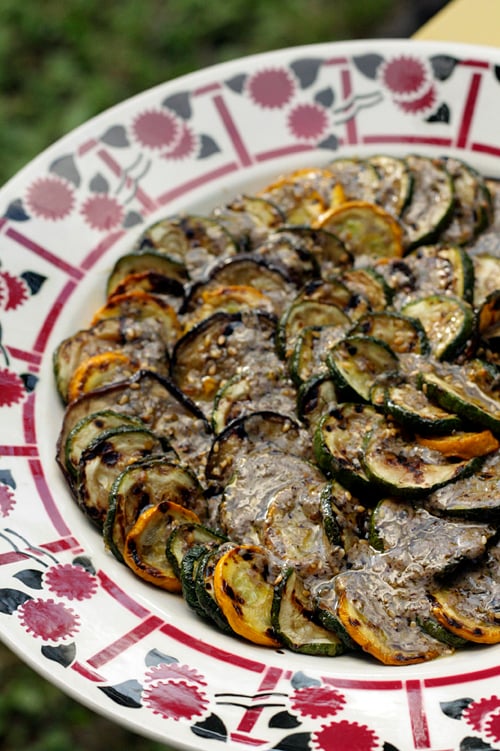 Grilled Vegetables with Za'atar Vinaigrette
The first step, the salting, is very important. Salt extracts bitterness and I always salt eggplant but don't always salt zucchini. However zucchini can be bitter, especially large specimens. So taste, and salt the slices like the eggplant if necessary. Unlike traditional French vinaigrettes, this one benefits from yellow mustard, such as
Savora
or homemade mustard, which is less-sharp than Dijon, more rounded. Sumac adds a touch of fruity sourness which is already in
za'atar
, but I find a little extra never hurts. Za'atar and sumac are available in Middle Eastern stores (za'atar can be made at home), or you can
find them online
.
Kalustyan's
is one good source. The great thing about the vegetables can be made hours ahead, then dressed right before serving, which makes this great picnic fare as well. I tend to stir the dressing ingredients together to keep the sauce more fluid, rather than shake them vigorously, which will emulsify the dressing and make it rather thick.
For the vegetables
2 – 2 1/4

pounds (1kg)

zucchini and eggplants

salt

olive oil
For the za'atar vinaigrette
2

tablespoons

sherry or cider vinegar

2

teaspoons

yellow mustard

pinch

of salt

6

tablespoons (90ml)

extra-virgin olive oil

4

teaspoons

za'atar

Optional: 1/4

teaspoon

sumac
Slice the vegetables no thicker than 1/4-inch (.75cm). Sprinkle the eggplant and the zucchini with salt. (See headnote whether or not you should salt the zucchini. If not, just toss the slices with a bit of olive oil and salt, then grill them as is.) Place the sliced vegetables in a mesh colander and let them drain for 30 to 60 minutes, turning them a few times to encourage the liquid to run off.

Wipe the vegetables dry then toss in a little bit of olive oil.

Brush a grill pan, or a grill, with olive oil and when hot, grill off the sliced vegetables, getting them nicely charred on one side before turning them over. Generally speaking, they're ready to flip when they become translucent in the middle. (You don't want crunchy or undercooked vegetables.)

As you grill off the vegetables, put them in a wide serving dish, and continue to grill off the rest of the vegetables. If the vegetables slices start sticking, brush more oil on the grill pan or grill as you go.

Once the vegetables are done, make sure they are arranged nicely in the dish, then make the vinaigrette by mixing the vinegar in a bowl with the mustard and a small sprinkle of salt; since the vegetables have been salted, go very easy on the salt here – you can add more later, to taste. Add the olive oil, za'atar, and sumac (if using) to the dressing, then pour it over the vegetables.
Related Recipes