Man'oushe: Za'atar Flatbread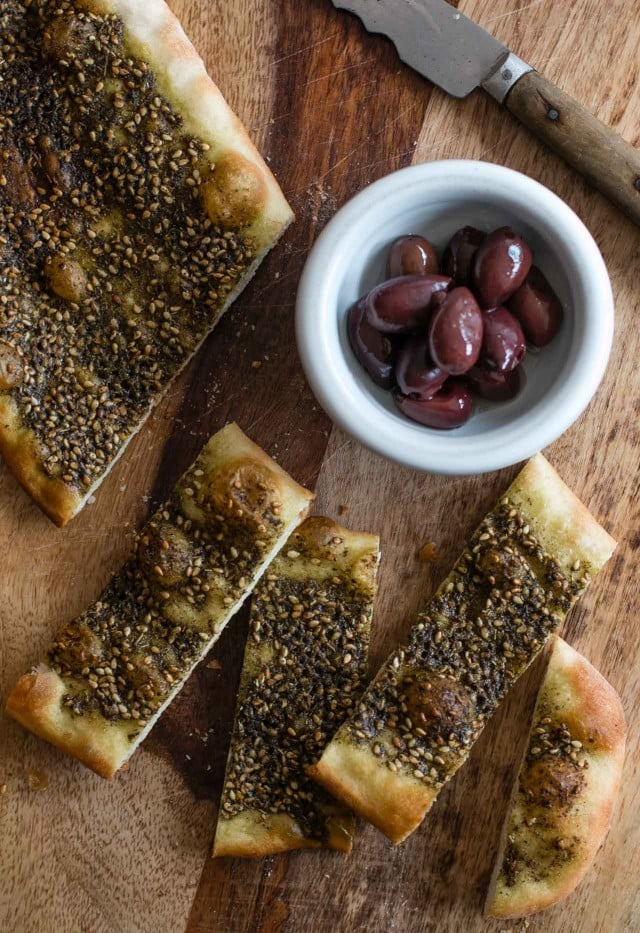 I've been thinking about man'oushe for years, ever since I went to Lebanon and someone handed me a warm flatbread right out of the wood-fired oven. It was the perfect snack: A warm, slightly supple dough slathered with za'atar, an herbaceous seasoning blend punctuated with sumac and sesame seeds. It has a slightly astringent flavor, due to the tang of sumac and the sharpness of the wild herbs, and I loved it, but never attempted to make man'oushe, the popular street snack.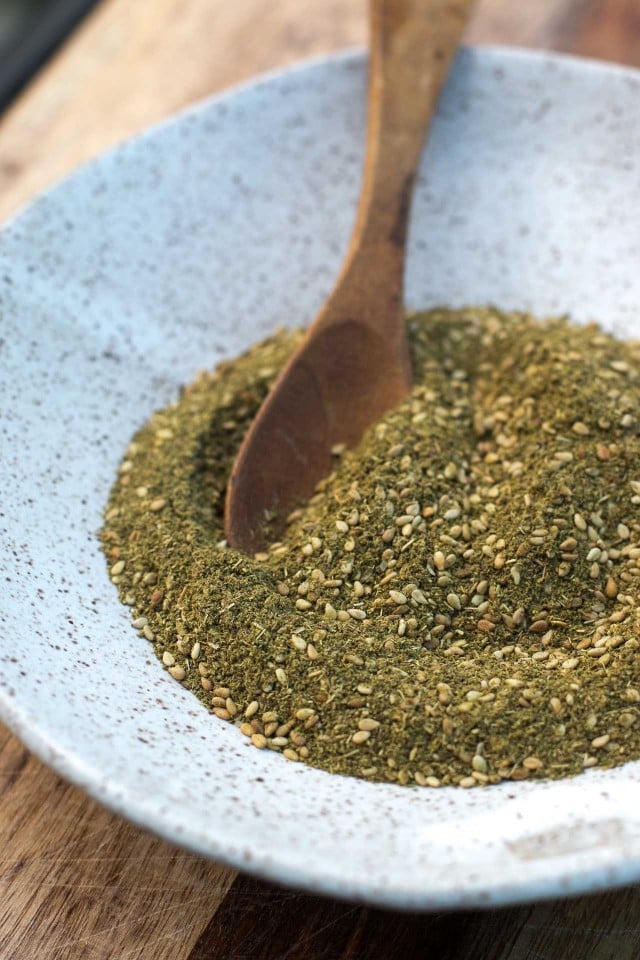 I used to have one of those pizza stones, but I never liked it. It got stained, which didn't appeal to my OCD nature, and worse, made a horrible screeching noise when dragged across the wire oven rack. So I decided to go out for pizza, even though every once in a while I have the urge to make a pizza or two at home.
But my interest was rekindled when I read about baking steels, heavy-duty slabs of metal that promise amazing heat conductivity, and decided to buy one. The one I got was pretty heavy – there goes my baggage allowance! – but I was hopeful that my doughs would have the same crisp, blistered crust that you get when you go out for pizza.
My baking steel came with a few caveats. One is that you shouldn't wash it with soap and water, as that would remove the seasoning. (Of course, as soon as I pulled it out of the box, I washed it with soap and water before I read the notice. #OCD) The other is that they recommend preheating the steel for 45 minutes in the oven before using it, at 500ºF/260ºC, which makes the "green" part of me worry about using energy. But it's probably less than a trip to Naples, or in this case, Beirut, so I made peace with that.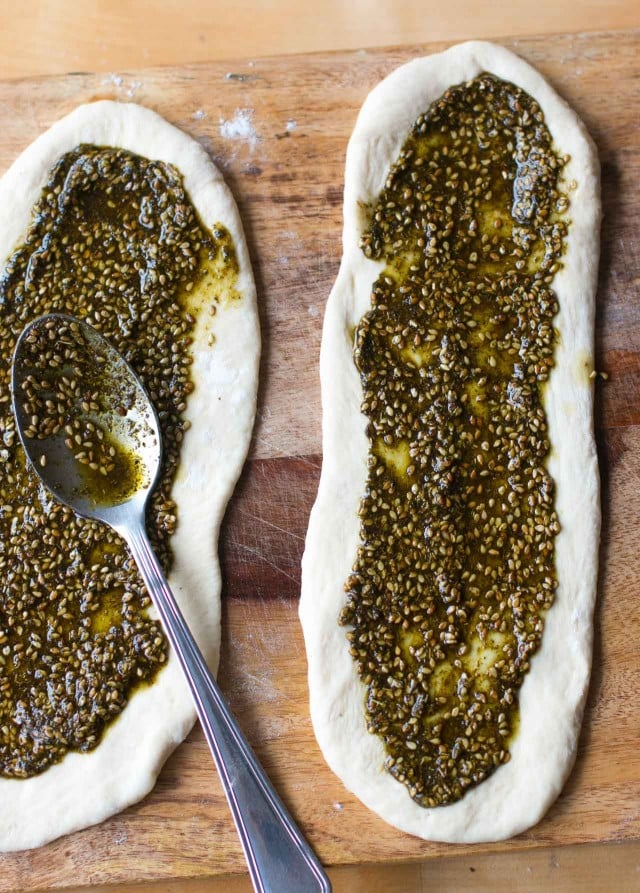 Wanting to recreate what they did in Lebanon, while my steel was heating up, I quickly rolled out dough, smeared it with za'atar, and baked them until the crust was golden brown. In Lebanon, locals would bring their own za'atar to the bakeries, along with their own olive oil from their olive trees, then the bakery would smear the mixture of the two on the dough and baked, to be taken home and enjoyed with the family meal. (I did a specific post on the flatbreads of Lebanon with pictures from the various bakeries because I was so wowed by them.)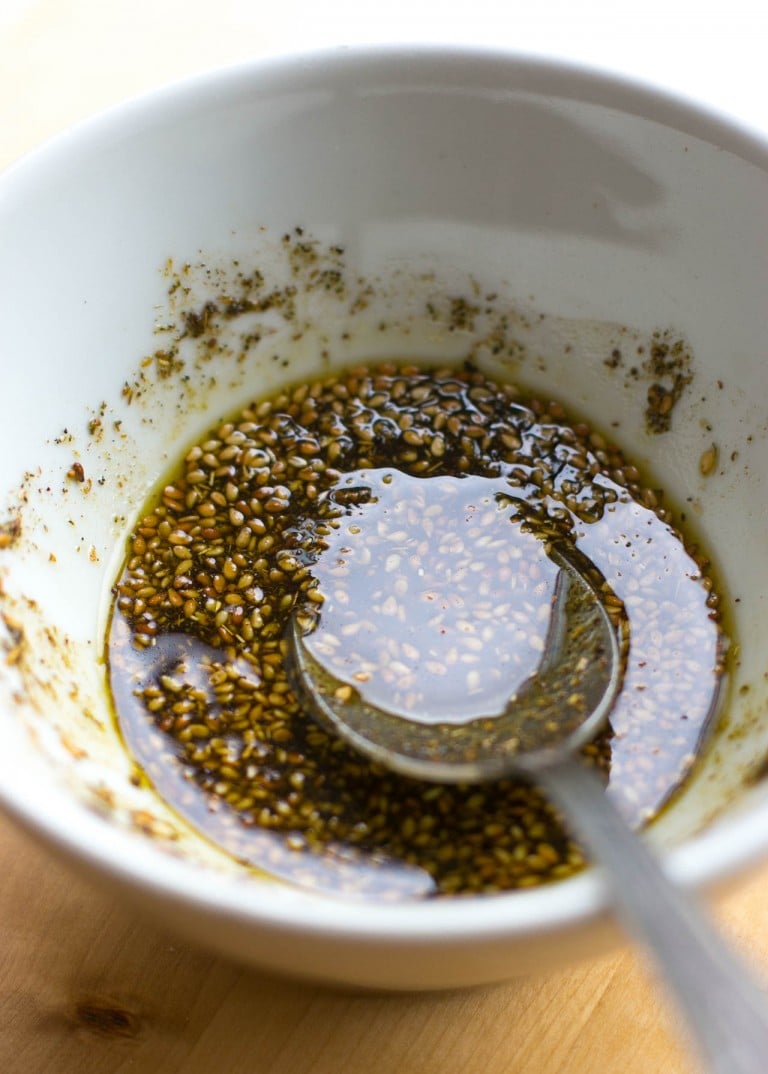 Some of the man'oushe places in Paris have a machine that rolls out the dough, which is draped over a rounded, dome-like griddle called a saj, then baked. It's good to get the dough as thin as possible, and my baking steel really did what it promised: It gave the dough a nice lift, with big bubbles baked into the crust, and resulted in a crisp bottom, too. Although the ones in Lebanon are actually slightly supple, so they can be rolled up. You can bake them to whatever degree you like.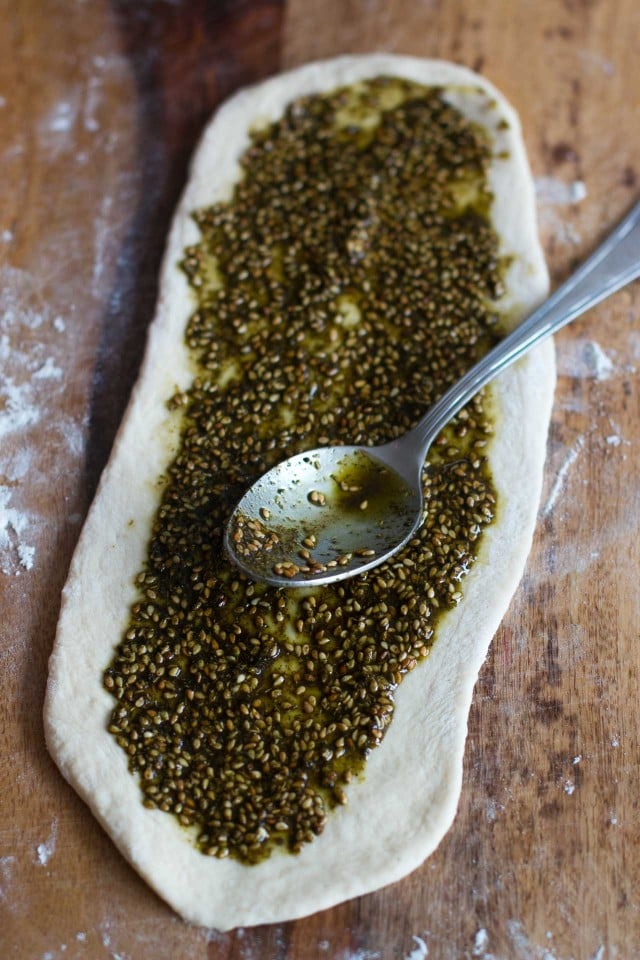 A few tips on making man'oushe:
-After letting the dough rise, roll the ovals of dough out partially, then let the dough rest about 5 minutes before rolling them out to the final size. The dough is very stretchy and will resist when you first start rolling them out. Letting them rest will relax the dough and make it easier to roll out.
-Don't worry about making the rolled out dough perfect. Irregularities in flatbread are part of the game.
-Za'atar is pretty strong stuff. When I was in Lebanon, it was sold as a tincture for what ails you, and was so strong, just one drop of the distilled herb elixir made my lips go numb. So don't overdo it when brushing on the za'atar and olive oil. Spread a thin layer on with a spoon, and some bare spots are fine.
-Before brushing on the za'atar and olive oil, make sure the dough isn't sticking to the counter. Lift it up, turn it a bit, and perhaps dust a little more flour underneath so it doesn't stick when you're ready to lift it up and pop it in the oven.
When I bought my baking steel, I didn't order a pizza peel to go with it, a good tool for transporting flatbreads in and out of the oven. And I kind of wish I did. (Although my bulging cabinets and closets, and drawers, and storage containers, are glad that I didn't.) I did try using two spatulas to transfer the dough to the very hot baking steel, with limited success.
So I ended up using my two hands, lifting the dough after I spread it with the za'atar mixture, stretching the dough slightly as I moved it quickly from the counter to the oven. I worked as fast as I could and ended up with a few minor burns from not being as careful as I should, so you might want to invest in a peel, or be creative and use something else, like the removable bottom of a tart pan.
Man'oushe
Za'atar can be found at your local Middle Eastern store,
Kalustyan's
and on
Amazon
. You can also make
za'atar
yourself. Use a good
olive oil
for the topping. Since there are only two ingredients, you want each to taste good. With the
baking steel
, my flatbreads baked fast, and came out with very crisp crusts. Man'oushe is normally eaten just as is, but you can serve it as an appetizer with olives and feta cheese alongside. Or it can be part of a Middle Eastern meal composed of
hummus
,
baba ganoush
,
eggplant caviar
,
eggplant jam
and
cucumber feta salad
. If you don't have a baking steel, use a baking stone, or bake the flatbreads on parchment-lined baking sheets, perhaps passing them under the broiler during the last-minute or so of baking, to brown them nicely. If using a baking sheet, you'll likely need to cook them longer than the 7 minutes indicated, so keep an eye on them and remove them from the oven when the crust is golden brown.
Flatbread Dough
1

cup (250ml)

tepid water

,

(slightly warmer than room temperature)

1

teaspoon

active dry yeast

1

teaspoon

sugar

1

tablespoon

olive oil

2 1/2

cups (350g)

all-purpose flour

1 1/2

teaspoons

kosher or sea salt
Za'atar Topping
1/4

cup (40g)

za'atar

1/4

cup (60ml)

extra-virgin olive oil
To make the dough, in a bowl of a stand mixer (if mixing by hand, use a large bowl), sprinkle the yeast over the water along with the sugar and let sit in a warm place until the yeast starts to bubble, about 10 minutes.

Stir in the olive oil, flour, and salt. If using a stand mixer, use the dough hook attachment. If mixing by hand, stir with a wood spoon or spatula until it becomes too thick to stir, then turn the dough out onto a lightly floured counter. Knead the dough in the machine on medium-high speed, or by hand, until the dough forms a smooth ball, but is slightly sticky when you touch it with your finger. It'll take about 5 minutes and will pull away from the sides of the mixer bowl. Cover the dough in the bowl with a kitchen towel, and let rise in a warm place until the dough doubles in volume, about 1 1/2 hours.

To make the flatbreads, preheat the oven to 500ºF/260ºC and move the oven rack to the upper third of the oven. Set a baking steel on the rack. (Check the manufacturer's instructions for your baking steel or stone.) Otherwise, line two baking sheets with parchment paper. Preheat the baking steel or stone for 45 minutes.

Turn the dough out onto a lightly floured countertop and divide the dough into six pieces. Roll each piece of dough into a small oval, rolling it just until each starts to resist. When each one does, set it aside on the countertop and begin rolling another. Continue to roll each of the six pieces of dough into ovals, stopping when the dough starts stretching back on itself.

When ready to bake, take the first oval of dough and roll it out to its final size, adding a bit more flour if necessary to keep it from sticking to the counter or rolling pin, turning it over a few times to ensure it's not sticking. Roll it until it's about 12-inch long by 4- or 5-inches wide (30cm by 10- to 12cm).

Spread the oval with a layer of the za'atar mixture, about 1 1/2 tablespoons per flatbread leaving, not quite reaching the edge so there's space for a crust. Don't worry about any bare spots when smearing on the za'atar: it doesn't need to be perfect.

(Note: My za'atar was quite fresh, and strong. But if yours isn't, you can use more of the topping is you wish. If you need more for spreading, mix za'atar and olive oil together in even amounts.)

Lift the finished flatbread with your hands, or slide a pizza peel dusted with flour underneath, and transfer the flatbread on the baking steel or stone. Continue rolling and topping the rest of the flatbreads, baking each until the crust is golden brown, about 7 minutes.

(If you don't have a pizza peel and are worried about transferring the dough, another option is to cut six sheets of parchment paper to a size that will fit under the rolled dough, then transfer the unbaked flatbreads to the parchment paper before smearing them with za'atar. Leave the parchment paper under the flatbreads and lift them, holding the ends of the paper, then bake the man'oushe breads on the parchment paper, setting them directly on the baking steel or stone.)

Remove the flatbreads from the oven when the crusts are golden brown and serve warm or at room temperature.
Notes
Serving and storage: The flatbreads are best when eaten warm or shortly after baking, preferably within a few hours. You can make the dough in step 2 and chill it, letting it come back to room temperature before letting it rise and rolling it out. I would not freeze these flatbreads
Related Recipes and Posts
What is za'atar? (Desert Candy)
Saj, Flatbreads and Lebanese Pastries
Flatbread with Za'atar on the Grill (Taste of Beirut)
A Visit to Abu Kassem Za'atar Farm
The Baking Steel Delivers (Serious Eats)
Grilled Vegetables with Za'atar Vinaigrette
Lebanese Man'oushe (Rose Water & Orange Blossoms)
Man'oushe: Inside the Street Corner Lebanese Bakery (Amazon)