8 Tips for Choosing and Using Olive Oil
A recent post on Marinated Feta elicited some interesting comments and questions about olive oil. Here are a few tips that I follow when buying, using, and storing oil:
1. Keep olive oil out of the light.
You may have spent a lot of money on your oil and you want to look at those pretty labels lined up on your countertop. But light destroys olive oil so stow it away. Nothing destroys olive oil faster than light, except heat.
2. Keep olive oil away from heat.
Don't store your olive oil on that shelf above your stove or right next to it, even though that's where it's handy. Keep it away from sunlight as well. It's best not to store olive oil in the refrigerator. If you do, some experts say when you take it out, the condensation can dilute the oil and cause it to spoil quicker.

3. If you can, taste before you buy.
Oil changes from batch-to-batch, and many places offer you a chance to taste it before you buy. Take a good smell first; a lot can be determined by how the oil smells before you even taste it. Is it nutty, grassy, sweet, oily, or 'green'? All those are qualities you might like, or not. Look for shops and food markets in your area that offer tastings, so you can sample. It's a great way to find one that you like.
4. Have two olive oils on hand.
I keep one less-expensive olive oil for cooking—I have a 'house' oil I use for frying, and a better bottle for salads and finishing uncooked dishes, which is always top-quality olive oil. The one I buy depends on my mood, or what's available. I do like using arbequinia oil from Spain or California which is fruity and sweet (and goes well with chocolate…which is always in season!), while the North African, Greek, Middle Eastern, or Turkish olive oils can be fuller flavored. In recent years, I've been ordering olive oil in bulk from Sicily from Mary Taylor Simeti, but she only ships within Europe.
5. Don't pay much attention to the country of origin.
Just like people say, "American food is bad," there's good American food and there's bad American food. Same with olive oil. There's good Tuscan olive oil and there's bad Tuscan olive oil. Just because something says 'Tuscany' or 'Provence' on the label does not mean it's necessarily good or bad.
Also be aware that "Made In France" (or "Made in Italy") means something different than "Product of France." "Made In…" means the oil is actually made in that country with olives that are supposed to be grown and pressed there.
"Product of Italy" means that the olive oil was bottled there, but could be made from olives from North African that were shipped to Italy for bottling. It's not that that's necessarily bad, but it's nice to be up-front about those kind of things with consumers so we know what we're getting.
6. Spend more, get more.
People will pay $15 or $20 on a bottle of wine, that will last through one meal. But when it comes to olive oil, which will last weeks or months, people balk at paying anywhere near those prices. Price is not necessarily an indication of quality, but a $3.99 bottle of extra-virgin olive oil is likely not the real deal. (You can get deals at discount stores, like Costco's Kirkland brand, which gets high marks.)
7. Use olive oil while it's still in its prime.
Good extra-virgin olive oil will last about a year if stored properly. As my friend Judy told me, cheap olive oils are often already rancid when you open them since they're mechanically-harvested, which bruises the fruits. Then they're allowed to sit for a few days before pressing, which increases the chance and speed of spoilage. I always taste a bottle of oil when I open it before using.
8. Organize your own tasting!
In spite of what I, or anyone else says, only you know what you like and what price you feel comfortable paying for a bottle. Check your local markets and food shops and taste what available. Buy various oils and taste them with friends. Read up and learn why a good olive oil worth it, and you'll appreciate that drizzle of fragrant, zippy, or peppery olive oil from the bottle even more.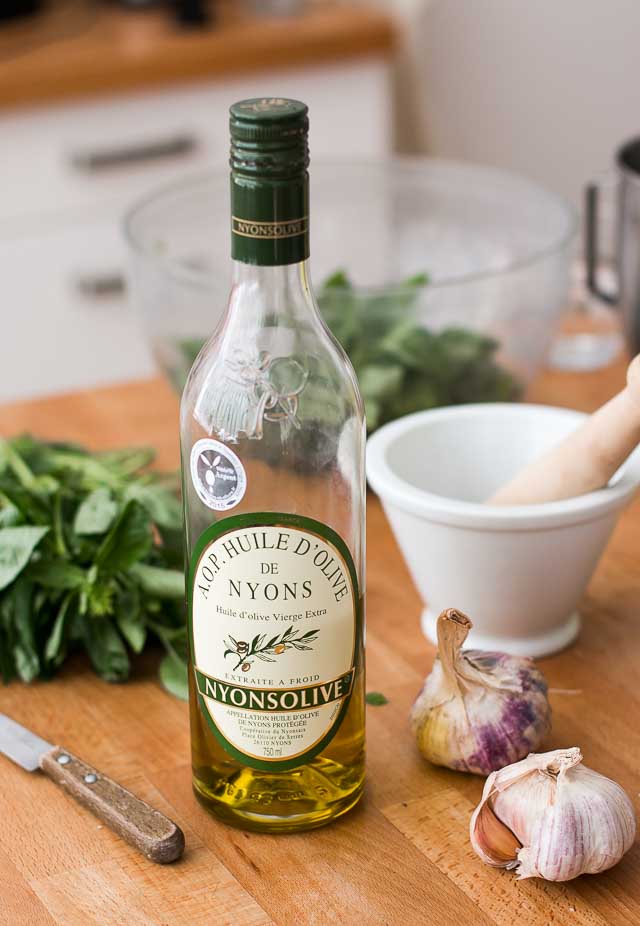 Related Links & Posts, and Places to Find Good Olive Oil
Olive Picking in Provence (My experience picking olives in France)
Olives: The Life and Lore of the Noble Fruit by Mort Rosenblum is a great read on olive oil.
Sotaroni: A wonderful arbequinia olive oil from Catalonia.
Colavita: Guarantees their olive oil to be 100% Italian.
Olive Oil: From Tree to Table by Peggy Knickerbocker is full of recipes and olive lore.
The Spanish Table: Spanish Olive Oils
McEvoy Ranch: Organic California Olive Oil
La Tienda: Spanish Olive Oils
Terre de Crète: Greek olive oil, available in Europe or in France.
Corti Brothers: Daryl Corti searches the world to find the best and rarest of oils.
Zingerman's: A great selection of olive oils with loads of excellent information.
California Olive Ranch: California-grown extra-virgin olive oil.