Aioli – Garlic Mayonnaise Recipe
On a recent visit with my friend Tricia Robinson, who lives in the small village of St Jeannet, overlooking Nice and the Côte d'Azur, after a huge lunch, we weren't that hungry for dinner, so we decided to just sip some rosé and wait for inspiration to strike. I was admiring her mortar and pestle, there was some violet-colored spring garlic, a bottle of local olive oil was nearby, and voilà…suddenly, there was our dinner.
Frugal me toasted some stale rounds of baguette au levain, which I brushed injudiciously with olive oil that was pressed just a few kilometers away, sold in her village, and scraped them with just-cut garlic cloves while still warm from the oven. (Try it…it's the best! Or crumble and toss the garlic toasts into your next salad.) But having them simply slathered aïoli, we were content.
The great thing about aïoli is that you always have all the ingredients on hand; olive oil, garlic, egg yolks, and salt, and it pretty much goes with everything. The downside is you should only eat it with others who are eating it as well, since you'll likely develop a distinct garlicky aroma that will also follow you around for a few days afterward.
You don't need a mortar and pestle, but Tricia uses her mortar with a fork, which she says works better. I sometimes use a whisk, just because I like to be contrary. But those people in Provence are really sticklers for the rules and if you do make any changes, you should keep it quiet.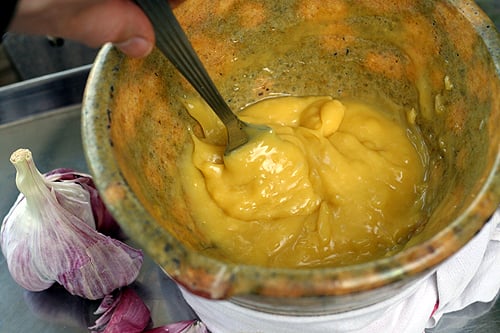 For those of you timid about eating raw eggs, you perhaps can use pasteurized eggs (I've never tried them, so can't advise) but whenever I use raw eggs, I buy them from the freshest source I know. People get freaked when they see a dozen eggs for $5, but that's around 40 cents an egg, which is a pretty good deal. And since your body is your temple—you do want to feed it well, right?
Once you master aïoli, you'll find that it's the perfect summertime condiment. I'll often roast a chicken—or buy one, so I don't have to turn on the oven, then offer a big platter of steamed green beans, hard-cooked eggs draped with anchovies, (sustainable) tuna, garlic and thyme-roasted potatoes, raw or parboiled carrots, and whatever else I feel like.
But be careful who you invite: a fellow from Provence flipped out, like big time, because I served chicken with aïoli to him. They take their food pretty seriously down there and tradition states it should be served with salt cod, and he was stunned that anyone on earth would even think of putting aïoli anywhere near roast poultry. Yikes, I can still remember the look he gave me, arched eyebrow and all. (See, I told you.)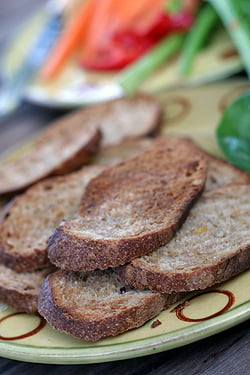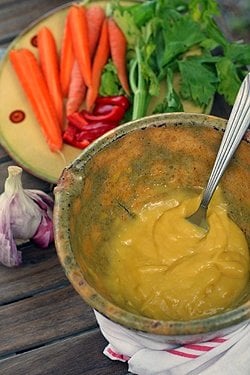 Aïoli is the easiest thing in the world to put together, and vegetarians and chicken fish-eaters alike enjoy grazing around the table, all positioned around a common bowl of lively garlic mayonnaise.
When making aïoli, I would start with the smaller amount of garlic, and add more when it's done. Depending on the season, the garlic might be quite strong, and the flavor gets almost nuclear, even if you think you like lots of garlic, like I do. If it's not going to be eaten within an hour or so, aïoli should be chilled. But it is best if it hasn't been chilled, and it's always best served the same day it's made.
The following is Tricia's recipe for making aïoli, in her own words. Because for one thing, as they say down in Provence, we Parisians don't know how to cook their food. And another, whenever I stay with her, I'm always surprised to see she has about a half-dozen bottles of olive oil lined up on the counter, which she reaches for all the time when she's cooking. And although I like olive oil, I'm more of a butter expert.
Making Aïoli
"Sacré bleu, I've no butter for David's petit dejeuner…after all I've read about him craving French butter!
I decide to tough it out and tell him we're below the butter line here in the Mediterranean; it's olive oil country. To prove it I made my favorite aïoli for a light supper after the big lunch out. I use local farm eggs, I have least six or seven choices of olive oil to choose from, some good bread to toast and a few vegetables as crudités. When I teach classes here in my house I often give each person a different olive oil to use so we can compare tastes at the end. For this one, I used just the local one from down in the village.
Making aïoli by hand not only produces a more luscious version than by machine, it is the best kitchen therapy. You stand, you start dripping oil very slowly into the eggs and garlic, you zone out, and you don't get up until you're done. My 7-year-old son once told a caller "Mum can't come to the phone, she's making mayonnaise."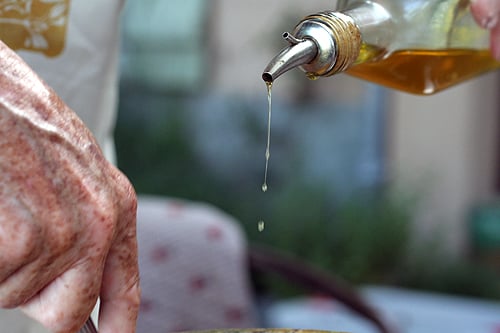 A bowl of deep yellow aîoli is part of my "fast food France" meal, along with a roasted chicken from the butcher's spit, a pan of small potatoes roasted with rosemary and a big green salad. And rosé wine, of course!
Garlic is the very essence of Provence and aïoli is the official Provencal garlic dish. It is often served with raw or steamed vegetables as an appetizer platter. Or as a grand aïoli, a complete meal where large bowls of aïoli are served as a sauce for salt cod, snails, eggs, potatoes and seasonal vegetables. This meal is often served at village fêtes in summer washed down with the local rosé." –Tricia Robinson
Aïoli
2-3

cloves

of garlic

,

preferably fresh

1/2

tsp

salt

1

large egg yolk

,

at room temperature

1

cup (250ml)

extra-virgin olive oil,

,

don't substitute Canola but you can if you wish
1. Crush the garlic cloves with the salt in a mortar or deep bowl until you have a smooth paste. Take out some of it as it may be too much; you can add it back later.

2. Add the egg yolk. Anchor the bowl down by tying a dishtowel around it tightly, if necessary.

3. Using a fork or whisk, add the oil to the egg and garlic mixture starting very slowly, drop by drop. I like to use a spout in an olive oil bottle to regulate the flow but you can also drip the oil in from a spoon. As the mayonnaise thickens continue to add the oil in a very thin stream. Continue until all the oil has been incorporated.

4. If it gets too thick you can dilute it slightly with a tablespoon of warm water – don't add more oil, it will just get thicker. Taste, and add more of the garlic, if desired.

This recipe can easily be doubled, and you can make the aïoli in a food processor but the texture and taste is not as fine as hand-made.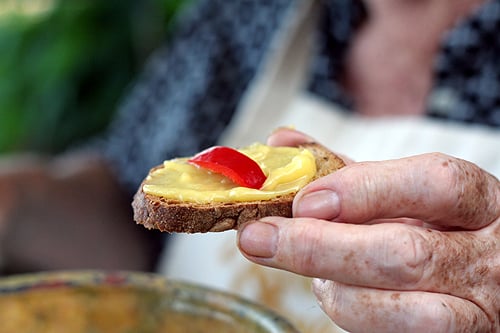 Related Posts and Recipes
Fixing Broken Mayonnaise (Chow.com Video)
Panisses (Recipe)
Tricia's Guest Rental in Saint Jeannet
Socca (Recipe)
8 Tips for Using and Choosing Olive Oil