Pistachio Aillade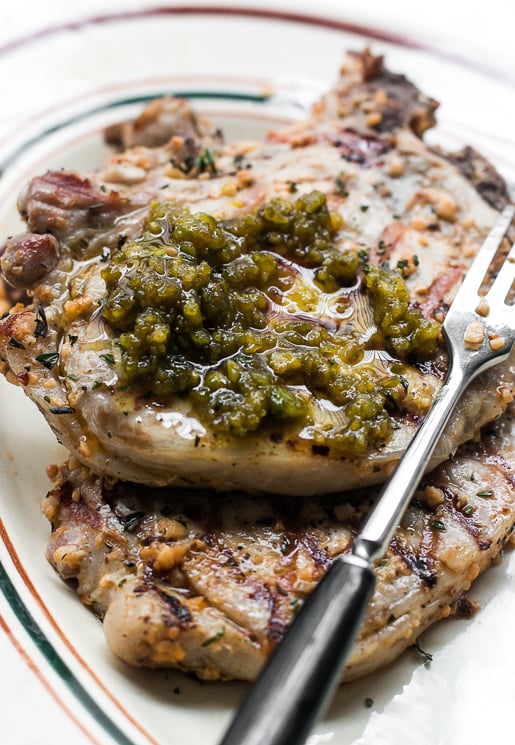 When I lived in San Francisco, we used to joke (lovingly) that whenever we went to Zuni Café, that there would be at least three things on the menu that you had to ask the server what they were. On the other hand, I think if you asked ten people in Paris what aillade is, ten out of ten wouldn't know either. Unless they were from the Languedoc, where aillade is from.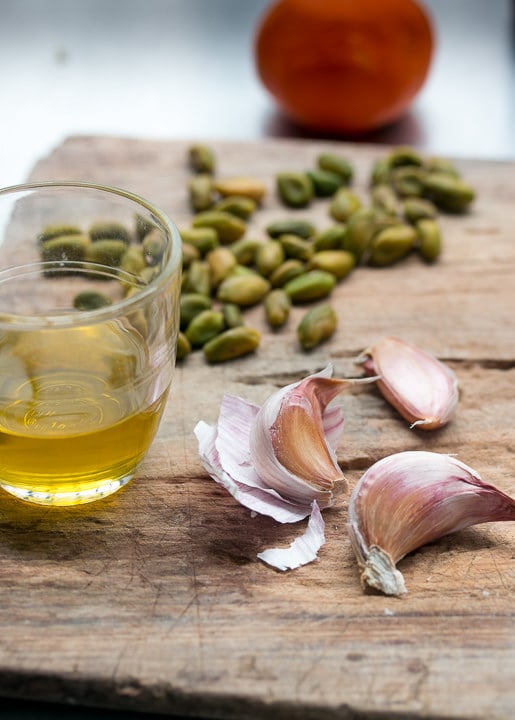 I had made plans to cook up a simple pot of beans when I noticed a few knobby jarrets de porc demi-sel, salted-cured pork knuckles, at the charcuterie stand at the market, so I picked up a trio to make pork and beans. I'll get to that recipe in a few days or so, but for now, I want to share this lovely aillade before another minute passes, which has a distinctive nuttiness of pistachios with a persuasive hit of garlic, suspended in a generous pool of good olive oil.
I had some lovely Iranian pistachios on hand, which don't have that thin papery skin on them, and are usually reserved for special uses, where you want each pistachio to look pristine (such as on top of a chocolate dessert), but to heck with it, I was ready to make aillade, to heck with the cost.
I opened my copy of The Zuni Café Cookbook and using the sage advice from the author, the late Chef (and occasional co-worker) Judy Rodgers, I warmed some pistachios, just enough to encourage them to soon release their precious oil, but not enough to toast them through, which would cause them to lose their color. (And appeal.)
Using a chef knife, I ran the knife over them a few times to break them up, checking for any "clunkers" along the way. (If you've ever tasted a bad nut, you know how important it is to take a moment and inspect the nuts you're putting into anything.) Then I pounded up the precious green beauties in my mortar and pestle with garlic, a bit of salt, and a dash of eau-de-vie, with a swipe of tangerine zest added at the end. I made a double batch, which I was glad I did, because I kept sticking my finger – um, I mean – sticking my clean spoon in, (and yes, a clean, new one each time – I swear), because I couldn't stop taste-testing it.
While the nutty aillade went nicely with the beans, swirled over the top, not enough to fully disperse, but enough to provide a nutty, garlicky contrast to the silky beans. However it was even better the next day on some pork chops that I fried up for lunch. The good news is that you can use any shelled, unsalted pistachios to make aillade, or use another nut, such as hazelnuts or walnuts. Although I have to say, there's something especially good – and extra special – about it when made with pistachios.
| | |
| --- | --- |
| Pistachio Aillade | Print Recipe |
Inspired by The Zuni Café Cookbook by Judy Rodgers Be sure to use very fresh pistachios. They go off quickly, so give them a look-see before using them. If you don't have pistachios, or want to use another nut, you could use walnuts or hazelnuts. For those with a nut allergy, pumpkin seeds might make a good substitute. If you don't have a mortar and pestle, this can be made in a food processor. Just be sure to stop the machine a few times to scrape down the sides to make sure everything is getting incorporated properly. Although pistachio aillade is a terrific condiment with meat, poultry, fish (such as salmon or halibut), it's also nice served with grilled or blanched vegetables, fresh tomatoes, tossed with pasta, and swirled into soup or a bowl of beans. As an appetizer, it can be smeared on toasts spread with fresh goat cheese.
2/3
cup (110g)
shelled pistachios,
unsalted
6-8
tablespoons (90-125ml)
olive oil
kirsch,
eau-de-vie, or brandy
1
orange or tangerine,
preferably unsprayed
1. Preheat the oven to 350ºF (180º).
2. Spread the pistachios on a small baking sheet and put in the oven for 3 minutes, just long enough to warm them through. Remove from the oven and let cool for a few minutes, then coarsely chop them.
3. In a mortar and pestle, pound the garlic with the salt until the garlic has become a paste. Use 3 cloves of garlic if you want it mildly garlicky, 4 cloves if you want it stronger. (If not sure, add one now then add more later.)
4. Add the pistachios and pound them in the mortar and pestle until they are very well smashed up into little pieces. Because they have a lot of oil, you may need to scrape down the sides of the mortar with a rubber spatula and stir it a few times, then continue pounding.
5. Add the water, stir a few times to mix it with the nuts, then add the 6 tablespoons (90ml) of oil, one tablespoon at a time. Add a splash of kirsch, eau-de-vie, or brandy, and a few swipes of orange or tangerine zest, zested right into the aillade. If the aillade is too thick (it should be thick, but still runny), add an additional tablespoon or two of olive oil. Taste, and add more salt if necessary.
Storage: Aillade is best made at least a few hours before you plan to serve it. It will keep for about a week in the refrigerator. Bring to room temperature before serving. It will likely thicken up as it sits and can be thinned with a little more olive oil or warm water.
Related Posts and Links
Garlic and Walnut Sauce/Sauce aillade (La Varenne)
Grilled Red Onion Salad with Hazelnut Aillade (Gourmet Traveller)
Summer Vegetable Soup with Walnut Aillade (Cuisine)