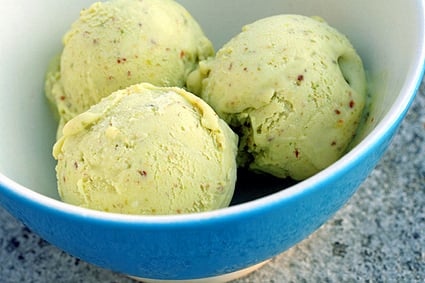 Although each year it's getting harder and harder to remember that far back, I still recall when I was younger, during the summer in New England, we'd head to the dairy store for ice cream. Often I'd order pistachio; the vivid green color and the crunchy bits of pistachio were somewhat exotic to a timid little David growing up in pre-Martha Connecticut.
As I grew up, I learned the truth about pistachio ice cream (amongst other things). Mainly that it was usually made with artificial colors and flavors—not the real thing. So when I wrote Le Perfect Scoop, I thought long and hard about including a pistachio ice cream recipe. But I couldn't in good conscience include a recipe that costs 20 bucks to make, which is similar to what I call the 'Quarter-Cup of Squab Stock Syndrome'.

The QCSS Syndrome occurs when a recipe calls for some bizarre, outrageously-expensive, or extraordinarily unusual ingredient. And to make it even more maddening, it's something used in such a minuscule quantity that it doesn't really make a difference. But like the things that people do online that they wouldn't dream of doing or saying in real life (and boy…do I have some emails to prove that) I figured I could do it here—so voilà!
Some of the best pistachios you'll ever taste are the Bronte pistachios from Sicily. Unless you live in Italy, they can be hard to find, but they're worth seeking out since I know of few things more colorful than these iridescent green little nuts. Pastry chefs love Sicilian pistachios for decorating and such in spite of their astronomical price, thankfully, a few scattered over the top make quite an impact. Unfortunately when I went to get a few to garnish mine this afternoon, everyone in Paris was out.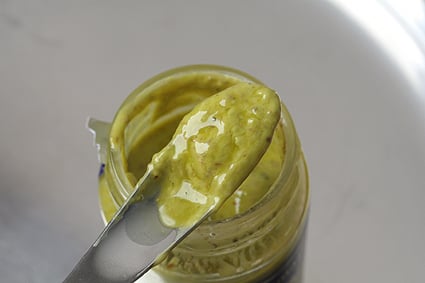 Last year I was the non-European European host for Menu For Hope III, which featured amazing prizes donated by food bloggers from around the globe. Sara from Ms. Adventures in Italy donated a box of goodies from…where else?…Italy. (Now that was a no-brainer…) Her gift box included some fabulous things from our friends in 'the boot', including a jar of Bronte Pistachio paste made from the verdant-green pistachios from Sicily. While I wanted to bid on it myself, I didn't think it was kosher to bid on items I was hosting, so I consoled myself with being happy that someone else would get this great gift. Not.
I moped for months and months until Sara kindly offered to send me a jar. When the pistachio paste arrived, along with a jar of pistachio pesto, which looks equally beautiful, I uncapped the jar and took a sniff. Wow! I wasn't prepared for that—it was the dense, nutty, rich scent of sublime pistachios and when I dug in my spoon, the slightly-sweetened mixtures were like manna from heaven…although I have never tasted manna, I would imagine it tastes as good as this.
I love pistachio gelato and finally I can present a top-notch recipe. I opted to make it truly Sicilian-style, enriching the base with cornstarch, which is common for gelato in southern Italy. I included a recipe for Fleur de Lait ice cream in The Perfect Scoop with a cornstarch base and Mark Bittman subsequently wrote one up as well. It's simple to make, but the main advantage is that not using eggs means the flavor's focused squarely on the pistachio with nothing to distract from those perfect scoops of it. Except for your spoon.
Pistachio Gelato
2

cups (500ml)

whole milk

1/3

cup (65g)

sugar

2

tablespoons (16g)

cornstarch

,

also known as corn flour

7

ounces (200g)

pistachio paste

,

(see Note)

a few drops of lemon or orange juice
Make a slurry by mixing the 1/4 cup of the milk with the cornstarch, mixing until the starch is dissolved and the mixture is smooth.

Heat the rest of the milk in a medium-sized saucepan with the sugar.

When it almost starts to boil, stir in the cornstarch mixture and cook at gentle simmer for 3 minutes, stirring constantly.

Remove from heat, scrape into a bowl, and chill thoroughly, preferably overnight.

Once chilled, whisk in the pistachio paste and just a few drops of citrus juice until smooth.

Freeze the gelato in your ice cream machine according to the manufacturer's instructions.
Notes
Note: I used Bronte Crema di Pistacchio (sometimes called pistachio paste) which is made in Sicily and you can read more about their pistachio harvesting here. Normally pistachio creams and pastes contain a certain percentage of pistachios, around 40-50%, as well as sugar, oil or another fat. Some are available here, here, and here.
When buying pistachio cream (or paste), look for one that's at least 40% pistachios. Pistachio paste is not the same as pure pistachio paste, which I haven't tried in this recipe.
And if ordering online, don't confuse it with a liquore called Crema di Pistacchio di Bronte, which is a drink.
Related Links and Posts
Sicilian Pistachio Cream (Amazon)
Sicilian pistachios are sometimes available in Paris at G. Detou.
Making Ice Cream Without A Machine
My Tips on Buying an Ice Cream Machine
Heidi's recipe for pistachio butter
Ice Cream FAQs