Caffe Panna Ice Cream Shop
Someone from San Francisco told me that there were now too many ice cream shops in the city. I didn't think that was possible, but I guess things have changed since I moved away. (There are also some amazing bakeries there as well, which I don't think is anything to grouse about either.) Just like in San Francisco, not only has the baking scene in New York really ramped up, but the ice cream scene as well, including Caffè Panna, the latest addition.
[NOTE: Caffè Panna will be making a special sundae of a flavor combination that I inspired, with buckwheat ice cream, buckwheat honey, dark chocolate, and French whisky. I'll be there this Saturday, October 12, from 2pm to 3:30pm. More info at the end of this post.]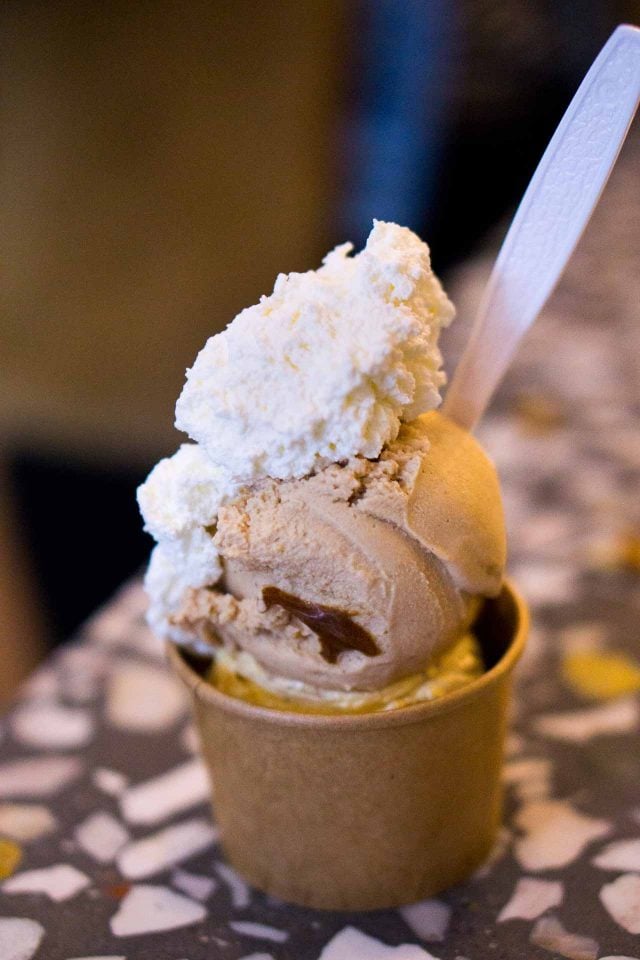 Hallie Meyer is the owner of this Italian-inspired cafe and ice cream shop, which offers up a selection of coffee drinks, as well as a menu of ice cream flavors that changes daily. Hallie is the daughter of restaurateur Danny Meyer, so it's in her DNA to foray into the food business. Like me, Hallie worked at an ice cream shop in college. She later cooked at the American Academy in Rome, as well as at a gelato shop in Rome as well.
When she returned to the States, she enrolled in AmeriCorps, working in community service at an underperforming school in the South Bronx. While there, she started churning up ice cream and creating a cooking club for the students on Friday afternoons.
Inspired by the gelaterias in Rome, she finally opened Caffè Panna in Manhattan. Panna is Italian for cream, and gelato in Italy is often served with panna; with a dollop of whipped cream on top. As I mentioned in The Perfect Scoop, some visitors are surprised by that and scrape it off once outside (which I've seen in Italy.) But to Hallie, the whipped cream was her favorite part, and she even named a previous ice cream venture Tripla Panna, since she loves it so much. (She told me tripla panna was her nickname in Rome, as she was known at her local gelateria for always ordering three scoops of gelato.) So it's the policy at Caffè Panna that whipped cream can be added to any cup or cone of ice cream at no extra charge.
All ice creams sold in the shop are churned daily, and any left over at the end of the day get packed into pints and sold to go. At present, Hallie rotates through five changes flavors each day, but there are five that stay constant (subject to change); Vanilla, Chocolate, White Coffee Stracciatella (coffee bean-chocolate chip), and Red Flag, strawberry ice cream studded with graham brittle.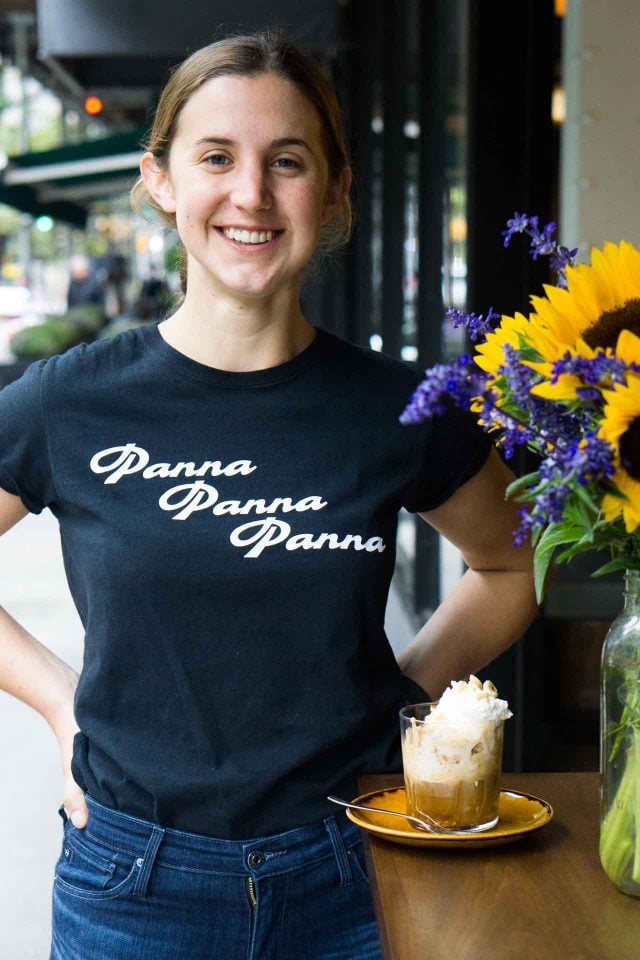 Of utmost importance are the quality of ingredients, including pistachio and hazelnut paste from Italy, and the famed hazelnuts from Piedmont, which are what the top pastry chefs in Paris use as well.
So that green scribble you see on the ice cream is Sicilian pistachio paste thinned with olive oil, but no colorants.
Hallie and pastry chef Beth Wieber also use Amano bean-to-bar chocolate for the stracciatella, either the Dos Rios from the Dominican Republic, or Raspberry-Rose, which you'd think might conflict with the other flavors – vanilla and chocolate – but it's perfectly balanced, and even someone like me, who's not a big fan of raspberries and chocolate, will love it as much as I do.
Affogato is the Italian way of pouring hot coffee over ice cream, and it's one of the great culinary inventions, marrying two things Italians do so well. Like the ice cream flavors that change daily, there are daily affogato and sundae specials, too.
Each sundae includes two flavors of ice cream, one crunchy element, a drizzle or scribble of sauce, and whipped cream. The one with the pistachio drizzle shown at the top of this post is made with ricotta ice cream swirled with orange, Sicilian pistachio crunch, raspberry sorbet, and orange-flavored panna.
I've been in a few times since they opened a little over a week ago, and one of the best sundaes they had was made with hazelnut ice cream, above. It's got a sweet potato-cinnamon "goo" made by massaging sweet potato cinnamon buns (made by Millers & Makers in Brooklyn, who Hallie says are truly a mom & pop business, and make "the best cinnamon buns I've ever had") with caramel, then topped with a cream cheese drizzle.
Cones are baked in-house using lingua di gatto, "cat's tongue" butter cookie batter, and rolled up throughout the day. And are just one of the many items on their daily prep list.
Ingredients for the fruit swirls are sourced from the local greenmarket, just a few blocks away in Union Square, and others are from purveyors who source with the same care that Hallie does.
Plans are afoot to offer Italian pastries to go along with the ice creams or coffee, and the terrazzo bar will be put to good use in the afternoon with Italian aperitivi drinks and snacks.
To celebrate the opening, I'll be in at Caffè Panna this Saturday from 2 to 3:30pm. Stop by for some ice cream…and to say hi to me and Hallie!
Caffè Panna
77 Irving Place (at 19th Street)
New York, NY
(917) 475-1162
Check website for hours