Multigrain and Seed Biscotti
I was browsing some older cookbooks recently. There are so many really great new cookbooks that come out every season that it's easy to forget some of the beloved ones waiting patiently on our shelves, for us to return to them. Before electronics came on the scene, I used to curl up every night under the cover with an actual book or two, before dozing off to bed.
The downside was that I always ended up bookmarking recipes that I wanted to make, and I'd get excited, and start running up and down (in back and forth) in my mind, about how I'm going to gather the ingredients when I wake up the next morning. Recently one that I came across was a recipe for Multigrain Biscotti in a cookbook from the '90s that had nearly two dozen ingredients in it. But they sounded so good, I made a little (okay…not-so-little) shopping list, for the next day, using that list as a bookmark, planning to make them the next day.
Long story short, after baking them off, the biscotti didn't quite fit the flavor profile and texture that I was hoping for. I wanted the grains and seeds to come to the forefront, and I wanted the cookies to be very crisp, but not heavy and dense.
Like anything you bake, there's often a wide range of variations to consider to get something to the right texture. I like biscotti very crunchy, so I made sure to have some cornmeal in there. And any spices or seasoning should be singular; I save the spice mixtures for pain d'épices and mincemeat, to keep the flavors focused on the nuts – and in this case – the seeds, too. Some insist on keeping them almonds-only.
That's fine with me, although you'd be missing out on Chocolate Biscotti and Cornmeal Biscotti, as well as the delicious biscotti I've had in Italy with pistachios, hazelnuts, and pine nuts. However, the recipe that initially caught my eye for these biscotti had two cups of pine nuts in them. At $50 a pound, or around €100 a kilo, I'd agree with those people that think you should stick with almonds, which I did.
So I made a few batches of these biscotti to get them where I wanted them, playing around with a combination of grains and seeds, and yes, almonds. I had to do a bit of shopping to gather the ingredients, which I suppose is the price we grain-lovers pay for liking things with a lot of seeds in them. ('Everything bagel'-lovers struck it rich when someone figured out that they could market the mélange of seeds and seasonings already mixed together.) The upside to going the DIY route is that you can customize the seeds to your liking, which I did.
I also tried them with honey (it was okay, but not worth making people haul out, and measure, another ingredient), anise seeds in place of the cinnamon (nice, but they took the focus off the grains and seeds), orange zest (which was nice in the background, but kept it subtle), whole-wheat flour mixed with all-purpose flour (which was fine, but again, not worth asking people to buy another ingredient for), and roasted buckwheat groats in place of the millet. They were interesting in the mix, but I missed the bird seediness of the millet.
Be sure to use a good serrated bread knife for cutting them. They're not hard to slice but the edges can crumble off, which may happen to the first few until you get the right touch for slicing them. Once you get into the rhythm, you'll be good to go. And go and go, and go, as I did.
The final biscotti came out really well, which was a relief because I now have a few hundred biscotti on hand, so am keeping the coffee pot at the ready. Sweet wine, like vin santo, marsala and sherry are also quite handy served alongside, to dip the crisp cookie in. With so many biscotti around, I guess I'd better keep some wine handy, too. (Which is never a bad idea.)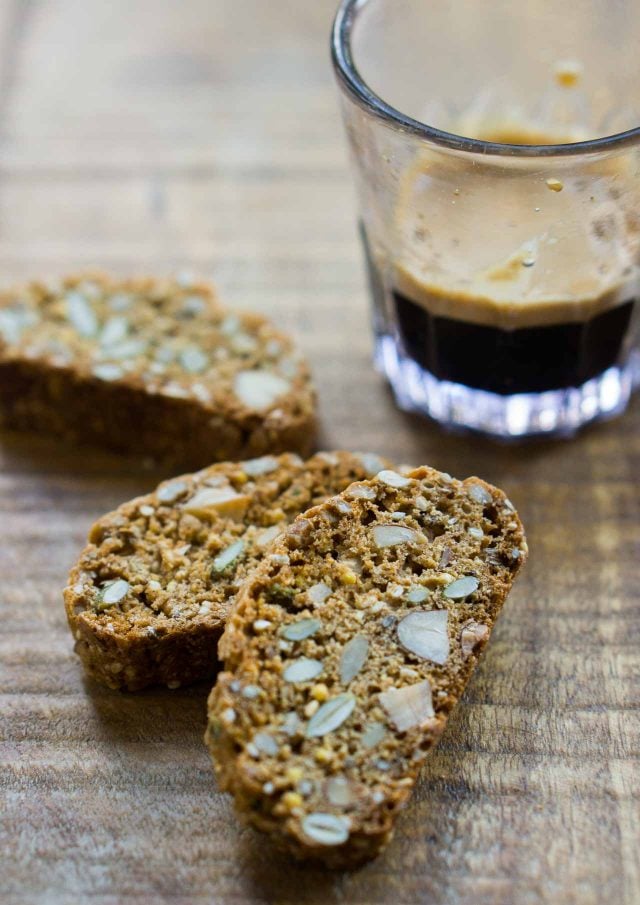 | | |
| --- | --- |
| Multigrain Biscotti | Print Recipe |
You're welcome to change the mix of seeds and nuts if you keep the quantities the same. If you want to make the shopping list a little shorter, you can use 2 tablespoons of another one of the seeds in the recipe to replace the flax seeds or millet, although I like the crunch of millet. Be sure the zest the orange before juicing it, to add to the dough. I used almonds, but hazelnuts shelled unsalted pistachios (no need to toast those, and best to leave pistachios whole, before using) or another favorite nut, would work in place of the almonds.
1 1/4
cups (185g)
all-purpose flour
1/2
cup (70g)
cornmeal,
preferably stone-ground
1
teaspoon
ground cinnamon
1
teaspoon
baking soda
(free of lumps)
3/4
teaspoon
kosher or sea salt
freshly ground black pepper
1
cup (135g)
almonds,
toasted and coarsely chopped
1/3
cup (50g)
unsalted pumpkin seeds
1/3
cup (55g)
unsalted sunflower seeds
1/4
cup (25g)
sesame seeds
2
tablespoons (25g)
flax seeds
2
tablespoons (25g)
millet
2
large
eggs,
at room temperature
3
tablespoons
orange juice
1/2
teaspoon
vanilla extract
1. Preheat the oven to 350ºF (180ºC). Line a baking sheet with parchment paper.
2. In a large bowl, whisk together flour, cornmeal, sugar, cinnamon, baking soda, salt, and a few turns of freshly ground black pepper. Stir in the almonds, pumpkin, sunflower, and sesame seeds, as well as the flax seeds, and millet.
3. In a small bowl, mix together the eggs, orange juice, zest, and vanilla. Add to the dry ingredients and stir until the dough comes together; you'll likely start using a spatula but eventually using your hands to get the dough into a cohesive mass. Divide the dough in two and roll each half on a lightly floured countertop until each is 12-inches (31cm) long. Place the two logs of dough evenly spaced on the prepared baking sheet and bake for 30 minutes, until they are light golden brown and feel firm to the touch.
4. Remove from the oven and let cool 10 minutes. Lower the temperature of the oven to 300ºF (150ºC.) Using a very sharp serrated knife, slice the logs into 1/3-inch (1cm) cookies. Place the cookies cut side down on the baking sheet. (You can either bake these in two batches on the one baking sheet or use an additional baking sheet and bake them all at the same time. No need to line the second baking sheet with parchment paper.)
5. Bake the cookies in the oven, flipping the cookies over on the baking sheet midway during baking. If using two baking sheets, turn the cookies midway during baking, and rotating the baking sheets midway during baking, putting the one that was on the lower rack of the oven on the upper rack, and vice versa. This second baking will take about 25 minutes.
6. The biscotti are done when they are gently browned on each side and feel dry on both sides when you touch them. Remove from oven and let cool completely.
Storage: The biscotti will keep for up to two weeks if stored in an air-tight container at room temperature.
Serving: Serve with coffee, tea, sweet wine, or alongside a favorite fruit compote, ice cream or sorbet. Since they don't lean heavily on the sweet side, they can be served with goat cheese, or another tangy soft cheese spread, as an appetizer.