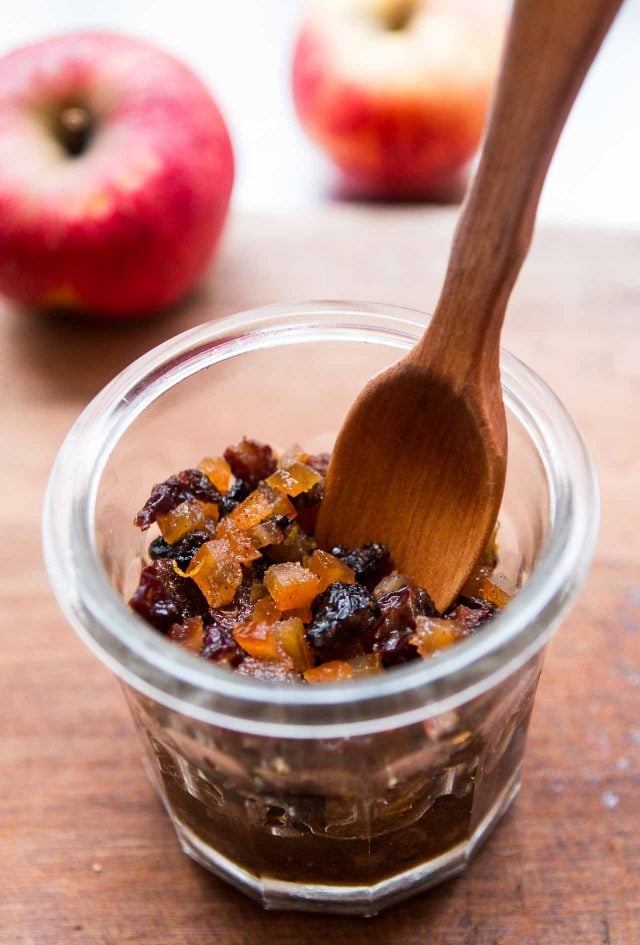 The word Mincemeat doesn't quite inspire the same rapture that it does in England, most likely due to the name. Meat isn't something normally associated with dessert in many places (although I had an interesting chocolate and beef pastry in Sicily), but traditional mincemeat is indeed, a wonderful addition to holiday desserts. To make it, one must get suet from a butcher, which posed a challenge for me the first time I made it in France. When I mentioned I needed beef fat to make a dessert to a boucher in Paris, from the look on his face, he wasn't exactly sure what I was going to make with it. Or, I guess I should say, he wasn't exactly convinced I was in my right mind. (Which wouldn't be the first time that happened to me here.)
Not everyone wants to make traditional mincemeat, which is a bit of a chore, but there's another way to get the wonderful flavors of candied peel, spices, dried fruit, and brandy, in your desserts, and that's to make quick mincemeat.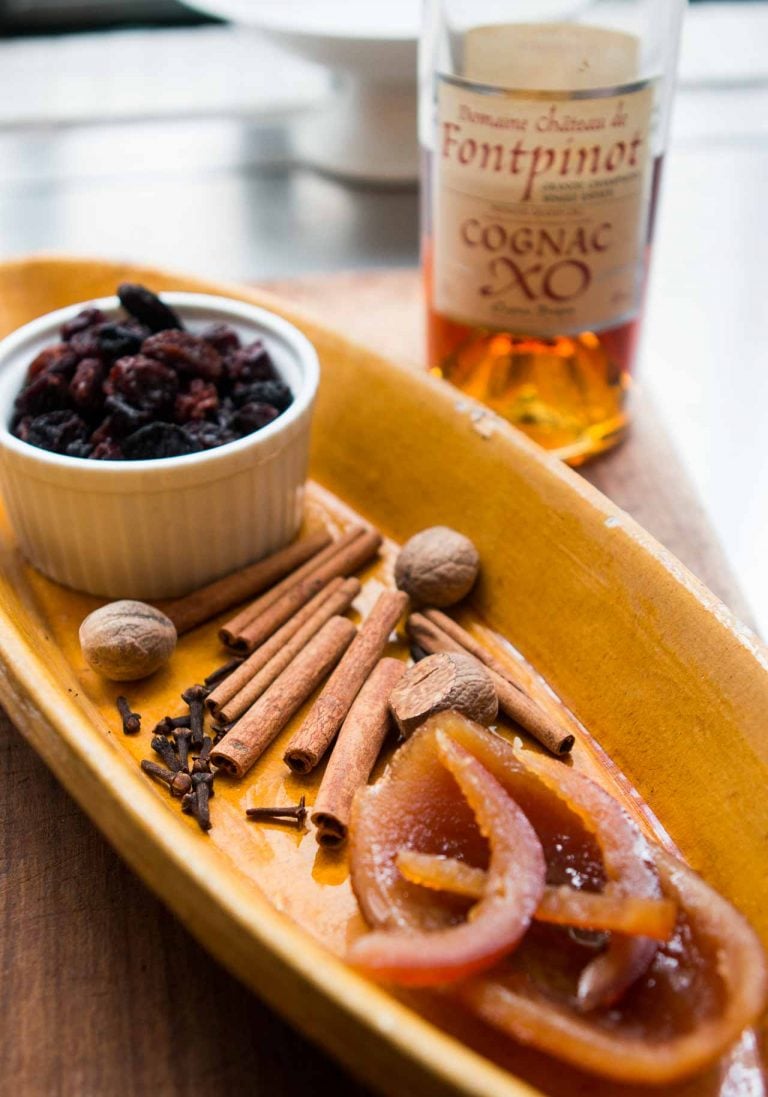 I originally posted this in 2008 and gave it an update, with new pictures and because so few people had shared it on social media. (If you like it, share it! That's what the internet is for, folks.)
This can be put together in less than 10 minutes and requires nothing more than a little chopping and mixing. I normally make my own candied orange peel*, but when I don't have any on hand, I use store-bought, which I find at shops that cater to bakers, like G. Detou or Middle Eastern markets, which often have a good selection. You can also find candied orange peel online.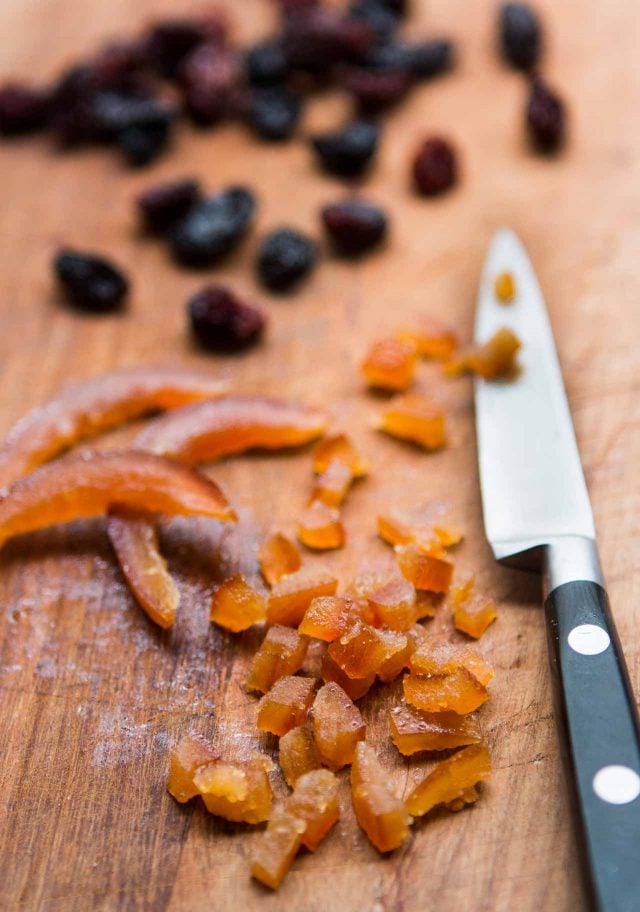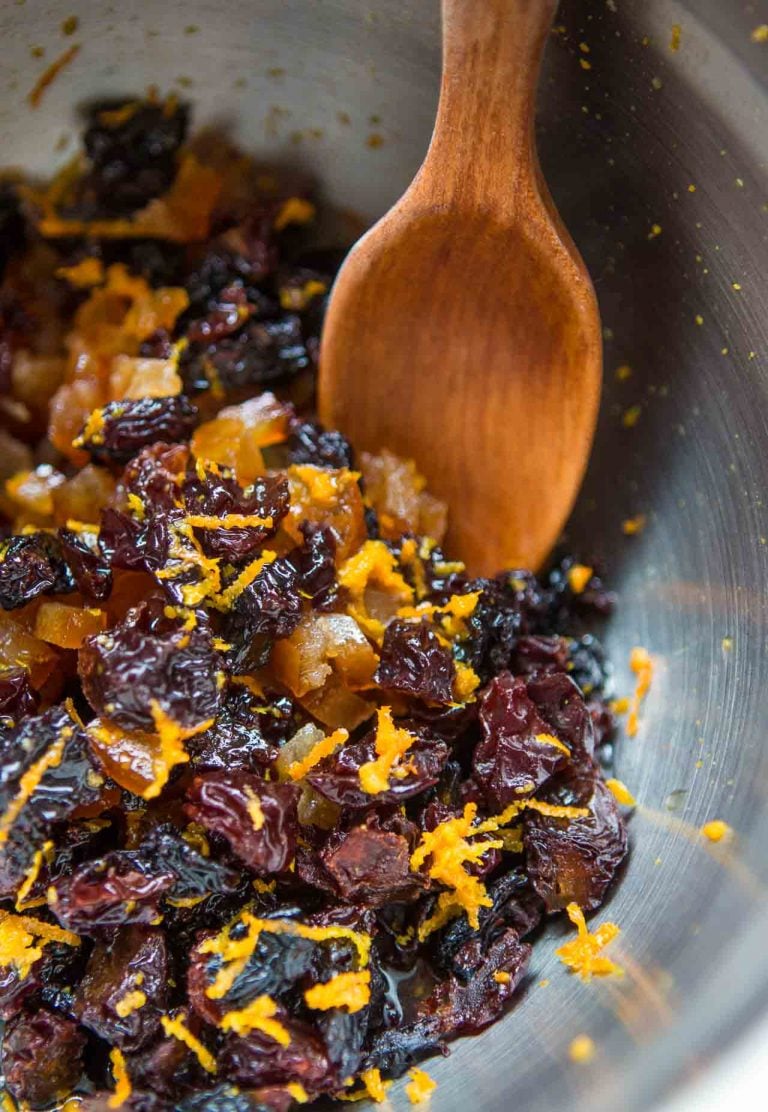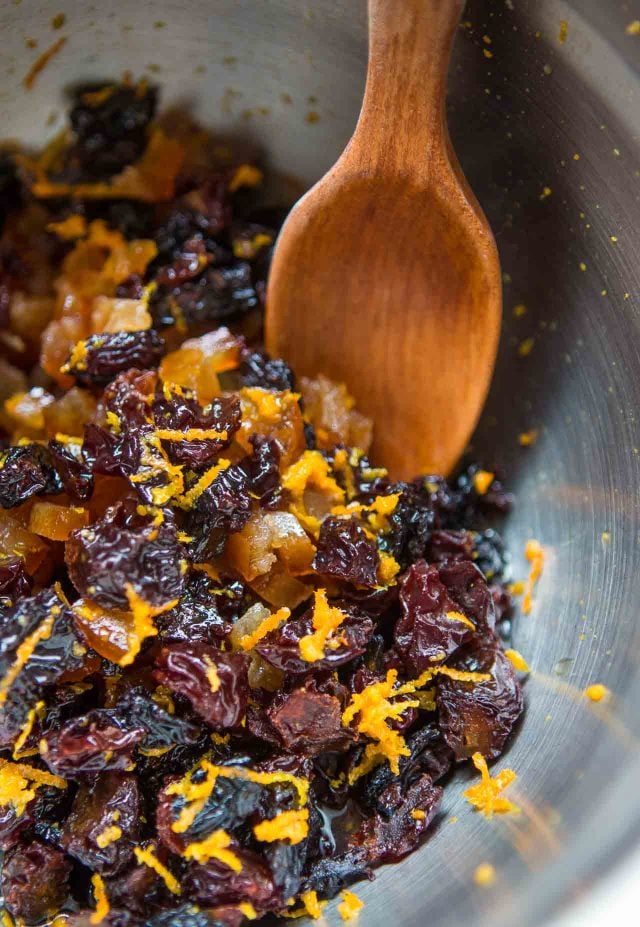 This simple mixture which mimics mincemeat very closely, and is even vegetarian, so everyone can indulge in dessert. The amount is perfect for adding to a bowl of sliced apples or pear destined for a pie or crisp. You can also fold it into just-churned vanilla ice cream, which is a great – and surprising – addition to a holiday dessert menu. The festively-spiced ice cream is even better with warm chocolate sauce ladled over it.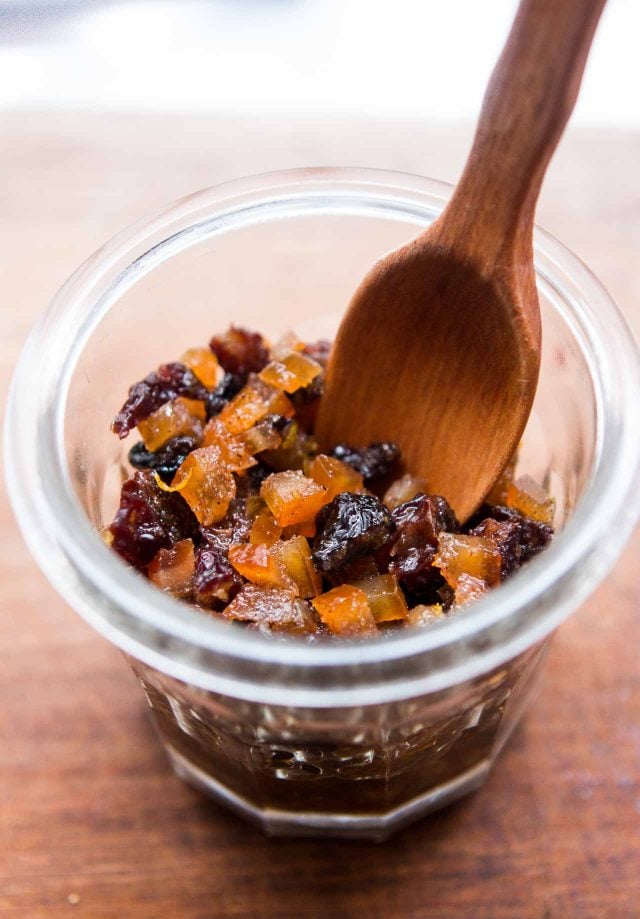 While this almost-instant mincemeat is perfectly fine to use right away, it's really better if left on its own for a few days, so everything gets a good soaking in the brandy. If you can give the flavors a little time to meld and mellow, that's best. (Which I know will please the do-ahead folks.) But it's okay to use the same day as well. Depending on the raisins and candied peel that you use, check the mincemeat after the first day; if it's soaked up all the brandy, add a little more to the jar to keep things moist.
When it comes time to serve dessert, people are always surprised when I tell them that it's mincemeat that they're eating. But even after I tell them what it is, that's never stopped anyone from cleaning their plate.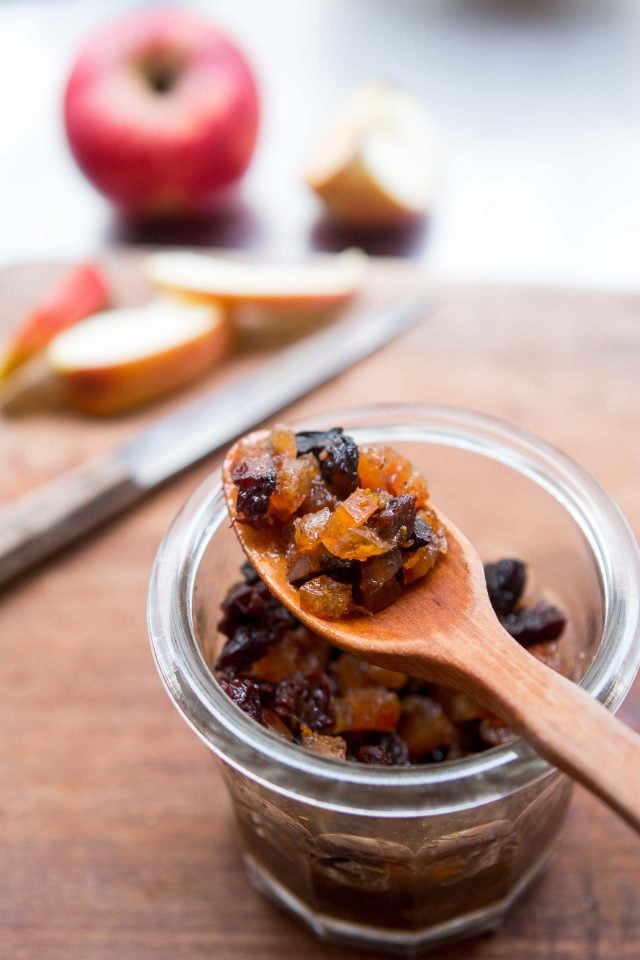 Quick Mincemeat recipe
This quantity is enough to mix with enough apples or pears for one pie,
crisp
, or cobbler. (Using 6 to 8 cups of fruit per recipe. Of course, you can use more, or less of the mincemeat mixture if you wish.) Simply toss the desired amount with your sliced fruit and proceed with the recipe. Because the candied oranges are sweetened and the mixture has brown sugar in it, you can reduce the sugar by 3 tablespoons, or more (because it's so flavorful) in whatever recipe you're using. Dried currants or cranberries can replace the raisins, for a different look or flavor. This will keep for weeks, or even months, before you plan to use it. The taste of the brandy will mellow nicely the longer it sits. In lieu of brandy, try dark rum, whiskey, or orange liqueur, such as Grand Marnier.
2/3

cup (90g)

coarsely chopped raisins

,

dark or golden

1/2

cup (60g)

chopped candied orange peel

1/4

cup (60ml)

brandy

,

plus more, if necessary

grated zest of one orange

,

preferably unsprayed

1

teaspoon

freshly squeezed lemon juice

2

tablespoons

light or dark brown sugar

1/2

teaspoon (each)

ground cinnamon and nutmeg

1/4

teaspoon

ground cloves
Mix everything together in a bowl, then pack into a jar. Cover.

Let the mixture stand for at least one to three days before using. Check after the first day: If the liquor has absorbed quickly, and the mixture appears dry, add another tablespoon or so, just enough so the mixture is thoroughly moistened.

Add to an apple or pear-based fruit filling for a pie or crisp prior to baking.
Notes
Note: For those avoiding alcohol, substitute apple cider or juice, and a teaspoon of vanilla extract, in place of the brandy. If no liquor is used, refrigerate the quick mincemeat and use it within a week. Candied orange peel is available in well-stocked supermarkets around the holiday season. Look for a brand with no artificial colors and no preservatives. You can also buy it online.
Storage: The Quick Mincemeat, as written, will keep for several months. I keep mine at room temperature if I plan to use it within a week or two. If you want to keep it longer, it can be refrigerated.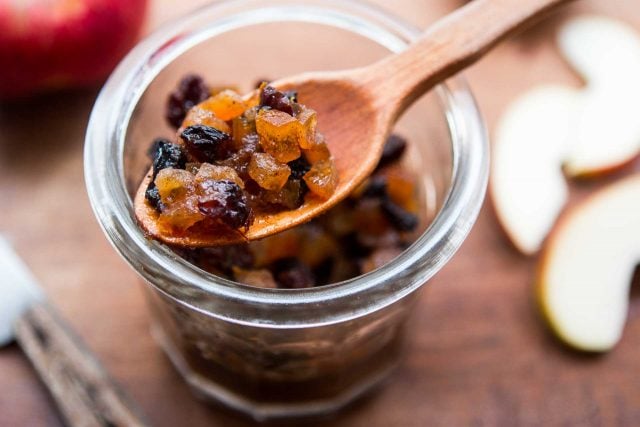 Related Links
*My candied orange peel recipe can be found in my book, Ready For Dessert.