Traditional Mincemeat Recipe
After making my last batch of Quick Mincemeat, which found its way, then disappeared into, one of my Thanksgiving desserts, for some reason, I got a hankering to make the real-deal. I don't know what possessed me, but when I get something stuck in my craw, it can take the Jaws-of-Life to get it out of there.
Making traditional-style mincemeat requires one not just to mix up bunch of dried fruits and candied peel, but also demands one to include a generous blob of animal fat in the mix. Thus, I began my search for suet in Paris. Which you wouldn't think was all that hard. However I've learned that here, some things take a little less thinking-about, and a little more legwork than one might think the situation should really warrant.
I figured one of the many butchers at my local outdoor market would have kidney fat, no problem. But at each stand, they just solemnly shook their heads "Non." When I told them I needed it to make a dessert, you can imagine their Gallic reaction.
C'est normale for me when I'm trying to find something specific around here. With my luck, even if I'm searching for a four-legged table, I'll go to the magasin des tables, which'll have every conceivable kind of table—except for the kind with four legs.
So I headed up towards Belleville, to the huge boucherie Robert & René (13, rue Faubourg du Temple) where I figured they'd have such oddities.
The butcher winced when I told him I was making un truc anglais, which, with all respects to my British friends, is a normal reaction when you mention something edible that's from across the Channel. Calm down…I share your pain, as I get it as well when I mention American food, too. Which is why I pass out so many brownies around here. Perhaps some of you British folks living or visiting here might pass around something delicious to change the tide around here, like Neal's Yard cheese, crumpets, or treacle tarts. Euros are for losers, take it from me: brownies are my best local currency and I've won beaucoup de converts.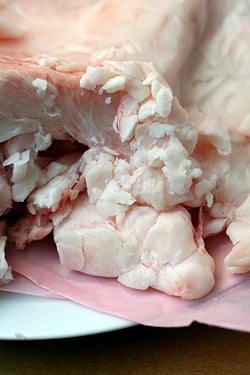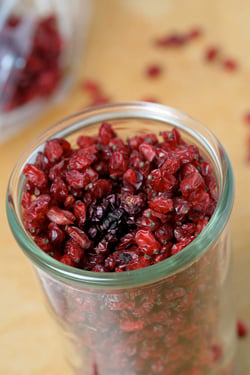 After putting on my saddest, most dejected face, one that I'd perfected over the years (which usually doesn't work on the French, but I still sometimes give it a shot anyways), he told me he could dig some up, and then he went into the back. When he returned, he handed me a giant pink slab, and told me it was no charge. Which was great, but what was I going to do with five pounds of suet? I can't exactly have a sidewalk suet sale, can I?
So my rule about Paris, the one that goes "Whatever you're looking for, they'll have everything—but…" still lingered, but I wasn't going to quibble at the overload of suet at this point as I tried to tick ingredients off my aide-mémoire. Except next up, I could not for the life of me find currants. Every shop I went into had plenty of raisins; dark, light, and all shades in between, but no one had currants.
Then I remembered I had some tangy little red berries from Iran, which are called barberries that I bought at a Persian market a few weeks ago, and thought I'd use them. In a recent chat with a British expat friend, she scoffed at a recipe she saw that mixed dried cranberries into their mincemeat. But I reminded her that since mincemeat was likely a way to preserve the harvest way-back-when, if her forefathers and foremothers had cranberries, they probably would've used them. And cuisines change; new foods get discovered, better techniques come along, and so on and so forth, so I felt justified doing a little cross-cultural fiddling.
And after all, I'm an American, living in France, making an English conserve, from fat I got from an Arabic butcher, from suet that he found who-knows-where. And since I've gone that far, using a Persian ingredient is the least of my transgressions. So I made my tried-and-true multicultural recipe and technique.
And eventually I finally got real currants, which are called raisins de corinthe, just in case you need to know those kind of things (like I do) and some more candied peel, which I happily bought for this next round. As for the fat, I still have 4 3/4-pounds of suet leftover in my freezer, so that in the future, I have a cushion to fall back on. Albeit a rather fatty one.
Mincemeat
You can swap out any finely-diced fruits, like I did, although to be close to authentic, it should be pretty raisin-heavy. I've seen recipes using everything from dried cranberries, figs, and prunes. In England, one can buy
vegetarian suet
, which I've never used, but folks say that it works well. I was also thinking that coconut oil might work, so if anyone experiments with that, I'd be interested in knowing the results. You can also make my
Quick Mincemeat
, which has no fat or animal products.
8

ounces (225g)

dark raisins

8

ounces (225g)

currants

4

ounces (110g)

golden raisins

,

(sultanas)

1

large

,

firm apple; unpeeled, quartered, cored, and diced

2

ounces (55g)

candied orange peel

,

chopped

4

ounces (110g)

suet

,

grated or finely-chopped

1

cup (215g)

packed light brown sugar

1/2

teaspoon each

ground cinnamon

,

cloves, nutmeg & allspice

zest and juice of one lemon

zest and juice of one orange

3

tablespoons

brandy
Mix all the ingredients together, except for the brandy.

Heat on the stovetop until the suet has completely melted and the mixture is heated through.

Remove from heat, cool, then stir in the brandy. Pack into a jar and refrigerate.
Notes
It's best to let mincemeat stand at least a couple of weeks before using. I store mine in the refrigerator, and have kept it for up to one year. If you're interest in canning it, you can find USDA approved canning methods.
Mincemeat can be crumbled into apple pie or crisp, or baked by itself, or with sliced apples between two layers of pie dough to make a mincemeat pie.
Related Links
Mincemeat and Apple Jalousie (Spittoon Extra)
What is suet? (Wikipedia)
Making Candied Citrus Peel (Simply Recipes)
Mincemeat (Delia Smith)
Mincemeat Pie (Alton Brown)
Traditional Mincemeat Pie Recipes from 1953 (Slashfood)