Here are some recipes from my website for sweets and treats that I hope will make your holidays a little happier!
Nibbles & Drinks
The Best Holiday Nut and Pretzel Mix: This is the best snack I know of to go with festive drinks. I can't get enough of it. Make this for your next cocktail gathering!
Spritz: Want a holiday drink that's lighter than a cocktail, and more festive? Try pouring a Spritz (or two) this year for guests.
Roasted Squash: Could this recipe be any easier? Oven-roasted slices of squash, which you can customize with different herbs and spices. Leftovers are great cubed and tossed in a salad of winter greens with toasted pecans and dried cranberries.
Sardine Pâté: Silky fish pâté is great spread on toasts with flutes of sparkling Champagne.
Apricot, Almond, and Lemon Bread: From Susan Loomis, serve thin slices of this savory 'cake' to guests. The cake can be made now (while you're still sane) and freezes beautifully.
Salmon Rillettes: A wonderful spread for crackers and toasts, to kick off a celebration.
Gougères: Cheesey cream puffs rise to any occasion.
Sidecars: A splash of fresh lemon juice makes these a nice, bright beacon at any cocktail party or gathering.
Cranberry Sauce with Red Wine and Figs: A splash of red wine and soft figs contrast with tart cranberries for a new take on this holiday classic.
Sweets & Treats
Chocolate Idiot Cake: Everyone is super-stressed around the holidays but this cake is simple to make, and better yet, keeps for days in the refrigerator.
Chocolate-Cherry Fruitcake: This is one fruitcake that won't get re-gifted…
Pumpkin Ice Cream: Folks love pumpkin ice cream alongside holiday desserts. Try putting scoops in cream puffs and dousing them with buttery caramel sauce spiked with cinnamon.
French Apple Cake: So easy, you can make Dorie Greenspan's fantastic apple cake in minutes with just a few ingredients.
Chocolate-Covered Caramelized Matzoh Crunch: It's not necessarily the season for unleavened bread, but this is a great treat, and little bags make nifty holiday stocking stuffers. This is OMG good.
Quick Mincemeat: Didn't have the time (or the gumption) to make traditional mincemeat this year? Add some of this to your favorite apple pie or crisp filling; the spices and candied peel will complement the fruit beautifully. All the spices of traditional mince but without the fuss.
Nonfat Gingersnaps: These are so great, I had to include them in Ready for Dessert, my all-time favorite recipes. Moist and snappy, the added bonus is you don't have to stress if you eat too many of them.
Candied Ginger: I like to keep a jar of this on hand during the winter because you can chop it up and add these bits of spicy ginger to anything from apple crisp to gingersnap dough. Dip slices in chocolate, chill, then serve as an after-dinner candy.
Salted Butter Caramels: Buttery caramels flecked with sea salt.
Persimmon Bread: If you're one of those people that has no idea what to do with persimmons, this recipe is for you. I hand out loaves in Paris around the holidays. So good!
Candied Peanuts: I make these every year and have a hard time not eating the whole batch all by myself!
White Chocolate-Fresh Ginger Ice Cream: I made this for Thanksgiving this year because everyone loves fresh ginger paired with apple or pumpkin pie, and the smoothness of white chocolate balances the spicy ginger nicely.
Chocolate Pecan Pie: How to make pecan pie even better? Add chocolate!
Polenta Crisp Topping: A handful of polenta in the topping gives new meaning to the word "crisp". Use with your favorite fruit filling.
Sugar-Crusted Popovers: As good as sugared doughnuts but with just the best part—the crust! Terrific for a morning-after breakfast with cups of strong coffee.
Cinnamon Ice Cream: This ice cream is perfect with fall and winter desserts.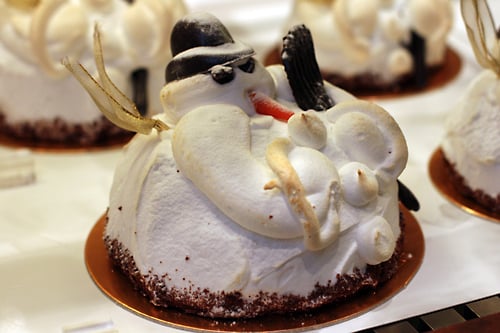 (The Gâteau Bonhomme de neige is from Dalloyau pastry shop in Paris.)