Chocolate Persimmon Muffins
Often people aren't sure what to do with persimmons. While Fuyu persimmons are eaten while crunchy and are good in fruit compotes and wintery salads, Hachiya persimmons are abruptly tannic when unripe and must be squishy soft before eaten. And if you've even tried an unripe one, you'll know that I'm being kind when I say "abruptly." Fully ripe, they're quite sweet and even though people will sometimes pop them into the freezer then enjoy eating them like sorbet with a spoon, they're a bit of a one-note fruit for me.
So I was excited when I was reading through Good to the Grain by Kim Boyce and came upon the recipe for adding a second note by combining them with dark chocolate in these not-just-for-breakfast muffins.
This is exactly the kind of baking book I like; straightforward recipes that get flavor from the ingredients themselves rather than replying on complex presentations or techniques. So imagine my surprise when I was reading the introduction to the book and found out that Kim thanked me for inspiration.
To obtain fresh persimmon puree, wait until the persimmons are as soft as ready-to-burst water balloons. You can use any kind of persimmon as long as it's super ripe, although Hachiyas yield the most copious pulp for baking. Yank off the stem, cut the fruit in half, and scoop out the jellied pulp with a spoon. There's no need to haul out the food processor; I slightly chopped up the innards using a pair of kitchen shears to break up very large wads of persimmon pulp. But don't overdo it—you're not looking for baby food.
People often don't know what to do with an overload of persimmons. I've always dreamed of living near someone with a persimmon tree, since they're really beautiful after all the leaves have withered away, leaving only the sleek orange fruit behind on the knotty branches. And also because they're quite prolific and owners of the trees are usually generous when handing over extra persimmons to neighbors. Or so I hear.
But as long as I live in a rather compact city where yards are few and far between, I guess I'll have to be content with picking up persimmons at my local market. If you're lucky enough to have a glut, or you buy them at the end of the season when the price drops, freeze the pulp in 2 cup portions and use them throughout the year for making muffins or persimmon bread.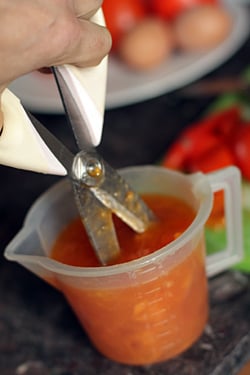 At first bite, these muffins might not seem sweet enough to you as there isn't all that much sweetening added. But keep eating and I think you'll agree that it's nice not to have a muffin that's sugary-sweet, as some muffins tend to be. Since Kim thanked me in the introduction of her book, I'd like to thank her for this recipe. Now if I could only get her to move in next door and plant a persimmon tree, then I'd really have something to be thankful for.
Chocolate Persimmon Muffins
Adapted from
Good to the Grain
by Kim Boyce The original recipe said it made 8 muffins but I got a few more out of my one third cup-sized muffin tins. To be sure, keep a little softened butter on hand in case you need to butter a few extra spaces in your muffin tin. Fill the muffin tins so that the batter is heaped just above the top. These are denser than other kinds of muffins and don't dome much due to the chocolate and the hardy buckwheat. Although I rarely call for specific brands of ingredients, Valrhona cocoa powder gives these muffins a deep-chocolate flavor and that's what Kim recommends as well. If you don't have it, use very good quality cocoa powder (and chocolate) for best results.
For the dry ingredients:
1

cup (150g)

buckwheat flour

1 1/2

cups (210g)

all-purpose flour

6

tablespoons

unsweetened cocoa powder

,

preferably Dutch-process (see headnote), 20g

2

teaspoons

baking powder

1/2

teaspoon

baking soda

1

teaspoon

kosher or sea salt
For the wet ingredients:
6

tablespoons (85g)

unsalted butter

,

cold, cut into bits

1/4

cup (50g)

dark brown sugar

1/4

cup (50g)

granulated sugar

2

large eggs

,

at room temperature

1/2

cup (120g)

plain yogurt

,

whole or lowfat

2

cups (500ml)

Hachiya persimmon puree

,

(from about 2-pounds, 800g of persimmons)

4

ounces (115)

bittersweet or semisweet chocolate

,

chopped into 1/4-inch (1cm) chunks
Preheat the oven to 350ºF (180ºC). Butter eight of the inserts of a muffin tin (with a 1/3-cup capacity each).

Sift together all of the dry ingredients into a bowl, pressing through any lumps of leavening, then tilt any bits of grain left in the strainer back into the mixture.

In a stand mixer, or by hand, beat the butter with the brown and granulated sugars until light and creamy, for three to five minutes.

Add the eggs one at a time, scraping down the sides of the bowl to make sure they're incorporated.

Add the yogurt, then half of the persimmon puree.

Stir in half of the dry ingredients, then add the remaining persimmon puree.

Gently mix in the remaining dry ingredients until almost incorporated, then fold in the chocolate chunks and any chocolate dust.

Divide the batter into the muffin tins and if there are any bits of persimmon visible in the batter, lift them out with a spoon and distribute them over the top.

Bake the muffins for 30 to 35 minutes, rotating the muffin pan midway during baking. The muffins are done when they still feel still soft in the center and spring back lightly when pressed.

Let the muffins cool for a few minutes, until you can handle them, then lift them out of the pan and set them on a cooling rack.
Notes
Storage: The muffins are best the day they're made, although you can store them in an airtight container for up to two days. They'll be a little denser the next day. The muffins can also be frozen for up to two months.
Note: Valrhona cocoa powder is available in well-stocked grocery and gourmet stores, as well as from Valrhona. In Paris, I buy mine at G. Detou.
Related Links and Recipes
Kim Boyce (Twitter)
Hachiya Persimmons (Bay Area Bites)
Kim Boyce's OIive Oil Cake (Wednesday Chef)
Kim Boyce's Carrot-Spelt Muffins
American Baking Ingredients in France
Equipment and Ingredient Substitutions