If G. Detou didn't exist, I couldn't live in Paris.
Seriously. The overstocked, but impeccably neat shelves at G. Detou do indeed have everything, as the name implies in French (J. Detou is a play-on-words, meaning "I have everything".) But when you're someone like me that does an inordinate amount of baking, plus loves…and I mean loves…to discover new and unusual foods and chocolates, a place like G. Detou is truly pastry paradise.
This little shop near Les Halles is stocked, literally, floor-to-ceiling with everything a cook or baker could want. There's chocolates from across France, including a huge (and I mean huge) selection of bars including Michel Cluizel, Valrhona, Voisin, Weiss, Bonnat, Cacao Barry—the best of l'hexagone.
But even better are the big tablets and sacks that range from 3 to 5 kilos, that hard-cores bakers like me depend on. Although I'm not the only avid chocolate baker in town: When I was in last week, a tiny, meek little old lady came by and left hefting a 3-kilo sack of white chocolate, and a man in a hurry, who didn't remove the cell phone from his ear while he rattled off his order to the red-coated salesclerk, left with five enormous sacks of chocolate, as well as assorted other goodies.

And for those fans of le brownie amèricain, you can find decent-sized tablets of unsweetened chocolate (labeled 100% pâte de cacao) so you don't have to go to chi-chi chocolate boutiques and chop up a couple of those 7€ bars for a batch of 'em. The first time I saw they carried tables of unsweetened chocolate in bulk, I bought…like, five of them, although I still have a couple left. I was just so excited!
And what other goodies are stocked at Detou?
Well, if you remember my Pistachio Gelato, they carry the verdant-green Sicilian and Iranian pistachios that I talked about, which I love to use for decoration too: they make a gorgeous garnish. There's also a wall of nuts, including big sacks of almonds, hazelnuts, pine nuts, cashews, and best of all, whole pecans, which are all the rage in Paris—with good reason, if you ask me. And of course in another corner is a huge selections of teas, if you're a foofy tea-drinking type.
Of course, I come first and foremost for the chocolate.
And if you're an American living in Paris, or a Parisian interested in American baking, they stock hard-to-find chocolate chips in kilo boxes which are priced so that you can actually use them without feeling guilty, unlike the ones sold elsewhere in town priced like precious jewels.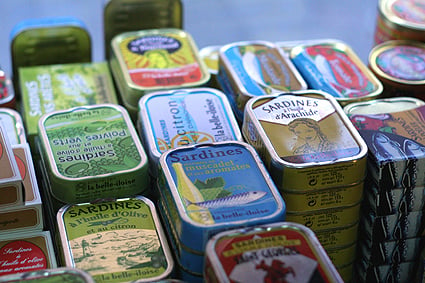 But even if you're a visitor, Detou is well-worth a stop. Aside from pretty sardine and tuna tins, each a whimsical work of art, great bargains are kilo bags of roasted cocoa nibs and Edmond Fallot stone-ground mustard, which is the best mustard I've ever had and one of the last true Dijon mustards.
Although it comes in these decorative tin pails (Hello? Can you say 'perfect gift'?) it's also available in little jars and larger plastic pails for those of you who really, really like mustard and go through a lot of it. And it's a real deal here; half the price of elsewhere in France. Plus they have every kind, from gros graines to green peppercorn.
On my last visit, they showed me their marvelous new selection of hand-peeled fruits from Gascony packed in jars, ever-so-lightly sweetened, which included tiny Seckel pears, small rounds of pineapples, and teensy apples no bigger than cherries.
Around the glassed-in cashier's stand there's a formidable selection of varietal honeys and a slew of interesting sugars including dark raw cane sugar and the coarse crystals that are vital for making crackly Choquettes. (Eat your heart out, Lisa T.!)
Look up and you'll see fragrant vanilla beans aplenty, Trablit coffee extract, packages of Spanish saffron, and just off to the side, the latest addition to the shop: a whole range of products for practitioners of molecular gastronomy which looks like a high-school science fair commissary.
I also have a cake-decorator friend who stocks up here on silver dragees which she tells me are impossible to get in parts of the US. I know I dragged dear Keiko into Detou when she visited from England so she could get her talented little hands on some glucose, the European alternative for light corn syrup.
Ever since Monsieur Thomas took over the shop five years ago, G. Detou's evolved, carrying more unusual and regional products than ever, including a huge selection of the aforementioned chocolates. It's my epicenter for anything edible in Paris.
Now if I could only find a way to afford the apartment just upstairs that's currently for rent, I'd be the happiest man in Paris. But knowing that I'm only a short walk away ain't so bad either.
G. Detou (map)
58 rue Tiquetonne (2nd)
Tél: 01 42 36 54 67


UPDATE: G. Detou has also opened in the city of Lyon, located at 4 rue du Plat (Tél: 04 72 04 06 28).