Rue Montorgueil and Les Halles, Paris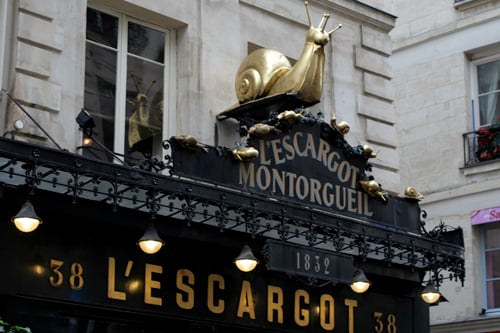 You might not remember the days before the internet, but when we used to travel somewhere, we'd ask a friend to scribble down a list of suggestions. And we'd often be asked to do the same in return. Then when computers became widely used, other 'favorites' lists started circulating, including suggestions posted in online forums and in blogs.
So think of this list as my modern-day scribblings of places to go on the rue Montorgueil. Aside from it being perfectly located in the center of Paris, it's a great place to take a stroll, and is pedestrian-friendly and wheelchair accessible, as it's flat and closed off to cars. It's a lovely walk, and everything is in a three block radius, making it easy to sample some of the best food shops, bakeries, chocolate shops, and kitchenware stores in Paris in one fell swoop.
The area was, for centuries, the home of the famous Les Halles covered market, which stood in the center of the city. As part of the modernization of Paris it was dismantled in the 1970s, replaced by an unattractive shopping mall (which is widely reviled), and the merchants were dispatched to Rungis, a large industrial complex on the outskirts of Paris. Still, reminders of Les Halles remain, including restaurant supply shops, late night dining spots, and the rue Montorgueil, which has become a vibrant street lined with restaurants, food stores, chocolate shops, and lively cafés.
The street is the perfect place go if have just a short time in Paris, as there's a lot to see—and eat, in a very concentrated space. Depending on where you're coming from, you can take the métro and get off at Etienne Marcel, Les Halles, or Sentier.
You'll probably want to visit the restaurant supply shops, which you might want to schedule at the end of your stroll, so you don't have to lug purchases around with you.

Although prices have risen in recent years, and most of this stuff is now available online or around the world, lots of people flock to Les Halles to check out these shops. For those coming in search of better deals on things like Le Creuset and Staub cookware, oddly, it's often priced higher than it is in the United States. So check prices before going. And shipping is very expensive, so whatever you plan to pick up, I recommend only buying what you can carry back if you're price sensitive.
The most famous of the restaurant supply houses is E. Dehillerin, known for its amazing, heavy-duty copper cookware in the basement. Nothing is priced, so you either need to ask one of the salesmen, who fall at both ends of the spectrum; either pushy and aggressive, or completely disinterested—or do as I do and match the item number myself with that in one of the thick books located around the shop, to get prices. If you don't want buy something they're insisting you need, be firm, but polite when declining. Their plastic pastry scrapers are really cheap and are embossed with their name. They make excellent gifts for those back home.
Other shops are Bovida, A. Simon, and MORA. The best part of Bovida is the stuff on the top floor, which features French food decorations and things like éclair papers and such. A. Simon has two shops just next door to each other: one has lots of French porcelain and the other has pastry supplies. Needless to say, I prefer the pastry one.
But my favorite is MORA, which is dedicated exclusively to pastry supplies and the place is usually teeming with enthusiasts from all over the world. I love this place. As in most of these shops, you pick out what you want, then a salesperson will help you and write up your order. You go to a cashier and pay, then present the salesperson with the receipt. If you live abroad, these places will detaxe your purchase if it reaches €175.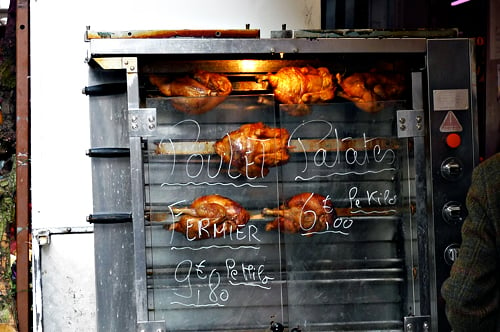 To avoid sticker shock, note that in these places, there are often two prices noted: one is HT (without tax) and one is after tax (TTC, toutes taxes compris, which is currently 19.6%). Unless you have a French resellers card, the tax will be added when they write up your order. (Note: In these places, a salesperson will take and wrap your order, then you must pay at the cashier, then you go back and take your purchase.)
Au Pied du Cochon is right nearby which has traditional French onion soup. It gets mixed reviews. And of course, there's the famous pig's foot (or the other parts, aka La Tentation de Saint-Antoine), which I haven't tried, but have smelled from a neighboring table. This historic place, one of the last remnants of the old Les Halles marketplace neighborhood, is filled with tourists and French customers, and the food is serviceable and pleasant. But they are open 24/7, just in case you're jet-lagged and feel peckish for pork at 3:45 am.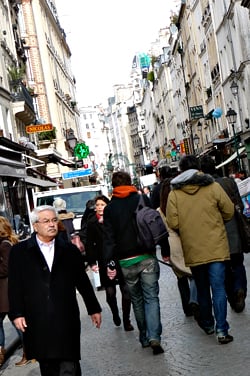 En route to rue Montorgeuil, do not miss G. Detou (58, rue Tinquetonne), which is a fabulous baking supply shop, with lots of other French food specialties, all sold at fair prices. The best deals are the many kinds of French chocolate, especially the Valhrona cocoa powder and kilo bags of cocoa nibs which cost around 12 euros (the largest box of cocoa powder includes 3 individual sacks so you can split it with friends), coarse baking sugar crystals for chouquettes, honey, and baking items.
Edmond Fallot mustard, olive oil and vinegars, foie gras (buy ones marked "entier", as they're not bits & cast-offs, but an entire chunk), green lentils from Puy, fleur de sel de Guérande, and haricots Tarbais are also good to get here.
Places to eat abound. Aux Tonneaux des Halles (28, rue Montorgueil) is the most traditional restaurant on the street. The food is standard French bistro fare; Tête de veau, steak frites, and andouilettes, but the interior is worthy of a visit and all dishes are less than €20. Curiously, you can find many natural wines on the list, depending on what's available. Just a few doors down is Foody's (26, rue Montorgueil), a help-yourself salad bar restaurant if you're craving vegetables or a lighter lunch.
Nowhere else in the world is the difference between the way Americans and French eat more evident than at Foody's. When I pick up one of the small, rectangular plates which you're welcome to fill up with as much as you want, during the single pass at the salad bar one is entitled to, I fill that plate up, making a solid pyramid of food, jamming everything together and leaving no space unfilled. My French counterparts are a less copious lot, and will design a plate with a few vegetables here and there, some quinoa salad, and perhaps some cucumber slices, then head to their table, a few pounds lighter than me.
(UPDATE: As of January 2011, Foody's is closed and a hamburger restaurant has opened in its place.)
If you need your caffeine fix, head up to Caldo Freddo (36, rue Montorgueil), and pull up to the teensy counter for an authentic Italian espresso. They also have great panini, which have gotten a touch pricey, but the owner is really sweet and the grilled sandwiches are some of the best in Paris.
Across the street is Naturalia, a French natural foods chain, which has some interesting stuff and is worth a visit to see how les verts eat. And for dessert, there's Charles Chocolate (15, rue Montorgueil). They only carry dark chocolate and the staff can seem a bit reserved, but they have good chocolates. During the winter, the thick hot chocolate is served from a big copper urn, and during warmer months, the ice cream they scoop is the best in the area.
(Unfortunately the two gelato places on the street are best skipped. An Italian reader once wrote to me about one; "It's an insult to Italians everywhere." If you want good, authentic gelato, head over to Pozzetto after your visit.)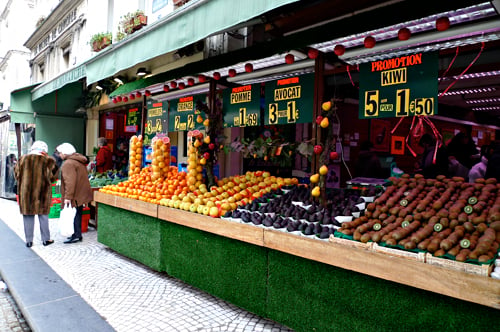 Then cross the rue Etienne Marcel, avoiding the pesky hipsters on scooters, whose sport it is to see how close they can brush up alongside you the nanosecond the traffic light turns to green. And no, being on the sidewalk isn't going to protect you. If you're up for more chocolate, jump into L'Atelier du Chocolat, for chocolate with a Basque accent.
Chocolate came to France via the Basque region, so expect the chocolate at this small chain to be slightly more rugged than the more sophisticated chocolates elsewhere. Chokaria, a wooden box layered with chocolate and caramel, then covered with roasted cocoa nibs, comes with its own wooden knife, so you can take it on the plane (!), but the chocolate spices with pimente d'Espelette (red pepper powder) will get your mouth hopping, and the chocolate Chokilas (truffles) made with Gascon prunes might have you hopping as well.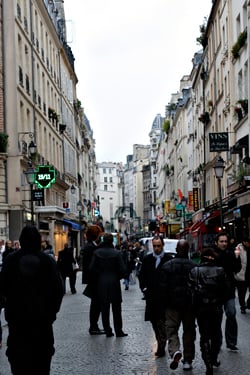 For a more gentile experience, take refuge in Stohrer, the oldest pastry shop in Paris and you don't need to get down on your knees and give thanks you've arrived, but do check out the ceiling, which is magnificent. Founder Nicolas Stohrer invented the Baba au Rhum, and the version here is still one of the best.
A friend bought a gorgeously wrapped pound cake here, which she reported back to me was SOA (stale on arrival) when she got back to her apartment. But I'm hooked on their zippy Zimtsterne, sold only around Christmas.
Almost across the street is one of the few remaining fishmongers who stand there and yell, urging passers-by to get what's fresh, which is traditionally what French fishmongers are known for. The place features big, icy mounds of fish and other creatures of the deep, of all sorts. In spite of the shouting, the guys are really nice and although it's not where I buy fish, I do always stop in and take a look at all the creatures of the deep. Even the squid.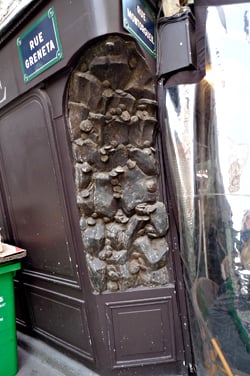 As you pass Au Rocher de Cancale (78, rue Montorgueil), take notice of the sculpture of oysters in their native habitat on the corner, for another reminder of another era. Oysters used to be run by horses as fast as possible from Brittany, until the horses would tire, and new horses would be called into action to get the fresh oysters to Paris quickly, so they'd be as fresh as possible upon arrival.
A newby on the street is A la Mère de Famille, which is the oldest confectionary shop in Paris. Actually, the original one is on the rue du Faubourg Montmarte (founded in 1761), but this one is right here is, well, right here, and almost as well-stocked with French candies and specialties. There's Bergamots de Nancy, pâtes de fruit, candied fruits from Provence, and calissons d'Aix. And yes, there's plenty of chocolates as well.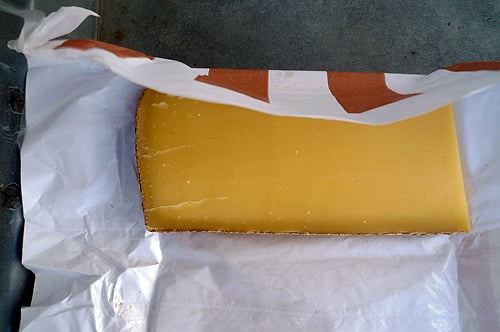 Hoo-boy, if La Fermette (86, rue Montorgueil) doesn't become your favorite cheese shop in the whole wide world, there's something wrong with you. I had lunch with a friend who lives nearby the other day, and when I told her I was heading over there afterward to buy cheese, she started bouncing in her seat; "Ooooh—I love that place, too! And that guy who looks like Tom Cruise works there!"
If the nice-looking fellows behind the counters don't do it for you, what's on their shelves, certainly will. There's the usual suspect here, but what's especially interesting, especially if you're a traveler and want to try a few cheeses, is that they sell plates of freshly sliced cheeses, which feature an assortment, so you can give a few a try. However my top gun in the shop is the 30 month-old Comté that is perhaps the best cheese on the planet. Be sure to pick up a big hunk. And get some Comté, too.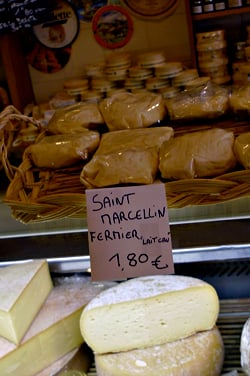 There's always a line at Maison Collet (100, rue Montorgueil) for baguettes and pastries. And if you buy one of their Baguette tradition and rip off le quignon at the end and taste it on your way out, you'll want to get back in line for another one. I did try their Fromage blanc cheesecake, which looked better than it tasted. So stick with the bread, or maybe try another pastry and you'll have better luck.
A little past the midway mark, the street changes names, and marking the change, you'll find Le Pain Quotidien (2 rue des Petits Carreaux), the Belgian chain. A popular breakfast and lunch spot, fresh and copious salads and sandwiches are featured, served with their hearty pain au levain. I prefer Le Pain Quotidien in the morning, because of the jars of various chocolate and hazelnut spreads you can use a volonté, as you wish. I am certain the white chocolate one has nothing in there that's good for you, but at 9am, I don't really gives a fesse de rat.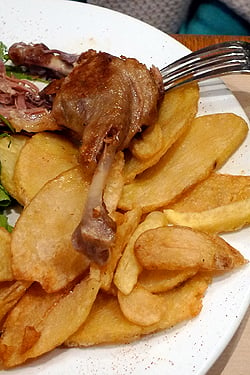 They once told me that people come from all over France for their fried potatoes at Bistrot des Petits Carreaux (17, rue des Petits Carreaux). They also, inexplicably, kicked a friend of mine out of there for no reason. But I've never had anything but very friendly service in this decidedly neighborhood bistro.
The thing to order here in the duck confit, which comes with a small pile of fresh greens, which you can push away to the side of the plate, for better access to the pile of fried potato ovals. I don't know if I'd take a TGV train to get these potatoes, but they are worth crossing town for. This café is also a favorite for a late afternoon glass of wine, especially when the weather is nice and you can sip it outside.
You've just about reached the end of the street, but it's worth mustering up any last bit of energy to head into Kayser (16, rue des Petits Carreaux), a justifiably popular bakery, one of the best in Paris. Their pain aux cereals is outstanding; a crisp crust covered with crunchy millet and fax seeds, and an airy interior, embedded with plenty of seeds to drive the point home.
But since you probably don't have much room left, at this point, pick up a small sack of financiers—moist, little almond cakes. Get a mix of all three. And grab a dense, chewy chocolate chip cookie, which are so good, they'd put any American baker to shame. Well, except for one…
; )
[Update: In the last few years, a number of pastry shops have opened outposts on this street including L'Éclair de Genie, Café Pouchkine, and Fou de Pâtisserie, which offers a changing selection of pastries from various shops in Paris.]
Other Notable Addresses in the Area
Librairie Gourmande: A few blocks to the west is the new Librairie Gourmande, at 92-96 rue Montmarte. They feature an excellent collection of new and some used cookbooks, including hard-to-find European chef's books.
Frenchie: One of the hottest restaurants in town. It's small size makes it hard to get a reservation, but worth a try. The wine bar (no reservations) and Frenchie-to-Go (which has tables), is fun for lunch.
Terroirs d'Avenir: A terrific line-up of food shops, including a bakery, butcher, and food shop, are a feature of the charming rue de Nil, just a block from the rue Montorgueil.
Paris Travel Links
10 Insanely Delicious Things You Shouldn't Miss in Paris
My Favorite Paris Dining Guides (Amazon)
Gluten-Free Eating and Dining in Paris
Tips for Vegetarian Dining in Paris