Celery Root Remoulade (Celeri Remoulade)
I've never liked celery. To me, it's like eating green water held together with a lot of fibers. Unless it's filled with peanut butter or cream cheese, you can keep it. The only time I ever buy a bunch is when I'm making stock, which is a shame, because that only requires a stalk or two, and the rest sits in my refrigerator until it wilts and I have to throw it out. And I hate throwing food away. A lot of other people in France must feel the same way I do because at the markets, the vendors will gladly slice a bunch of green celery in half and sell you just part of one.
Yes, I've seen those recipes for things like braised celery and boiled celery, which allegedly are the most wonderful ways to transform that ho-hum vegetable into something edible. I'll have to take their word for it, because when I read through those recipes, no matter how excited the authors are about discovering a new way to prepare celery, the finished dish still sounds like it's going to taste like rolled-up soggy newspaper. Until I'm proved wrong, for now I'll stick with celery root, which is a whole other story.

I love celery root, which is sometimes called celeriac. It has a woodsy, celery-like flavor, but is far more concentrated and less-watery than its above-ground cousin. It's pretty easy to find gnarly roots at markets in France because they're quite popular in it's uncooked state, where people use them to make the classic céleri rémoulade.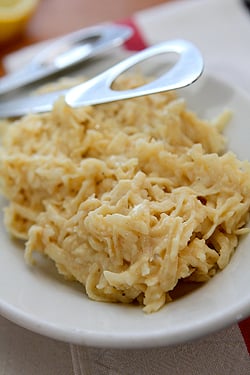 Some think that the French aren't big on raw or crunchy vegetables—they don't like undercooked green beans and I've often heard them refer to beans served still-crisp as "California-style", but there's the salade Niçoise, which traditionally should only be served with raw vegetables. And to stickers for authenticity, that means no boiled potatoes either. (Please don't show them this.)
Outside of Nice, you'll find grated raw celery root as part of a trilogy of salads on a popular starter, known as salade de crudités (raw salads), which generally includes salade de carottes râpées and perhaps some radishes with butter and salt. But it's often just served on its own.
I know you where thinking that I was going to tell you that you absolutely had to use homemade mayonnaise and that if you didn't make your own mayo, you were a bad person. But it's just fine to use a store-bought brand. (If you want to make your own, you can use this recipe for eggless mayonnaise or aïoli, omitting the herbs and garlic, respectively.) Some are better than others, and the best brands in France have a healthy dose of Dijon mustard in them.
More important than the mayonnaise, you'll want to use a grater that will make the celery root pieces roughly the size of wooden matches. If they're too small, they'll lose their crunch once dressed. In France, they have these wonderful Moulinex rotary hand graters which, unfortunately, aren't available in the states. Sometimes you can find them on auction sites; they're called a mouli-julienne.
Folks in the states keep asking me where they can get one* and I encourage all of you to start a letter writing campaign because my suitcase, when I head back to the states, is already too full of chocolates, macarons, and salted Breton butter, to carry French vegetable graters. If you have a grating disk for your food processor or stand mixer, you can use the one with the largest holes. Or just grate or julienne the celery root by hand.
The French aren't known for liking heavily spiced foods, but they love Dijon mustard. Since brands vary—some are extra-forte and others less-so, you can use as much, or as little as you like. Ketchup is still sneaking on the scene, and is no longer exclusively thought of as très Américain (as much as they'd like us to believe…), but it's not going to replace the little pot of mustard on the table in cafés and bistros that serve traditional French fare.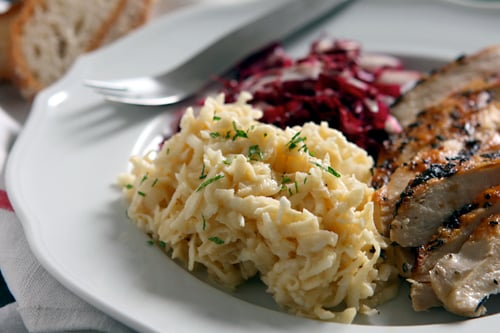 Céleri rémoulade is generally not futzed with too much, which is fine with me. I don't think everything needs to be 'improved' or fooled around with. However some people will add a bit of cornichons or chopped capers, and it's become a bit au courant to add a julienne of Granny Smith apples to the mix. If you want to add some chopped parsley to it, you can. But add it as if it's more of an afterthought than an ingredient. I often just add a flurry of chopped leaves over the top, and that's that.
Celery Remoulade (Celeri Remoulade)
Celery root is pretty easy to prepare, but does discolor a bit once sliced open and grated. So make the dressing before slicing and grating the celery root, for best results. I like mine really mustardy, so I use a fairly large amount. If you're unsure, start with less; you can add more, to taste, when the salad is finished. To peel celery root, lop off the root and opposite end with a chef's knife. Then stand the round root on a flat end then take the knife and cut downward, working around the outside, to slice off the tough skin. In the states, celery root are often smaller, and have more complicated roots, and you'll need to cut a bit deeper to remove them.
1

cup (20g)

mayonnaise

,

homemade or store-bought

2 1/2

tablespoons

Dijon mustard

1

teaspoon

of sea salt

,

plus more, to taste

2

tablespoons

freshly-squeezed lemon juice

freshly-ground black pepper

2 1/4

pounds (1kg)

celery root
Mix together the mayonnaise, mustard, 1 teaspoon of salt, lemon juice, and a few grinds of black pepper.

Peel the celery root and grate it coarsely.

Mix the dressing with the celery root and taste, adding additional salt, pepper, mustard, and lemon juice, to taste.
Notes
Note: If the salad is too thick, you can add a few spoonfuls of whole or low-fat milk to thin it out. Storage: The salad will keep for one to two days in the refrigerator.
*A reader in the comments pointed out that a vendor on Amazon sells the Moulinex Mouli-Julienne, which seem to be out of stock. A few others commented that they liked the Presto Salad Shooter for grating raw vegetables, such as celery root, in thicker pieces. But I haven't used one, so can't personally advise.
Related Links and Recipes
How to Make French Vinaigrette
Julienne (Wikipedia)
Creamy Feta-Red Wine Salad Dressing
Celeri Rémoulande (Orangette)
Celery Root Salad (Simply Recipes)
Kohlrabi Remoulade (Nourish Me)