Roasted Root Vegetable & Wheat Berry Salad
Last summer, Romain went to stay at a place in the French countryside with a large, semi-wild potager, a vegetable garden, which the people who lived there fed themselves from. They let weeds grow, didn't spray pesticides on anything, and they ate most of the food as close to raw as they could. During his stay, he called me and said that he never felt better in his life, and that he wanted to eat like that when he returned home to Paris.
One doesn't think of people in Paris munching on wheat berries and whole grains, but it is possible, especially because there are a few rather decent natural food chains here, as well as some smaller stores, too.

But finding root vegetables at my market, which is said to be the largest in the city, can be a bit of a challenge.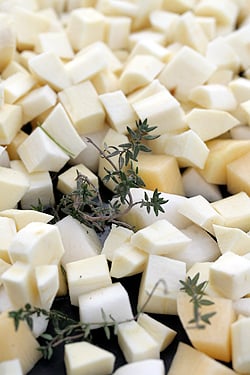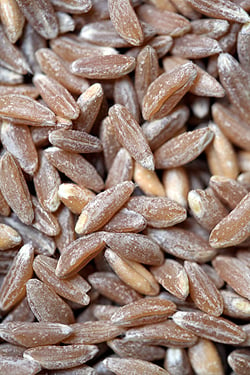 Root vegetables fell out of favor after the war, when people were fed up with dining on earthy vegetables and were happy to have something else to eat once the war ended. Thankfully, some of these légumes oubliés (forgotten vegetables) are making a comeback because I love me some earthy vegetables.
So right before Christmas, I thoroughly scoured my market and bought as many as I could, stockpiling as many of the knobbly roots as I could heft for the chilly days ahead. But unfortunately I realized I'd bought too many and needed to find a way to cook them up before my upcoming vacation. And I came up with this Roasted Root Vegetable & Wheat Berry Salad.
Oddly, about a year ago I was on an airplane and was served one of those meals that's allegedly lorded over by some celebrity chef, and the rutabaga puree was pretty delicious. (Which makes me wonder if perhaps the airlines could just serve root vegetable purees from now on; they're easy, cheap, tasty, store and reheat well, and conform to a variety of diets. Think about it, United.)
But for some reason, even though kohlrabi (choux-rave), turnips (navet) and knobbly celery root (céleri-rave) are very easy to find in Paris, sweet parsnips (panais) and rutabagas (rutabagas) aren't. So when I see them, I tend to go overboard and hoard all I can.
I used farro, which I load up on in Tuscany and bring home with me. But regular wheat berries, called épeautre in French, are very tasty. There's some controversy about what farro actually is, but spelt and emmer are similar (if not the same), and are other options. For a gluten-free version, you could use buckwheat groats.
This salad is super-customizable. Since I love salt, I hesitate to give exact quantities. But it does take more salt than one might think prudent. Ditto with olive oil. I used the minimum amount, but as Gina DePalma said in her terrific Italian dessert book, Dolce Italiano, Italians use olive oil as a flavor, not just something you fry in. So pour it on!
Americans have been trained to use the minimum amount of fats and oils in our diets. And I'm in that camp as well, which means that I like to use good-tasting ones, since you need to use less of them to get the full effect. If you don't believe me, taste a teaspoon of luscious, roasted hazelnut oil side-by-side with a teaspoon of plain salad oil. My work is finished here.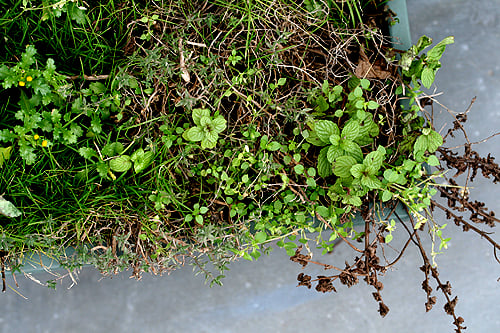 Okay, I lied. You're not quite done with me yet. I had to be a little parsimonious with the fresh thyme. As you can see, my little rooftop garden hasn't fared well this winter. Part of it is, er, plain neglect, and part of it is just it's so darn cold nothing can survive out there. I was able to pluck out a few branches of thyme. But feel free to be more generous than I was.
This salad was a pretty big hit around here, and although I don't need to convert a certain someone to eating more whole grains and fresh vegetables. But there are plenty of others out there that haven't seen the light. I doubt you'll be seeing this healthy salad on any bistro or café menus anytime in the near future. There's one table it will be appearing on in Paris, though, and that's at chez David.
Roasted Root Vegetable and Wheat Berry Salad
The wheat berries will take more salt that you might think, so salt the water generously that you boil them in. If you taste it, it should approximate sea water. And any assortment of firm-fleshed root vegetables will do (or butternut squash), but they should be all about the same size when diced. This salad is open to lots of variations and interpretations. I gave a few at the end of the recipe, but it'd also be good served warm with roasted meat, chicken, or vegetables and any pan juices scraped over the top.
1 1/2

cup (300g)

wheat berries or farro

one bay leaf

2

pounds (1kg)

assorted root vegetables

,

carrots, rutabagas, butternut squash, celery root, parsnips, and salsify, peeled and cut into thumbnail-sized cubes

1

large red onion

,

peeled and diced

1/3

cup plus 2 tablespoons (80ml)

olive oil

10

or so branches of fresh thyme

salt and freshly-ground black pepper

1/2

cup (60g)

dried cranberries or cherries

,

coarsely chopped
Preheat the oven to 425ºF (220ºC).

Bring about 2 quarts (2l) of well-salted water to a boil, then add the wheat berries and bay leaf. Cook until tender, but still chewy. Depending on the variety, they'll take between 40-60 minutes to cook.

While the wheat berries are cooking, toss the diced vegetables on a baking sheet with the onion and 2 tablespoons of olive oil and thyme, seasoning with salt and pepper.

Roast the vegetables in the bottom third of the oven, stirring once midway during baking, for 20 minutes, or until cooked through and browned on the outside.

Once the wheat berries are cooked, drain them well, plucking out the bay leaf. Transfer the wheat berries to a bowl and mix in 1/3 cup (80 ml) of olive oil and the dried fruits, stirring well. Taste, seasoning with more salt if necessary

Stir in the root vegetables (I don't mind the thyme branches in there, but you can remove them if you want) and do a final check for seasoning and add more salt, a few grinds of black pepper, and additional olive oil, if desired. You might want a splash of acid, like some vinegar in there, or check some of the additions below.
Notes
Serve warm or at room temperature.
Storage: Can be made up to three days in advance, and refrigerated. Let come to room temperature before serving.
Here are some possible additions to add to the finished salad
Toasted and coarsely chopped pecans, hazelnuts, or walnuts
Diced dried apricots in place of the cranberries or cherries
Cubes of feta or bleu cheese strewn over the top
A big squeeze of fresh lemon or tangerine juice, or some zest
Sautéed mushrooms tossed in with the root vegetables
Wilted greens, cooked with garlic, coarsely chopped
A generous handful of spicy arugula or flat-leaf parsley, coarsely chopped
Related Recipes & Posts
Israeli Couscous with Butternut Squash and Preserved Lemons
Panzanella: Tomato and Bread Salad
Mesquite Chocolate Chip Cookies
Farro (ChefShop)