Farro Risotto (Farrotto) with Radicchio and Bacon
This dish came together rather serendipitously on a Sunday afternoon. I was up to my elbows testing recipes and was looking for something savory for dinner that didn't require too much prep, or dishes afterward. I'd brought home some colorful radicchio from the market, I had some bacon (don't I always?), and there was a packet dried mushrooms in a kitchen drawer. So I gathered everything up and searched through my grains, to see what was in there.
I eat a ton of pasta, specifically whole grain pasta, which I can't resist, especially if there's garlic or radicchio involved. (And bacon, of course.) But in between a few bags of pasta was a small sack of petit épeautre (wheat berries) and a similar-sized bag of something unlabeled, which I was sure was farro. Whatever it was, the two bags came out to about 1 cup, which was just the right amount to make a wheat berry risotto, or farrotto.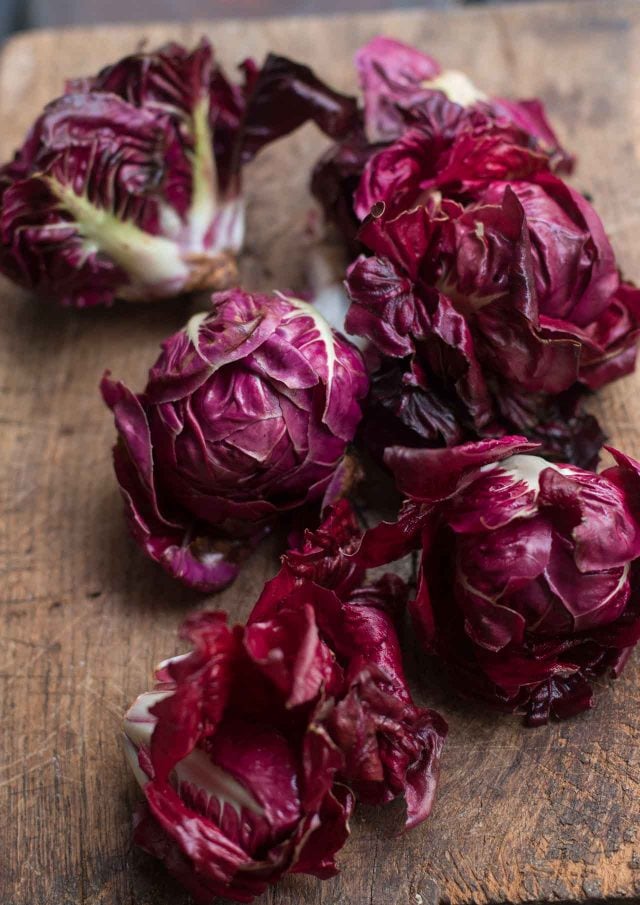 Nope, this isn't true risotto, since it's not made with rice, but "stewed wheat" doesn't sound very appealing. Farrotto is good if using farro, but épeautto doesn't quite roll off the tongue either. And it was a Sunday night when I made this, and I was more interested in getting dinner on the table than fixating on the right name for it. (Farro isn't squarely in the French lexicon and no one would have known what I was talking about if I said farrotto.)
Anyhow, back to the food. This was a huge hit. The dried mushroom broth added a deep richness that stock alone doesn't always give, and the slightly bitter radicchio was tempered by the bits of bacon and creamy Parmesan that melted into the wheat berries. Cracking the wheat berries after they're cooked helps them release more of their starch, so you get something that's more emulsified than if you just cooked wheat berries as they are.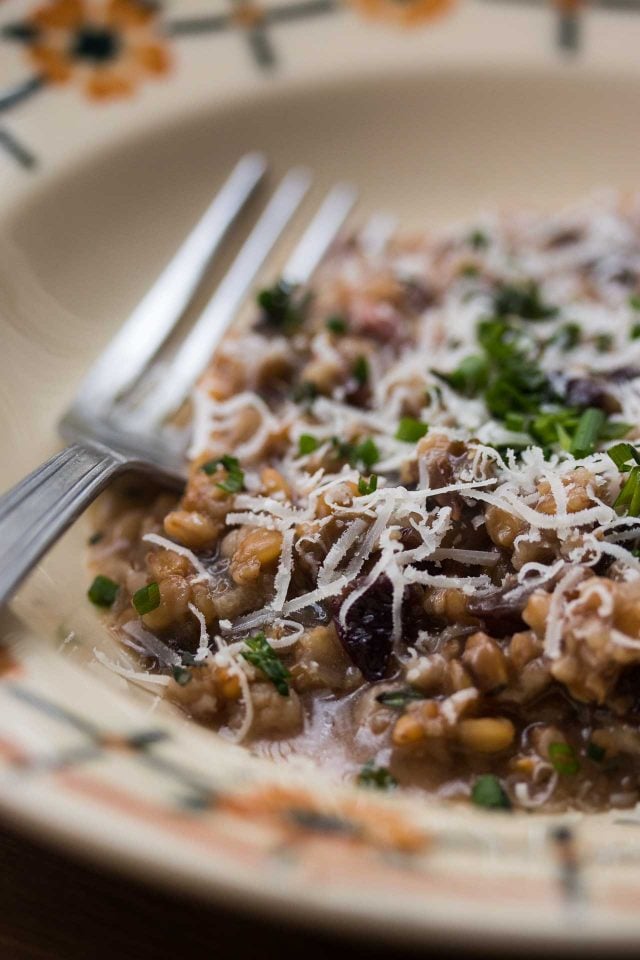 Earlier in the week, I felt a bout of la grippe (the flu) coming on and Romain went to the store to get a chicken for soup, and I made a big pot in preparation for being laid up a few days. I wasn't paying that much attention, as one does when they are in the early stages of the flu, and ended up with quite a bit of liquid in my soup, which I used as stock for this. Fortunately, it was just a mini-bout of le gastro, and I felt better the next morning.
I know in the U.S., canned or boxed stock is a staple in most supermarkets. In France, they rely on le cube, which I'm not fond of, so I try to make my own stock when I can. I don't use a recipe, I just add a chicken carcass (I often save parts and bones in the freezer for when I'm ready to pull out my stock pot), then add a chopped onion, a carrot or two, a bay leaf, and a few sprigs of thyme, then let everything simmer for a few hours on the stove.
In addition to not coming down with the flu, I was really happy with how this came out. It's much heartier than risotto and less fussy; it's one of those dishes where all the ingredients come together, and compliment each other, homey enough for a Sunday night dinner, but I'm thinking of making it again next week when I have company.
---
Paris Pop-Up Dinner!
On February 23rd I'll be hosting a pop-up dinner in Paris, with recipes from My Paris Kitchen at Café Méricourt. (Books will be available for purchase and signing.) There will be two dinner seatings, 7:30 pm and 9:30 pm, and reservations are now being taken via their website. It'll be a pre-fixe menu, and is posted on their website. [Update: The event has sold-out. I'll revise this here, and on my Schedule page, if any spaces open up. Thanks! – dl]
---
| | |
| --- | --- |
| Farro Risotto (Farrotto) with Radicchio and Bacon | Print Recipe |
Different wheat berries (and farro) may take different amounts of time to pre-cook in step 2. You want them slightly tender, a little less than half-cooked, not completely cooked. Feel free to play around with the recipe. Omit the bacon if you're vegetarian, replace the radicchio with other stewed greens, or add herbs that you like, sage and rosemary are possible swap-outs for the thyme. (If using rosemary, go easy on it as the flavor can be overwhelming.) You could add sautéed mushrooms, bits of cooked chicken, or roasted squash in step 9. I used dried porcini mushrooms, which are available at some produce stores and well-stocked supermarkets, but you can use whatever dried mushrooms are available, or another favorite. Some dried mushrooms may need to be cleaned by soaking in a change of hot water once or twice, although mine didn't. Follow the instructions on the package or ask the vendor how best to treat yours. Serve the risotto/farrotto in warm soup bowls or plates, mounding it in the center. Shave Parmesan over the top, and sprinkle with additional fresh herbs.
3/4
ounce (20g)
dried mushrooms
3/4
cup (180ml)
hot water
1
cup (200g)
farro or wheat berries
(petit épeautre, in France)
4
strips
bacon,
diced (you can use thick- or thin-cut)
3 to 4
cups (100-120g)
coarsely chopped radicchio,
4
small
shallots,
peeled and minced
2
cloves
garlic,
peeled and minced
2
tablespoons
butter,
salted or unsalted
2/3
cup (160ml)
dry white wine
1
cup (90g/3ounces)
grated Parmesan cheese,
plus additional for serving
2
branches
fresh thyme,
plus 2 teaspoons minced fresh thyme
4
cups (1l)
chicken or vegetable stock
additional fresh
herbs,
chopped, for garnish, such as thyme, chives or parsley
1. Put the dried mushrooms in a small bowl and pour the hot water over them. Set aside for 20 to 30 minutes.
2. In a medium saucepan, heat 1 quart (1l) of water until boiling. Add the farro or wheat berries and cook until they're slighty tender, but still a ways from being fully cooked, about 10 to 15 minutes. Turn off the heat and, using an immersion blender, pulse the wheat berries six or so times so that some of them (roughly one-quarter to one-third of them) are broken up and cracked. Strain though a mesh stainer. (I reserved the liquid, just in case I needed it later if I didn't have enough stock. I didn't use it, but you may want to hang onto it, just in case.)
3. In a small bowl, mix the minced shallots and garlic. In a medium skillet, heat some olive oil and cook the bacon, stirring, until cooked through but not crisp. Transfer to a paper towel-lined plate to drain and cool. Drain off excess fat, wipe the pan clean, and add the radicchio. Cook the radicchio over medium heat, stirring constantly with a little of the shallot and garlic mixture, and a pinch of salt, until wilted. You may need to add a little olive oil if the radicchio sticks. Transfer the radicchio to a plate.
4. Squeeze the mushrooms dry and coarsely chop them. Put them on the plate with the radicchio.
5. Heat the stock in a saucepan and keep it warm on the stove.
6. In a 4- to 6-quart (4-6l) casserole or Dutch oven, heat some olive oil with the butter, sprigs of thyme, along with the remaining shallots and garlic. Cook over medium heat, stirring frequently, until the shallots and garlic are soft and fragrant, about 2 to 3 minutes.
7. Add the drained farro or wheat berries and stir to combine with the shallots and garlic. Add the white wine and continue to cook, stirring, until the wine is absorbed. Using a ladle, add enough of the warm stock to cover the farro so there is a layer of liquid about 1/4-inch (1cm) floating on top. Adjust the heat so that the mixture is simmering. It should be bubbling gently, not boiling.
8. Continue to cook, adding additional stock (about 1/2 cup/60ml at a time) as the layer of liquid on the top gets absorbed, while stirring. When two-thirds of the stock has been used, add the mushroom liquid and continue to cook, adding more stock and stirring. The process will take 20 to 30 minutes. You may not have used all the stock. If you need a bit more liquid, use the reserved cooking liquid.
9. When the farro has softened add the bacon, radicchio, chopped dried mushrooms, and minced thyme. Cook a few more minutes, plucking out the thyme branches and adding the grated Parmesan. Stir while the mixture simmers, until everything is absorbed and incorporated.
Serve on warm soup plates with additional grated Parmesan and a sprinkling of fresh herbs.