Baking Ingredients and Substitutions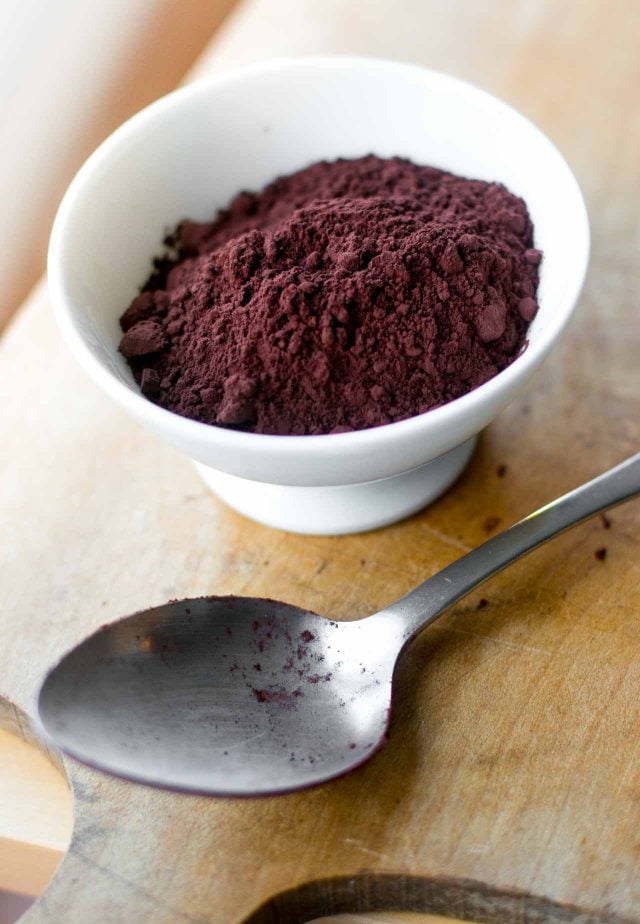 Over the years, I've gotten many questions about substituting ingredients in recipes. Other times, people want to reduce quantities of ingredients. The main questions I get about substitutions are:
Can I reduce the sugar in a recipe?
How can I make a recipe gluten-free?
Can I make this with a different kind of nut, or make it nut-free?
What can I use in place of corn syrup in a recipe?
What can I do if I want to use a different pan size?
Because these questions come up frequently, I thought I'd answer them.
The short answer to all is is: Ingredients are added to recipes for a specific purpose and there is a reason that they are there. When you substitute or swap out ingredients, results will vary and won't be the same as mine.
I test recipes thoroughly and when I use a certain quantity of sugar or add something like corn syrup, I use the minimum quantity that I can without sacrificing flavor or taste. I bake to my taste (I don't like things overly sweet), and if you want to use less, you may not be happy with the result. That said, if you want to try it, you may be fine with the result.
If you're looking for more comprehensive information about baking ingredients and substitutions, I've provided links at the end of this post where you can find answers. Do remember that these are general guidelines and are not applicable to each and every recipe that exists. Home bakers are encouraged to experiment—especially those on restricted or special diets; people who are gluten-free or have other dietary needs are often best educated on how to modify recipes to meet their particular circumstances.
Spices
Spices are interchangeable in recipes. When I come up with spice amounts, they are to my personal taste and are at the level which I think others will like. Reducing 2 teaspoons of cinnamon to 1 teaspoon won't alter the way a cake or cookie turns out, but it won't have the same oomph as the ones I baked up. However not everyone likes, say, cloves or other spices. So if you see a spice in a recipe that you don't like, you can omit it and perhaps dial up some of the other spices or flavors to compensate.
Gluten and Flours
In recipes that call for flour, I mean all-purpose flour. If the recipe calls for cake, self-rising, or bread flour, that will be noted in the ingredient list. I'm not an expert on gluten-free baking so can't advise about substitutions with specialty flours. King Arthur Flour carries a gluten-free baking flour that they advise is a good swap for wheat flour. Here are some gluten-free flours that readers noted they have success with:
–King Arthur Gluten-Free Flour
–Bob's Red Mill Gluten-Free Flour, also available on Amazon
–Cup4Cup

Wheat contains gluten, which provides elasticity to baked goods and keeps cookies and cakes together. Flours like buckwheat, soy, corn flour, and chickpea flour don't have gluten, so they can't be substituted equally for wheat flour except perhaps in places where gluten isn't part of the nature of the recipe. You can read more at my post, Gluten-Free Baking and Substitutions.
Corn Starch
In almost every case, corn starch can be replaced by potato starch. There are several brands of non-GMO corn starch, such as Bob's Red Mill and Rapunzel. Most natural food stores carry non-GMO brands as well.
Fat
When I bake, I try to use the lowest fat products available, such as whole milk instead of cream, or yogurt or buttermilk instead of sour cream. I have nothing against fat, but think it's best used where it's going to have the biggest impact. Same with butter. Because I go with the lowest amount of fat possible, while maintaining a good flavor, I strongly advise against reducing the amount of butter in a recipe or swapping out milk for cream.
I don't use margarine. However I realize that people have dietary needs that require the use of something else in place of butter. And in those places, you can use margarine. Try to find a good brand. Cheaper brands have possible dubious health benefits. Earth Balance is a good brand. I don't have experience using coconut oil but most say you can use it 1:1 in place of butter.
I urge you to use dairy ingredients with the same fat content that I call for. In an ice cream recipe that calls for heavy cream, if you use low-fat milk (or reduce the sugar), your ice cream will be icy and unpleasant, and you won't like it. Same with whole milk; using non-fat or low-fat milk in its place is not recommended. If you wish to do it, your results will be different and you probably won't be happy.
Non-Dairy Alternatives
For a variety of dietary reasons, people often ask about using non-dairy alternatives to traditional dairy products, like milk and cream. Much depends on the application. For ice cream, always choose the highest fat non-dairy alternative possible to substitute for the cream and milk. I haven't used soy 'cream', but that's a possibility. Another is soy 'cream cheese', which mimics the fat of heavy whipping cream. But making things a bit confusing, there are taste and texture differences between various brands of rice, soy, and nut milk (now called "drinks.") So it's up to you to find a brand that you like.
If your recipe doesn't call for it to be whipped, full-fat coconut milk (sold in cans) is a good non-dairy substitute for heavy cream or whole milk. It has a pretty strong flavor, so make sure it's compatible with the other flavors. Rice, nut and soy milk are other options, but I don't have a lot of experience using them so you'll have to use your intuition if you wish to use those products. Generally speaking, if you wish to make vegan ice cream with them, just realize the ice cream will be less-rich and a bit icier than ice cream made with whole milk and cream. (Soy milk, for example, has about half the fat as whole cow's milk.) Sherbet recipes that have dairy in them, like the ones in The Perfect Scoop, can be made with a non-dairy alternative.
Sugar
Not being a fan of overly-sweet desserts, I don't load things down with sugar. Aside from sweetening, sugar provides moisture to cakes and cookies, if you reduce the sugar, your cakes and cookies will be drier. Also in doughs and batter, sugar helps to brown things, hence a pinch or teaspoon is often added to tart doughs and the like for that reason. But in those cases, if you wish to skip it, you can. A good book on low-sugar desserts is Baking with Less Sugar. The head baker at King Arthur Flour did an excellent post on How to Reduce Sugar in Muffins, which provides some formulations and calculations you can use to reduce sugar in muffins, which may apply to other baked goods, especially cakes.
For making ice creams and sorbets, sugar helps keep the ice cream from freezing too hard. Reducing the amount of sugar (or fat) will make it less-creamy and firmer.
For making jams and jellies, sugar acts as a thickener and preserving agent. Reducing the amount of sugar will decrease the life of the jam or jelly and it will also not thicken the same.
Using a liquid sweetener, such as honey in place of sugar, will obviously change not just the texture of things, but can cause other reactions. For example, honey is acidic and can 'break' cream and custards when heated. (So can brown sugar, which is acidic as well.) It's also sweeter than sugar and has more liquid, so if you remember the health food store desserts of days past, you know that baked goods will be heavier. A general rule when using honey or another liquid sugar in place of granulated sugar is to reduce the amount of liquid sugar by 25% of the amount of granulated sugar. The liquid in the recipe can be reduced by 25% as well, to compensate for the additional moisture the honey provides.
For those of you without access to brown sugar, which is common in American baking, you can recreate light or dark sugar by stirring 1 or 2 tablespoons (respectively) molasses into one cup (200g) sugar. Turbinado, muscovado, or raw cane sugar are good substitutes as well. For more on the differences between sugars, see my post: French Sugars.
(I always use unsulphured molasses, sometimes called 'light' molasses. You can use dark or blackstrap molasses, but the flavor may be overpowering. If that's all that's available to you, cut it with rice or malt syrup, golden syrup, or mild honey.)
Two excellent baking books that feature low-sugar recipes are The Sweet Spot by Bill Yosses and Baking with Less Sugar by Joanne Chang.
For complete information on corn syrup, check out my post: Why and When to Use (or Not Use) Corn Syrup.
Nuts
I choose nuts for inclusion in a recipe based on three things; flavor, texture, and freshness. So in various recipes, I'll use pecans, walnuts, almonds, macadamias, cashews, and hazelnuts. Although technically not a nut, I use peanuts as well.
Nuts can be used interchangeably, except in certain recipes like candied nuts, where walnuts and pecans have nooks that promote the sugar crystallization, which might not occur on rounder nuts, like macadamia nuts. I try to offer a few varieties of nuts in each recipe. If only one is specified, you should try to use that nut since I had a reason to do so.
Nuts can usually be omitted from cakes and cookies with satisfactory results. I can't say that'd be true for every recipe, but things like chocolate chip cookies and most cakes (unless used in a manner similar to flour, such as almond meal), they can be made without nuts.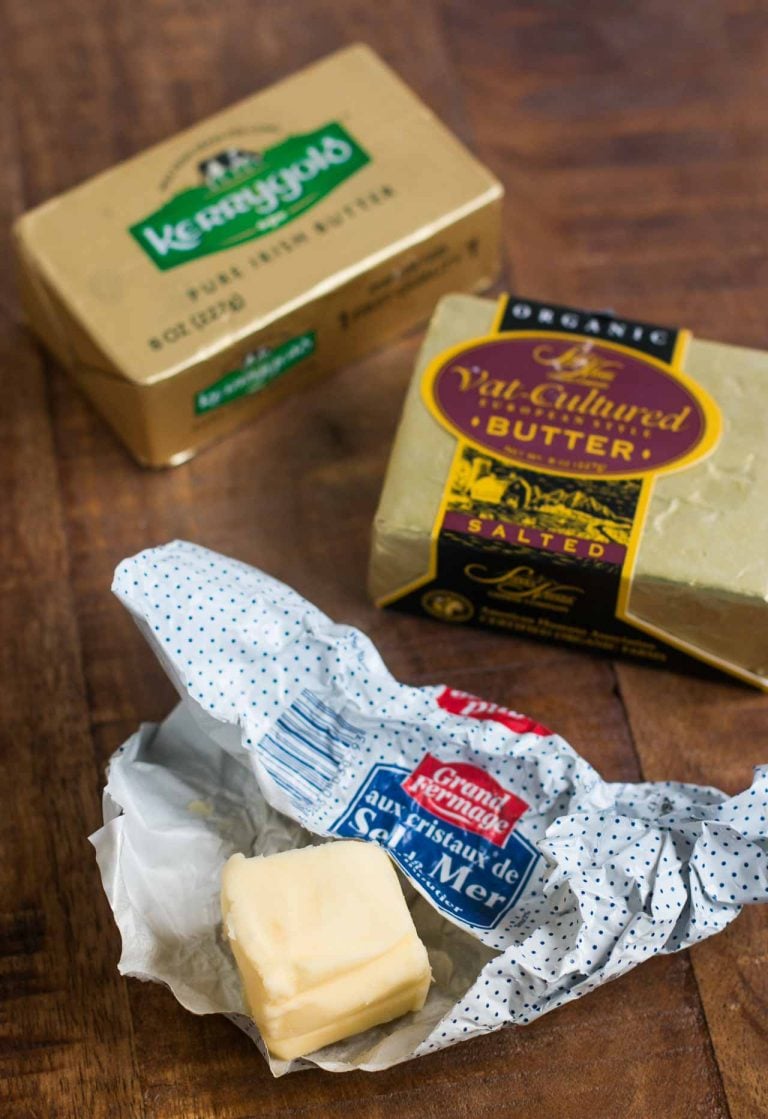 Salted and Unsalted Butter
The prevailing wisdom over the years was to always use unsalted butter in baking. This was for two reasons: One was because salt preserves things and unsalted butter was believed to be fresher. The other was that it made specifying the exact amount of butter in a recipe easier.
I find many brands of salted butter are excellent and the salted butter in France, where I live, is especially outstanding. The rule of thumb is that one stick of salted butter (4 ounces, 115 g) has 1/4 teaspoon of salt added. (For exact amounts, read How much salt is in salted butter?) And although amounts do vary, that's the proportion I use. To use salted butter in place of unsalted butter, reduce the amount of salt in the recipe by 1/4 teaspoon per each 4 ounce/115 g portion of butter you use.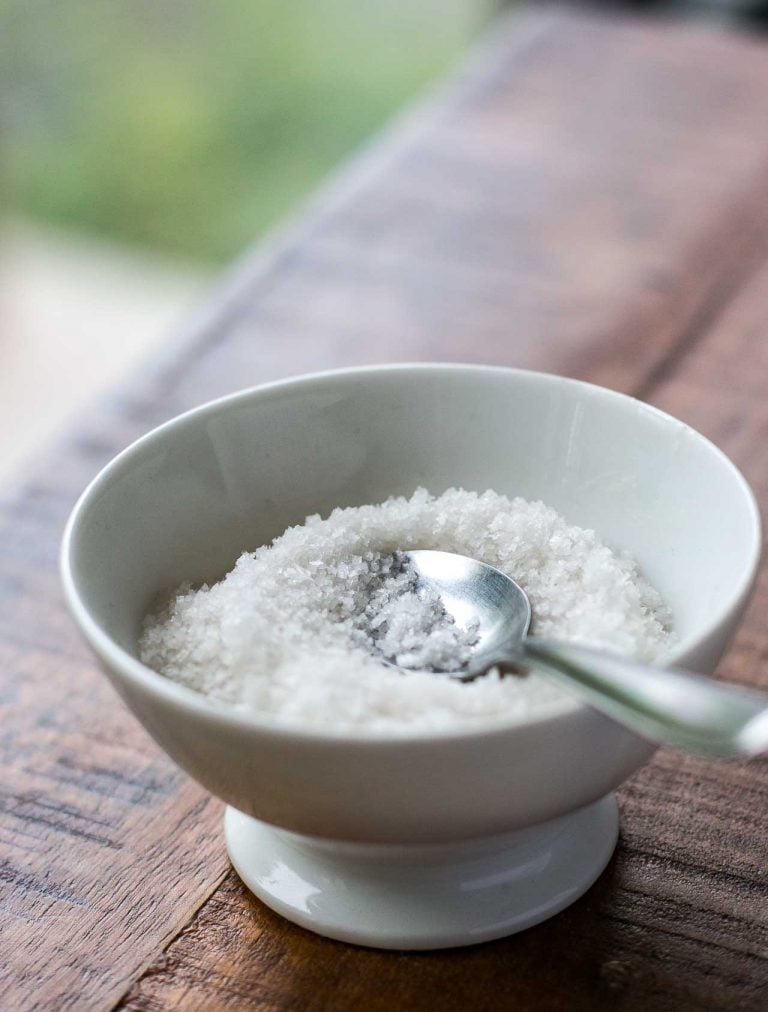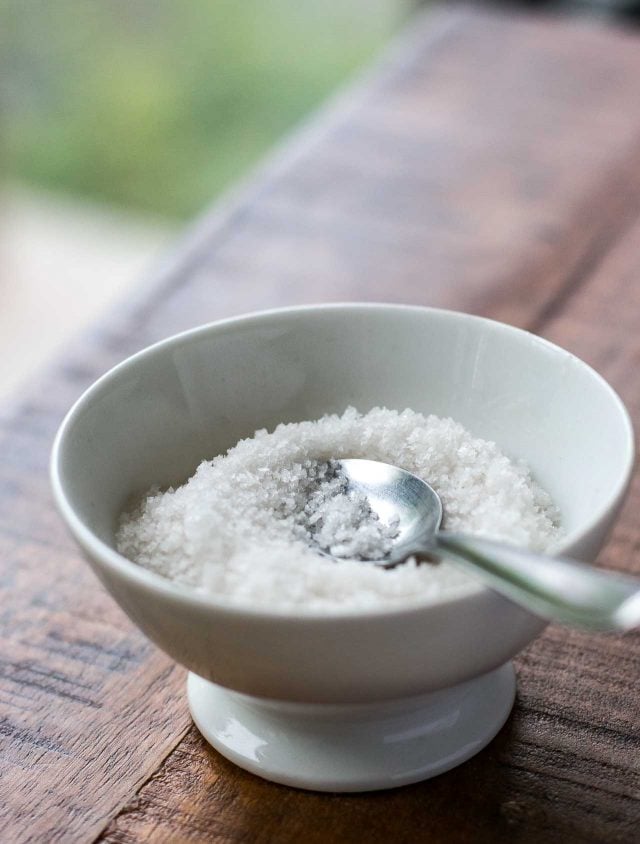 Salt
In the past few years, salt has been getting a lot more attention and folks often express concern about what salt to use. Before I go on, I should explain that in most pastry-making, salt is used as a background flavor, to keep batters and doughs from tasting flat.
It's impossible to standardize salt measurements because salt is a natural ingredient and isn't made in a test tube. There's even a wide variation between types of kosher salt, which Deb has unraveled in Not All Salts are Created Equal.
If following a recipe in a cookbook, check in the ingredients chapter to find out what kind of salt the author used or recommends. On the site, my recipes are made using coarse gray sea salt that I grind relatively fine if it looks like it won't dissolve during cooking. This is similar in saltiness to kosher salt or flaky sea salt. I never use fine-grained table salt as I find it harsh and bitter.
Fine salt is very tiny granules that dissolve quickly. Coarse salt are recognizable crystals, roughly the size of fine breadcrumbs. (Some coarse salt can be as large as sesame seeds, but that's too large for most baking applications.) Flaky sea salt are wispy crystals, irregularly shaped. Kosher salt is a good alternative but note that Diamond Crystal kosher salt is not the same as Morton kosher salt. My friend Deb at Smitten Kitchen has written about that here.
For finishing a dish, I use fleur de sel, a pricey salt that is never cooked, but used to sprinkle on top. The best substitute is Maldon or another delicate sea salt. Specialty stores and well-stocked supermarkets usually carry it, and it's available on Amazon.
In the past, there weren't so many choices and now with all the various salts available. it can be confounding. However there's no reason to get out the micrometer to measure the size of your salt crystals; just use your judgment and common sense. If the salt granules look too big, grind them down in your blender or food processor.
Vanilla Extract, Paste and Beans
A common question is how to swap one out for the other. Thankfully, the precise amount of vanilla isn't really worth getting your knickers in a knot about. Which is a good thing, because vanilla extract and beans can differ quite a bit in strength depending on the brand, origin, and how the extract is made.
I use real Mexican and Bourbon (also known as Madagascar) vanilla almost exclusively. Tahitian vanilla has a more floral essence, but it's not as strong as the others. There's no need to add more or less if you do; it's just a personal flavor preference.
Do not use inexpensive Mexican vanilla extract as it likely isn't real vanilla, in spite of what it says on the label. Real Mexican vanilla is just as expensive as other vanillas, even in Mexico.
To use vanilla bean paste and extract and beans in place of the other, here are some guidelines:
1 vanilla bean = 2 teaspoons vanilla extract
1 teaspoon vanilla paste or powder = 1 teaspoon vanilla extract
(Sources: Nielsen Massey and Vanillaqueen.com)
Pan Sizes
Square and round pans are not necessarily interchangeable. A 9-inch round cake pan holds less than a 9-inch square cake pan, so a cake baked in the square pan will the thinner and may take less time to bake. Here are some good places to calculate the differences.
How to Make Your Baking Recipe Fit Your Pan Size (Alice Medrich at Food 52)
Substitutions for Baking Pan Sizes (The Almanac)
How to Measure a Cake Pan and Baking Pan Sizes (The Baking Pan)
Note that glass baking dishes may bake things faster than metal. Some say when baking in glass to reduce the baking temperature by 25ºF. Because all ovens are different, and there are even differences between various types of metal, it's always best to rely on visual baking clues (i.e.: "Bake until the top is golden brown and a toothpick inserted into the center comes out clean") rather than strictly adhering to baking times.
---
Related Posts
Why and When to Use (and Not use) Corn Syrup
Salted Butter Chocolate Chip Cookies
Why You Should Use Aluminum-Free Baking Powder
How to Find Foods and Other Items Mentioned on the Website
American Baking Ingredients in Paris
Sites with Information About Baking Ingredient Substitutions
Below are online guides to substitutions for baking ingredients. You will likely notice small discrepancies between some of them. For the most trusted sources, sites related to universities with agricultural extensions or food companies, which have home economists on their staff, usually have the most reliable information.