Salted Butter Chocolate Chip Cookie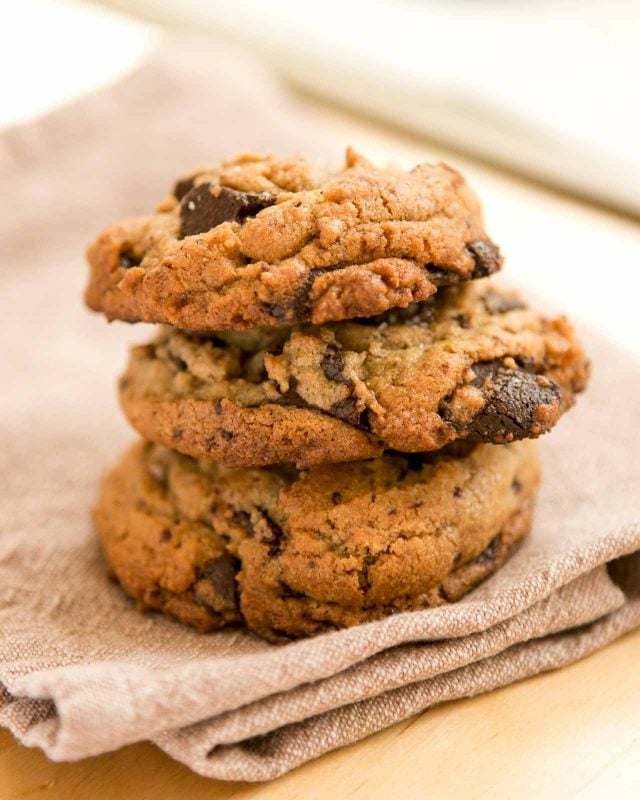 When I worked in the restaurant business, if you happened to walk in during staff meal, you could always tell who were the pastry people: we were the ones dousing our food with vinegar and salt. That is, when we had time to sit down and eat. I like sweets, but I like them tempered with something not-necessarily sweet, which is why sometimes you'll see a squeeze of lemon juice added to a fruit ice cream base or bakers like me include a pinch of salt in batter, to balance things out.
For many years, salted butter was banished from most baking recipes, since the amounts varied by brand and unsalted butter was said to be fresher; the theory was that salt is a preservative adding it to butter may mean the butter is older. In France, you can get the most wonderful salted butter at not just fromageries, but in supermarkets, which usually say on the package that the butter has cristaux de sel de mer, big crystals of sea salt, and they note which region the salt is harvested from as well, giving it provenance.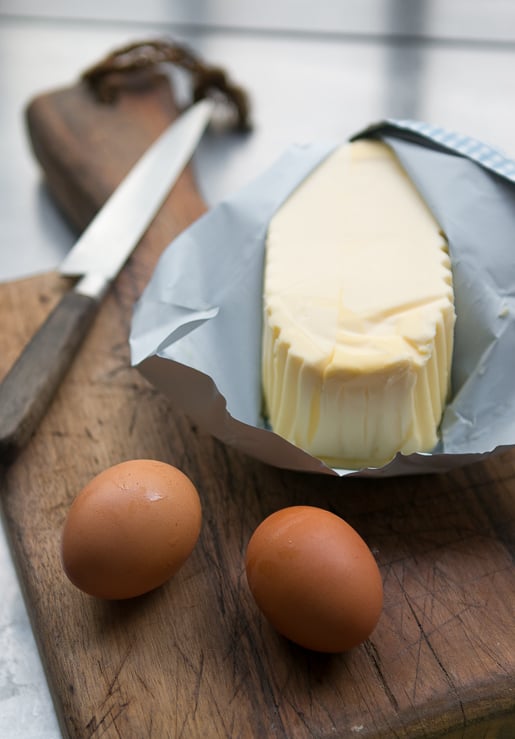 Personally, I love the crunch of salt in my food, especially the wispy fleur de sel, which isn't particularly salty but is more mineral-tasting. I love it. And since I don't eat pre-packaged foods, I know with almost pin-point accuracy how much salt I am eating when I sprinkle it on things myself*.
Although I use this butter a lot for eating, it's not specifically intended for baking, unless you're from Brittany where salted butter is the norm in their pastries, such as Kouign Amann and the famously buttery gâteau Breton. In France, we get the most wonderful salted butter (beurre demi sel), which is available with those big, recognizable crystals of salt in it. In fact the other morning I was salting…er, I mean, buttering my morning toast and a crystal of salt fell off the bread and hit the plate with an audible plink and startled me. Salted butter has a more distinct buttery taste and I'm using it more and more in baking, although I have to temper that with the fact that salted butter varies wildly from place to place, so in most recipes, I still generally call for unsalted butter.
I was unwrapping some butter the other day and noticed a recipe on it for cookies aux noix et chocolat. Normally in French, 'cookies' means 'chocolate chip cookies', and indeed this recipe called for chocolate, but later in the recipe said to "add the chocolat fondu" and although there was no indication that the chocolate gets melted, and since they were les cookies (ie: chocolate chip cookies), I was more than a bit confused—which happens around here from time to time. And while I thought it would be fun to translate and present a recipe from a French butter wrapper, I decided it best to start afresh.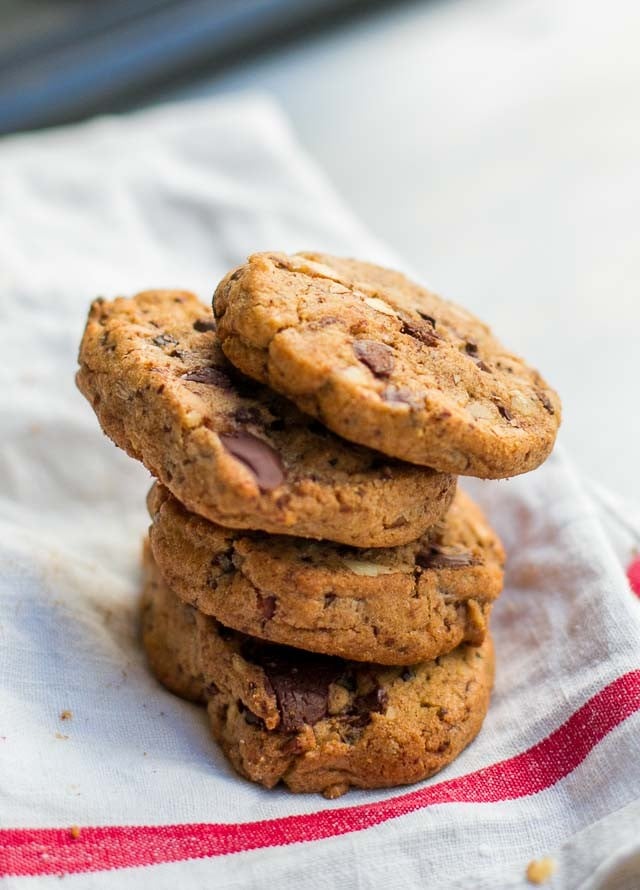 I use either fleur de sel or gray sea salt in these cookies, since those are what I keep on hand and they're inexpensive in France. Still, being frugal, I buy the less-expensive very coarse gray salt and grind it down myself. For those of you with a life, other salts that are similar are Maldon and kosher salt, respectively, (although according to Deb, all kosher salts aren't the same) but you can use whatever flaky salt you like.
Salted Butter Chocolate Chip Cookies
4

ounces (115g)

salted butter

,

at room temperature

2/3

cup (110g)

packed dark or light brown sugar

1/2

cup (100g)

granulated sugar

1

large egg

,

at room temperature

1/2

teaspoon

vanilla extract

1 1/3

cup (180g)

flour

1/2

teaspoon

baking soda

1/2

teaspoon

flaky sea salt or kosher salt

1 1/3

cups (200g)

coarsely chopped bittersweet or semisweet chocolate

1

cup

toasted nuts

,

coarsely chopped
In the bowl of a stand mixer, or by hand, beat the butter, brown sugar, and granulated sugar just until smooth and creamy.

Beat in the egg and the vanilla.

In a small bowl, whisk together the flour, baking soda, and salt.

Stir the flour mixture into the beaten butter until combined, then mix in the chopped chocolate (including any chocolate dust) and the chopped nuts.

Cover and chill the batter until firm. (It's preferable to let it rest overnight in the refrigerator.)

To bake the cookies, preheat the oven to 350ºF (180ºC). Line two baking sheets with parchment paper or silicone baking mats.

Form the cookie dough into rounds about the size of a large unshelled walnut. Place the mounds evenly spaced apart on the baking sheets, and press down the tops to flatten them so they are no longer domed and the dough is even.

Bake the cookies for ten minutes, rotating the baking sheet midway during baking, until the cookies look about set, but are not browned.

Remove from the oven and quickly tap the top of each with a spatula, then return to the oven for two to five more minutes, until the tops of the cookies are light golden brown.

Remove from oven and let cookies cool.
Notes
Storage: The cookies can be stored at room temperature for up to five days in an airtight container. The dough can be refrigerated for up to one week or frozen for one or two months.
Related Posts and Recipes
Chocolate-Covered Salted Peanut Caramel Cups
Baking Ingredients and Substitutions
Mesquite Chocolate Chip Cookies
Peanut Butter Cookies with Salted Butter Caramel
Ready for Dessert Note: Using Chopped Chocolate
Salted Butter Caramel Ice Cream
The Difference Between Baking Powder and Baking Soda
How to Find Items and Foods Mentioned on the Site
---
*For those concerned about salt consumption, I don't eat Big Macs (1040 mg of salt) or canned tomato soup (480 mg of salt), and generally avoid pre-packaged or fast foods with are usually loaded with salt.
According to the American Heart Association, the normal adult should consume about 1 teaspoon (2300 mg) of salt per day, which is close to the amount in this recipe for twenty-four cookies, factoring in a little extra sodium in the baking soda (sodium bicarbonate). Of course, ask a medical professional for advice about salt consumption if you have concerns or health issues.