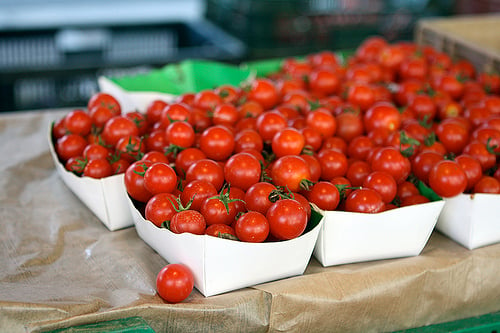 The French have a lot of protests and manifestations. Some of the issues they march for are a bit of a reach and we roll our eyes. And it's annoying when the trains and other forms of transport go on strike and you need to get somewhere. But on the other hand, it's good that they feel strongly about certain issues, enough to hit the streets. So yesterday there was a mouvement social in my neighborhood. But the one yesterday was an issue I could easily get behind.
Many people have an image of France as being an agricultural country, packed with farmers growing produce and selling it at local markets. This is pretty true outside of the major cities, but only two of the outdoor markets in Paris are "farmer's" markets: a majority of the merchants buy produce from Rungis, which they boast is the largest market the world, and the produce gets resold at the open air markets sponsored by the ville de Paris.
At the market, if you look at the signs over the fruits, meats, fish, and vegetables, the country of origin is written on each one, which is an EU directive. There's nothing inherently wrong with that, and as I tell visitors who think the people at the market are growing the produce, "Are the fishmongers out there catching the fish that they sell?" That was probably true years ago, but nowadays, of the over one hundred markets in Paris, only two are "farmer" (producteurs) markets and the rest are a mix. My market is the largest in the city and there are only two or three vrai producteurs who are there.
In response to the lack of connection between les producteurs and Les consommateurs the Parti communiste française set up a guerilla market in my neighborhood. The flyers they were handing out noted the purpose of the market (among many) was to "…support the producers", to encourage développement durable (sustainability), and to make food available at a prix juste (fair price). There was a lot of other tenets in the leaflets they were handing out, including a jab at American agribusiness, the scourge of capitalism, and a demand for more regulations on imports in France. Oddly, there was nothing about regulation on exports from France.
I managed to get out of the house fairly early so I took advantage of this extraordinarily rare moment of morning energy and took a walk over there. It was bustling with people crowded around the tables, with produce in boxes, crates, and plastic bags (which, paradoxically, are sustainable…depending on what your definition of thinking about 'long term' is) piled up for sale. A list of prices was printed up on stacks of paper. Am not sure why they couldn't just print up one and affix it somewhere, but it was interesting to see that even the French communists believe in lots of paperwork, too.
There wasn't a giant selection of items; pears, nectarines, potatoes, tomatoes, and prune plums, and they weren't as sexy and tempting as what I saw at the Greenmarket in New York last week (no leafy tangles of stewing greens tied together, no braids of heirloom garlic, no baskets of dewy, just-picked raspberries), I was still excited about the idea of being able to buy food direct that would aid the producers instead of passing through a bunch of channels before it landed on my kitchen.
As I walked a few blocks home from the makeshift market hauling two flats of produce, two people stopped me to ask where I got my stuff. I directed them toward to market, and went home to finish my coffee.
About an hour later, I decide to go back with my camera and take some pictures. And my wheeled shopping cart, too. Even though this temporary market/protest was supposed to last until noon, when I arrived at around 10:15am, all that remained was a substantial pile of empty boxes and some people milling about wondering where the food was. The communists had obviously underestimated the needs of "the people". Adjacent to the area where the boxes were piled up were tables set up for lunch under an awning, set with paper plates and plastic utensils, and plastic water bottles, which I presumed were for the people who worked that morning.
(I'm glad they could sit down to a meal together, but in addition to all the plastic bags, was I the only one who caught the incongruity of people who espouse communist principles buying water from a private, for-profit company when a publicly paid-for option was available for free?)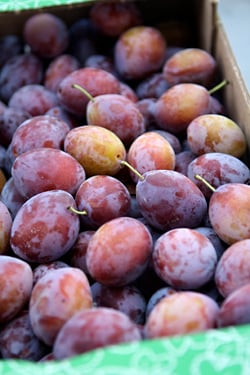 Many people think that the French shop daily for their foods, but like the rest of the people in the world, the French go to school, take care of their families, work at their jobs (even the communists), and not all have the time to leisurely shop the markets on, and wait in line for at all the various stands to buy their food. A fantastic program has been set up to sell produce in some of the train stations to the suburbs in paper (!) bags so people can pick one up easily on their way home from work. But for the most part, they go to the supermarket, which are the worst places in France to buy produce, and Picard, a very popular chain of stores that sells frozen foods. In the countryside, it seems like every town, larger and small, has at least one giant hypermarket, like Carrefour and E. Leclerc, whose vast parking lots are always packed.
It's interesting that the French made a concerted effort to improve the quality of the bread in France (the government passed laws creating standards in 1993) and although out of 100 to 150 raw milk three raw milk cheeses disappear each year in France, people still eat a lot of French cheese, pasteurized and unpasteurized, both industrial and fermier (farm).
There doesn't seem to be a lot of "Let's eat local!" going on here in France. I've heard a few explanations as to why, but the one I've heard with resonates the most to me is "Everything from France is local to us." I guess coming from the United States, where France could fit neatly into a space the size of Texas, there's some truth to that. Coming from San Francisco, I don't consider produce from Los Angeles 'local', but I suppose we're used to vast spaces and distances which explains the difference. But it's been one of the great unanswered questions for me.
Upon closer inspection, when I took a picture of the tomates, I noticed the box of perfect, suspiciously-round tomatoes said "France Grand-Sud Ouest" (southwest France), meaning the tomatoes had been hauled up from the south. And when I started rifling through the box of prune plums that I bought when I was caught up in the excitement of the moment, I discovered half of them weren't picked ripe, and were firm and green.
Since it was the same day as my local market, I wielded my still-empty shopping caddy through the mess and headed over there to do my shopping. By chance, I met a fellow from China (who spoke excellent French) and he started asking me questions about the market, and where the produce was from. When I pointed to the trucks filled with boxes that the men were unpacking, their haul from Rungis, his eyes almost fell out of his head.
I told him I try to buy everything from the same stand, les producteurs, and he asked me if he could come along with me. As we walked toward the stand, I pointed out the (reusable) chalkboard signs at the stalls which noted where everything came from such as Tunisia, Israel, Kenya, Morocco, Spain, and Italy, but specifically the tomatoes. There were plenty of the on-the-vine tomatoes, those grown in greenhouse in Brittany, which, I guess could be considered local. More so than the exact same-looking ones from Holland.
I took the fellow from China, whose name I unfortunately didn't catch, over to my favorite stall at the market, le producteur. And although on Thursdays because the market isn't so busy, they didn't have as much stuff as usual, I was so happy to see what they did have.
Around the stall, tomatoes were piled up, along with round, variegated zucchini and chard and basil, and I bought everything I thought I could eat within the next week. A common complaint amongst my American friends is that it's extremely difficult to find good tomatoes in Paris, even in the summer. Parisians have taken with amazing fervor to cherry tomatoes, of which many varieties are sold in the supermarkets and are available year 'round. But if you ask where one can find a sun-ripe, fragile, garden fresh tomato, most will shrug. Of course, I was in heaven.
Behind them, there were bins of tomates they were selling for just €1 a kilo (about 40 cents a pound), that were dented, split, or mushy, labeled as "for sauce". Because I am my mother's son, I couldn't resist a bargain and bought them all. (Disclosure: Because I bought all of their 5 kilos, 11-pounds, of squishy tomatoes, they gave me a free bunch of basil. Of course, I also bring them cookies from time to time, which helps, too.)
I didn't buy any of the cherry tomatoes since I was pretty well-fixed in the tomato department, but when I got home, I made a big pot of pasta sauce with the 'for sauce' tomatoes, using the basil, onions, and garlic I picked up from the same producteur as well. The prune plums that were kinda firm and slightly sour got stewed with some sugar and kirsch for sorbet.
The undentable tomatoes from the southwest are getting their comeuppance in a slow oven right now, doused with olive oil, thyme, and plenty of garlic, to concentrate and slow-roast in some semblance of flavor. And because I was afraid if I served them raw, someone might break a tooth or something.
(Although they've been in there for two hours and haven't softened—like, at all.)
However before I headed home, I stopped at another stand at the market a few feet away, because I saw some radicchio that looked like it wanted to be made into a salad at my house. As I waited in line, the woman in front of me bought a hefty bag of on-the-vine tomatoes and some too-pristine looking zucchini. The squash was very shiny and the tomatoes were absolutely perfect, solid-red orbs. I didn't look to see where they were from. But they didn't look as nice as my squished tomatoes.




Related Posts and Links
Community Supported Agriculture in Paris
What Got Me Really Excited at My Market Today
Preserved Summer Tomato Recipe