My favorite fruits are plums, which, confusingly for anglophones, are called prunes, in French, or pruneaux, when they are dried. (And boy, are they delicious!) They show up late at the markets in Paris, but stick around longer, overlapping with apples and pears, which arrive in early fall. Most of the plums that you see in Paris markets aren't the tart varieties that are eaten out of hand, but are more suitable for baking.
Come late summer, early fall, quetsches (prune plums) and Reine Claudes hit the stands, as well as mirabelle, tiny cherry-tomato-sized fruits that are sweet, with a rich plum flavor and little acidity. Especially in the Lorraine, they are often used in tarts because when cooked, they don't have a lot of water in them, and cook to a thick, jam-like consistency when cooked on top of a tart.
People rhapsodize over mirabelles, almost to the point of being obsessionnelle. They have almost a cult status in France. I liked them just fine, but prefer tart and tangy fruits, like apricots and plums, to sweeter fruits. Although that never stopped me from eating a ripe, juicy Hayden mango. Or Reine Claude plums, for that matter. So go figure. But then I realized I shouldn't compare them to other plums, and I should enjoy them for their deep, syrupy, jammy flavor, which intensifies when cooked or baked.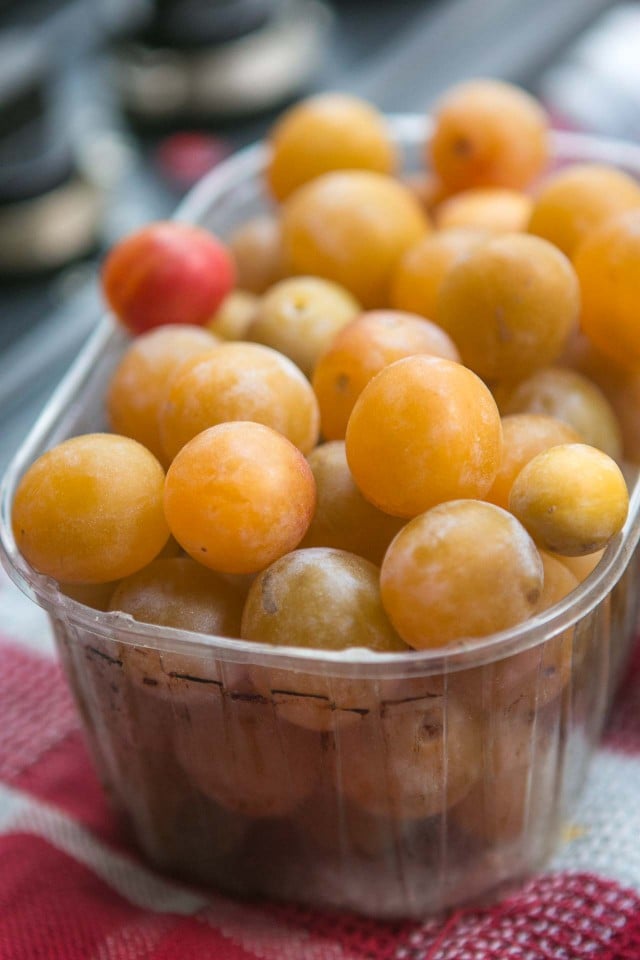 I'd been eyeing the mirabelles at the market for the last couple of weeks and I finally got around to picking up a barquette of them. Of course, I snacked on a few of them as I shopped, until I got home and unpacked them from my bag. Speaking of shopping at the market, I'd mentioned on social media that I like to taste some fruits before I buy them, like plums, because the quality can vary and I want to make sure I am getting good ones. Which prompted someone to ask me about taking tastes at the markets, as visitors are often surprised to find at Paris markets, vendors don't offer the copious tastes that they do at markets elsewhere.
Some of it, of course, if that they don't want to give away the food they are selling for free. But another is that most shoppers in Paris have their favorite markets, and favorite vendors. (The handsome sausage guy from the Auvergne at my market, for example, presides over a stand that I particularly spend a lot of time at – for some reason…one being is that he always offers me samples.) So generally you shop from the same people for certain things because you know the quality of what they have. I get garlic from one person – and sometimes onions. Then I go to the North African fellows for parsley, cilantro and mint. The elderly twins who have a farm are where I get my lettuce from. I could spend hours at one particular stand, inspecting the sausages. Then I head over to the apple growers to rifle through their bins of dented apples, which they discount, as well as picking up a bag of Belgian endive from them. For all other fruits, I wander around and see what looks best, because I'm particularly picky about what I bring home.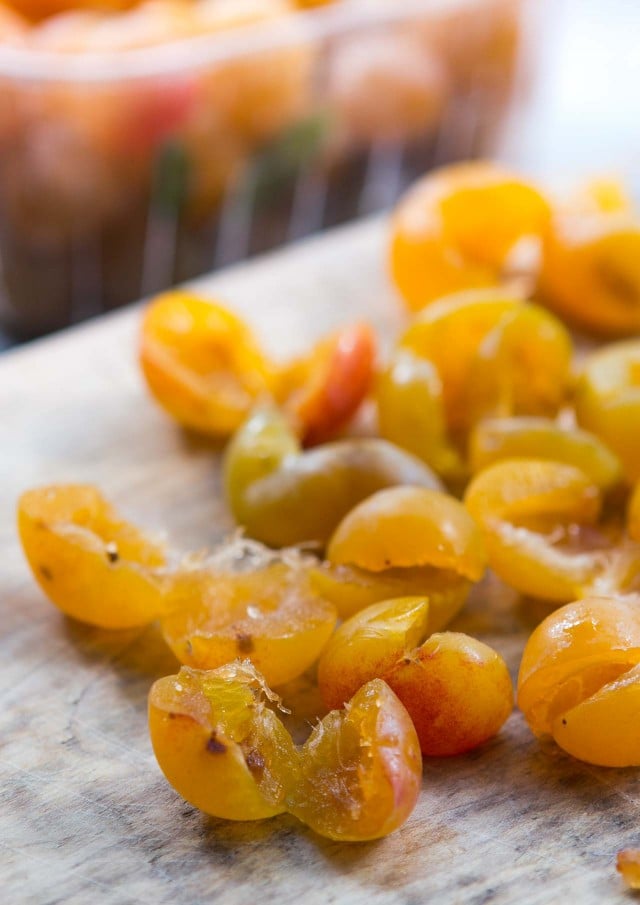 For something like mirabelles or cherries, it's fairly common to ask to try one. I'm not sure if you can at some of the swankier markets, but I do and have never been refused. I think the vendors just don't want to put plates out food out for people to sample, partially because Paris ain't Costco. But also, they are so busy helping customers they don't have time to arrange samples. So you need to politely take the initiative. At some of the multicultural markets, I do see people just grab stuff – but I wouldn't, even if I knew the vendor. If  you ask and they say no, accept it and move on to someone who will let you try whatever you're interested in.
(On a related note, I was setting up for a booksigning once in Paris and brought brownies, and I had arrived a little early to cut them up. A woman walking by asked if she could have one and I replied that if she could wait a moment until I was done, that would be great. Well, she didn't feel like it and stuck her hand under the long serrated knife I was cutting brownies with, to snatch a bite. The poor dear almost lost a finger! And I'm not saying that would have entirely been by accident…)
Fortunately most people are nice. Especially me, since I ran home to make a batch of mirabelle jam for our breakfast the next morning. The lovely little plums are fun to pluck the little pits out of and they cook quickly. The season is almost over, so I may have to go back and get more at the market this coming week. And I'll probably need to replenish my sausage supply as well. And if you ever see me slicing brownies, I recommend that you exercise a bit of patience, and wait a moment before grabbing a sample.
Mirabelle Jam
Note that with this recipe I use less-sugar than traditional jam so it will not keep for months and months. I would imagine these proportions would work well with other sweet plums, like Reine Claudes (greengage) and prune plums, but for tart plums, like Santa Rosas, you might want to add more sugar to counterbalance the tartness. To preserve (can) the jam, you can follow the guidelines here. The recipe can easily be doubled or scaled up. Because this is a jam that isn't mean for long-conservation, I just eyeball it when it's ready (in Step 3). However if you're unsure, I've given a couple of methods for checking for doneness. If you do the "wrinkle test," put the plate in the freezer when you start making the jam.
Servings
1
about 8 ounces (250g)
1

pound (450g)

mirabelle plums

2/3

cups (130g)

sugar

1

teaspoon

freshly squeezed lemon juice

optional: 1/2 to 1

teaspoon

kirsch or eau-de-vie
Put the pitted fruits in a non-reactive saucepan. Add enough water so it's about 1/4-inch (a scant 1cm) deep in the pan. Cover and cook over medium heat, until the mirabelles are cooked through, about 8 to 10 minutes. (You should have about 2 cups of cooked mirabelles.)

Add the sugar and lemon juice and continue to cook the mirabelles over medium heat, stirring frequently, until the liquid looks syrupy and thick. If you want to check it for doneness, you can turn it off and put a generous dab on a chilled plate in the freezer and check it in a few minutes, when it's cold: if it wrinkles when you nudge it, it's done. If using a candy thermometer, the jam will set at around 218-220ºF (103-104ºC).

Remove from heat, add the kirsch or eau-de-vie, if using, and balance the flavor with a little bit more lemon juice, if desired. (When cool enough to taste.) Scrape the jam into a clean jar, cover, and refrigerate until ready to eat.
Notes
Storage: The jam will keep in the refrigerator for at least two weeks.
Related Posts and Links
Baking Ingredients and Substitutions
Cherry Plum and Ginger Jam (Cooksister)
Mirabelle Plum and Almond Frangipane Tart (Tarlette)