Plum Strawberry Jam
I am sure that after I am gone, they are going to find something peculiar in my brain. (If they find anything in there at all…) It's a special spot that compels one to make jam, and maybe they will name it after me. For the last couple of weeks, I've been on a jam-making binge. We're in the final weeks of strawberries here and I happened to find some plums at a market outside of Paris, and surprised the vendor by buying almost all that he had in stock. Consequently, I haven't been able to get that much else done around here. But on the other hand, I have a dozen or so jars of jam to show for my diligence.
Strawberries that arrive later in the season have less pectin so sometimes jam made with them isn't as jelled as people think, or want it to be. Europeans, in my experience, prefer their jam looser than their American counterparts. (Tip: Loose jam is excellent with yogurt or fresh goat cheese for dessert.) Some let me know that their strawberry jam made later in the season was softer, which doesn't bother me. Fruit will vary depending on variety, season, and other factors. And I'm okay with that. Relax – it's summer. Well, unless you're me. Then you've got jam to make…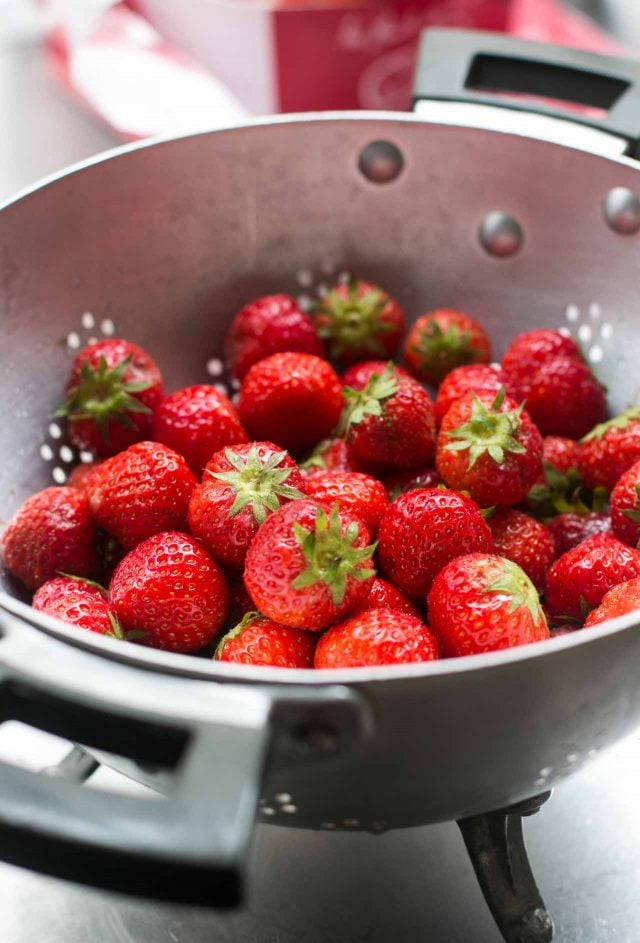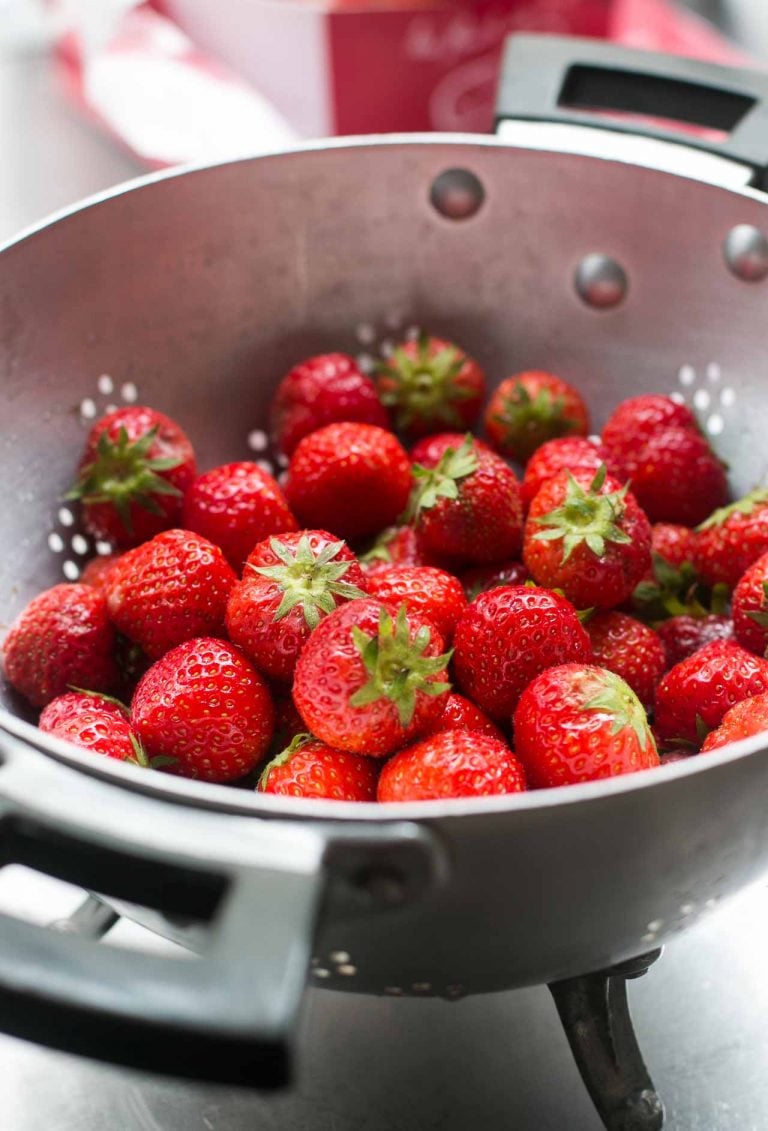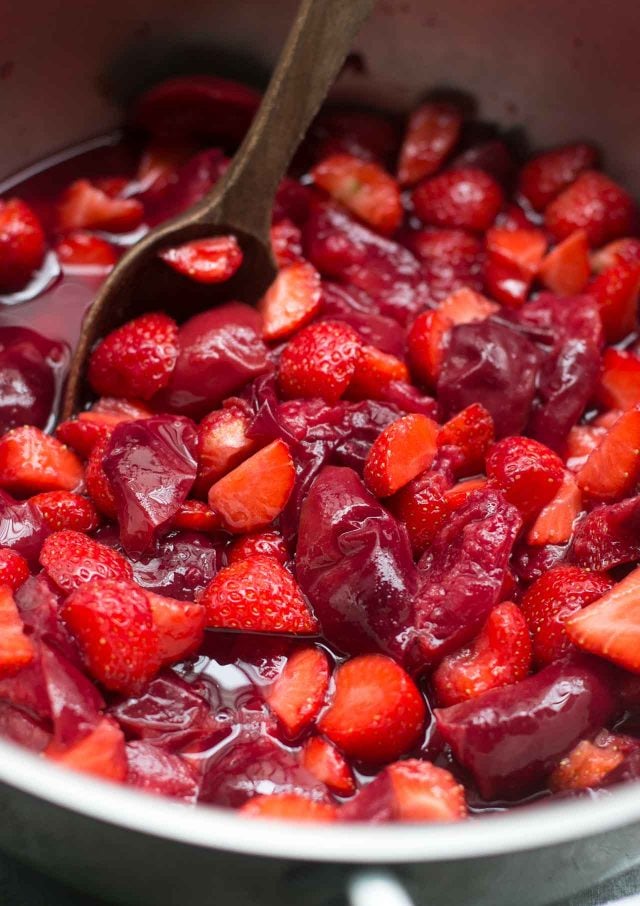 To make up for strawberries slacking off in the pectin department, plums come to the rescue, which have lots of pectin and the tart flavor of their skins, and juicy pulp, pairs beautifully with strawberries. I was fortunate to find those purple plums and snagged one of the last baskets of berries at the market this morning. In the United States, we have purple plums, like Santa Rosa and Elephant Heart one, and in France, mirabelles and Reine Claudes (which are sweeter), are more popular.
Depending on where you are, I would use one on the tart side for jam-making. The colors of both meld almost magically together, creating an especially vivid, maroon-colored confiture, that we're going to be enjoying for the next few weeks at breakfast.
One trick I do with strawberries is to marinate them in sugar for a few hours, or even overnight, before making jam with them. The sugar brings out, and intensifies, their red color. And even less than perfect berries benefit from some quality time with the sugar.
| | |
| --- | --- |
| Plum-Strawberry Jam | Print Recipe |
Four jars –
about 1 cup (250ml) each
Sometimes smooth jam is preferred while other times, it's nice to find lumps of fruit suspended in the jar. For this jam, I kept the fruit a bit chunky, using an immersion blender to partially puree the fruits. You can leave the fruits relatively chunky, or puree them until smooth. If using a traditional blender, I recommend cooling the fruit puree down to room temperature first. Never fill the blender more than half full of with hot liquid as the steam can force the hot fruit out of the top. (Draping a kitchen towel over the top provides extra insurance.) You can also use a food mill, food processor, or go low-tech with a potato masher for the fruit. Some people like vanilla in their jam. If you're one of them, you could add half a vanilla bean, split lengthwise, to the fruit after it's pureed. I'm often asked if you can reduce sugar in jam. Sugar is both a preserving agent and helps with jelling. My jams use less sugar than the traditional 1:1 ratio. If you want to use less sugar, it will be looser and won't keep as long. You can find recipes online for microwave or freezer jam that would fit that bill, including recipes that use alternative sweeteners. I store my jams in the refrigerator and find they will keep for six months to one year. If you want to can them, you can find information about doing that here. I usually do the wrinkle test to check if the jam is done. If using a candy thermometer, most jams set at between 218-220ºF (103-104ºC).
1
pound (450g)
strawberries,
hulled and quartered or sliced
4
cups (800g) plus 1/4 cup (60ml)
sugar
2
pounds (900g)
purple plums,
pitted and cut into sixths
optional: 1/2 to 1
teaspoon
kirsch,
or a squeeze of lemon juice, if desired
1. Toss the quartered or sliced berries in a Dutch oven or similar sized pot with 1/4 cup (50g) of the sugar. Let marinate for a few hours, stirring every once in a while, or overnight.
2. Add the plums to the pot and cook over medium heat, covered, until the plums are cooked through. Use an immersion blender to puree the berries and plums, leaving them chunky, if you wish.
3. Add the rest of the sugar (4 cups/800g) to the pot, and attach a candy thermometer to the side, if you wish. Put a small plate in the freezer. Cook the jam over medium-high heat, stirring in the sugar, until it dissolves. Continue to cook, skimming any scum that rises to the surface during the first part of the cooking. Stir it frequently with a silicone spatula or flat-bottom utensil (so you can scrape the bottom as you stir) until the jam has thickened and the jam sticks in a clump to the bottom of the spatula or utensil. (As shown in the post.)
3. When you think the jam is done (even if using a candy thermometer), test it by turning the heat off and putting a teaspoon-sized dab of the jam on the chilled plate and return it to the freezer for a few minutes. When you nudge it with your finger, if it wrinkles or appears jelled, it's done. If not, continue cooking it a few more minutes, stirring frequently, then test it again. When ready, add a bit of kirsch or lemon juice, if using, then ladle the jam into clean jars.
The jam should keep in the refrigerator for at least six months. If you wish to preserve it longer, or at room temperature, I've linked to a food preservation website in the headnote before the recipe with canning instructions.
Related Recipes
Microwave Strawberry Jam (Simply Recipes)
Remaking soft jellies and jams (National Center for Food Preservation)
How to Make No-Cook Freezer Jams (Serious Eats)