Tawlet Souk el Tayeb, Lebanese food in Paris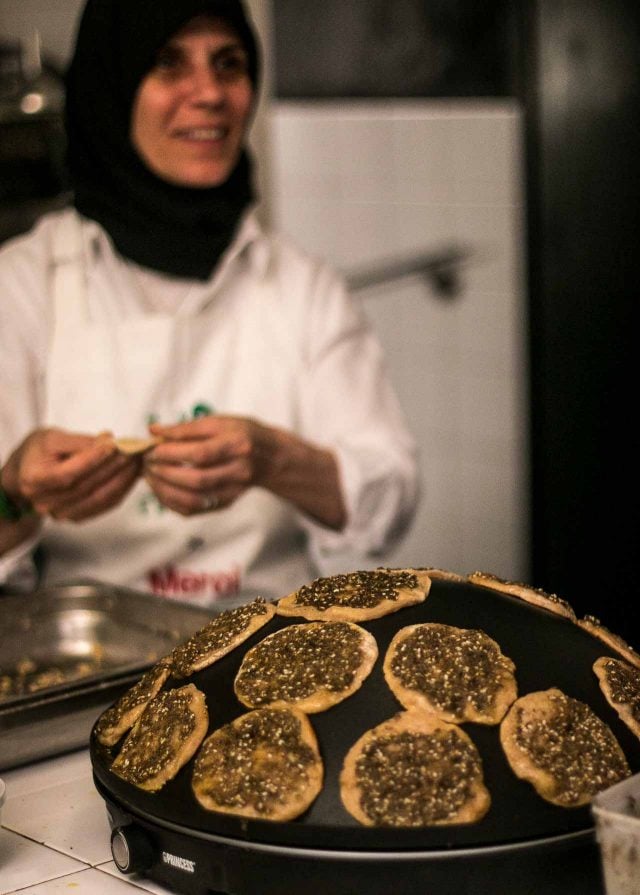 One of the great regrets I had in life was when I went to Beirut and didn't go to the Tawlet Souk el Tayeb, a culinary project supporting local farmers, cooks, and producers. There's also a weekly farmers' market, classes and meals.
Because my schedule was so packed on my trip, as much as I tried, I didn't make it. A few years later – as in, this week, Kamal Mouzawak, the founder of the Souk el Tayeb, brought the cooks from Beirut to Paris. So I was anxious to go and cleared a patch in my schedule. (Although I wouldn't mind going back to Beirut!)
I arrived early to check out what was happening in the kitchen, where the women were bustling around, preparing food for dinner. I noticed a big platter of pickled turnips, ready to go between pita breads for the homemade falafels they were frying up, which was a good sign. They weren't the store-bought ones, but homemade.
But even better was the domed saj, a grill for making Lebanese flatbreads, which is also the name of some of the breads that are baked on it. The women were smearing the flatbreads with the best za'atar I've ever had, from Abu Kassem in Lebanon. Visiting his za'atar farm spoiled me for life, and it's hard to eat the dusty bags of herbs sitting on the shelf of stores because I've had the sharp, vibrant mix of herbs, sumac, and sesame, that he grows the herbs for, and mixes himself. I had hoped they would have brought me an extra bag, but I didn't see any bags with my name on it lying around, so I'm going to put that on my list if they come back.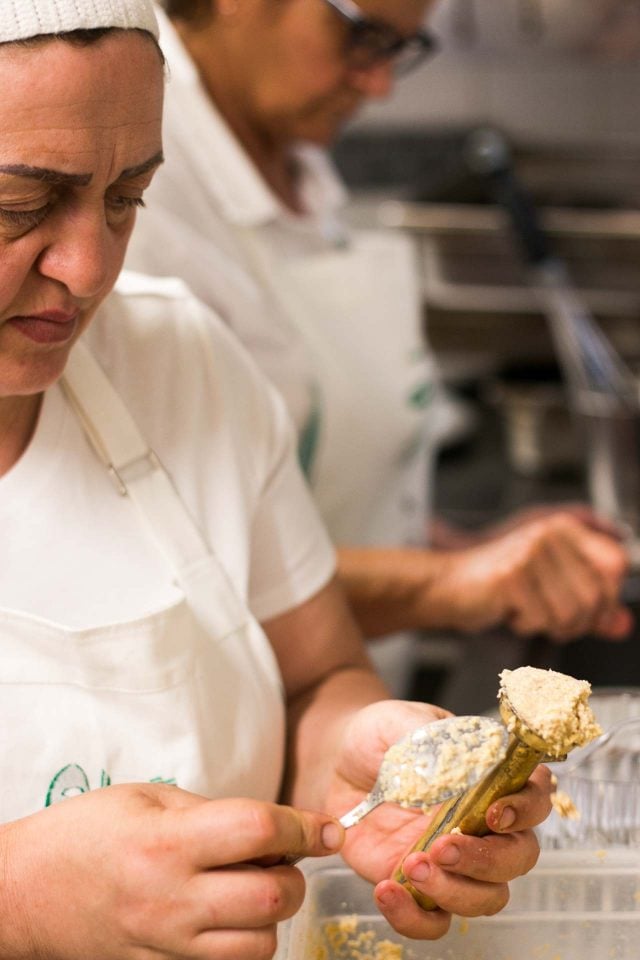 Because my Arabic is rusty, I was told through a woman who kindly translated for me, that the falafel recipe was the one the cook's family uses that is only chickpeas, and contains no favas.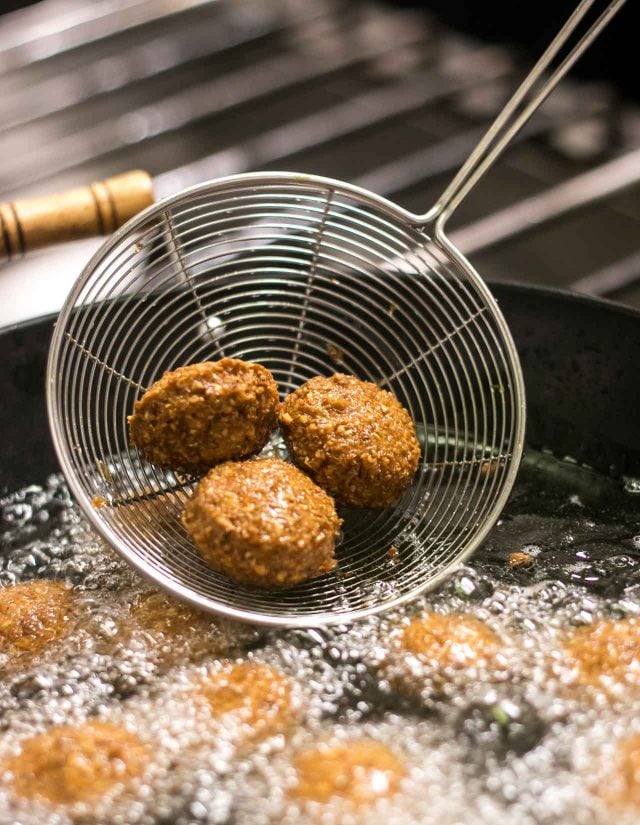 I got to taste one right out of the fryer which it made me wish they opened a full-time stand in Paris. They say if you go to a falafel place and they are not frying the falafels to order, you should go somewhere else. At dinner, due to the logistics of the restaurant, it wasn't possible for them to fry them to order, but they were still excellent and I was glad we had reserved a table to stay and dine at.
The cook's of Tawlet, women from across Lebanon, have arrived in Paris for the week and will be making and serving food through July 2. The menus are going to be changing daily and exploring a different region of Lebanon each day. We had a vegetarian platter (€27) and La grande assiette (€35), which contained 8 and 10 items, respectively. (Lunch service is à la carte and you can get individual salads.)
The vegetarian platter had an excellent Lebanese Tabbouleh (which contains little bulgur, unlike versions elsewhere that are bowls of grains flecked with herbs here and there), Chanklish (a mashed salad made with Lebanese blue cheese, that's one of my favorite things), Hummus, Batenjein raheb (eggplant, tomato and onion salad), okra cooked in olive oil with tomatoes, and za'atar and spinach man'oushe flatbreads.
The Grand Assiette (above) had chicken brochettes, tiny sausages called Makanek b debes remen, made with molasses, Machawe (beef brochettes) and a ground meat-filled triangle of dough, cooked on the saj griddle. (Full menu here.)
Maybe I'm just getting old and cranky, but I recommend sitting indoors, where the women are preparing the food and there's less extraneous activity. The terraces of cafés in Paris, especially in hip neighborhoods, are invariably clogged with smokers and have gotten quite boisterous. (I remember when it used to be the French shushing Americans!) I met a friend for a glass of wine the other night in my neighborhood and the next morning, my voice was raw and hoarse from trying to shout about the din, and the copious amount of smoke,
My choice would be to go during the day and sit in the café downstairs at Merci because you're closer to the kitchen and it's easier to focus on the food, which is always my priority in situations like this. To me, it's a thrill to be served authentic food from another culture. I love what these women are doing.
We especially loved the desserts and (in addition to that falafel stand) I imagined them opening a Lebanese pastry shop, serving beautiful cakes and sweets like we had. Meghlett was gelled rice cream served in a glass topped with pistachios, Karabig were ovals of semolina pastry stuffed with ground pistachios, and Sfouf B Debes, bites of molasses cake topped with toasted sesame seeds, that ended the meal on just the right note.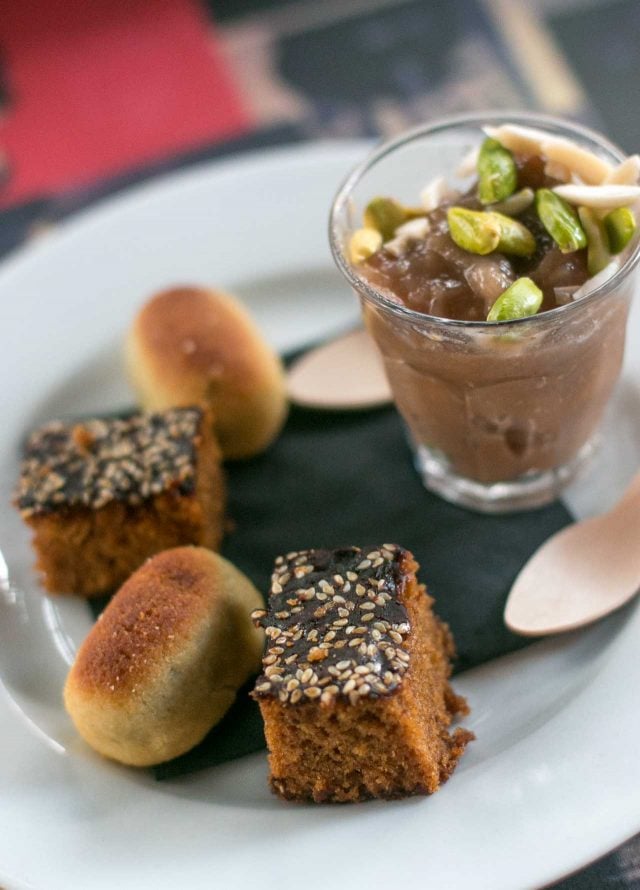 [Note: The event took place from June 27 to July 2, 2016, and is now ended. If you are in Beirut, you can visit the Tawlet Souk el Tayeb.]