Whenever I'm at home, all I want for breakfast is coffee, orange juice, and some bread and butter – and I'm good.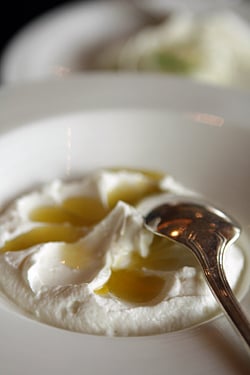 But going to the Middle East, when they start bringing out all the fresh salads, candied fruits and jams (such as eggplant and another made from unripe walnuts, just below) and all sorts of beautiful fresh cheeses and pickles, I am helpless to resist. Well, once I've had at least one very strong cup of coffee in me.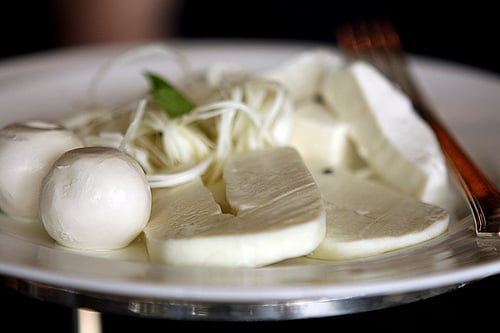 Here in Beirut, where I'm scooting around with my friends Bethany and Jocelyn, food blogging friends and guides of Taste Lebanon, our first day began with – yes, a little hangover from too much Lebanese wine fueled by a smoking narguilé (hookah) the night before. It was a relatively panicky morning as I realized my phone hadn't been synced to Lebanese times, which is a little more laid-back than French or American time anyways.
So it was nice to taste a beautiful assortment of freshly baked Arab breads from the ovens at the Four Seasons Hotel. There were warm little rounds of dough with jam and za'atar (a very aromatic blend of dried herbs, such as thyme, with sumac, sesame and salt) smeared on top – others had soft, salty cheese melting into the centers. And of course, there were plenty of others things, like olives, radishes, pickles and a scrambled egg Shakshuka that kept coming to the table, Arabic-style. And warm, just-baked, sesame kohbz to scoop everything up with.
(If you ever go to an Arabic country, try to resist all the first things they bring to your table. Because there will invariably be at least one more round, even more copious than the first. Consider yourself warned!)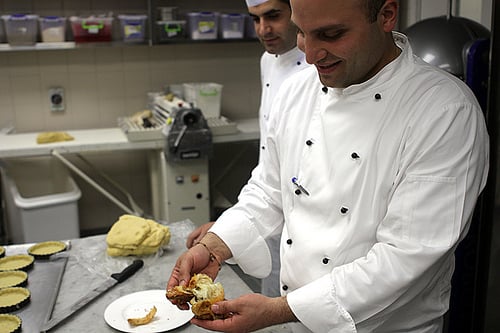 But I was most intrigued by the za'atar croissants – flaky, buttery crescents as good as anything I've had in Paris. But instead of just delicate layers of pastry, or a stripe of chocolate, inside is a pocket of za'atar with the pungent flavor of sumac to get you going in the morning.
I ate as much as I could before we hustled off to breakfast #2, which was more rustic, street food-style of eating, made with a little bit more muscle, and an extra-generous dose of garlic (and spice) to get me going.
(Continued…)