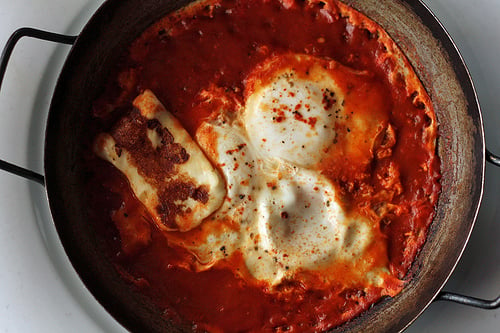 I'm not at my best in the morning. Actually, I'm not at my best until at least 2pm. (Although actually, some might argue it's even a little later.) To me, breakfast is meant to be enjoyed in monk-like solitude. It's a time where questions are prohibited and talking should be kept to an absolute minimum.
Travel, of course, is fraught with all sorts of ways designed to thwart my precious few moments of quietude in the morning. There's waking up in hotel rooms and stumbling toward the breakfast room, where unfamiliar people await, sometimes wanting to actually engage with you. What's up with that?
And for those of us who are creatures of habit with their morning rituals, it can be a challenge to muster up the energy to adapt to unusual rituals and unfamiliar foods.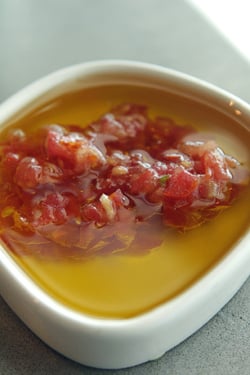 In France, breakfast is always a simple affair; just a bowl of café au lait, some toast with butter – and perhaps a bit of jam or honey – and a small glass of orange juice. And that's it until lunch. And I'm fine with that. Well – until I go back to America.
But en route, there are hotel breakfasts and buffets, overloaded with pancakes, waffles, bacon, scrambled eggs and six-egg omelets overflowing with cheese, heaping bowls of oatmeal with butter and brown sugar, a fruit salad (fresh, if you're lucky), and not-exceptional coffee by the pitcherful.
In San Francisco, my adopted Chinese family takes me out for dim sum, and I can't resist every single plate of dumplings that pass by on the cart, barely able to keep an eye on the ones I'm eating while the next stainless-steel cart with steam wafting off the top approaches. Of course, I indulge in it all. And, of course, I come home carrying a bit of extra baggage. And not the kind of excess baggage that you simply pay a simple fee for and it's quickly dispatched away, unfortunately.
Being a creature of habit, when home I like my simple French breakfast. But traveling in hot climates, like in Israel, I found myself not wanting hot things, and craving fresh foods. And in Israel, the Israeli breakfast may consist of – but is certainly not limited to – various kinds of yogurt, labane (yogurt cheese), white cheese, just-pressed juices in a variety of colors and flavors, cottage cheese, salads made with any combination of tomatoes, cucumbers, herbs, and olive oil, small omelets, salty olives, roasted peppers, flat breads, and marinated fish.
Thank goodness it's all healthy food because I knew if I kept eating it, I would someday look like most of the other men with their slender waists and rippling abs, at the Tel Aviv beach. (I went for a few minutes but did a hasty retreat, as I was worried I was ruining the look of the place for everyone else.)
Although there are lots of salads and cheeses for breakfast, I do like les œufs, and whenever I see Shakshuka on the menu, a baked egg dish, I like to try the version wherever I'm at.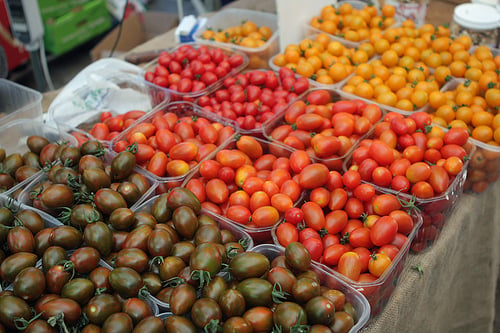 I had my first Shakshuka at Nopi in London last year, which was a revelation to me, and the few I had in Israel were pretty persuasive reasons to turn in my breakfast baguette and wake up to spiced eggs more often. (Dr. Shakshuka, a place noted for its Shakshuka, was recommended to me by a number of locals and it's on my list for a future visit, because there are only so many breakfasts you can have in a week.)
Israeli food writer Nomi Abeliovich, who I had breakfast with at the seaside Manta Ray restaurant, told me that Shakshuka is North African and is considered a seasonal dish, sometimes made with potatoes or spinach instead of spicy tomato sauce. But, like many things about this region, there are diverse opinions and some say it's from Libya. So if someone's had the very first, original Shakshuka, please step forward.
There's also a debate and some say it should never have peppers or garlic in it (I'm okay with folks leaving out the peppers), while others top it with strips of halloumi cheese, broiled to a chewy crunch. Which, now that I've had, I'm not okay with anyone leaving off.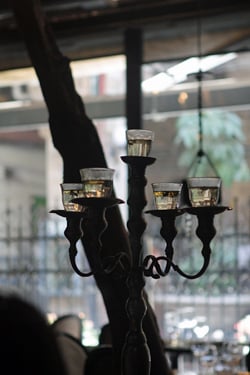 But no matter what country I've eaten Shakshuka in, or where it's from, it always inspires raptures by the people who love it. (And no one seems not to love it.) A few locals offered me tips for making it, including always keeping single portions of the sauce in the freezer, then reheating it on the stove top with an egg cracked in the middle, simmering just until the egg is barely done.
In hot climates like Israel, it's not uncommon to have salads for breakfast and if you hit a breakfast buffet, there are likely going to be lots of different kinds of "white cheese", which is vaguely similar to yogurt, but not as tangy, and richer-tasting (similar to fromage blanc, in France) to spoon alongside everything.
People who wave the flag of "fat is flavor" would be surprised to learn that most of the white cheeses, as well as "cream cheese" type of spreads that I had in Israel, like quark, are very low in fat, yet taste amazing. That's due to the quality of the milk being so high so instead of loading the products up with fat, letting the sweet, creamy, natural flavor of the milk comes through, loud and clear. So that's how they can eat all those cheese and still wear those Speedos on the beach.
At the Mitzpe Hayamim, a hotel and spa that has fortunately resisted over-modernization, the organic garden provides eighty-percent of the produce used in the kitchen. Not only is the chef and the cooks foraging through the garden for everything from kohlrabi to mulberries, a team of goats, sheep, and cows graze in the pasture, providing the milk for the homemade yogurts and freshly made cheeses that I dug into for breakfast, piling as much as I could onto my plate without drawing undue attention.
Foccacia, the Italian bread, which is airy on the inside, and crisp and crunchy on the outside, is popular in Israeli breakfasts, and I had one at the hotel with basil, fresh cheese, and pine nuts for breakfast, which was pretty sensational, along with some of the grainy breads made in their bakery. I've been trying to wrangle recipes from everyone and the most elusive has to be the locally made halvah, sweetened sesame paste that I think may be impossible to reproduce at home.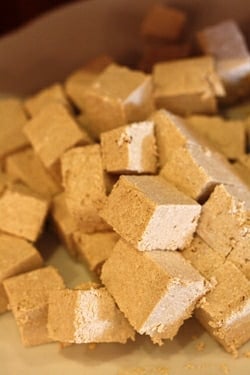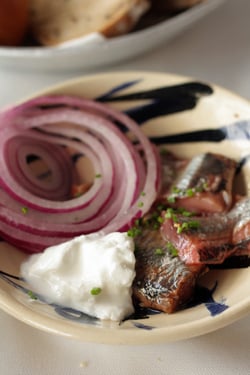 Curiously, what we know as bagels in the United States, aren't necessarily served for breakfast in Israel. (Which is painful, when you have such great marinated or smoked fish, and creamy-smooth spreading cheeses.) Although sometimes you might come across what elongated, oval "Jerusalem" bagels, which are soft and slightly sweet, but they are more of a snack food than breakfast fare. And they're huge, too. Each one is as long as a forearm.
In Jaffa, I had breakfast with a group of Israeli food bloggers at Cordelia, which has a lovely window overlooking a charming street, and was a place where I learned to love butter drenched in olive oil.
Breakfast started (perhaps American-style?) with a cocktail made from red wine, orange, and rosemary, then I quickly moved on to dark coffee, which is taken seriously in Israel, and is pretty much excellent wherever you go.
And, of course, a large pan of Shakshuka was brought to the table, to be split – until we could eat no more.
It was good I saved a bit of room as a platter piled with challah stuffed with eggs, sautéed in bone marrow was brought out.
And since I burned my Speedo, I dug right in.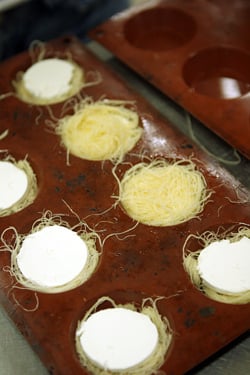 Perhaps my favorite place for a nosh was Lehamin, a bakery that's apparently busy in the wee-hours of the night, just as it is in the morning. It's owned by Uri Scheft, a friendly Danish man who studied baking in France and in his native land.
I visited with local blogger Natalie Levin, who is a great baker herself. She arrived bearing sacks of the most delicious tahini cookies imaginable, and another with dark, golden-brown butter cookies made of sahleb, a flour ground from the roots of an orchid plant.
Uri's Danish roots are apparent in his dense, grainy, breads, the kinds of breads I generally crave. But he also is a big fan of marzipan, which is used as a base for a number of fresh fruit tarts and I saw some oozing out of the warm morning pastries and oozing into a caramelized puddle on a bakers rack. And yes, I resisted the urge to pick it off and eat it.
Although she didn't bring me challah, there was no shortage of those braided loaves in Israel and I was surprised to learn at a relaxed, and friendly shabbat dinner organized by local designers, that challah isn't meant to be sliced, but pulled apart with your hands. Or with an interesting new contraption, that is certainly a table-stopper when used to pull apart a loaf of the twisted bread.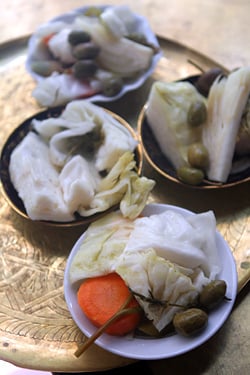 Uri showed me how he makes his challah, made from a simple dough of yeast, salt, sugar, and flour. Once braided and topped with a proliferation of seeds, they're baked and sent upstairs, where customers at all hours are lined up for a loaf. (Interestingly, a number of bakeries I visited in Israel were self-service, which must startle the number of French visitors who come to Israel, looking to pick up a loaf of bread!)
I thought that most rugelach was pretty much alike, pretty dry and tolerable if only because there are a couple of chocolate chips tucked in there, here and there, until I tried the one at Lehamim. My Hebrew is a little rusty (and less-tolerable to the locals, I imagine), which is probably a good thing, because I may have invoked the Lord's name in vain when I took that first bite. I flipped out over his chocolate rugelach, and carried a container of them around with me for a few days after my visit, because I just could not stand to be without them in my life. If you think you've had chocolate rugelach, think again, as these are moist (not dry), with the rich, dark flavor of bittersweet chocolate.
(Uri opened a bakery, called Breads, in Manhattan so New Yorkers can get their chocolate rugelach fix right at the source.)
I loved all his pastries, including Kanafeh, made with kadaifi doused in melted butter, pressed into buttered molds, and topped by a disk of fresh goat cheese. It's then covered completely with more kadaifi, then baked until the pastry is dark brown and the warm cheese is completely enclosed in a buttery, crunchy crust.
When Natalie and I left, to head to the Tel Aviv market, I had pretty hard time saying goodbye, even though I was revved up on iced coffee, a staple in Israel. Uri gave me a loaf of his grainy Danish bread to bring home, which I unfortunately learned doesn't last very long in a humid climate : (
Now that I'm back home, eating my buttered baguette for breakfast and sipping a café au lait, I am dreaming about sitting by the ocean swilling icy coffee through a straw, and watching in disbelief at servers set down a multitude of dishes, piled high with fresh vegetable salads, pickled fish, and served with just-made carrot juice, which I'm missing tremendously.
I do like my French breakfast just fine, although am thinking of how much Shakshuka sauce I can keep on hand. And the rugelach I had to leave behind as well.
Related Recipes
Shakshuka (The Guardian)
Chocolate-Hazelnut Rugelach (Food 52)
Best Challah (Smitten Kitchen)
Homemade Labane (Cyber Recipes)
Note: The meals on this trip were hosted, and part of a culinary exploration organized by Kinetis. My visit to the beach was my own idea.