Fried Halloumi Cheese
When I was in Beirut, I stayed at a hotel with amazing breakfasts. Although I'm not one that likes to inflict myself on the public in the early hours of the day (when I'm not exactly at my best), the breakfasts with their freshly baked Arabic bread and za'atar-filled croissants helped me make the transition from my blissful slumber, and through that difficult period where I'm going to have to realize that at some point I'm going to have to start interacting with others.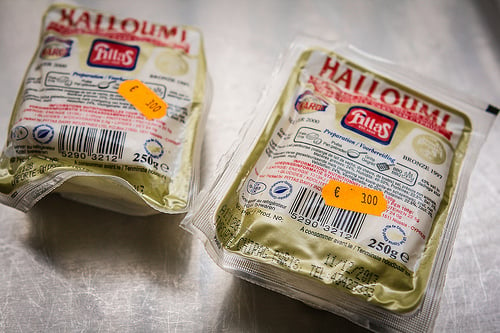 Yet just as fast as I got accustomed to those lovely morning treats, I moved to another hotel where those lovely breakfasts were pulled out from under me. The place was fine, but let's just say the breakfast offerings weren't quite as enticing. (As much as I'd love to tote around a coffee machine or other apparatus when I travel, my dream is to show up at a hotel and find an in-room espresso machine ready and waiting.)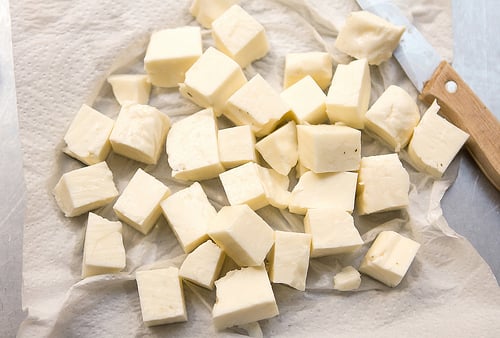 As I wandered around (and around and around and around) the breakfast buffet, past the canned fruit and European-style breakfast pastries which unfortunately were not from a local bakery, I would invariably find myself in front of the bowl of fried halloumi soaking in olive oil.
And that became my daily breakfast: a plate of olive oil, a handful of olives, fried halloumi, and fresh Lebanese saj (flatbread). That was enough for me. (Well, along with plenty of strong coffee.) When I got home to Paris, although I wasn't quite ready to give up my toast and salted butter morning habit, I did find myself frying up a batch of halloumi every now and then.
Halloumi is a sturdy, brined cheese and is perfect for frying as it holds its shape beautifully once it's cooked. It's often found cryo-vac'd so you can keep it on hand and I recently picked up two packets at the Arab food shop that I frequent, because one never knows when one is going to need a fried halloumi fix and I hate being caught short on halloumi.
If you've never had fried halloumi, you're in for a major treat. It's hard to describe the taste and sensation when you bite into it. It's slightly rubbery, but squidgy in your mouth in a uniquely pleasant way. (Not sure "squidgy" is a word, but as I mentioned, it's hard to describe.) And although variations abound, to be honest, I think it's best with as little embellishment as possible, save for some pepper and a dousing of good olive oil.
| | |
| --- | --- |
| Fried Halloumi Cheese | Print Recipe |
4
appetizer-size servings
This is a fabulous appetizer or can be served as part of a selection of Middle Eastern appetizers, such as Baba Ganoush, Labneh, and Hummus. Once fried, the cubes of halloumi could also be added to a salad, mixed into a bowl of grains and roasted vegetables, or paired with a plate of juicy tomatoes and some fresh basil. You can easily increase the recipe; just make sure your skillet is large enough to they're all frying in a single layer. Or prepare them in batches. I do recommend dousing the fried cubes in good-quality olive oil, which makes a difference. In addition to the ground black pepper and red pepper flakes, variations include adding a squirt of lemon juice, a bit of chili oil or paste, mixing in sprigs of fresh thyme or oregano, or dusting the just-fried cubes with sumac, paprika, or za'atar.
8
ounces (225 - 250g)
halloumi
1 1/2
tablespoons
olive oil for frying,
plus 1-2 tablespoons of olive oil for dressing the fried cheese
a few generous grinds of black pepper
big
pinch
of red pepper flakes
1. Drain the halloumi and cut it into cubes; slice the slab in half horizontally, then cut the cheese into batons and slice them into cubes. Pat the cubes very dry with paper towels.
2. Heat 1 1/2 tablespoons olive oil in a heavy skillet over medium heat. When hot, add the cubes of halloumi and cook for a few minutes without stirring, until the bottoms are well-browned.
3. Turn the halloumi cubes with a spatula, and brown them on the other sides. They don't need to be perfectly browned on all sides, but they should be a nice golden brown color for best flavor.
4. Transfer the fried halloumi cubes to a bowl along with any oil in the pan. Grind black pepper over the cheese, add the red pepper flakes and the remaining 1-2 tablespoons olive oil. Stir well, and serve warm or at room temperature.
Notes: I don't recommend refrigerating the cheese once fried. It tends to get firm and loses what makes it so special. It tastes so good when it's freshly made – and it's so easy – that you can easily make them before serving, and let them sit at room temperature until ready to serve.
Any leftover oil can be reused for another cooking project, such as salad dressing or marinating.
Halloumi cheese (sometimes called haloumi or halumi) is found in Arabic, Turkish, and Greek markets. I also found some recipes online (below) in case you want to try your hand at making your own.
Related Recipes and Links
Creamy Feta-Red Wine Vinegar Salad Dressing
Fried White Beans with Sorrel, Feta and Sumac
8 Tips for Using and Choosing Olive Oil
Grilled Halloumi Cheese Skewers with Mushrooms and Onions (Kalyn's Kitchen)
Grilled Halloumi with Za'atar and Roasted Red Pepper Coulis (Cook Sister)
Homemade Halloumi (Wholesome Cook)
Haloumi with Cow Milk (Simone's Kitchen)