Aracena (Andalusia, Spain)
Even though I only went to Spain with a half-empty carry-on, I came back with my luggage, and head, stuffed full. Not because of the in-flight oxygen, but from attending a food photography workshop with ace food photographer Tim Clinch. I'd met Tim a few years ago and he had been kind enough to try to give me some advice via Skype in my continuing quest to streamline the way I do things. Everyone who is everyone has told me that Lightroom would change/rock my world.
But when I open the editing program, my head goes into a tailspin. Partially it's all those levers that promise to make your photos as top-notch as the pros, which are also so gosh-darn miniscule. (It's like they designed them to purposely exclude anyone who has vision problems, as it's a real challenge to hover my mouse over them to hit them precisely right.) I know there are all sorts of tutorials and books that promise to teach you everything you need to know.
Call me cranky, but I have enough things on my plate, like worrying about using "it's" instead of "its" (can't we just collectively decide to let them be interchangeable? – especially because my grammar-check keeps flagging the first "it's" in this paragraph), and making sure I've got my photos tagged correctly; I goofed and posted a picture on my Facebook page that was incorrectly tagged, and after a visit to a lovely market, I came home and found a slew of less-than-pleasant words aimed in the direction of yours truly.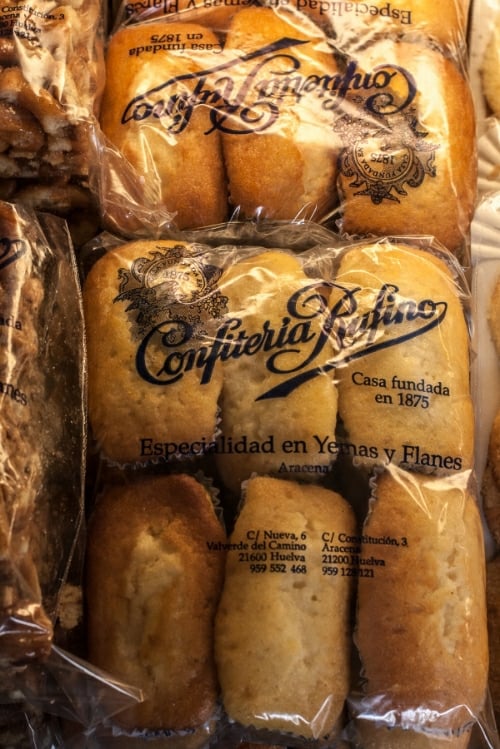 But now that I'm older and wiser – and believe me, after working in restaurant kitchens since I was 16, I've heard everything – I was happy to be able to just take a deep breath, and focus my efforts – and my trusty camera – on doing what makes me happy. And that was taking a trip to Andalusia to practice with a pro, and have some fun while we were at it. Because if it's not fun – why do it?
Since everyone agrees that this Lightroom editing program is the best thing since sliced pan, off I went for a long weekend with Tim. I was also looking forward to learning from him how to see things differently, and taking pictures out of my comfort zone. So this post I'm kind of thinking of as my "homework." There are a jumble of photos, sizes, styles and so forth. But what the heck.
And for sure, I'd rather be eating, tasting, and exploring new cities than going through technical manuals. So there.
(Although I did realize after I edited all the photos that I got the size wrong and had to rework 'em. Can someone please advise me of when I will catch a break?)
The workshop was at Finca Buenvino, the country home of Sam and Jeannie Chesterton in the Sierra de Aracena, where they've lived for nearly thirty years.
They were great hosts. Jeannie runs a no-nonsense kitchen, filled with beautiful dinnerware and serving pieces, and she kept us well-fed.
Sam kept the ham plates moving, and our sherry glasses full.
There was certainly no shortage of sherry and it's something that's rarely drank in France, or even in the states. But the wood-mellowed fortified wine made in the region has a particular affinity for the local foods, and I happy to taste as much as I could while I was there in restaurants, bars…and at home.
I thought my little aging casks at home were impressive. But someday, I will graduate to their level.
Jeannie made an amazing "black rice" (arroz negro) which she presented in the big paella pan with a big bowl of alli-olli. Tim hollered to me to get a move on as she was pulling it out of the oven and it was time to get a shot. Poor Jeannie had to stand there, hefting that big pan of seafood and rice, unless I got my backside in gear and took a photo. You can't see it, but underneath that pan, she is actually kicking me to get me to hurry up and take a shot.
Although it was too cold to take a dip in the pool, it was the perfect place to practice taking pictures of glasses of sherry. And more glasses of sherry. And more glasses of sherry.
We also practiced taking "still life" style pictures around their country house.
And while it was interesting, and the vegetables from their garden were magnificent, I'm not sure "still" photography is my metier. Eating ham and drinking sherry, however, I seem to have an impressive knack for. Always good to embrace your faults, as well as your strengths – right?
Another thing I developed a knack for was eating tortas de aciete with Seville oranges, which I mentioned in my previous post.
Considerate and thoughtful readers suggested I make my own since I didn't pack any to bring home. But one important thing I learned about traveling over the past several years is that you (or I) don't have to bring everything home. Or try to find it online and have it shipped.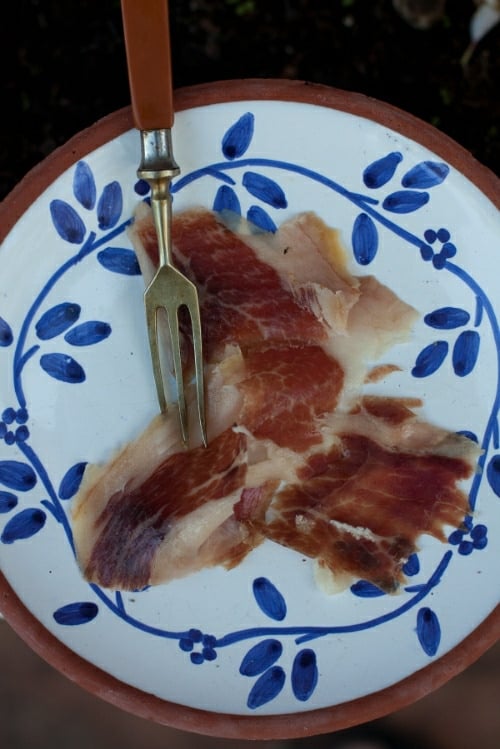 Sometimes it's better just to go somewhere, and be in the present and enjoy the local cuisine while you're there. And bring them back as fond memories.
(On the other hand, I often advise people to take things like chocolates home from their Paris trips, because sometimes when you're traveling, you're so overwhelmed and jet-lagged that you don't always enjoy them as fully as they should or could be enjoyed. So good luck unraveling my conflicting advice!)
Speaking of enjoying the local foodstuffs (ie: sherry) and remembering things (or not), I was interested to learn that some of the cork that is used to bottle wine is cultivated in the region.
Cork has become a lot more scarce in recent years, which is why many winemakers are using screw tops, which are just fine – and in some cases, preferable – especially for wines meant to be drunk young. There is a lot of inferior cork and a bad cork can ruin wine. As a sommelier once told me, "Better to use a screw top than a bad cork." The trees can only be partially harvested, so as you drive around or walk through the forests, you'll pass lots of half-naked trees.
We took a trip to Aracena, a pretty small town, that like many towns in the region, had beautiful tilework on the walls, which were painted regularly to maintain their appearance. It was nice to see such a fine example of civic pride, in spite of the fact that the Spanish economy is facing some challenges at the moment.
Still, shopkeepers in Aracena were incredibly nice and generous. Twice when I made purchases, for amounts like €16,75 the vendor would say, "Let's just make it €15" …and hand me back a €5 note back from my €20. When I bought some cheese and ham to take home (guilty!) at Quesería Artesanal (Concordia, 18), the shop of Monte Robledos, the woman tossed in a jar of a housemade condiment to serve with the cheese.
It was also a great place to take pictures. Because not only are the locals happy to let you take a snap, but they'll often stand and smile for you while you do it. And many asked if I wanted them to take something out of the case so I could see it, or get a better shot. I'm still shy about doing that (I once have an overly long discussion with a market vendor in Paris about whether or not I could take a picture of a bunch of carrots at his stand), but everything was "¡Sin problema!"
One who doesn't have a choice of whether or not he gets photographed is the matador in Aracena. Legend has it that if you touch his paquete, you will have good luck. Or perhaps the person who told me that was pulling my leg.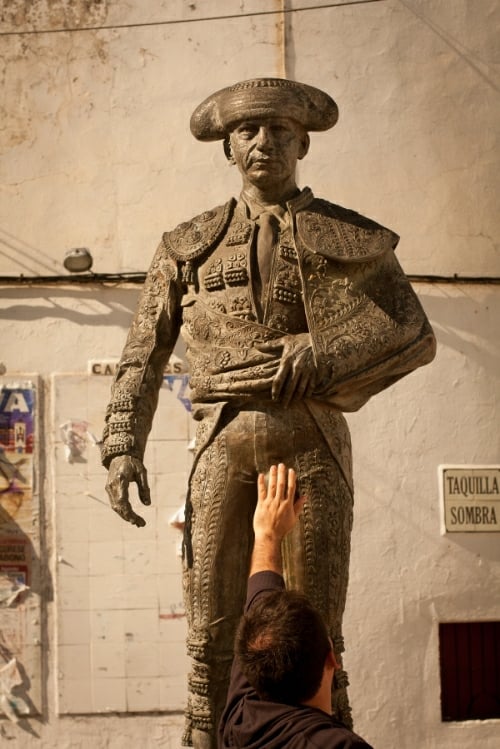 So I coerced another workshop participant to give it a gander and after a quick feel, he pulled his hand away, saying it felt kind of sticky. So perhaps touching it with your hand is a rather loose interpretation of how to profit from an encounter with the legend. (Or the person who told me about the legend was just being polite.) But in any case, aside from his prowess as a matador, it's pretty obvious why he was a popular hombre in town. And he was not ashamed to let everyone else know.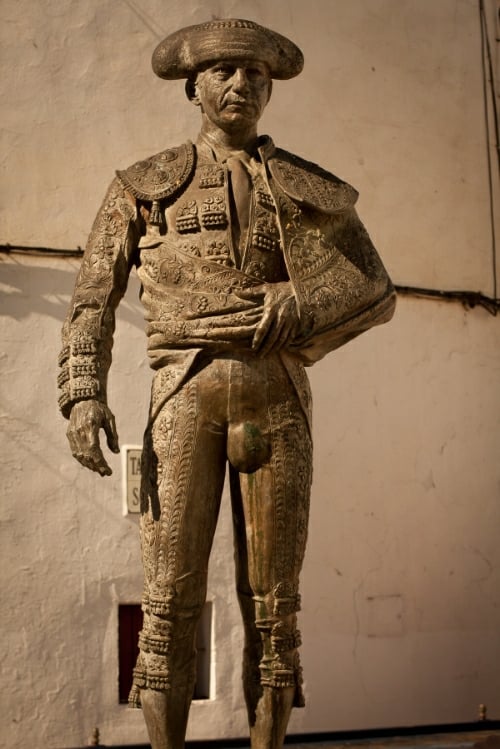 One thing you notice about Spain is that people are always eating, starting first thing in the morning. In Italy, there's the 30 second breakfast of an espresso at the bar. The French have coffee and perhaps some bread with butter and jam. But the Spanish seem to dive right into the day, beginning with coffee and breakfast pastries, or as they do in Andulusia, go savory with – yup – jamón – otherwise known as pata negra, made from local pigs that forage and feast on wild acorns.
It's impossible to avoid the ham, which was a-ok with me, because I couldn't get enough of it. Seriously, I could eat this ham morning, noon, and night. And in between meals, as the locals do as well.
In town, I was wowed by the butcher shop that had every conceivable kind of Spanish ham at insanely low prices. Unfortunately I only had a carry on. And that, coupled with my earlier statement about bringing things home, prevented me from taking home a leg.
Someone had gifted me one of these ham legs years ago in Paris. A visitor had left it at her hotel, asking the concierge to ship it home for her. He called me a few days later in a panic, saying that he wasn't allowed to ship the ham back to the states, and that she said I could come and pick it up. So I scurried over to the hotel with my wheeled caddy, and gently guided the ham home. It took a while to go through it all. And at the time, I was living in a rather small apartment, so it wasn't long before my whole place smelled like a pork curing/drying shed. But somehow, I managed to go through it. (Most friends who came over invariably ended up leaving with an admirable-sized paqueta of Spanish ham.)
Walking around town, people were just lovely. Tim made sure we hit a local bakery, Cafeteria Rufino, where traditional treats were on offer.
Yemas are probably the best known, which are essentially egg yolks and sugar cooked together. Although I have a pretty sizable sweet tooth, I had met my match. Another local treat is tocino de cielo, which literally translates to "bacon in the sky" and the flan-like custards are everywhere.
They are also pretty much solid pots of cooked egg yolks and sugar (there are a lot of egg yolk-based pastries in the region because egg whites were traditionally used for clarifying the sherry), and although I managed a few bites here and there, I found myself drawn more to the savory side of Seville and the region. My blown-out picture probably doesn't help make them look more delectable either which I blame on the odd fluorescent lighting in the showcase, or more likely, my incompetence with the photo editing software.
One pastry I did like were these little cakes, soaked with sugar syrup and I think I detected perhaps a bit of liquor in there.
When I asked the name, I was given some nebulous answers, followed by a snicker. (One person told me they were named after a popular cold medicine.) But whatever you call them, I found the bite-sized cakes rich, but moist and delicious, sort of the Spanish cousin to the French baba au rhum.
As we were running out of time, we clicked away in the city before heading home, to hash it out in front of our computers.
One thing I did pick up on the way out was a handful of knives. There is nothing like a visit to a Spanish hardware store and I recommend if you come to Spain, you skip the bullfights (unless I've tickled your need to check out the matadors) and hit the hardware stores. There were rows and racks of knives in every conceivable shape and size. I bought a butter knife for 60 centavos, a fabulous folding knife with a fork for tapas-eating on it, and one with a lovely curved blade, that stumped me. I also bought an add-on to my plane ticket so I could take on a checked bag on account of the knives.
Since my Spanish is rudimentary, another guest from South America told me it was for, um, removing the parts of the male pig so that his hormones wouldn't taint the taste of the pork. I'm not sure what I'm going to use it for. But maybe I'll just keep it on my desk, so I can take an imaginary swipe at any adversaries when the mood hits.
All in all, it was a great trip, which included a wonderful workshop and some fantastic Spanish cuisine. And I did end up bringing home (in my checked bag) a lomo (pork loin), some morsels of ham, and two wheels of cheese. I didn't come home with any sherry or tortas de aceita, but did have a long, hand-written list of editing commands to learn, a list of items I need to get my hands on (including a bigger hard drive), a portable tapas fork, and a newfound fascination with matadors.