Masa Bambini Bread Bakery, in Seville
Spain isn't quite known for its breads. It's probably because bread is more used as a vehicle for eating other foods – like pan con tomate (toasted bread with olive oil, then rubbed with fresh tomato and a bit of salt) or as a resting place for marinated sardines, or another tapas, rather than enjoyed on its own.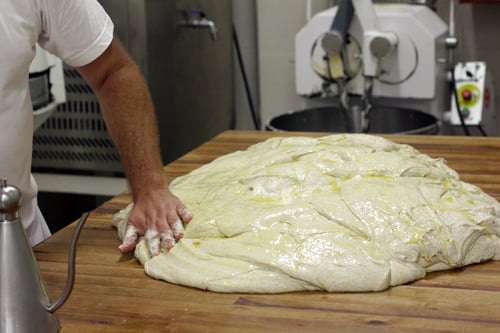 To make a little confession; when I came to Spain, I brought a little loaf of bread from France with me to have for breakfast. Because as much as I like pan con tomate (which is often eaten for breakfast), I didn't think I would have the time, or the inclination, to gather all the ingredients and prepare them in the kitchen of my apartment. And I'm a creature of habit and the morning isn't exactly the time of day when I'm looking forward to any surprises.
So I was excited the first day when I met Juan Gomez, the owner of La Azotea, and he invited me to come along the following morning to visit the baker who makes the bread for his restaurants. What I wasn't so excited about was waking up at 6:15am, so I would be all set to go (ie: already coffee'd up) when he would ring me up to meet.
Fortunately Spaniards seem to be pretty laid back in the morning and Juan took me to La Campana for my 47th café cortado in twenty-four hours and some pastries, including a tasty flat, crisp bread known as torta de aceite, a local specialty made with lots of olive oil, sesame, and usually a touch of anise – although I did have one version with candied Seville (sour) oranges that blew my calcetínes off*.
We arrived and owner-baker Fidel Pernía was running around, forehead beading with sweat, kneading, shaping, rubbing the dough with unfiltered olive oil, and pulling breads out of the oven. Although Juan speaks excellent English, Fidel spoke so fast it was hard to translate. He's a busy man and wastes no time – and also, has a lot to say.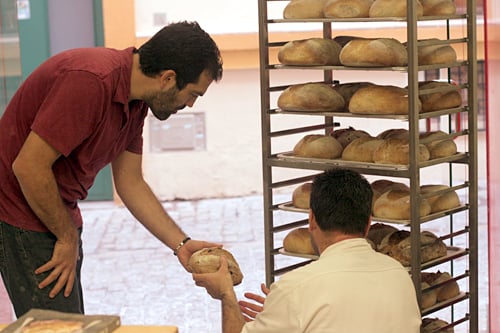 Fidel was formerly a mathematician and has a rather analytic approach to breadmaking. Which he told me.
Rather, which he showed me.
He was going to fast for me to understand (kind of like my math teacher in 7th grade…) but the gist of this graph was the cultures in the bread on the left, and the baking time on the bottom.
And somewhere, they meet in the middle, to make just the right loaf.
Breads in Masa Bambini bakery are made to accompany certain Spanish dishes. So large loaves may have a dense or compact crumb, to absorb tomato juices or olive oil. Smaller breads might be oval-shaped, to grill, then top with the famed Iberian pata negra ham from the region, which is another popular breakfast. And with me, it was a popular lunch, and dinner, too – daily.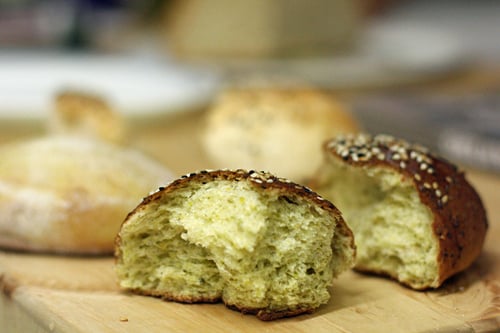 Pan "tortilla de papas" was an earthy bread with potatoes and chiles, and there were sesame-topped rolls made with ground pistachios. I kept thinking how good they'd be with pork burgers in them, made from the local pigs.
One of the things that I really liked was the salt, which he said was harvested in Spain. He made me stick my hand in the bag, and when I pulled it out, the humid crystals encrusted my scrupulously clean fingers. I took a lick (don't worry, I didn't stick my hand back in..) and it was delicious. Some of the best salt I've ever had. I dropped a few hints, inquiring where I could – um – get some? But he just told me it wasn't available locally. And while he put the bag back on the shelf, I rinsed my hand (although I should have shoved it in my pocket and saved those precious crystals), I eyed the bag longingly on the shelf.
When the breads were pulled from the oven with the wooden peel, they were transferred to cooling racks and set just next to the door, where the gentle Andalusian breeze blowing down the scenic, narrow street cooled them. They also seemed to beckon the neighbors, who didn't just come for a chat (with most of them did – although a few just shouted a word of hello into the bakery as they were passing), but also to pick up a loaf of bread. Juan picked up a few breads and gave them a good sniff, then talked to Fidel about making some crusty, light sandwich breads for his restaurant.
As I was leaving, a customer came in and grabbed a few loaves off the shelves and put them on the counter, which Fidel wrapped up for her.
When I remarked about what a friendly, neighborhood place the bakery was, and how great it was that he let customers pick out their own loaf of bread. He said, "That's my wife" which I guess gives her special privileges. So if you go, don't help yourself – no matter how tempting.
Masa Bambini
Calle Huelva 6A
Seville, Spain
Tel: 954906477

---

*The tortas de aceite I had were the Upita brand, which are available in the US at La Tienda and on Amazon. Another popular brand is Ines Rosales. They're not inexpensive to buy internationally, unfortunately, but they are rather inexpensive in Spain. (I think they cost less than €2, or about $2.70, for a pack of six.) Unfortunately (as well), I didn't stock up on any – and didn't think about it – until I was leaving. But didn't want to pay four times the price at the airport gift shop. Now that I'm home, of course, I'm dreaming about them and I'd pay eight times the price for one. In fact, I probably will.