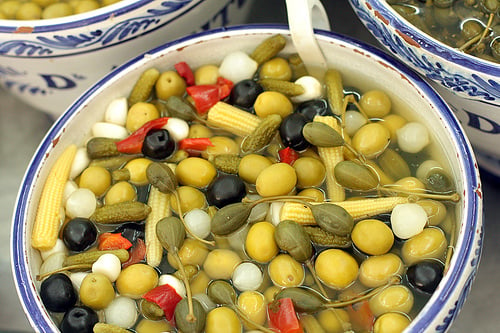 I was en route to a workshop outside of Seville and right before hitting the "buy" button for the plane ticket, I thought – "What the heck am I thinking? Why not go a few days earlier, and some time in Seville?"
I know I say this every time I visit somewhere, but I want to move here. In fact, I even think I found my apartment.
My last visit I think was in, uh, 1983 – or something like that. So I didn't remember much. But I do remember that when I left Spain (I was on an 8-10 month trip through Europe), I distinctly recall saying that I wanted to spend more time in Spain. So to prove that good things come to those who wait (and wait, and wait, and wait), I found myself back in the country. More specifically, in Andalusia.
After walking from the bus station, admiring the Moorish architecture, apartment buildings with spacious courtyards and stunning terraces, the tiled patios and walls (I went to the post office to mail some postcards, and it had the most lovely tile work!), and friendly people, I unpacked as fast as I could and decided to get down to business, and eat.
Seville is small enough so you don't need to worry about taking public transit, getting lost, getting bored, or going hungry. And not necessarily in that order. It seems like every other business is some sort of eating establishment and people eat at all hours – starting with breakfast in the morning, standing at the stainless-steel bar, sipping cafe cortado. Then later in the day, between lunch and dinner (whose hours I have yet to master), people crowd sidewalks cafes. But unlike in Paris where everyone is drinking beer or wine, in Seville, most tables seem to have plates of something that people are collectively digging their forks into.
And there are plenty of little places to stop in at all hours, such as La Campana confectionary, where they candy everything – from green figs and tiny pears…
…to sweet potatoes!
A few days isn't quite enough to do Seville justice. And with over 3000 tapas bars, it's hard to hit them all. But I was in touch with Shawn of Seville Tapas Tours (who gave me that staggering figure) and we met up my first day – and later that night – for some tapas action.
When I was booking my trip, right after I hit the "Book it" button on Expedia, the price had miraculously risen, which I find kind of odd (it's like going to the supermarket and when you get to the register, they tell you the price has gone up since you put the item into your shopping cart) so I found an apartment on AirBnB which was great; right in the middle of town. Not only was it close to all the great tapas bars, which I later found out, renting an apartment had the added feature of no one knocking on my door at 8:35am to see if they could "service my room." #hotelpetpeeve
My only complaint was that I kept wanted to knock on my neighbor's doors, the ones with all those delicious smells coming out of them, to find out what they were cooking.
The moment I hit the ground, the first stop shortly after settling in to my apartment, was La Azotea, where we started with croquets; deep-fried nuggets of fish, which most tapas bars offer, and in the places I went to, seem to change daily. So you have to ask if you want to know what's in them. (I don't care. Anything deep-fried, and crisp, I'll take.)
Not to be confused with some of the new-wave "gastro" tapas bars, which Shawn and Juan, the owner of La Azotea (above, right), quickly assured me this tapas bar was not to be confused with*, everything we ate was really impressive; fresh, ingredients impeccable sourced, and so delicious you never want to leave your bar stool.
*It seems most of the gasto tapas bars don't seem to have a reputation for great food, and are better known for culinary tricks and wizardry.
And although it looked kinda fancy, the food didn't rely on tricks and over-the-top presentations. This was ingredient-based cooking at its finest.
Big glasses of wine (at least for midday) accompanied the dry-aged beef and amazing clams with the tiniest artichokes I ever saw, meant that the rest of the day was pretty well shot.
And I had forgotten the key rule of tapas: Don't eat too much in one place.
However it's hard to stop when you're eating well and having such a great time, being taken care of by a jovial staff, and surrounded by Spanish people enjoying themselves, nibbling and sipping their way through the day.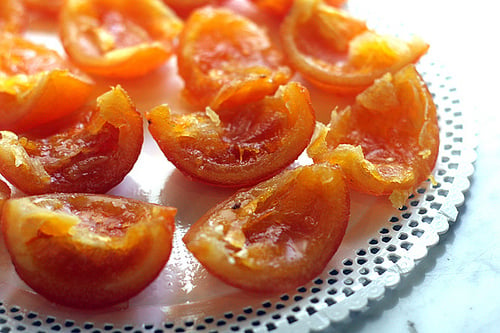 Spain is ridiculously affordable and with a (big) glass of good wine for €2-3 and a few plates of tapas (usually €2-4 per serving, even for top-quality ones), it makes for an especially fun place to wander around and snack all night. But because I'd woken up early to fly in, I had to take a mini siesta and be ready for later. (Before I left the restaurant, the Juan invited me to go to a bread bakery with him the next morning rather early, and I wanted to be fairly well-rested up for that.)
After a little horizontal time, later that evening I met up again with Shawn and Eduardo at Casa Morena, located in the back of a tiny shop that was so packed, the ham was hanging from the rafters.
The "kitchen" consisted of a gas-fired toaster oven. But no matter.
We snacked on small sandwiches stuffed with spicy chorizo and Cabrales (blue) cheese, blood sausage, and ham & cheese, while a group of men held court at the other end of the bar, obviously in it for the long run.
Perhaps my favorite ham bar was Bar Las Teresas which featured the well-used knives on the wall that had been so worn down by years of use, that they were no longer serviceable.
At Bodeguita Romero, I was introduced to sandwiches stuffed with Pringá. And more Spanish white wine, which didn't really need any introduction, but was nice to be reacquainted with.
There were also some tasty marinated potatoes, and a platter of raw bacalao, which was meant to be placed on bread with a spoonful of salmorejo, a red soup/sauce that is so thick, that Shawn told me that although it's normally served as a soup, it does double-duty as sauce.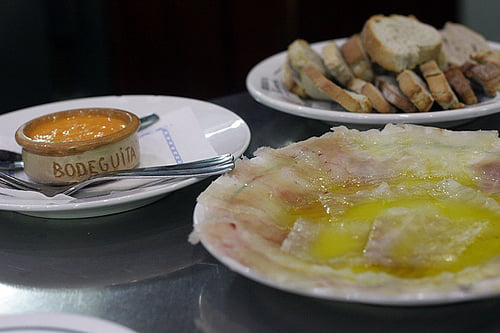 The rest of the night was kind of a fog and I had to get to bed for the early meet-up with a baker the next morning. But when I dragged myself out of bed the next day and tried to revive myself with some strong Spanish coffee, I found this in my sack, evidently a souvenir from the evening before.
It smelled heavenly. And so did I…from all that garlic!
The next morning, after the bakery, I hit the old Mercado de la Feria (market) – and while I'm kicking myself for not bringing a bigger suitcase so I could stock up on marcona almonds and padrón peppers (another reason to rent an apartment; a stovetop to cook peppers! although be sure to make sure the open the windows, so you don't have an opportunity to meet the Spanish fire department…), I did enjoy seeing all the hams, fruits and vegetables, and people standing at the various booths, enjoying a beer while they talked to their favorite vendors.
Lunch (which I couldn't believe I was ready for, after the previous night…) started – and ended – at Eslava.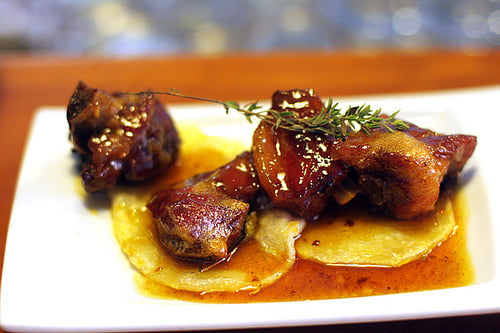 The tapas kept coming, and coming – everything from pork ribs in honey to lamb "dumplings" with pumpkin, and deep-fried little fish.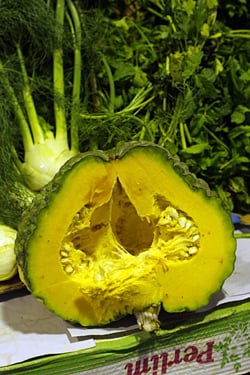 Once again, I forgot that golden rule of not eating (and drinking) too much in one place, and was so full I had to head back home for another siesta. And to get ready for another night in Seville.