Orange-Glazed Polenta Cake
Apparently I'm not the only one who loves polenta cake. The Italians like it so much that it's called Amor Polenta. Which means "Polenta Love."
Well, at least that's what I thought it meant, because amour in French means "love." And I assumed that it was the same in Italian. (Another reason for finally getting on that life-long ambition to live in Italy and learn Italian.) But for now, checking in an Italian dictionary, I found out that "amor" means "sake." (As in, for the purpose of.) So I'm not sure how it got its name, but this cake makes a pretty good argument for the sake of whisking polenta into a cake.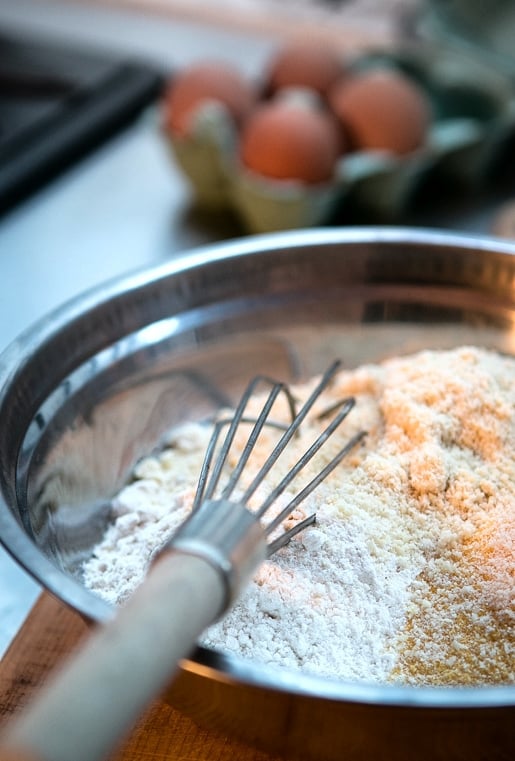 I'm one of those people who is completely crazy for anything with cornmeal, from corn bread to even a kind of kooky polenta ice cream that I'm sure no one else has ever made, because I used a completely obscure polenta that very, very few people can get their hands on. But I felt compelled to make it, for the sake of using up a little bag of that polenta that I had.
Fortunately, polenta is available just about anywhere. I like to buy stone-ground polenta, which has a crunchier flavor. But you could use instant polenta for this cake, normally something I avoid. But I found myself with a bag of it and was looking for ways to use it up. And here's where the rest of it landed.
Like many Italian cakes, which are unlike American cakes, this is not a buttery bomb of richness. True, there is butter and a few eggs in there. But the great flavor comes from ground almonds, which tend to make the cake much moister the following day as the nut oils soak the crumb, which is one of those baking terms (unlike amor) that pretty much seems to be what it is talking about. The polenta adds a bit of a savory quality to desserts, which draws me to use it a lot when baking.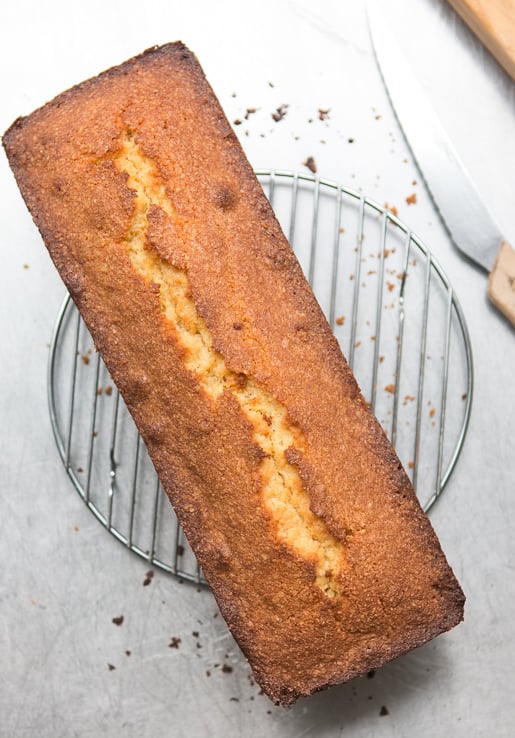 This cake is a great snacking cake and I tend to walk around my apartment several times during the day, somehow landing frequently near the cake, where a serrated knife just happens to be stationed alongside. Ready and waiting to lop a slice off.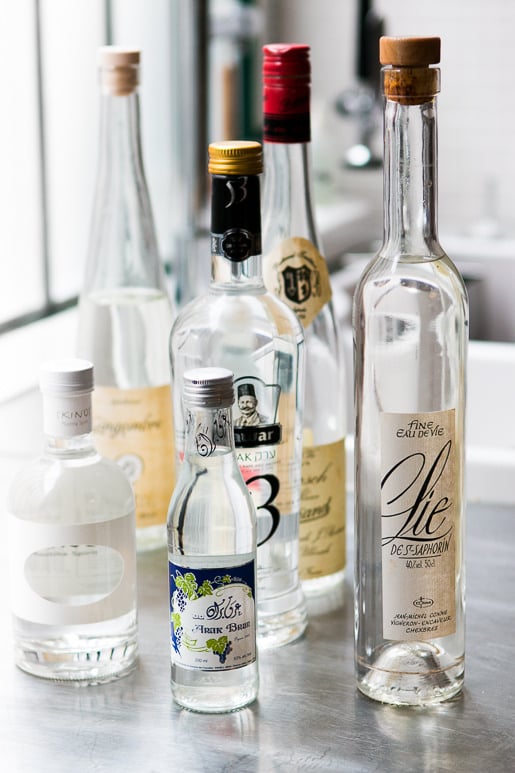 In addition to a collection of polentas, I found myself with a collection of eaux-de-vie on hand. Some were gifts, others were picked up on my travels. A few are anise-based, which pair nicely with polenta, and chocolate. I have a ginger one that is great when summer fruits are in season, like peaches, nectarines, and apricots. And the long bottle in the front right, the eau-de-vie of lees that I got in Switzerland, after I found out how good raisins in lie (eau-de-vie made from leftover grape yeast, and other stuff that falls to the bottom of wine vats post fermentation) was, after gorging on cauldrons of fondue.
As astute readers can see from the fill line of the bottle, that project never came to fruition. (I'm too busy trying organize my polentas and eaux-de-vie. And plotting a way to live in both Italy, and France.) But I did add a few shots of orange liqueur (not shown), which gave it a little boost of flavor. Not enough to be perceptible. But like that bag of instant polenta I've had for a few months, I was always conscious that it was there. You can use any kind of liqueur that you want – maraschino, limoncello, absinthe, kirsch, or even anise liqueur.
As much as I like this as a snacking cake, it can be dressed up with a fruit compote. I sectioned some tangerines, navel oranges, and pink grapefruits, drizzled a little honey over them, and served them alongside the cake. I had planned to spoon some warm sabayon over the cake and fruit, but decided that I had too many other things to do. Namely, get cracking on using some of those bottles of liqueur that I've been hoarding.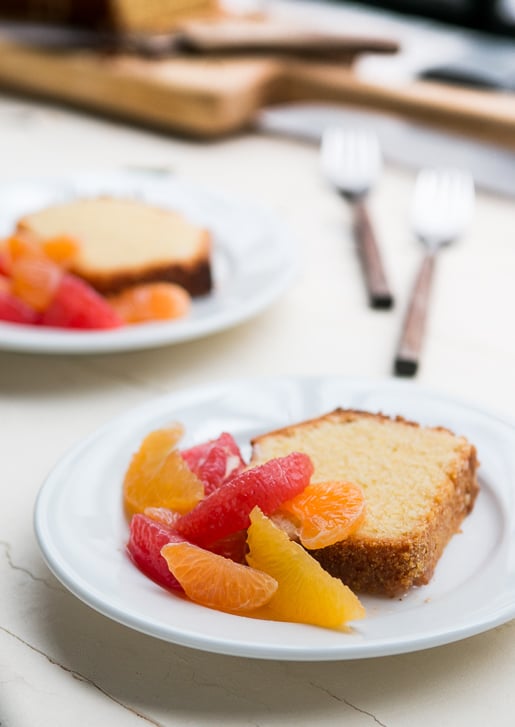 Orange-Glazed Polenta Cake
For this cake, using fine-ground polenta or instant polenta will result in the smoothest texture, although whatever is available will work. I've made it with coarse polenta too, and enjoy the crunch.
Almond flour
is available at specialty stores,
Trader Joe's
, and
online
. If you can't find it, grind 7 1/2 ounces (215 grams) sliced blanched almonds in a food processor with the flour until the almonds are pulverized. Although cakes like this don't always need adornment, I did glaze it with a dribbly orange glaze that firms up and gives the top a citrus-scented fruity crunch. For those wanting to skip the liqueur in the cake, you can leave it out and increase the almond extract to 1 1/4 teaspoon. For the glaze, you replace the liqueur with orange juice.
For the cake
8

ounces (225g)

unsalted butter

,

cubed, at room temperature

scant 1

cup (180g)

sugar

zest of 1 lemon

3

large eggs

,

at room temperature

2

tablespoons

liqueur or eau-de-vie

, such as orange liqueur (Grand Marnier or Cointreau), kirsch or grappa

3/4

teaspoon

pure almond extract

3/4

cup (125g)

finely ground polenta

,

plus additional for preparing the pan

2

cups (215g)

almond flour

6

tablespoons (55g)

all-purpose flour

1 1/2

teaspoons

baking powder

, preferably aluminium-free

1/2

teaspoon

salt
For the glaze
1 1/4

cups (170g)

powdered sugar

1

tablespoon

orange juice

4

teaspoons

orange liqueur

,

(such as Grand Marnier or Cointreau)
Butter a 9-inch (23cm) loaf pan. Dust the inside with polenta, and tap out any excess. (Note: The pan I used has a nonstick finish. If you want to make sure the cake comes out nicely you may want to cut a rectangle of parchment paper and fit it into the bottom of the pan after you prepare it, especially if using an unfinished loaf pan.) Preheat the oven to 350ºF (180ºC).

In the bowl of a stand mixer fitted with the paddle attachment, beat the butter, sugar and lemon zest at medium-high speed, until it's light and fluffy, about 3 minutes. (You can also make this in a large bowl, beating the butter and sugar by hand.)

Add the eggs one at a time, stopping the mixer after each addition to scrape down the sides of the bowl. Mix in the liqueur and almond extract.

In a medium bowl, whisk together the polenta, ground almonds, flour, baking powder, and salt, until there are no lumps. Gradually mix the dry ingredients into the creamed butter mixture, just until well-combined. Do not overmix.

Scrape the batter into the pan, smooth the top, and bake the cake until it is golden brown on top and a toothpick inserted into the center comes out almost clean, perhaps with just a few crumbs attached, 45 to 50 minutes. Let cool on a rack for about 30 minutes, then run a knife along the outside of the cake to loosen it from the pan and tip the cake onto the rack. Let the cake cool completely before icing.

To glaze the cake, mix the powdered sugar with the orange juice and orange liqueur until the glaze is thick, but still runny – not too watery, but as thick as a milkshake. If necessary, add a bit more sugar if it's too thin, or add a bit more liquid if it's too thick. You can try smoothing a bit over the cake to see if it's the right consistency for drizzling and dripping down the sides before glazing the entire cake.

Spoon the glaze over the cake, encouraging the glaze to run down the sides by nudging it towards the edges with the back of the spoon or a metal spatula.
Notes
Serving: When the glaze has firmed up, serve slices of the cake with a favorite fruit compote, such as fresh citrus segments, caramelized pineapple, poached pears, or sliced and sugared peach slices (peeled) or nectarines. Storage: The cake will keep for up to five days, if well wrapped, at room temperature. The cake will be noticeably moister the day after baking due to the oil in the nuts. It can be frozen for up to two months.
Related Recipes and Posts
Baking Ingredients and Substitutions