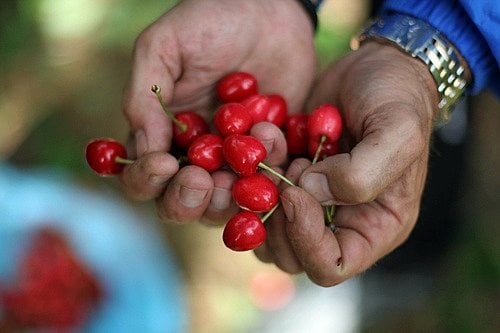 If I had to name five items that are obligatory in my baking repertoire, after The Big Four (sugar, butter, flour, and eggs), a bottle of kirsch is essential for me, right up there with vanilla, vying for numéro 5. A few drops of kirsch highlights and augments the flavor of peaches, nectarines, plums, and every kind of berry imaginable. And since it's summer and all those fruits are ever-present in my kitchen, my slender bottle of kirsch hasn't been returned to its perch on the liquor shelf since the first strawberries arrived a month ago.
A good bottle of kirsch runs about $40 (750ml) in the United States, although smaller bottles are less expensive. Why is it so darned pricey? Because it takes about 20-30 pounds of fruit to make a bottle of kirsch (also called kirschwasser). So even though I think I got a D- in high school math, it doesn't take an honor student to calculate that 20 or 30 pounds of cherries, at let's say…I dunno, $2/pound, makes that bottle suddenly seems like not such a bad deal after all.
Depending on who's making it, kirsch can be made with sweet or sour cherries, and often the pits get crushed along with the fruit, adding a slight bitter almond-like edge. But unless you're feeding a capacity crowd, or have a heavy hand, a bottle should last you at least a decade (mine is over five years old and it's still 2/3rd full), and it doesn't lose much of its flavor over time.
For those on a budget, plum or pear eau-de-vie are similar and can be used, but aren't quite the same thing. But unless you want it to be the predominant flavor, a few drops (around 1/2 teaspoon) of kirsch is usually all that's necessary to spill into a big bowl of fresh sugared berries, a pot of just-cooked jam, dripped into a purée destined for an icy fruit sorbet, or mixed with apricots or peaches ready to be baked into a warm crisp or cobbler.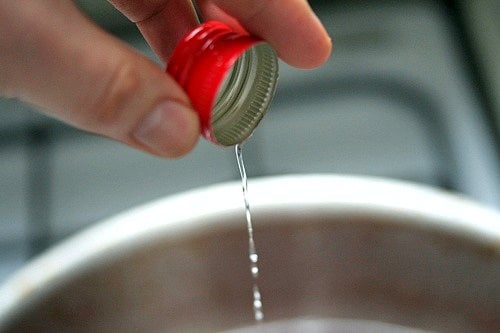 In spite of its high-test alcohol scent, the flavor is fairly subtle unless you add a lot. Which I never really do, since I use it as an accent rather than letting it dominate. So even if you can't exactly taste it, why do I use it? I once told Harold McGee that I liked to use a few drops of vanilla extract along with vanilla beans because I thought that the beans alone didn't provide the same flavor I was looking for. And he said sensory studies were done that showed that alcohol, even if it's cooked off, increases the way we perceive and enjoy flavors. So the small amount of kirsch, while seemingly insignificant, likely does the same thing.
I don't normally call for expensive ingredients in recipes, but think that kirsch is so vital to my pastry larder that I can't help it and often have to tag on the word "optional" on when I'd really like to say it's "obligatory." But I think that once you try it, you'll find it just as essential as I do. So why not give it a shot?
Shopping Tips and Recommended Brands of Kirsch
Check your local liquor or spirits store when shopping for kirsch. Most well-stocked ones carry a good brand and a 350ml bottle should be plenty for most home cooks.
I would be wary of buying a bottle of kirsch that's inexpensive as it's not likely to be very good. I don't normally recommend shopping by price, but in this case, because of what goes into making quality eaux-de-vie, you get what you pay for. Ask at a liquor shop with a knowledgeable sales staff for advice.