Cranberry Auberge cocktail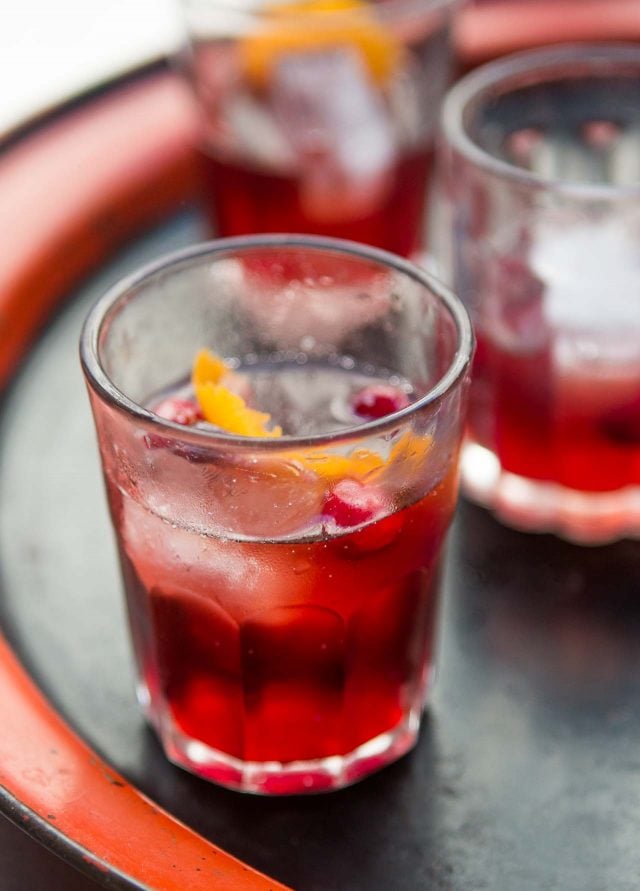 I discovered this drink in The Auberge of the Flowering Hearth, a book I seem to reread every couple of years. Written by Roy Andries de Groot, it's an ode to a charming auberge (inn), nestled in the French alps, where two women created magical meals for their guests. Like most meals in France, their menus began with an apéritif. One in the book was a glass of Dubonnet, with an equal amount of kirsch, topped off with a dash of soda water.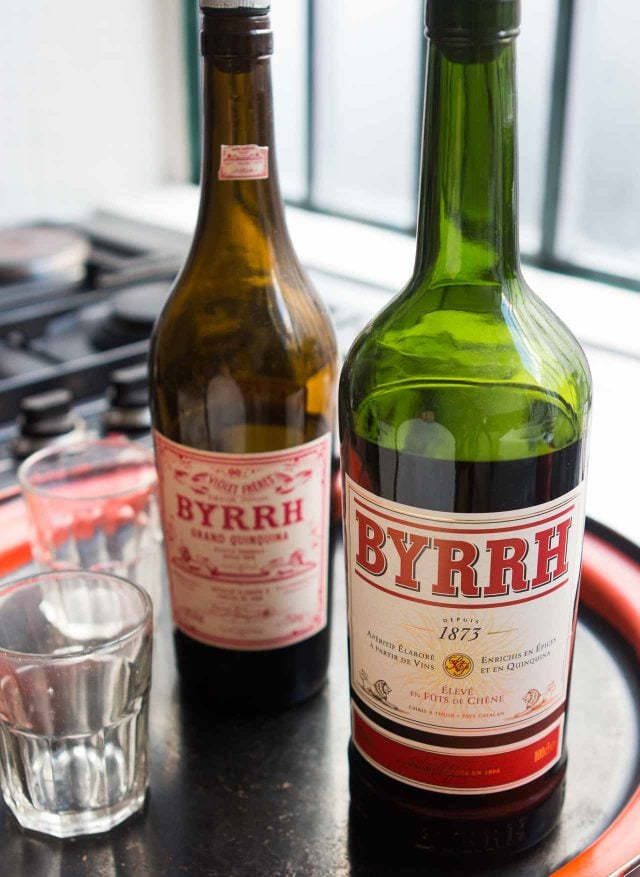 It was quite a drink, which I refashioned since after all that kirsch, I didn't know how anyone could have made it through one of their multi-course dinners. At the auberge, each course had its own wine pairing (at lunch and dinner), such as the one that started the meal that followed this apéritif in the book, with included a Pork liver terrine, cream of tomato soup, a tourte (enclosed pastry tart) of wild boar à la crème, then three different kinds of cheeses, and—whew—a sweet, creamed fresh cheese for dessert. I don't know about you, but I'm full just reading about it. And no wonder I've read this book so many times; it makes me hungry, and full, at the same time.
If you want to relive the good old days, you can double the amount of kirsch, but if you want to make it through dinner, I'd stick to the proportions here. Kirsch is a clear distillation of cherries, that's rather potent, but widely available. However you can use another eau-de-vie. I've shown a few other bottles from my collection, above, or you could find another with a complimentary flavor to the apéritif wine, and use that.
The apéritif that I used here is Byrrh. It has a funny name, which the Violet brothers who developed it in 1873 as a medicinal tonic. Pressed for time, they came up with the name quickly; as fabric merchants, they saw the random letters in a box in the shop, put them together, and came up with Byrrh. Its fame spread and during its heyday, it was the most popular French apéritif in the world.
Although the name is pronounced like bière (beer), it's wine-based, infused with botanicals like orange, cinnamon, and quinine, and has cherry-like notes that pairs well with tangy cranberries. Other French red apéritifs that could be used are Dubonnet, Cap Corse rouge, or even sweet vermouth. Each has its own flavor profile, but availability can vary based on where you live. So feel free to swap out one for another.
Speaking of names, the word for cranberry in French is canneberge, which sort of sounds like auberge. Although the fresh berries are in short supply (however they usually appear around the holidays, for les américians), the juice is available. I thought there would be a good mash-up name for this apéritif that combined the two words, and cultures, but 'Canberge', didn't quite sound right, nor did Auberge, which was a little too on-the-nose. So I called it Cranberry Auberge, and then we drank up.
Cranberry Auberge
Byrrh is sold in well-stocked liquor stores in the States. The Grand Quinquina is what is usually exported, which is said to be the original recipe and is more refined. The larger bottle (shown in the post, to the foreground of the Grand Quinquina) is the bottle that's most widely available in France, sold in supermarkets. In place of the Byrrh, feel free to use another French red apéritif, such as Cap Corse rouge, Lillet rouge, Dubonnet, or sweet vermouth, such as Dolin. As a swap out for the eau-de-vie, try this cocktail with gin instead.
1 1/2

ounces

Byrrh

,

or another French red apéritif wine, or sweet vermouth

3/4

ounce

eau-de-vie

,

preferably kirsch

1

ounce

cranberry juice

sparkling water or dry sparkling wine

orange twist and fresh cranberries

,

for garnish
In a short tumbler or rocks glass, mix together the Byrrh, eau-de-vie, and cranberry juice.

Add a handful of ice and top off with sparkling water. Garnish with an orange twist and a few fresh cranberries.