Gateau de Savoie
The last copy of The Auberge of the Flowering Hearth that I had, I'd lent to a good friend who was excited about starting a career in cooking at a local culinary school. I don't know another book that captures precisely everything I love about cooking, written by a man truly passionate about his subject, and I though he'd like to read it, as it's been very influential to me as a cook. Then I moved and never got it back. But it was the one time in my life that I was happy someone else had become the owner of one my books, because it's one that cooks of our current generation have likely forgotten about, or never heard of in the first place.
Fortunately last summer when I was in New York, I went to browse the shelves at the great cookbook store – Kitchen Arts and Letters – and saw a brand-new copy, and picked it up. It's one of those rare books that I can read over and over and over again, and never get tired of, so I can't imagine not having it on my shelf to pull out whenever I want. And re-reading it again, in France, reminds me of how Roy Andries de Groot, the author, was so perfectly able to capture a place, and time. L'Auberge de l'Atre Fleuri was a rustic mountain inn run by two women, Mademoiselle Ray and Mademoiselle Vivette, who had the kind of place we all dream about happening upon, but no longer exists. The two women were dedicated not just to splendid cooking, but were fastidious about using the bounty of the mountain-walled valley, and the fields, lakes, and forests, that were guarded by those towering mountains.
In the last version of the book, still miraculously in print, the author prefaces this edition, (in 1982) noting with a little consternation that after the book came out in 1973, the auberge was eventually sold and the new owners had no connection with the previous ones. And not to expect them to have the same dishes on the menu or even anything remotely resembling the place where he spent so much time cooking, marketing, and routing through the wine cellar with the two women.
Due to the popularity of the book when it was published, after the auberge changed hands, the new owners started automatically sending inquires from Americans a form letter informing them of both the changes in the restaurant, many of which were prompted new restrictive laws in France regarding hunting and foraging, hence many of the dishes from the original auberge could no longer be prepared.
As people moved, or passed away, the valley changed, commercial ventures moved in, ski resorts opened up, and, well, life anywhere goes forward in various directions. De Groot called this book "an unchanging record of a lovely way of life in an extraordinary place at a particular time" and talked in his introduction about how many readers have gone and found the place changed, and the people mentioned in the book no longer there, many suggesting it was a fabrication. But the book captures a very certain, and very special, time and place that occurred, and reads like a delicious dream, recounting multi-course meals starting with aperitifs served around a blazing hearth, made with the local liqueurs prepared with herbs and berries foraged from the nearby mountains.
Lunches and dinners are brilliantly recounted, which may have started with flaky tarts made of Roquefort cheese, tiny purple-tinged artichokes bathed in olive oil, and rich, meaty terrines of wild game. Pan-fried fish caught in the cold streams get paired with crisp Alsatian rosé, sparkling wines from the alps gets served as a pre-dinner apero, and marvelous wines from the Rhône and the Loire, are plucked from the women's extraordinary wine cellar, each having a story about the producer of the wine and what made it just the right choice at the time.
The author spent a number of summers with the women, writing about the auberge, and translating the dishes into recipes for home cooks. Granted nowadays, few people sauté green beans in heavy cream…and butter…then finish the dish by thickening the sauce with a couple of egg yolks. If there is a chef in France that still goes out and picks their own wild dandelion greens, I am on the next train to meet her.
And I am fairly confident that no cookbook editor would allow a recipe for grilled saddle of chamois (mountain antelope, which I'm sure should be freshly hunted) in a book. Truthfully, I'm not sure I'm ready to tackle either of those recipes, but what's not to like about a recipe for Boeuf en Daube (beef stew) where instead of an exact yield, it says; "Not worth making for fewer than 8, but improves with keeping" ?
We were driving through present-day France a while back and I saw a sign for Niort, a town I've mentally bookmarked as it is famed for its candied angelica. I've been searching for years for a bunch of fresh angelica, since I love making ice cream from it – it's vaguely herbaceous flavor pairs remarkably well with berries and citrus. And it's reputed to be one of the 130 flavorings use in Chartreuse, a brilliant green (or yellow) liquor made by the Carthusian monks who live in silence in the alps, where the auberge was located. (There's a wonderful story about their history, and how for centuries they were pillaged, their buildings burned down, and a plague passed through, all incentives to be exiled from the valley. Still, they persevered and eventually they found success selling their herbal distillation and now it exists today, the recipe still a secret known to only two monks who have taken a vow of silence.)
But wherever I've asked – at markets and from farmers in France – my inquires only yielded funny looks, as if fresh angelica was the oddest thing in the world. Perhaps angelica is one of those ingredients that was a victim of those restrictive laws? As we drove around town, no one had the foggiest notion what I could possible want to do with fresh angelica – even when I explained it – or even where to get it. So we hit the tourism office where I picked up a few stalks of the candied stuff from their small boutique to bring home with me, since I don't like going home empty-handed.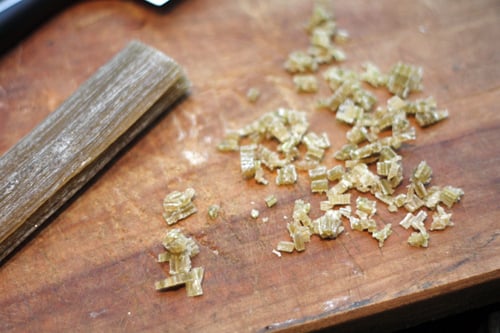 If you've ever seen that bright green candied fruit on a cake, it's angelica, a stalk that resembles celery a bit. And if you ever find it fresh in Paris, please let me know! The angelica I bought had no coloring added, hence the pale green color. It has a herby, wild flavor and is often used to flavor vermouth, in addition to Chartreuse. I finely chopped part of one of my stalks and added it to this cake, which Mr. de Groot says he prefers unadorned. Modern tastes have changed and I liked the aromatic addition of the herb. But one could easily add chopped candied citrus peel, or fresh zest, as well as a soup spoon of fresh lemon juice into the batter.
The auberge may be gone, but because I have a real sentimental soft spot for this book, and the food presented in it, it was a joy to recreate this classic French cake in my present-day kitchen. (Because if I can't find angelica, I doubt that fresh antelope meat is going to be any easier to come by.) It's great paired with summer fruits and berries. Because it's the season, I made a compote of sautéed fresh cherries by warming pitted cherries with a generous handful of sugar in a covered saucepan until very soft and juicy, about ten minutes, then added a shot of kirsch added at the end. If you prepare the cherries a few hours before you plan to serve them – or even the day before – the cherries get much more flavorful and the juices thicken into a glistening ruby-red sauce as they sit.
One 10-inch (27cm) cake,
twelve to sixteen servings
Adapted from The Auberge of the Flowering Hearth (Ecco) by Roy Andries de Groot I adapted the original recipe and lightened it up, reducing the amount of flour, resulting in a moister, lighter spongecake. It really helps to have a second mixer bowl and whip handy. But if you don't, use the stand mixer for whipping the yolks, then whip the egg whites by hand in a separate bowl. If you don't have a stand mixer, you can use a little moxie and beat everything by hand. Cream of tartar helps stabilize the egg whites, which I bring over from the states since it's not used in France. It can be omitted if you don't have it. Similarly, instead of candied angelica, you can flavor the batter with a few generous swipes of fresh grated lemon or orange zest and a squeeze of fresh lemon juice.
1 1/2
cups (200g)
powdered sugar
1/4
cup (60ml)
boiling water
1 1/2
teaspoons
vanilla extract
1/4
teaspoon
cream of tartar
optional: 1/2
cup (50g)
finely chopped candied angelica
Softened butter and additional powdered sugar for preparing the pan
1. Toss the angelica with a bit of the flour to separate the pieces and set aside.
2. Butter a 10-inch (27cm) bundt pan and dust the inside with powdered sugar, then tap out any excess.
3. Preheat the oven to 300ºF (150ºC.)
4. In the bowl of a stand mixer, stir together the egg yolks with the sugar. Whip the yolks on high speed until thick and lightened in color. With the mixer running on high speed, dribble in the very hot water, a few teaspoons at a time, then add the vanilla. Continue whipping until the mixture has rethickened and resembles soft pudding, holding its shape when you lift the whip.
5. In a separate bowl, whip the egg whites with the salt and cream of tartar until they hold stiff peaks.
6. Put the cake flour in a mesh strainer or sifter, and sprinkle the flour over the yolks, folding it into the yolks gradually as you sift.
(If you're not so dexterous, scrape the whipped yolks into a larger bowl, set the bowl in the center a damp kitchen towel formed into a circle on the countertop, and use one hand to sift in the flour and the other to fold it in.)
7. Stir in the candied angelica then fold in one-third of the beaten egg whites until fully incorporated. Then fold in the remaining egg whites.
8. Scrape the batter into the prepared pan and bake for 1 hour. It's done when a toothpick inserted into the center comes out clean, with perhaps just a few crumbs attached.
Remove from oven and immediately turn the cake out onto a wire cooling rack. Let cool completely before slicing.
Storage: The cake will keep for up to three days at room temperature. It can also be frozen for up to two months.
*Cake flour is a lower-protein, slightly acidic flour, which results in a much lighter cake than regular all-purpose flour. It makes a difference in cakes like this. Although it doesn't have quite the same result, you could use 1 cup (140g) regular flour and substitute 2 tablespoons of the flour with 2 tablespoons of corn starch.
Related Links and Recipes
Le gâteau ou biscuit de Savoie (La Cuisine de Mercotte, in French)
White Chocolate and Fresh Ginger Ice Cream with Nectarines and Cherries
How to Candy Angelica (Culinate)
What is cake flour? (The Kitchn)
Roy Andries de Groot (Wikipedia)
Kitchen Arts and Letters (Cookbook shop, in New York City)