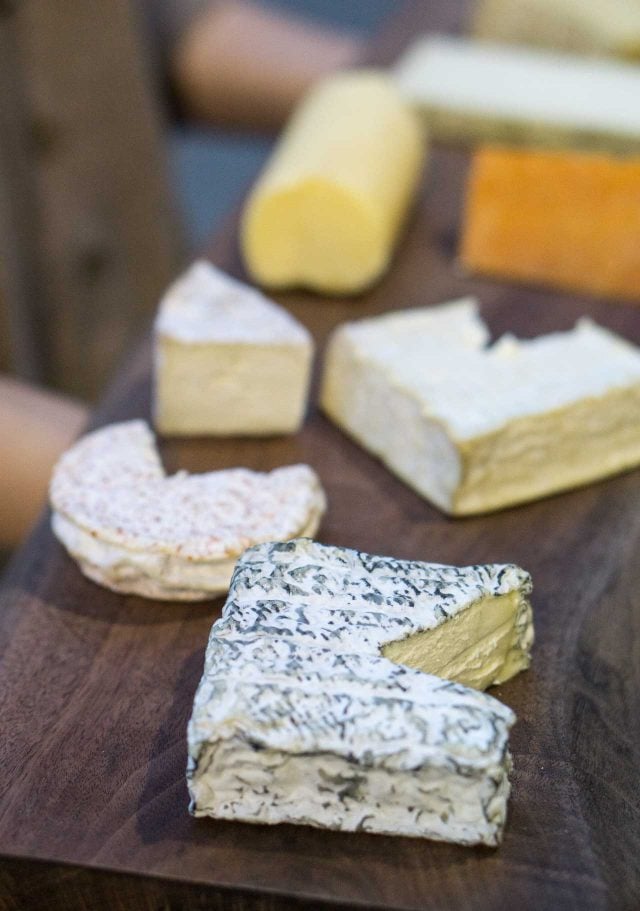 Who knew there was a cheese aging cave in bustling New York City? New York City is known for a lot of things, but aging cheese isn't one of them. At least I didn't think so.
Crown Finish Caves is in a former Budweiser brewery, in Crown Heights, Brooklyn. The building had been dormant since 1914 (the railroad tracks that brought ingredients to the brewery, however, are still adjacent to the building), but it had caves, which were used for low-temperature lagering. But they also happen to be ideal for ripening cheese, too.
I'd been trying to time my New York visits so I could check out the cellars, and on my last trip to New York, the stars (and the cheeses) aligned, and I found myself heading underground, to check out les fromages.
At any given time, these caves might have as much as 25 thousand pounds of cheese ripening at a time. Overall, Crown Finish Caves ripens about whopping 100 thousand pounds of cheese per year. I was down in the caves with Ethan Partyka, the cave manager, who led me through the cellars filled with cheeses from New York and Vermont.
Some, however, came from France and Italy, such Bufarolo, a wonderfully creamy Taleggio-like cheese, which they brush with beer brewed in New York City. And hanging overhead were rounds of Mimolette (above) hanging from the ceiling, which I'm going to show to people who tell me that it can't be imported into the United States. FYI: I've also seen it in Whole Foods stores as well. So there.
I wondered why the cheesemakers didn't age the cheeses themselves, which Ethan told me was because the cheesemakers they work with don't have the time, or space, necessary to store and age their cheeses, so they trust them to them. And from what I saw – and tasted – the cheeses are in very good hands.
Because Crown Finish Caves has a cheese-making license, although they don't make cheeses themselves, it allows them to handle raw-milk cheeses. Still, all the cheeses must be ripened for at least two months before being sold, to conform to U.S laws. Above is Goatlet from Vermont, aged 4 to 6 months with a goaty visage embossed on it, that looks to me, kind of like France?
Below are cheeses, called Tubby, named after an architect in Brooklyn from the 19th century. They reminded me of the Gruyère cheeses I've seen aging in the Swiss alps, which I've spent a fair amount of time in. Tubby was terrific! Nutty, buttery, richly flavored, the cheeses are aged about one year in the caves, which develops the flavor and causes them to lose around 10% of their weight while ripening.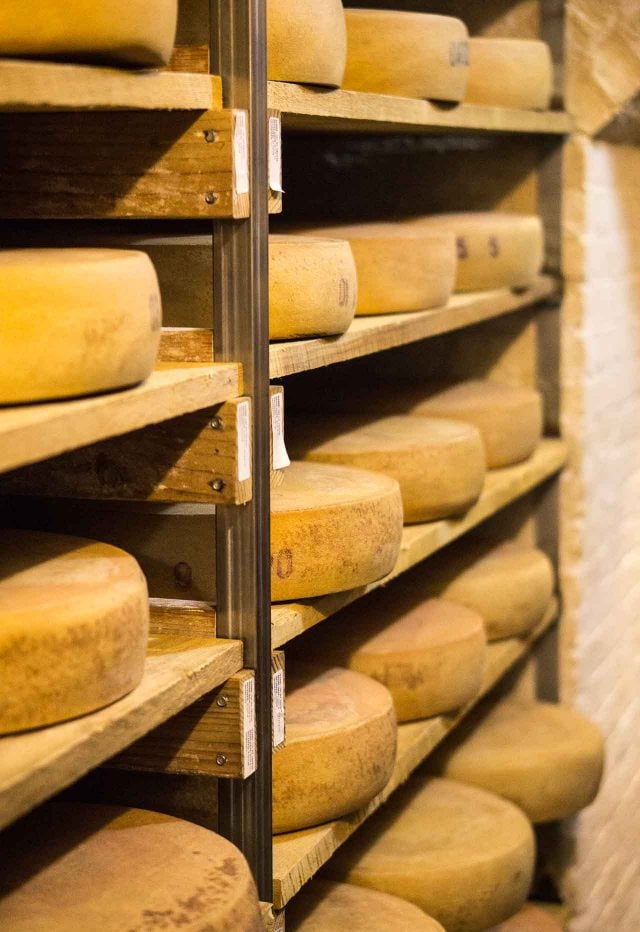 I like to touch food. I can't keep my hands off it. I can only buy produce from vendors at the markets in France who let me choose my own. (If they don't, I'm extra-specific about which fruits to put in my bag.) When I've visited cheese caves in France and Switzerland, the cheeses were handled, touched, tasted, and even rolled on the ground. (Which is why I don't recommend eating the rinds of some of the large mountain cheeses). All the cheeses in these caves are treated as special guests and handled with well-washed, or gloved, hands. It was hard for me not to want to touch them all since I'm such a tactile person. But I didn't want to be responsible for screwing up a batch of cheese – or worse, ending up on the news as the cause of a bunch of issues – so I kept my hands to myself.
A small, ash-covered goat cheese reminded me of some of the unnamed chèvres we have in France. It was spectacularly creamy, which I learned later when I got to touch, and taste it.
And there's a 4 week-aged butter that David Chang uses at Momofuku Ko (below). Ethan and the other person working in the cellar told me it was rather funky. I bravely said that I've tasted a lot of butter, having visited several farms that make it, and never met a butter I didn't like.
They were right, and this one was definitely….an acquired taste. But I could see why Chang likes it; it replicates some of the fermented flavors found in Korean food. If I ever get to go to his restaurant, it'll be interesting to see, and taste (uh…maybe) what he uses it in, or on.
The most fascinating cheeses, to me, were the large blocks called Barnburner.
The unpasteurized soft cheese starts like this, above, after being cold-smoked for a few hours. And end up in big blocks, covered with dewy mold, after some aging, looking like this…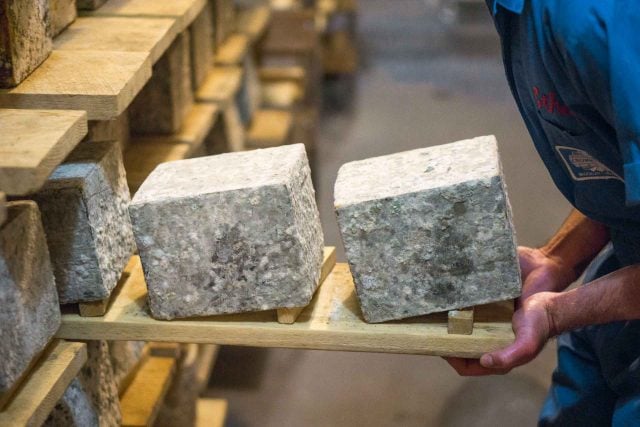 When they cut into one later, the interior revealed a deep orange hue and a hickory smoke-like flavor. Ethan told me, was to some, a nostalgic nod to the smoked cheeses of the past. (We used to get them when I was a kid, at the mall, at Hickory Farms, where they also carried port-flavored cheese in crocks and sausages with suspiciously long shelf lives, which bulged uncomfortably in their wrappers.)
The Barnburner was quite smoky, and I think I'm out of the loop when it comes to smoky cheese, having lived in France for a while. We do get smoked Basque cheeses, which get that way because they used to store them in the chimney, before the advent of refrigeration, to help preserve them. But if you like full-on, all-natural smoked cheese, this is the one to try. I'm pretty sure I would love it mixed with another good cheddar, on a grilled cheese sandwich, and will have to try that next time I'm in town.
The disks below are called Naked Pruner, made with sheeps' milk.
Each cheese is hand-brushed with stout made by Grimm ales, also in Brooklyn.
Perhaps my favorite, though, was the small square called Cloud Heights, the ashed-rubbed square below on the board below, made from goat and cow's milk. It was dense, gooey, and rich inside, and they do a special one for Dan Barber at Blue Hill Stone Barns rubbed with bone char instead of ash. He's been experimenting with bones, especially the difference in the bone density of grass-fed cows versus factory-fed cows, including how it works in bone china.
When we did our final tasting, we tried a square cheese, called Trifecta, a triple-cream cheese aged for three weeks, and brushed with Brooklyn Brewery beer while ripening. It was ultra-buttery and had a marvelous lactic tang. I was thinking it would have been fun to bring some of these cheeses back to France for people to taste. True, there's no shortage of excellent cheese in France, but good cheese can come from anywhere, including below New York City. But I had to leave them behind. If you're a cheese-lover in the U.S., I'd recommend checking out some of their cheeses, no matter where you're traveling to, or from.
The ripening cellars are not open to the public but there's a list of U.S. retailers, cheese shops, and online vendors, on their website. Once a month Crown Finish Cellars has an open house where they sell cheese directly to the public, donating 50% of the proceeds to charity. You can get notified of their events by following their Instagram and Facebook pages. They also offer a "cheese share" where you can get a mix of various cheeses monthly. More info is on their website.