Jeffrey Morgenthaler's Eggnog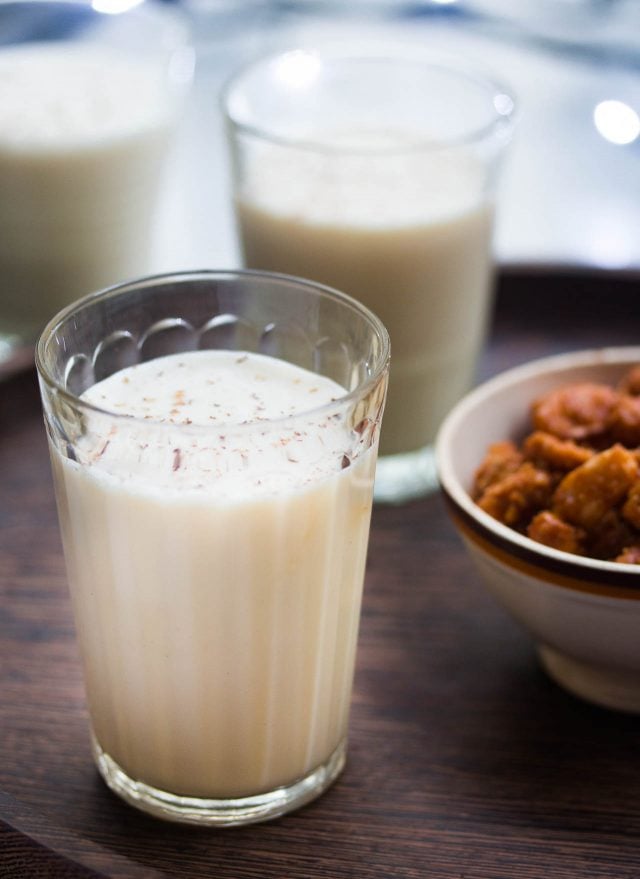 Eggnog wasn't something that I had a lot of nostalgia for. Sure, I've spent my life around eggs and milk, and cream, but when I drink, I tend to go for the harder stuff. But I've been trying to change that, branching out to other beverages.
No one in my family made eggnog, but as an adult, I've been more than happy to churn up Eggnog Ice Cream flavored with brandy, rum, and a dash of nutmeg, using my recipe in The Perfect Scoop. However I was intrigued when I came across another version of eggnog, that had a rather uncommon ingredient in it.
This eggnog comes from The Bar Book, by Jeffrey Morgenthaler, and contains…tequila. His recipe, in that book, makes enough to feed (and satisfy) a crowd – a full gallon – which is good when you run a bar, as he often does.
But it also appears in a more home-friendly size in his newest book, Drinking Distilled: A User's Manual, which was one of my favorite reads of the year. His opinionated guide demystifies many of the myths of making, drinking, and most important of all, the enjoyment of cocktails, which often gets taken a little too seriously.
His advice about not spending more than $30 for a bottle of booze will reassure anyone who thinks they need to shell out two or three times that for a bottle of whiskey. And before you send someone across the bar a drink, as a bartender, he says that it comes off a little weird asking the person behind the bar to send a drink to someone you don't know. ("Don't force drinks on people,' he says.) I remember when I was at a restaurant in San Francisco and Jake Gyllenhaal came in for dinner with his mom. My dining companion asked the waiter if she could send him something, and even though my friend is completely sane (and happily married), the server advised against it.
Drinking Distilled also gives a list of bottles, and equipment, you need at home to have a decent bar without spending a fortune, which I wish I had read that before I stocked mine. (Which has become out-of-control.) He's also taken on those "Do's and Don'ts about how to be a good customer at a bar" lists that get published, in an article he wrote about What makes good hospitality in a bar? which he says are "designed to suck all the fun out of having a drink with friends."
Known for poking conventional wisdom, his version of eggnog calls for añejo tequila and amontillado sherry, both of which require a little determination to find in Paris. Paris isn't exactly a "sherry" town and even the best liquor stores may only carry one or two varieties, if they carry any at all. (Port, however, is widely available in France, usually the white variety, which is drunk as an apéritif.) Les Caves du Roy and La Maison du Whisky are places I frequent and have good selections of spirits, but both addresses require a trip across town, so I settled on a bottle of reposado tequila I had, and used another kind of sherry, that I had on hand.
Like sherry, eggnog isn't something that's as widely consumed in France as it is in the U.S. Their version of the egg- and milk-based drink is lait de poule, which is also spiked with alcohol, although it doesn't have the same following it does in the States, where it's sold in cartons, in the supermarket.
One thing the French do have are these adorable little graters packed into nutmeg jars, so you can grate the spice right before using. Unlike other spices, nutmeg really needs to be freshly grated. So I appreciate the gesture.
I brought a batch of this eggnog to an open house in Paris last weekend, at my friend Forest's apartment. She writes a Paris cocktail blog, so knows her nog, which was loved by all. His uncommon version of eggnog was a hit on this side of the Atlantic, too.
Jeffrey Morgenthaler's Eggnog
Adapted from
Drinking Distilled: A User's Manual
by
Jeffrey Morgenthaler
This recipe can easily be scaled up. I ended up tipping a little more tequila into the eggnog, which is the higher amount given. You can start with the smaller, and use more, to taste. Jeffrey recommends using anejo tequila and amontillado sherry, and if those are available, I suggest using them, too. For those who want or need to avoid raw eggs, you can use pasteurized eggs in this recipe.
4

large

eggs

2/3

cup (170g)

sugar

4 to 5

ounces (120-150ml)

tequila

,

preferably añejo

5

ounces (150ml)

sherry

,

preferably amontillado

12

ounces (360ml)

whole milk

8

ounces (240ml)

heavy cream

tiny pinch

of salt

nutmeg

,

for garnish
In a blender, mix the eggs and sugar, until combined.

Add the tequila, sherry, milk, cream, and salt. Blend until smooth.

Chill the eggnog mixture thoroughly, preferably overnight, until ready to serve.
Notes
Serving: The eggnog should be served well-chilled, in chilled glasses, if possible. Dust each serving with a small amount of freshly grated nutmeg. Storage: The eggnog can be kept for up to five days in the refrigerator.