I was part of a whole generation of San Franciscans that were terrorized by Bruno, a cantankerous, older Persian man who had a bar in the Haight called Persian Aub Zam Zam. I've probably mentioned him before, but I recently went down that rabbit hole of the Internet where I found a few stories about him via a search for something else. Then…well, we all know where that leads…
He believed that if you're going to have a drink at a bar, you should have it at the actual bar. I don't know why he had a few tables and chairs around the outskirts of the dark room, because anyone that came in and tried to take a seat at one would be yelled at by Bruno – "The tables are closed. Get the hell out of here!"
Am not sure if they were just for decoration or what, but he would also flip out on people if they ordered a foofy cocktail, such as a Cosmopolitan, a Screwdriver…or heck, anything that wasn't a classic cocktail on his pre-approved list. If you wanted to stay on his good side, you'd order a Martini – one made with gin. An order for a Vodka Martini would get you tossed out. And in contrast to what some "experts" might advise, he didn't shake or stir his (gin) Martinis, he "pounded" the $2.50 cocktail with a muddler, which resulted in an icy-cold drink, served (of course) in a classic Martini glass. And your change was always a shiny half-dollar coin snapped down on the bar after you paid.
Fortunately, I was a neighbor and never got into trouble there – we just went in, pulled up a stool at the bar (and if there wasn't one, we knew to just leave and come back another time), and ordered Martini after Martini. Like Bruno, I believe in being on your best behavior at a cocktail lounge. I also believe that you should sit at the bar, I tend to stick with the classics, and I like the right glassware for cocktails.
Some of the better cocktail bars in Paris use a certain glass for drinks, a squared-off coupe, which is often listed as being for Champagne. But wide glasses kind of fell out of favor for bubbly since people say the bubbles tend to disappear too quickly. (Hello? If your bubbles are disappearing, drink faster!) But I got obsessed with them and wanted to have a set at home. I searched online and found them, but figuring that I lived in a major city, I should be able to find them in Paris.
I went over the Les Halles, to one of the lesser-known shops, Verrerie des Halles. It's a bit off the beaten path, located in the courtyard of a building a few blocks from the other restaurant supply shops. Like their name says, they specialize in all things glass, including drinking glasses and jam jars. They don't have the wide selection one might expect, but it's a fun place to poke around in. (And if you're not looking for glassware, they have those plain white, heavy-duty French bistro dishes that I use.)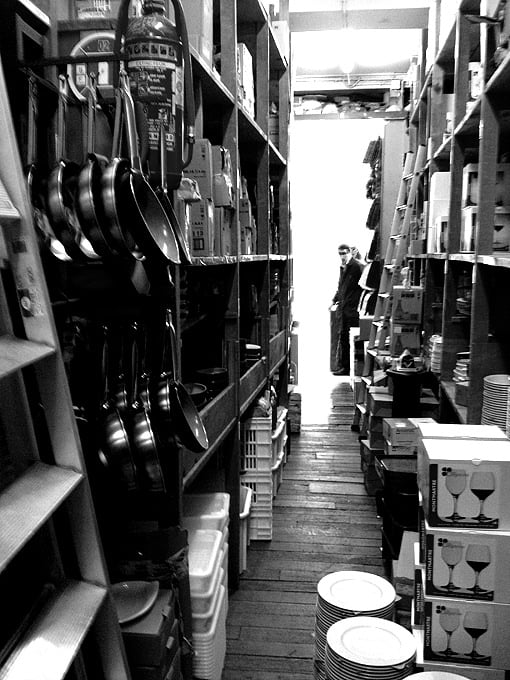 The first time I went, they were – of course – closed for a fermeture exceptionelle. So I hopped back on my bike and pedaled home. I cooled my heels for a week and went again and lo and behold, I spotted my glass on the shelf. When I brought it to the counter and said I wanted six (you can't buy just one glass, only six or twelve) – of course – the clerk said, "Hmmm, I think we're out of stock on those…." So while I once again cooled my heels, pacing around the shelves of the store, oogling the porcelain coffee bowls (which is ridiculous since I already have over a dozen of them cluttering up my cabinet), he came back with a full box of glasses.
I decided to break them in with a batch of Torontos, a cocktail introduced to me by Carlos Madriz, the bartender at Le Mary Celeste. It's a full-on, old-fashioned kind of cocktail – with not a lot of fussy stuff going in. The flavor is earthy from the rye whiskey, with the herbal bitterness of Fernet Branca providing a contrasting backbone to the drink. So I chilled up a few Torontos, sat back (at my counter, of course), and toasted my luck at finding the right glasses.
Toronto Cocktail
Adapted from
Imbibe
I made a batch of Torontos and put them in a little aging bottle, which is kind of fun to experiment with. Any bitters that you like would work, such as orange, cardamom, Angostura, or another favorite. To make simple syrup, boil together equal parts sugar and water, stirring, until the sugar is completely dissolved. Let cool to room temperature. You can use 1/4 cup (60ml) water to 1/4 cup (50g) sugar or increase it, if you plan to make more. Any extra can be kept in the refrigerator for a few weeks.
4

ounces

rye whiskey or Canadian whisky

1/2

ounce

Fernet Branca

1/2

ounce

simple syrup

2

dashes bitters

,

(see headnote)

2

thin strips

orange or tangerine zest
Fill a small pitcher halfway with ice. Add the whiskey, Fernet Branca, simple syrup, and bitters. Stir continuously for about a minute, until the mixture is well-chilled.

Strain into two cocktail classes and add a strip of orange or tangerine peel to each cocktail.
Related Links and Posts
---
Note: The glasses are made by Schott Zwiesel, called the cocktail cup (available Amazon.)