Le Mary Celeste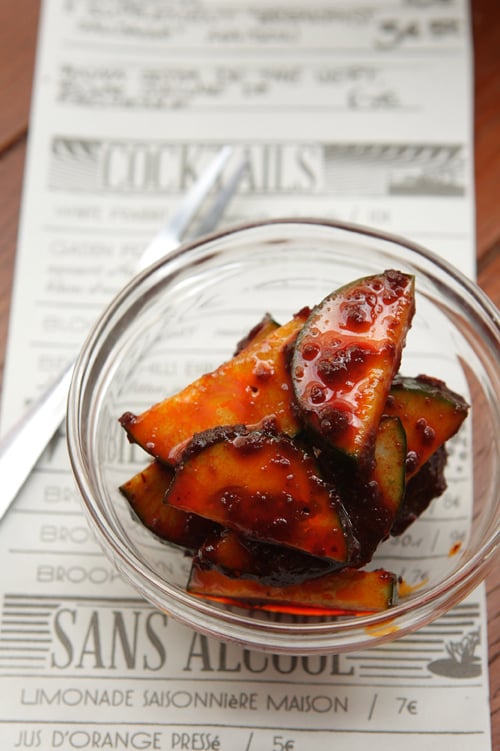 The cocktail resurgence has hit Paris big-time (and it's hit me too), and the team who created Candelaria and Glass, two of my favorite places in Paris, have another hit on their hands with Le Mary Celeste. This corner bar in the Marais is named after a ship in the nineteenth century that left New York and was later found adrift and abandoned. No one ever found out what happened to the crew, who left all their personal belongings and valuables behind, but the boat was also found fully stocked with barrels of alcohol.
I don't think many – or any – of those barrels landed in Paris, although there is no shortage of things to drink around here. Wine has historically been the drink of choice, although beer seems to have overtaken les vins in popularity judging from all the young people drinking pints in cafés. But gaining traction are cocktails of quality.
As time marches on, I now usually have to limit myself to two. (Or I pay for it the next day.) But it's hard when the cocktails are as good as they are at Le Mary Celeste. Each drink is breathtaking – and not just a work of art, but perfectly balanced, such as the Rain Dog, a mound of ice doused in small-batch bourbon, mint, and amaro bitters.
Equally inventive is the Koh Gaden, a frothy white mix of aquavit, lime, egg white, kaffir lime, and galangal syrup. Because the bar is in a fairly hip area, it has a tendency to draw a certain crowd although those of us who are the old-guard can show those kidsters a thing or two about drinking. (Especially if you've had extensive experience in San Francisco – and dealt with the wrath of the notorious Bruno at the Persian Aub Zam Zam, which I survived on many occasions.) But here, the bartenders are nice and accommodating, whipping up drinks like Yolos (short for "You Only Live Once") to a couple of fashionistas parked at the bar, which contain sake, fresh peach puree, Aperol, Prosecco, and green tea.
Other drinks might be spiked with chilis, rimmed with fleur de sel, coriander seed powder, or Sichuan pepper. And if you don't mind putting yourself in the hands of an expert, you can ask for a recommendation, letting the bartender know what kind of drink you prefer – spicy, smoky, sweet, fruity, and what your choice of alcohol tends to be. I did that the first time I was there and spent quite a few subsequent trips try to remember what I had, ordering and ordering, unable to finagle what that amazing cocktail was.
I was explaining to the head bartender, Carlos Madriz, who is a brilliant bartender, that his drinks were like a great Caesar Salad; all the ingredients meld perfectly, with none of them dominate the other. Perhaps he though he should have cut me off after the first drink, but I was too busy diving into a bowl of cucumbers and radishes marinated in deep-fried Korean pepper to considering stopping eating.
Why? Because unlike most cocktail bars, the food at Le Mary Celeste is outstanding as well. Chef Haan Palcu-Chang creates a ever-changing menu of "bar snacks" that will have you pushing away those little bowls of stale popcorn and peanuts found elsewhere. And he is preparing some of the best food in Paris. The first time I tried his kimchi, I couldn't stop eating it. He's had to stop making it because apparently I wasn't the only one who like it – he was going through 10 kilos every two weeks and ran out of refrigerator space to store it. But now you can get Radis, concombre, chili, a fiery-red dish of radishes and cucumbers marinated in deep-fried Korean chili powder.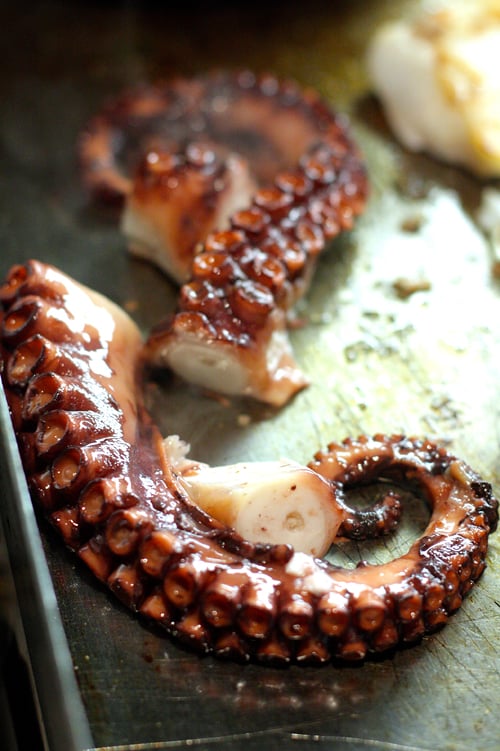 Originally from Canada, Haan has lived in Korea and in a few other cities around the world – and his parents are Chinese, and Romanian – which is reflected in his global cuisine he's cooking in Paris. Like a number of talented French people who have traveled, or lived abroad, they came back and are succeeding by applying those techniques to French ingredients. (Update: As of Fall of 2015, Haan has left the restaurant and moved back to his native Canada. Menu offerings may change from what's listed here.)
The place is always packed with a good mix of French folks and others, and when I asked the soft-spoken Haan if he had trouble because some of the food he serves is spicy, he said "Not really. But I did have some young Frenchwomen return their tartare because they said they couldn't eat food unless their was bread available." So some traditions do die hard. And although a few might not be ready for the change, the throngs at the bar every night prove that most are hungry for it.
I'm sorry those women missed out on Ceviche de thon, pasteque, herbes, a lively plate of diced albacore tuna with juicy watermelon and pretty green herbs scattered over the top, with Turkish chiles providing just the right amount of heat.
I think I made a spectacle of myself trying to wolf down a scallop taco, but I didn't care. (After all, when you're surrounded by people much better-looking, and far better-dressed than you are, what have you got to lose?) So chow down I did.
Rainbow trout provides some color to contrast with potatoes and horseradish cream, and I've never had a dud in any of the bar snacks or foods that are intended to be à partager at Le Mary Celeste. My Frenchman had a few of their oysters from Great Britain (only available seasonally) and was happily surprised that they were right up there with les huitres from France. In fact, he hasn't stopped talking about them since last winter and I'm hoping the weather takes a turn for the colder soon so I can get him back there.
To go with drinks, I always go with at least one Œuf du diable, a Deviled egg filled with mayonnaise, fresh ginger, and topped with deep-fried wild rice. It's a great riff on the classic Œufs mayo – and when I say "I", it's because it's the one dish I refuse to share.
Dessert might be a green tea panna cotta with lemon verbena and fresh Provencal peaches. Everything is always well-seasoned and brilliantly flavored. Haan worked in a few restaurants in Paris, and he had some ups-and-downs in the tumultuous world of French restaurant kitchens and wanted to explore using other ingredients, flavors, and techniques without any of the complications (and reluctance) in other kitchens, relying on well-sourced ingredients in Paris. And the crowds at the bar attest to how delighted people in Paris are for these kinds of fully flavored foods made with fresh ingredients, including me.
On the way out on my last visit, I was talking to Carlos at the bar, letting him know that I was never able to find out what that cocktail I'd had the first night I was there, probably a year or so ago. In spite of the thousands of cocktails he's served, to hundreds of people, he said – "It was a Toronto." I was stunned that he both remembered me, and the drink I had. But I can relate; I've had a few memorable nights at Le Mary Celeste. And a few I don't remember.
Le Mary Celeste
1, rue Commines (3rd)
M: Filles du Calvaire
Current Opening Hours: 6pm-2am daily. Weekend brunch from Noon to 4pm, then open though the afternoon, closing at 2am. (Subject to change.)
---
Note: The casual menu at Le Mary Celeste is composed smaller plates of food meant to be shared, along with stellar cocktails or a glass of wine. There are non-alcoholic drinks on offer as well. As the evening progresses, the lively cocktail bar can get quite bustling. They open at 6pm and are generally less-busy in the early evening. If you arrive later, there may be a bit of a wait to sit at the bar or at one of the tables. When in-season, Le Mary Celeste offers oysters from Great Britain for just €1 each during "Happy Hour" in the winter, when the bar opens at 5pm. During the month of August, 2013, the kitchen will only be serving a few small plates – no hot food – on Monday and Tuesday nights.