Freddie's Deli
[Update: As of November 2015, Freddie's Deli has closed and Kristin has turned it into GreenHouse.]
Parisians have been welcoming an influx of foods coming from a few unexpected shores for a number of years now – tacos, hamburgers, tortillas, banh mi in mobile form, and now, pastrami. I've never seen anyone with a more far-away look of longing than my French partner after recounting a giant pastrami sandwich in New York, piled high on soft rye bread. On a tip a few years ago, someone sent us to Coffee Parisien for his fix. And he was so irked with the thin, wan slices of pastrami between the bread that he walked over to the kitchen and told them they were doing it all wrong. (And now you know why I have to be on my toes around here all the time!)
However there was no need for that at Freddie's Deli. Located in a charming little square, you'll find the white tiled storefront, the brainchild of Kristin Frederick, who launched the burger and food truck craze in Paris with Le Camion qui Fume.
She just opened her place, but since it was mid-summer and everyone else had pretty much scrammed from Paris, we took a nice walk up toward the Belleville neighborhood. It was a nice evening and a few folks were hanging out at the tables outside. I was a little surprised that the menu is in French, which sounds funny, but I think things like "pastrami" and "cheese-steak" are kind of universal (like croissant and macaron). So although I haven't had to do it in a while, I had to ask the counterman to translate the menu into English. The Brooklyn Beer, I understood.*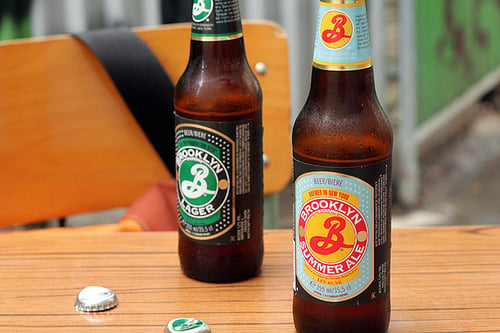 Le Goodman is bœuf fumé, cornichons, moutarde (pastrami, pickles and mustard), and that was what we came for. But there are also Fines tranches d'entrecôte, légumes grillés (Philly cheese steak) and Le Olé Moly, carnitas with guacamole and spiced cheese. (Sandwiches are €10-12, and there is a formule that includes a drink and chips for around €13**.)
Of course, we both ordered pastrami, made on the premises, which is brined in-house for 7 to 10 days then left to marinate in spices for a few days before it's ready to be smoked and steamed. Since it was near closing time and they still figuring out how much to order, they had two slices of rye bread left (made by baker Gontran Cherrier) so I was a good sport and had my sandwich on a bun made by another local baker, the same ones Kristin uses for her hamburger truck. Pastrami sandwiches anywhere are kind of a happy heap o' meat, and these were no exception. I was glad I got the bun because the sandwich was hard-to-contain, although Romain had no trouble finishing it all off…then tackling the rest of mine.
I couldn't wait to get to the brownie, which I had my eye on ever since it landed at our table. (Which they gave me to try – and it was great.)
We were very happy with everything, although I've lost my ability to tackle American-sized portions. Luckily I was with a French person – and the tables I guess, have turned, and it was he who polished off every last bit of pastrami on our table. Thankfully Paris is still a walking city, especially during the summer. And thankfully, the trip home was downhill.
Address
22, rue Crespin du Gast (11th)