Avocado Coconut Ice Cream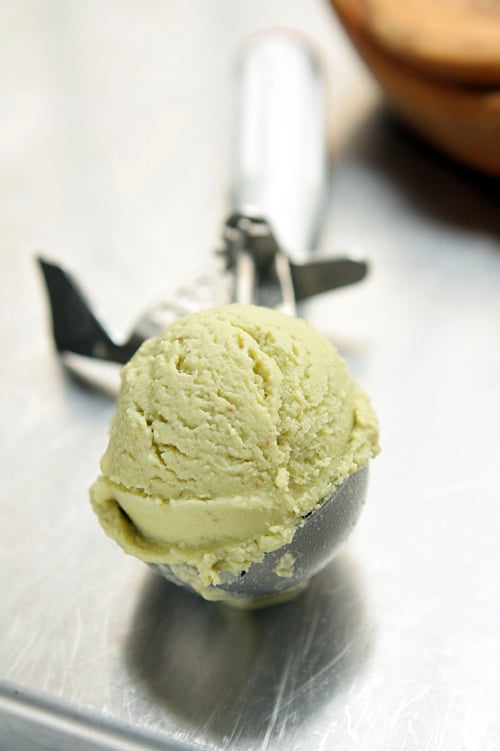 When I was younger, we used to go to a restaurant in Los Angeles, the long-gone Scandia. It was one of those places where they would wheel up the salad cart, and toss a big bowl of salad right at your table. Since some members of my family went there a lot, they made a special salad for us, which had lots of finely chopped vegetables in it, as well as little cubes of avocado.
It was always fun for a kid from the sticks of New England to sit in that restaurant, installed in a high-backed booth, watching the celebrities and the hoi-polloi mingle and eat nearby. But as much as I loved the salad, and straining my neck every time someone walked in the door, I couldn't stand those slippery little green bits in there and would eat around them as politely as I could. Needless to say, nowadays, I can put all those avocados that I missed out on years later, on the same list with all those New England lobster platters that featured twin lobsters for $8.99 that I didn't order when I was growing up.
Many years in California, many trips to Mexico, and now, many years shopping at the markets in Paris, helped me make up for lost time (well, on the avocados…) and I was thrilled to get a copy of Absolutely Avocados by Gaby Dalkin, which is packed with recipes for all sorts of things to do with them, including a bacon guacamole, avocado quiche, and even avocado brownies!
Always looking for excuses to churn up something in my ice cream machine, I zeroed in on Avocado-Coconut Ice Cream, which was incredibly easy to make and merely required a trip to the market to grab a bag of avocados.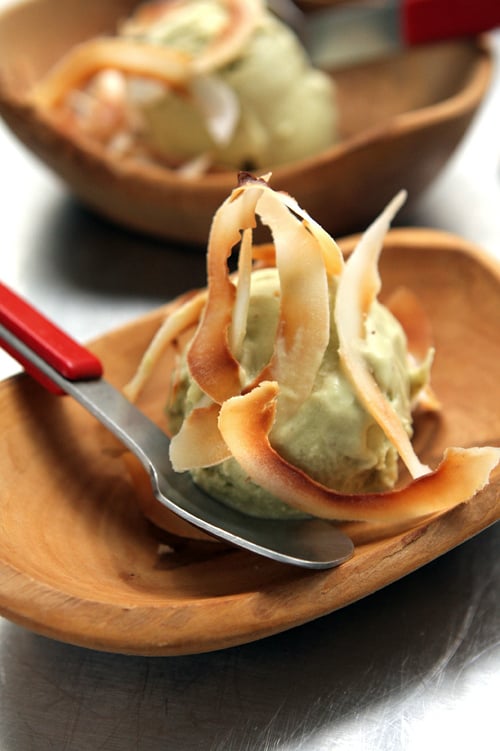 When I started putting this ice cream together, I began envisioning all sorts of sauces or what-have-you to go over or around it. Then when the churning stopped, I tasted it, and tasted it. And tasted it. Until I realized that is was just right, as it was. All it needed with a little coconut. But if you wanted to douse it with a bit of rum, or caramel sauce, or even espresso, I don't think you'll have any regrets years later.
Avocado-Coconut Ice Cream
Adapted from
Absolutely Avocados
by Gaby Dalkin For those avoiding dairy, use additional coconut milk in place of the heavy cream.
2

ripe Hass avocados

,

(1-pound, 450g)

1

can coconut milk

,

(14 ounces, 400g)

1/2

cup (125ml)

heavy cream

1/2

cup (100g)

sugar

1/2 - 1

teaspoon

rum

pinch

of salt

a squeeze of fresh lime juice

Toasted coconut, for garnish
Halve the avocados and remove the pit. Scoop out the flesh and put it in a blender or the bowl of a food processor.

Add the coconut milk, heavy cream, sugar, rum, salt, and lime juice, and puree until completely smooth. Chill the mixture thoroughly.

Once chilled, freeze in your ice cream maker according to the manufacturer's instructions. Serve scoops garnished with toasted coconut.
Related Links
How to Make Ice Cream without a Machine
Ice Cream Makers: Buying an Ice Cream Machine